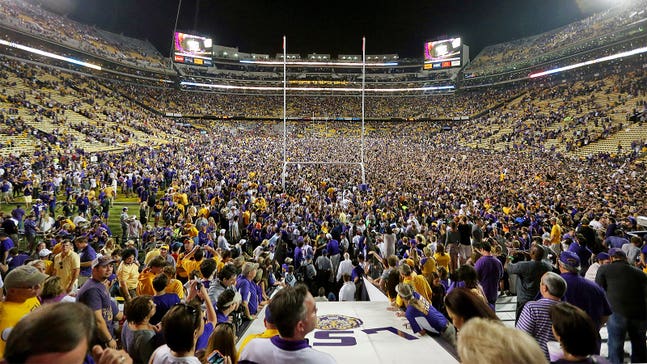 SEC to 'substantially' increase fines for rushing fields, storming courts
Published
May. 27, 2015 5:00 p.m. ET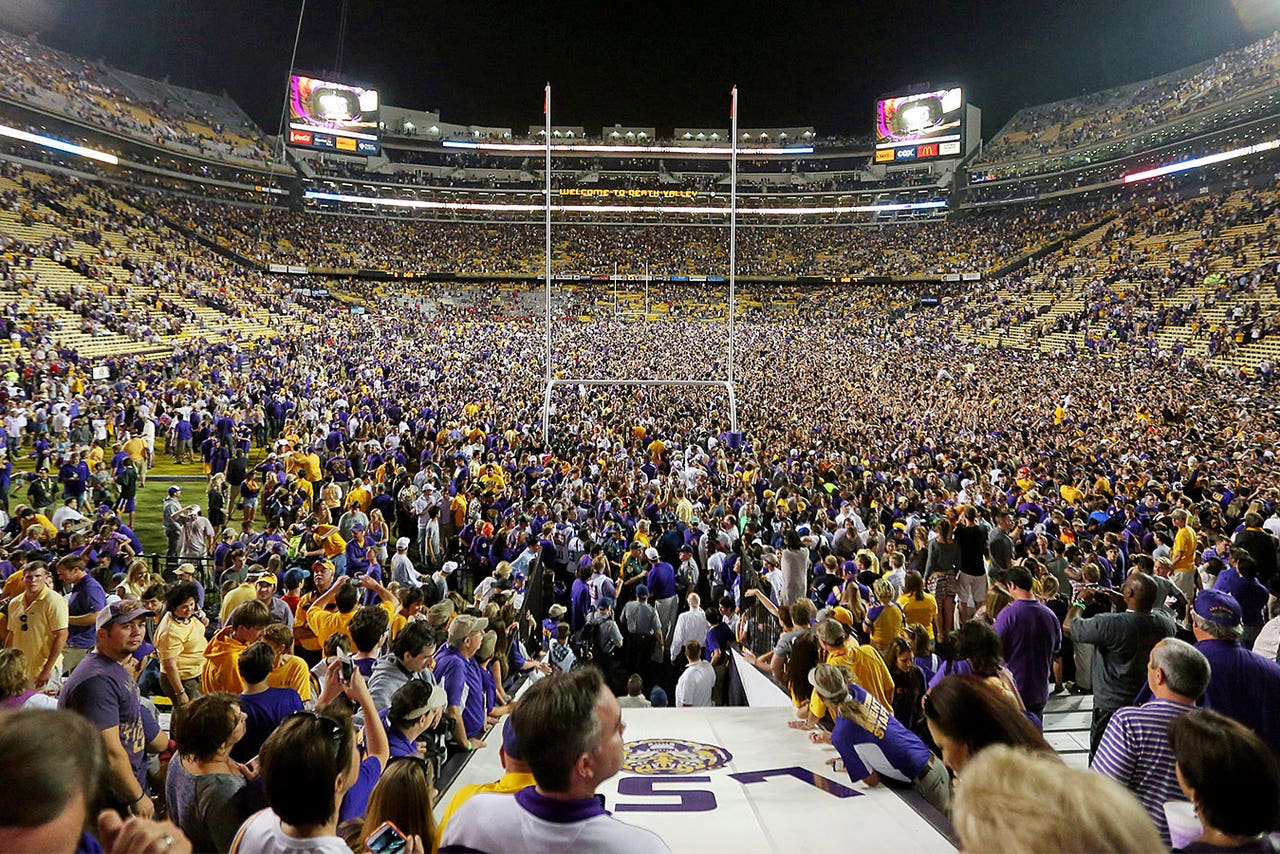 The Southeastern Conference has been fining its schools for rushing fields and storming courts since 2004.
Now, a decade later, those penalties are going up. Way up.
The league plans to "substantially" increase fines for teams that violate its on-field policy. SEC Commissioner Mike Slive indicated that the new starting point would be around $50,000 -- 10 times more than the previous fine for first-time offenders.
"You're in the range," Slive said Wednesday. "As far as I'm concerned, that's real money. It's designed to be a deterrent. Five thousand dollars in this day and age ... when we did it, $5,000 had a little ring to it. Five thousand dollars now, given where we are, is not much of a deterrent."
The previous penalties started at $5,000 and increased to $25,000 for second violations and up to $50,000 fines for third and subsequent offenses.
The new system is expected to be ratified Friday at the SEC spring meetings in Destin.
An estimated $50,000 fine would seemingly create a huge deterrent for programs and force them to increase security measures. Then again, it might not solve the issue.
"There's only so much security you can put out there," LSU athletic director Joe Alleva said. "You can't have armed guards and horses out there. I hope our fans and all of the fans in the league will realize it's all about safety. It's all about the safety of the players and the fans to stay in the stands and hopefully they'll comply with that."
Only five of the league's 14 schools -- Alabama, Florida, Georgia, Mississippi State and Texas A&M -- have not incurred fines since the policy went into effect on Dec. 1, 2004.
Just last season, Arkansas, Kentucky, Mississippi, Missouri and LSU were fined after fans rushed their football fields following victories.
"I think schools will do more, but there's only so much you can do," Alleva said. "You can't build a wall around the field. You can't put up barbed wire. You can't have horses and guns out there. There's a line of how much you can do."
Indeed, but the conference wants to at least try to do more by upping the levy. The league also could set the standard for other conferences to follow.
"The SEC, I think, for a long time has tried to take a leadership role there," Florida athletic director Jeremy Foley said. "If we end up increasing the fines and putting a better message out there to your fans that we need to win and be excited and we don't need to do that because it's not safe when people rush the field. It's not. It's always concerned me that it's going happen sometime and somebody's going to get significantly hurt, killed even, and then the whole world will figure out what they're going to do and they'll change it but one person will have paid a significant price.
"The league has always tried to be proactive there. When the game's over, we need to be talking about the players. We need to be talking about whoever won the game, who played well. We don't want to be talking about" rushing fields and courts. 
---