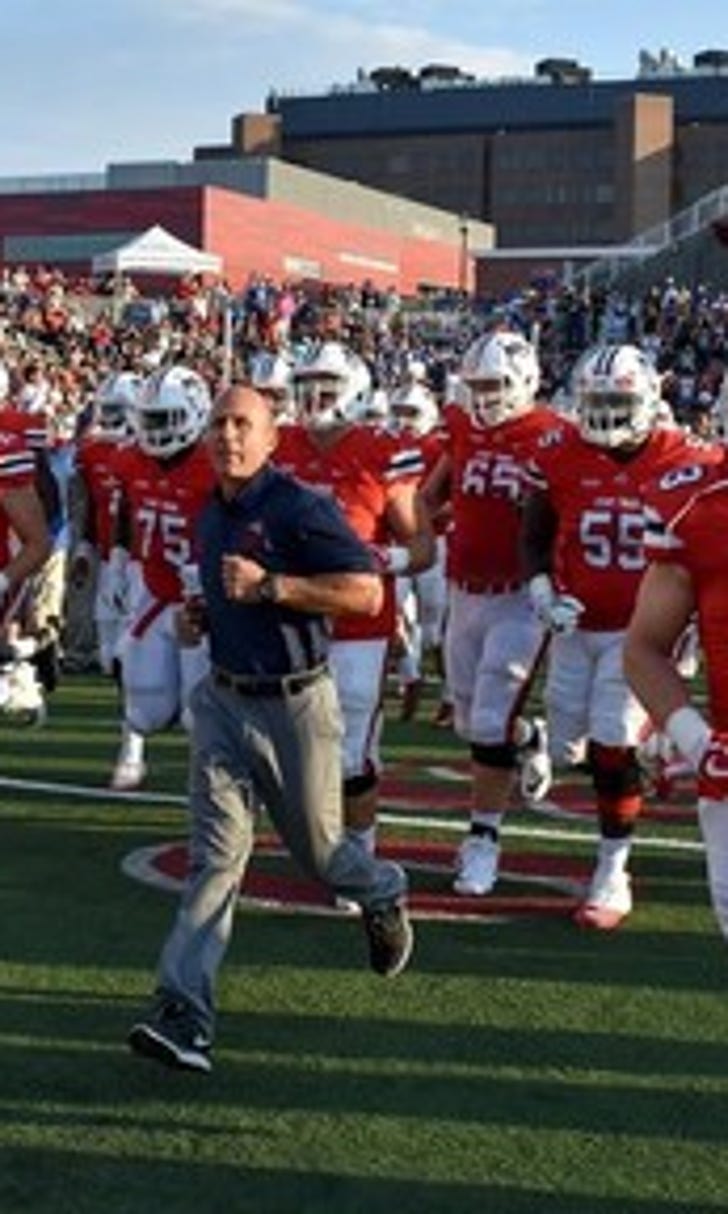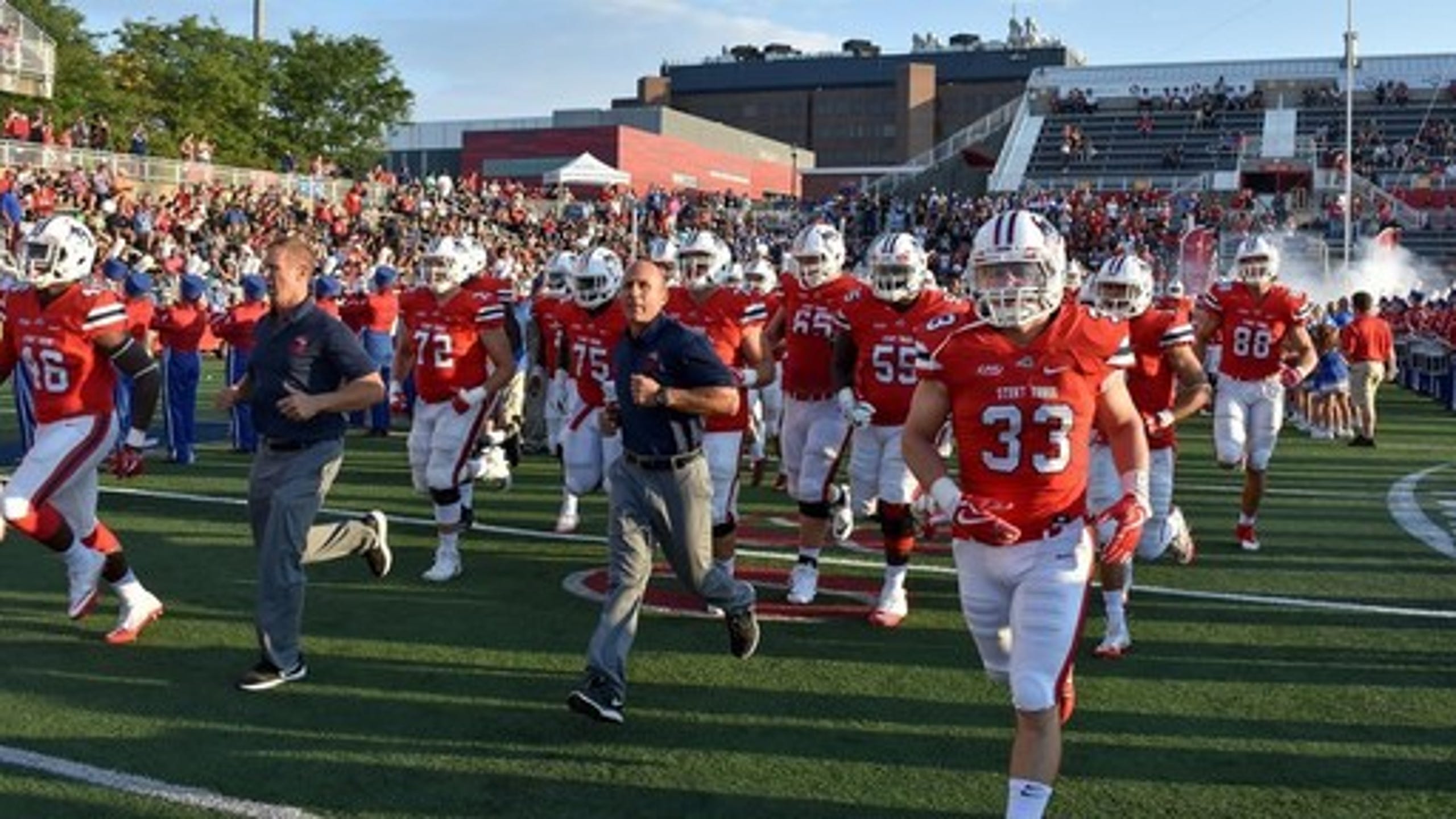 Seawolves relishing shot at defending champion Dukes
BY AP • November 30, 2017
(STATS) - Beat Virginia.
That was Stony Brook coach Chuck Priore's mentality coming into the 2017 season when he looked at his team's Colonial Athletic Association slate and saw trips to William & Mary and Richmond. The commonwealth's third team, reigning national champion James Madison, was nowhere to be found.
It is now.
The Seawolves dodged the Dukes in the regular season, but CAA Football's heavyweight will be standing firmly in the way of what Stony Brook hopes will be the program's deepest playoff run ever as it makes a third and final trip to Virginia in 2017 in Saturday's second round.
"Certainly JMU's got the ring and they deserve it," Priore said. "We knew when this year started that if we can't win Virginia, we can't go anywhere. We took care of the other two."
Stony Brook (10-2) beat the Tribe and the Spiders by a field goal apiece earlier this season, but for as impressive of a rise as it's been for Priore's team after four straight five-win seasons, the schedule in the 12-team league did the Seawolves a big favor. They didn't have to play either James Madison (11-0) or Elon (8-4), and the only conference road game against a team above .500 came at 6-5 Richmond.
That doesn't mean there weren't tests along the way. Stony Brook was tied with South Florida in the fourth quarter of its season opener, rallied to beat still-standing New Hampshire 38-24 in mid-October and completed a Hail Mary at Maine to win its season finale. All that led to the Seawolves' best offensive performance of the year last weekend, a 59-29 rout of Lehigh in the first round.
Going from the Mountain Hawks to the Dukes, however, figures to be about as night and day as a team can get at this point in the season. Lehigh was 120th of 124 teams in total defense (477.7 yards per game) in the FCS; James Madison is No. 1 (228.2). The Dukes gave up a subdivision-low eight TDs from scrimmage this season; the Mountain Hawks allowed an FCS-high 66.
JMU has surrendered 41 points since the end of September. Stony Brook had 45 one play into the fourth quarter last Saturday.
The Dukes beat the other two CAA teams that finished the regular season in the STATS FCS Top 25 by a combined 52-3, closing things out Nov. 18 with a 31-3 rout of Elon to stretch their Division I-best winning streak to 23 games.
"I think right now what you're seeing is we are playing the best that we have all year," coach Mike Houston said. "We went 11-0 in the regular season. It's a great achievement. But we got everyone's best shot every week."
To have a chance - Vegas lists the Dukes as 20 1/2-point favorites - the Seawolves will certainly need to avoid making mistakes, and that's been one of quarterback Joe Carbone's best traits in 2017. After he threw just five touchdown passes and 20 interceptions through his sophomore season, the junior has 22 TDs and just three picks this year.
He's thrown for two touchdowns without an INT in five straight games, and Houston has a good explanation for why Carbone has improved.
"They run the ball so effectively, they force people into a lot of 1-on-1 matchups," Houston said. "They have four big-time wide receivers. All those guys, if they catch the ball in space, it's over."
The star of that wideout group is Ray Bolden, who has 66 catches for 780 yards and nine touchdowns, but the senior missed the game against Lehigh due to an ankle injury and his status for this week is unclear. But replacement Harrison Jackson had three catches for 122 yards, including a 76-yard TD.
James Madison still likes to spread it around offensively, but the big difference between this year's team and the 2016 national champs is a lack of a workhorse running back. Khalid Abdullah ran for 1,809 yards and 22 TDs last season, getting 298 carries. This year, three Dukes running backs have at least 98 carries while Bryan Schor is throwing more often despite being less efficient.
JMU ran the table in the playoffs last season, but Houston likes to make sure his team doesn't forget the experience of the previous two - both tight losses in playoff openers.
"All those experiences are important," Houston said. "I want them to remember that pain, because pain can be a great motivator."
---
---