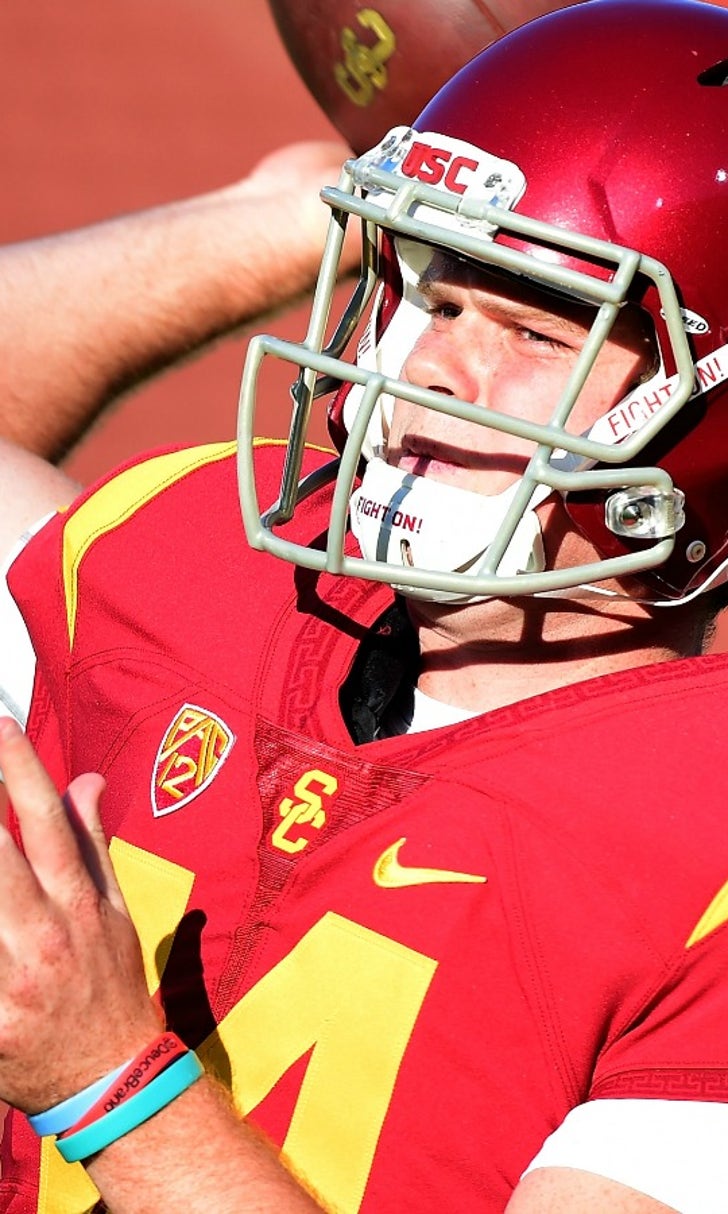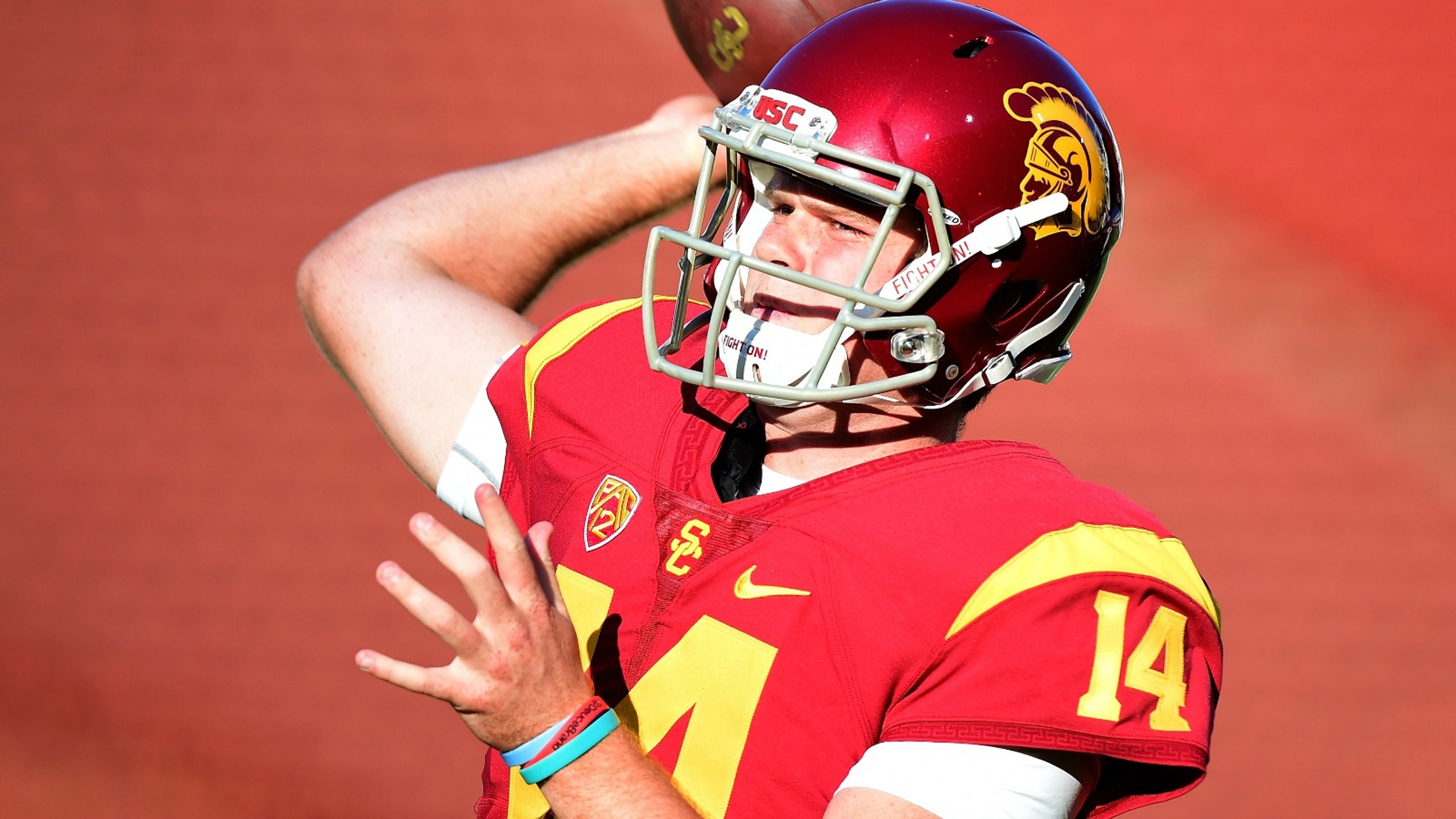 Sam Darnold is primed to be a Trojan force for USC
BY Bruce Feldman • March 29, 2017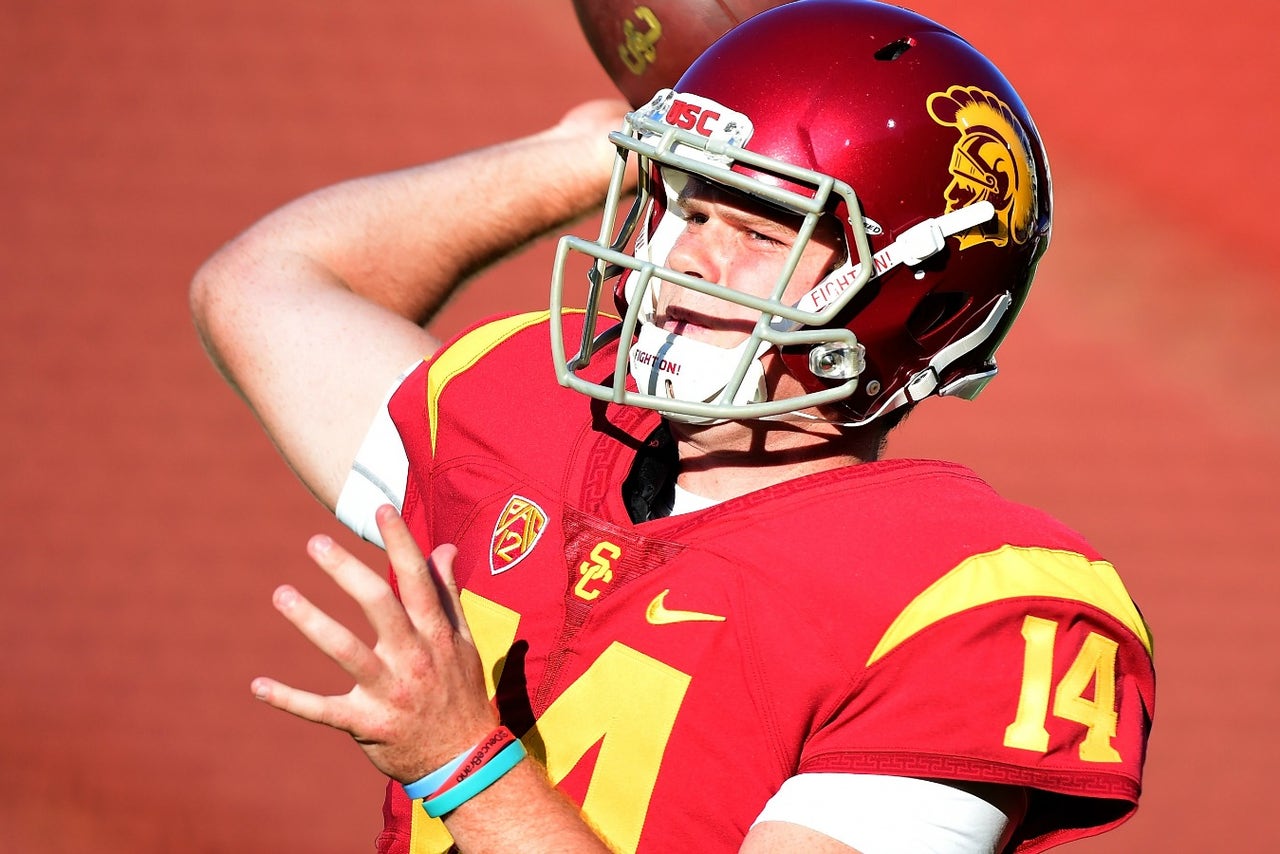 LOS ANGELES — The star power is back at USC on Howard Jones Field.

After a staggering succession of mega-wattage talent around Troy that led to Heisman Trophies and national titles, the Trojans drifted from the college football radar. There's a glow again around Trojan football.

Sam Darnold, the 6-foot-4, 225-pound, red-headed quarterback who transformed a 1-3 start into a 10-3 season highlighted by a dazzling performance in the 52-49 win over Penn State in the Rose Bowl, has been one of the big story lines this off-season.

The buzz about  Darnold at the NFL Combine was he would be the top QB in this year's NFL draft if he were eligible (he won't be till next spring). Some handicappers have made Darnold the favorite to win the 2017 Heisman. He's also a biggest reason why the Trojans -- despite losing their top two receivers and three starting O-linemen -- are expected to be a preseason Top 3 pick. Truth is, there's been a lot more made of Darnold's potential outside of LA than it has here. And USC is fine with keeping it that way.

The redshirt sophomore's combination of size, arm strength and athleticism had rival coaches gushing inside the Pac-12 by mid-season last year. But it's also his temperament that USC coaches and teammates say makes him special in this day and age of QB entitlement. That's why Trojan QB coach Tyson Helton said he's not worried about how Darnold handles all of the hype.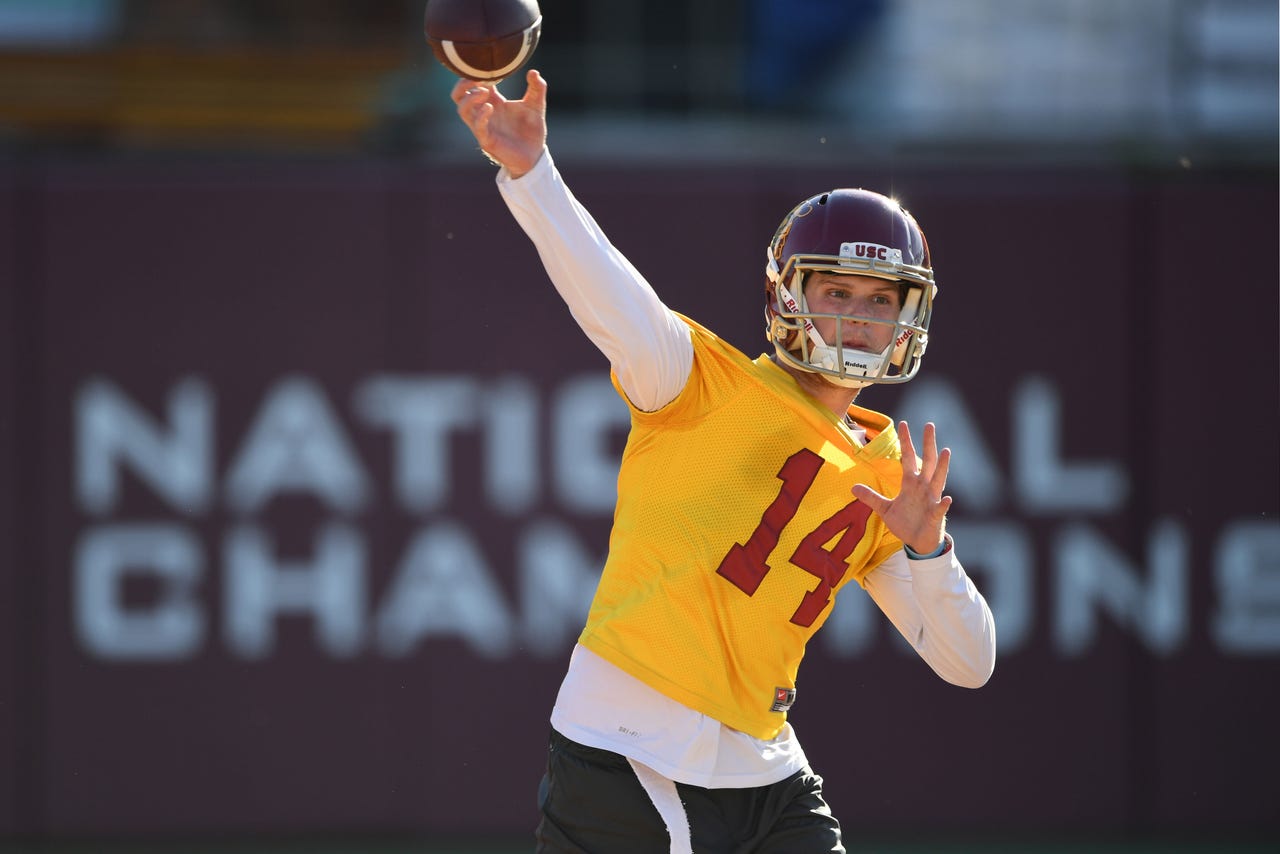 "I don't think about it all," Helton told FOX Sports Tuesday. "His demeanor has never changed. Most guys you'd be concerned, 'Hey we've got to really focus now.' You'd feel like you'd have to talk about it, but with him, you don't have to. His attitude is always right. His demeanor is always right. His focus is always right. It's every day it's just normal work with him."

Helton-- the younger brother of USC head coach Clay Helton -- attributes Darnold's demeanor as being "God-given to have that talent and that patience," but also from having "great parents, great raising. You never get the feel with him that he's changed or he's pressing. If anything, he deflects it more. He's now more conscientious."

Darnold's mom, Chris, told me in the fall that Sam is the one in her family most like her late father. Dick Hammer was a former USC basketball star who helped lead the Trojans to the 1954 Final Four. After college he took up volleyball and actually made the 1964 U.S. Olympic team in that sport before becoming a firefighter and an actor and landed the role as the Marlboro Man, a pop icon of the '70s.

"Sam's very humble and loyal and he got all his agility and coordination [from his grandfather]. I know my dad would be so proud of him and who he's become," Chris said.

Darnold's numbers were eye-catching in 2016: completing more than 67 percent of his passes with a 31-9 TD-INT ratio. His uncanny ability to evade pressure is evidenced by him only being sacked six times. In addition, he ran for 250 yards and two TDs. In his final performance of the season, he went 33 of 53 for 453 yards and five touchdown passes against No. 5 Penn State.

His 473 yards of total offense, broke Vince Young's Rose Bowl record.

https://www.youtube.com/watch?v=E3sLNO8QDq4

 

I asked Darnold about how he's trying to deal with the mounting hype heading into this season. After all, it's easier said than done to just say you're going to block it out.

"To an extent you've got to block it out, but at the same time, you should kind of embrace it," Darnold told me. "I think it is good to embrace things like that. But you also have to know that if you're ranked that high, people are going to be coming for you. Every single day they're going to bring their best game so that's the mindset we got to have."

Darnold also has the luxury of tapping into USC's deep reservoir of past stars. One of those, NFL star Carson Palmer, the 2002 Heisman Trophy winner, visited with Darnold at practice last week.

"He was giving me some tips on coming back from a strong year and all of the expectations that follow. It was good to talk to him. I learned a lot from him. One of the main things was spending more time watching yourself in the film-room (and) taking as many mental reps in the film room as possible. That really stuck out to me. It was really good to talk to him."

One of Darnold's biggest challenges this off-season is adjusting to a new group of wideouts with Juju Smith-Schuster and Darreus Rogers moving on to the NFL. The Trojans have a head-turning collection of young receivers that made one acrobatic catch after another Tuesday. Former blue-chippers Michael Pittman, Tyler Vaughns have the staff intrigued as does redshirt freshman Velus Jones, a guy they say has Adoree' Jackson's type wheels but in a 205-pound body.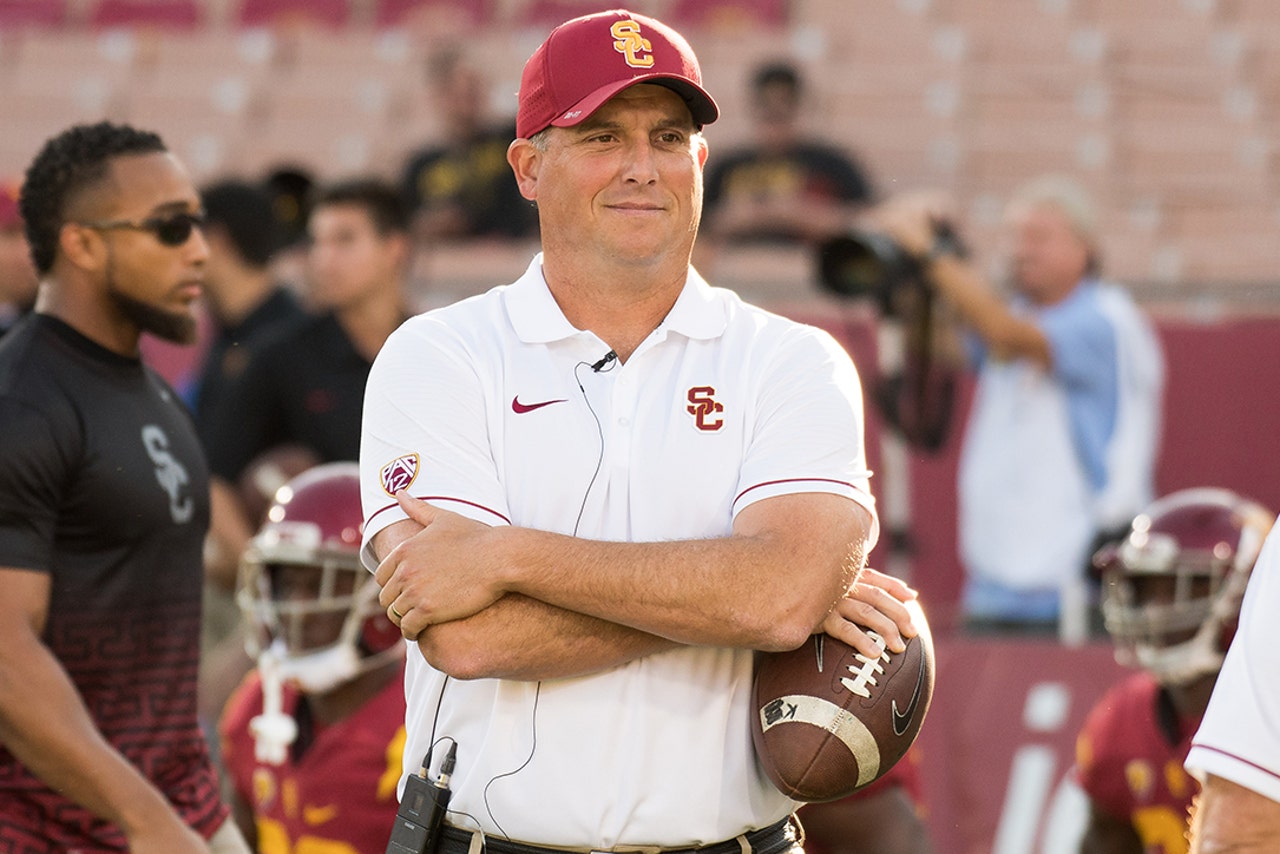 Clay Helton said the Trojans will only go as far as these young players will take them. "Right now, Sam is getting used to them. You're seeing that with him and Velus," he said, adding that chemistry is not quite there yet, but it is getting better each day.

That transition though has led to some timing issues between QB and receivers and has translated into six or seven interceptions through the first seven practices.

"Those (interceptions) are a combination of things," Helton said. "Some of it is just getting that cohesiveness with the receivers. Some of it is (Darnold). But that's why you're in spring ball. You're learning lessons and we're correcting them so we don't make them in the season."

Darnold is taking responsibility for those picks.

"I think I'm definitely forcing a lot of passes when I shouldn't be," Darnold said. "I think I have got to do a better job of finding completions. It's never good when you throw interceptions. When you punt, it's not necessarily a bad thing."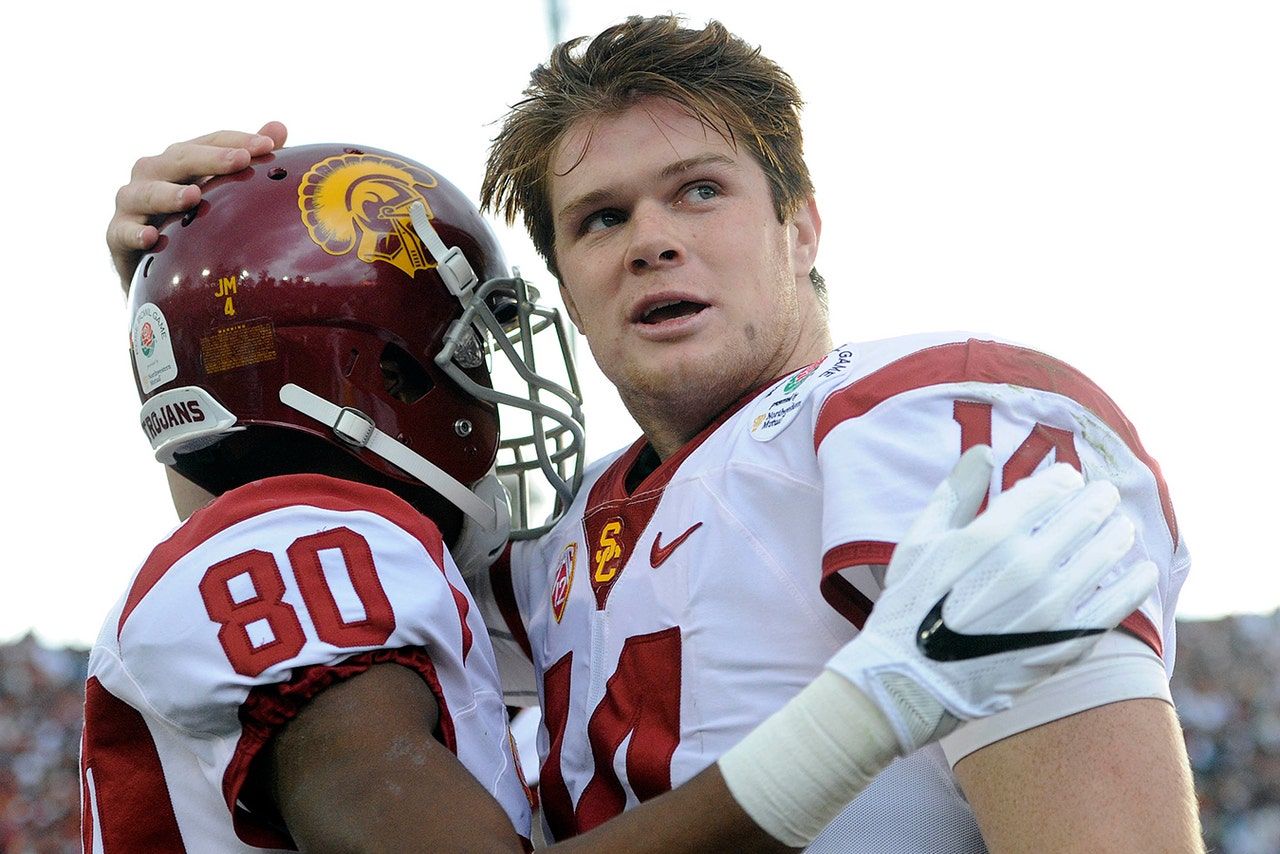 That is one of his points of emphasis this off-season. Another is shortening his throwing motion, which Darnold will work on more after spring football concludes.

"I wind up a little too much," he said. "I've been working on that separately. When you're in spring ball, I don't think you can work on that as much. You just wanna roll and get the guys the ball. Worry about the team more than yourself. After spring ball, I'm gonna work on that more and work on feet and my hips as well."

The elongated delivery, he suspects stems from his time playing baseball before he got to USC.

The USC staff also continues to harp on Darnold becoming more calm in the pocket with his feet.

"He's a great talent," Tyson Helton said. "He's a quick-trigger guy, but we want to calm his feet down a little bit. Take the plays that they're giving you. He makes tremendous plays down the field at times. This spring we've seen him checking the ball down more, taking the intermediate routes. He's understanding the full package for him now and we've expanded it for him. He's been able to check some things and do some things he hasn't been able to in the past. He's really feeling comfortable now, making a nice transition and continuing to develop."

That's the best news of all out of USC this spring.


---