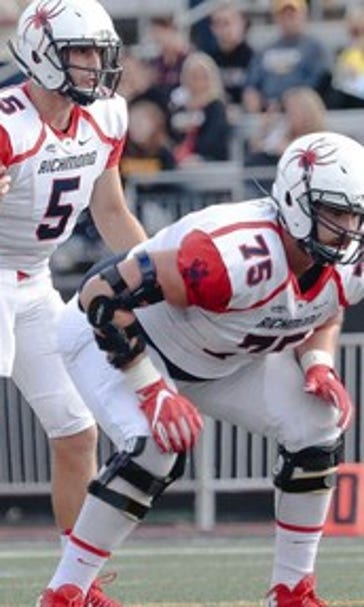 Richmond seeks to keep rising in FCS Top 25
October 16, 2017

(STATS) - FCS power Richmond has some solid wins this season, but none have been attention-grabbing.
The Spiders will have plenty of opportunities to change that before concluding the regular season, and no game may stir the emotions like Saturday's visit to Delaware against their former coach, Danny Rocco.
Richmond will carry the No. 11 ranking in the STATS FCS Top 25 into the highly anticipated game. Up two spots this week, the Spiders are one of the six CAA Football teams in the national media poll, led by defending national champion James Madison.
James Madison grabbed the spotlight as the host of ESPN's "College GameDay" this past Saturday, but Newark, Delaware, will command its share of attention when the Blue Hens, who sit just outside the Top 25, host Richmond. Both teams are 4-2, have won two straight games and are one game behind JMU and Elon in the conference standings.
Rocco has had a profound effect on both teams. He coached Richmond for five seasons from 2012-16, winning 43 games and two CAA titles, guiding the Spiders to the FCS playoff semifinals in 2015 and quarterfinals last season. In December, he left Richmond to move across the CAA to Delaware, where he is quickly regenerating the Blue Hens, who struggled in recent seasons.
"The one thing I can say is (the Richmond players) loved Danny Rocco," Richmond coach Russ Huesman said on Monday. "They loved him, so I don't think there's animosity towards him. I think the one thing is it is Delaware week, and Delaware is a big rivalry.
"If they're motivated because coach Rocco is at Delaware, I hope they show it in extra film work this week and how hard they practice during the week."
Richmond and Delaware have lost only to strong teams - Richmond to Sam Houston State and Elon, and Delaware to Virginia Tech and James Madison. More strong teams await the Spiders, who face three straight ranked opponents in Stony Brook, Villanova and James Madison following their trip to Delaware.
Richmond features the No. 1 passing offense in the FCS with quarterback Kyle Lauletta, the school's all-time leading passer, and wide receivers Dejon Brissett and Cortrelle Simpson. Delaware has a stout defense that's limiting opponents to only 14 points and under 300 yards per game.
James Madison (6-0) and North Dakota State (6-0) have stood 1-2 in the rankings since the preseason. JMU, which posted a 30-8 win over Villanova this past Saturday, collected 160 of the 167 first-place votes and 4,167 points in the poll to outdistance the Bison, who beat Youngstown State 27-24 in overtime in a matchup of Top 10 teams. They collected the other seven first-place votes and 4,014 points.
The next four spots also remained the same from last week with Jacksonville State (5-1), South Dakota (6-0), Wofford (6-0) and Central Arkansas (5-1). Sam Houston State (5-1) moved up to No. 7 followed by Eastern Washington (5-2), Youngstown State (3-3) and Western Illinois (5-1).
After Richmond at No. 11, there was North Carolina A&T (7-0), South Dakota State (4-2), Elon (5-1), Villanova (4-3), Samford (4-2), Grambling State (5-1), New Hampshire (4-2), Western Carolina (5-2) and McNeese (5-1).
Rounding out the Top 25 were No. 21 Montana (5-2), Stony Brook (5-2), Weber State (4-2), Illinois State (4-2) and North Carolina Central (5-1). Stony Brook returned to the rankings following a one-week absence and The Citadel fell out.
A national panel of sports information and media relations directors, broadcasters, writers and other dignitaries select the STATS FCS Top 25. A first-place vote is worth 25 points, a second-place vote 24 points, all the way down to one point for a 25th-place vote.
The Top 25 is released every Monday afternoon during the regular season, except for Sunday morning, Nov. 19, prior to the selection of the 24-team FCS playoff field. A final Top 25 will follow the FCS championship game, which will be held Jan. 6 in Frisco, Texas.
---
---