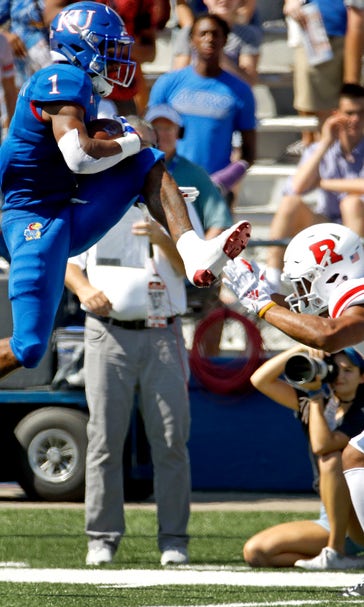 RB Pooka Williams giving Kansas a big lift early in season
September 18, 2018
LAWRENCE, Kan. (AP) — Pooka Williams had just taken a handoff from Kansas quarterback Peyton Bender in the second half of their game Saturday when he saw a host of Rutgers defenders converging on him.
So the 5-foot-9 freshman reversed field and headed toward the Jayhawks' sideline, then found some open space and turned on the jets, only to see another defender standing in his path. There was no going around him, so Williams did the only sensible thing: He tried to go over him.
Nearly made it, too.
Williams' hurdle attempt may have been the Jayhawks' biggest highlight in a 55-14 rout of the Scarlet Knights, one that gave them back-to-back wins for the first time in seven years — and a whole bunch of momentum heading into their Big 12 opener at Baylor this weekend.
"I was probably like, 10 yards behind. Kind of lost him when he got to the sideline," Bender said, "then saw him kind of pop up over everybody, saw the ball go flying. It was almost an incredible play.
"Still an incredible play, but if he would've made it over him it would've been pretty sweet."
In more ways than one, Williams has provided Kansas quite a lift.
The four-star prospect from Boutte, Louisiana, arrived over the summer with plenty of hype, but nobody was certain whether he would live up to it. There have been other highly touted players to join the Jayhawks over the years, but most of them failed to pan out — a big reason why the Jayhawks have gone through such a prolonged stretch of doldrums.
But after Williams was held out of a season-opening loss to Nicholls amid eligibility concerns, he has quickly put any of those concerns to rest. He had a pair of long TD runs in a victory over Central Michigan that snapped the Jayhawks' 46-game road losing streak, then ran for 158 yards with another long score in their victory over the Scarlet Knights.
It is the first time anybody at Kansas, which has produced such legendary runners at Gale Sayers and John Riggins, has had back-to-back 100-yard games to start their career.
"It's incredible, especially just how fast he is," fellow running back Dom Williams said. "That hurdle, he completely just like cleared the guy. I thought that he got up there, and I thought it was — I haven't seen something like that in, like, a live game."
It is not the first time he's pulled the trick. Plug his name into Google and you will find a video of Williams attempting the same feat in a high school game.
He didn't make it that time, either, instead karate-kicking the defender in the chest. But the confidence and, well, sheer audacity to try such an eye-popping play stands out.
"I just hope he keeps the ball tight, because I already know coach is going to get on him for jumping with the ball out," said Khalil Herbert, another of the Jayhawks' running backs. "I'm not surprised, though, because he's got bunnies."
Williams is able to run a 4.3-second 40-yard dash and leap tall defenders in a single bound despite missing all the toes on one of his feet.
At the age of 9, Williams was mowing the yard with a cousin who was hurrying to get done before a storm. Williams got in the way and the mower ran over his foot, severing all five toes.
Doctors said at the time he wouldn't walk again, much less run or play football. But he was back on the youth field the following season, and was so impressive his freshman year of high school that even his coach didn't know he was missing toes until halfway through the season.
"The thing I'm most proud about him is the maturity that I see in a young guy," Kansas coach David Beaty said this week. "We were talking on the bus ride (Saturday) and I asked him where did you get your football and aptitude? And he talked about his dad made him study. When most kids were out playing, they were watching video and watching tape about where is his primary key and where is his secondary key.
"We start hearing him talk about how he's looking and what he's looking at," Beaty continued, "and for a young guy that's not, that's not usually normal."
Neither is jumping over a defender standing in the way.
"I've seen guys try to jump over folks," Beaty said with a smile. "We may be starting to institute a new kind of stiff leg, instead of a stiff arm. We'll see."
---
---