Ranking college football's Power 5 conferences based on coaching talent
Published
Jun. 7, 2017 3:48 p.m. ET

Back in late February, I wrote a piece examining the factors behind the SEC's descent into relative mediocrity (outside of Alabama) last season. It became clear to me that the biggest reason is the conference's coaching lineup just isn't very strong right now.

Our first Mailbag question this week piggybacks off that thesis.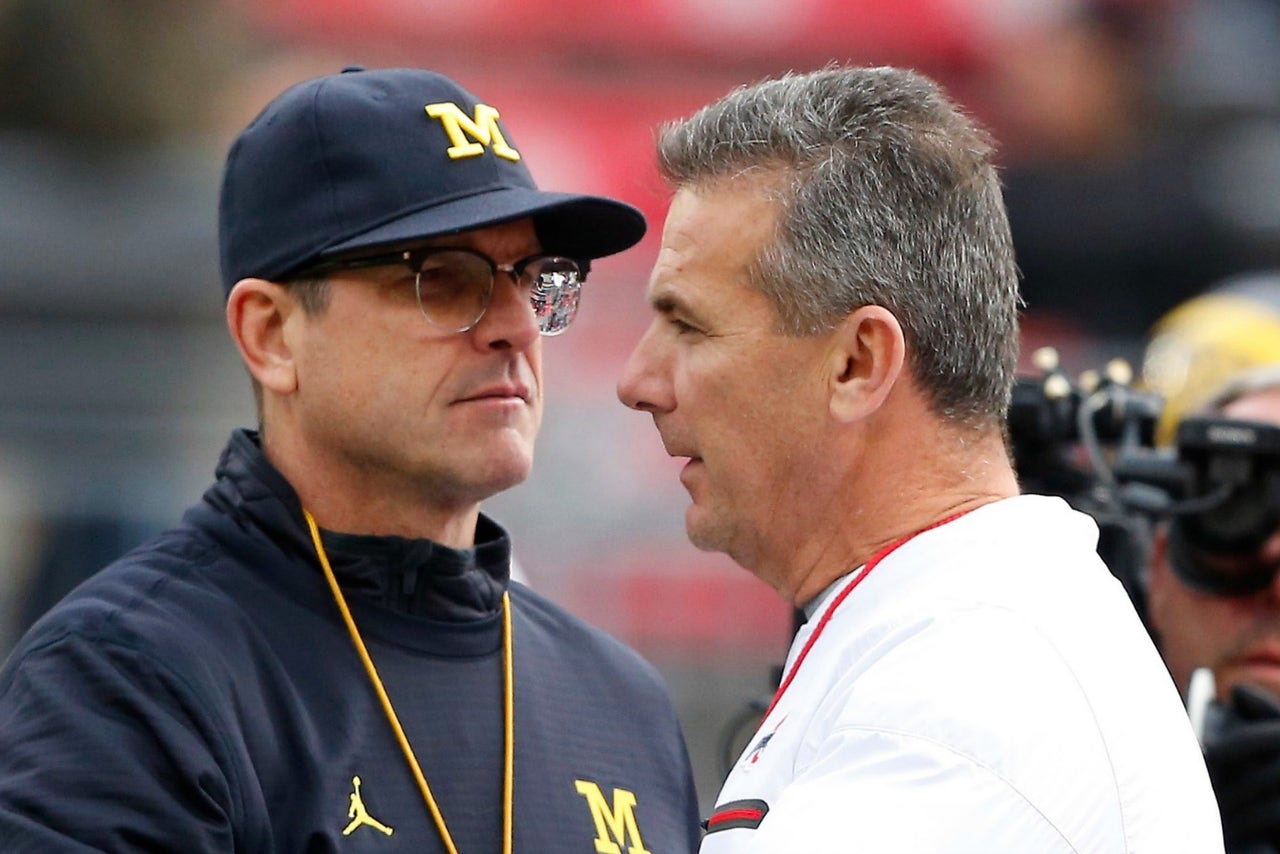 Joe Maiorana-USA TODAY Sports 

Rank the power 5 conferences in terms of coaching talent.

– Brine Smif, Rock Hill, SC

Short, sweet and to the point. Here we go.

1) Big Ten. It was only a few years ago that I stood in a press box talking to a Big Ten-centric writer about just how awful the league's coaching lineup was at the time. Two words: Tim Beckman. But that was a time when many schools were still relatively stingy when it came to coaching salaries.
2) ACC. Again, this league would have sat near the bottom of the group not long ago. But Dabo Swinney and Jimbo Fisher are two of the sport's heavyweights. Louisville's Bobby Petrino has won big at three different schools. Duke's David Cutcliffe is a miracle worker. And look who's joined the league in just the last couple of years: Miami's Mark Richt, Virginia Tech's Justin Fuente, Virginia's Bronco Mendenhall and Syracuse's Dino Babers.
3) Big 12. In such a small league, this ranking hinges heavily on whether Oklahoma and Texas have the right guys in place. The Sooners do with Bob Stoops (Editor's note: This was published prior to Stoops' sudden retirement Wednesday.), and I believe the 'Horns finally do with Tom Herman. Gary Patterson is high up in my national Top 10, Bill Snyder is a Hall of Famer and Oklahoma State's Mike Gundy is perennially underrated. Baylor's Matt Rhule did outstanding work at Temple. And beware, Holgo.
4) Pac-12. A couple of years ago I would have put the Pac-12's lineup alongside the SEC's as the nation's best. But the shine has worn off guys like Todd Graham, Rich Rodriguez and Jim Mora. USC's Clay Helton and Oregon's Willie Taggart are still relatively unproven. So it's Chris Petersen, David Shaw, Kyle Whittingham, Mike Leach and then … Mike MacIntyre? Who else?
5) SEC. So you've got the king in Nick Saban, and maybe he counts twice. Then you've got some guys like Gus Malzahn and Kevin Sumlin, who've achieved brief high points but haven't demonstrated they can sustain it. And beyond that, it's a whole lot of inexperience (Kirby Smart) or retreads (Will Muschamp, Ed Orgeron). Dan Mullen is currently the league's second-best coach, which pretty much says all you need to know.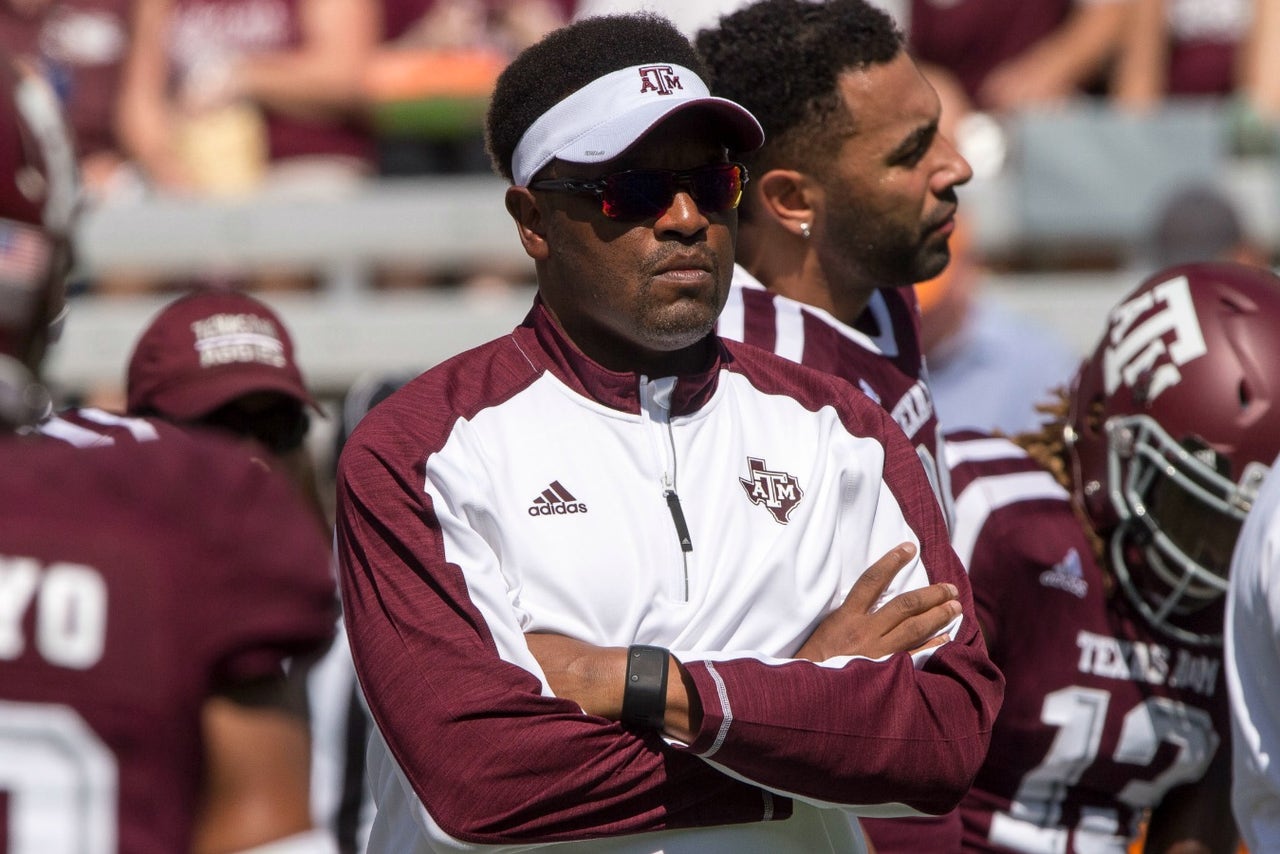 Jerome Miron-USA TODAY Sports 

Hey Stewart: Last week Texas A&M's AD came out and said that Kevin Sumlin needs to win and win right now. With how the last few years ended, it's not surprising that Sumlin would be considered on the hot seat, but do you see any advantage to openly saying so three months before the season even starts?

– Jared Stechschulte from Columbus, OH

It's definitely not the usual tact of expressing "utmost confidence he's our guy and will be for years to come" right up until the moment you fire him. Part of that is just Scott Woodward's personality – I've known him since back in his Washington days and he's a straight-shooter with the media. And part of it is just acknowledging reality.

Sumlin was the seventh-highest-paid coach in the country last season, according to USA Today's database, at $5 million a year. Four of the six above him have won a national championship and a fifth is Jim Harbaugh. (The other, Charlie Strong, has since been fired.) Sumlin, by contrast, has not finished higher than fourth in his own division since 2012. Clearly, he's not going to survive another eight-win season.

So, Woodward could either spend the next five months dancing around that, spinning it, etc., or he could take the super-blunt approach he just did.

Obviously, it puts added pressure on Sumlin and, by extension, his players. Strong has said several times that he believes his Texas players got worn down by the constant speculation and premature reports of his impending ouster, and their performance reflected it. Also, the uncertainty can't be good for recruiting.

The only possible advantage is that it telegraphs to potential replacements (i.e,, Chip Kelly) to keep A&M in mind over the coming months, but they would have done that anyway.

End of day, Woodward's rationale may simply be … what happens, happens. Either Sumlin is going to defy the odds, win big and keep his job or go 7-5 and get fired. Either way, A&M will field a football team next season, presumably with a hot coach, whether it's Sumlin or someone else.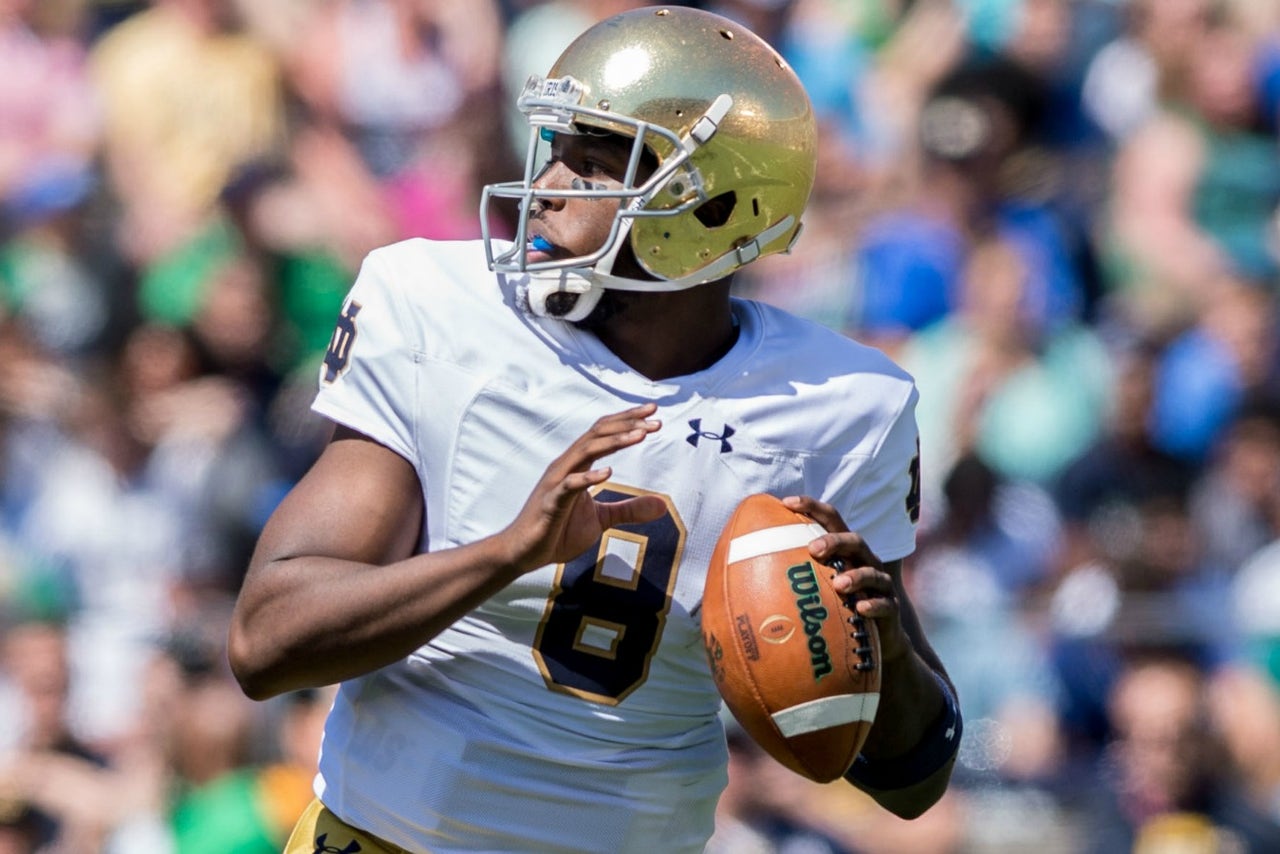 Matt Cashore-USA TODAY Sports

Impact of Malik Zaire to UF?

– Mike McKenzie

Look at that, another short and straight-to-the-point question.

It's a big pickup for Florida. No doubt about it. Given the now eight-year plague of underwhelming quarterback play in Gainesville (save for those six glorious games with Will Grier in 2015), landing a guy who's shown he can be a dynamic player – albeit in limited doses – is cause for optimism. Go back and watch some highlights from Zaire's starts in the 2014 Music City Bowl against LSU or the 2015 opener against Texas. He can definitely ignite an offense.

But Gators fans would be wise to try to temper their expectations. On the spectrum of notable grad transfer quarterbacks, this is not Russell Wilson landing at Wisconsin or Vernon Adams at Oregon. Those guys were three-year stars at their former schools who walked into places with a ready-made supporting cast. In fact, it's no guarantee Zaire will beat out redshirt freshman Feleipe Franks, though Jim McElwain presumably recruited him thinking he will.

The comparison I keep coming back to is Zaire's former teammate (whom he eventually supplanted), Everett Golson, during his one season at Florida State. By no means did he light the world on fire, but he went 7-1 as starter, completing 67 percent of his passes for 11 touchdowns and three interceptions. He lost his job late in the year after committing three turnovers in one game.

Zaire is a better runner than Golson. I believe he can be a better passer, though it's been so long, who knows? If he can perform about one level higher, be less of a game manager and more of a weapon, Florida's offense should be more potent. And remember, this is a team that won the past two SEC East titles largely without that element. What steps forward can the Gators take with him?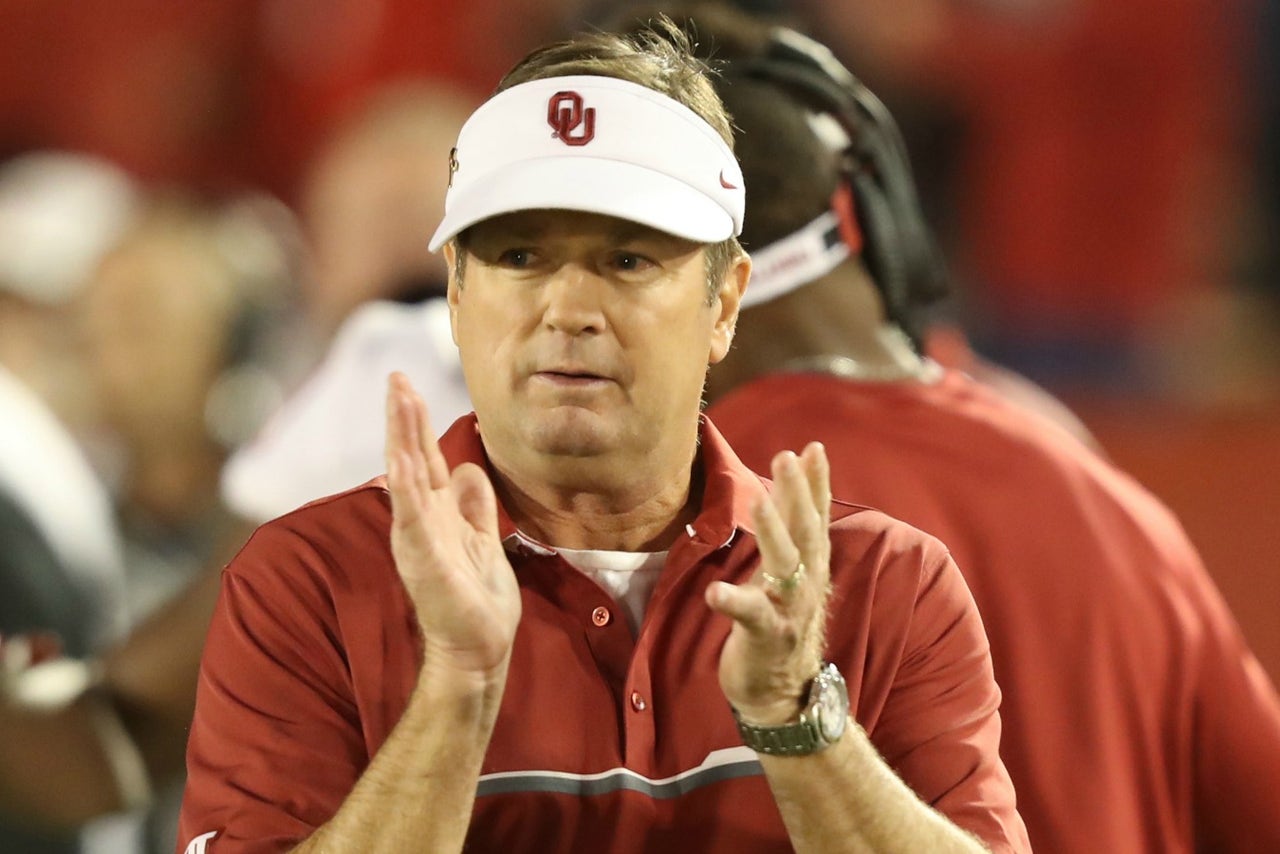 Reese Strickland-USA TODAY Sports 

Stewart: Is the B12 really in trouble and in danger of folding? The Big 12 recently distributed $34.5 million to each school, more than every conference but the SEC and about the same as the Big Ten.

– Robert Powell, Plano, Texas

For all the soap opera drama surrounding that conference the last couple of years, it probably comes as a considerable surprise to some people how well the league is doing financially. There's a reason why most of the schools were in no hurry to split the pie 12 ways instead of 10. And while the lack of a conference network is a big source of the perceived instability (because of the Longhorn Network), it allows the schools to make even more money for their Tier 3 rights.

The Big Ten will once again reset the bar for per-school distribution when its new TV deals kick in this fall. The Big 12 as a whole will not catch up to the SEC and Big Ten revenue-wise. But it's definitely a step above the ACC and Pac-12, and most importantly, has more than enough in its schools' coffers to keep the lights on.

The bigger issue for the Big 12 is recruiting. Its top schools simply aren't recruiting at the same level as the other power conferences. It shows both on the front end (just one Top 25 class last year) and the back end (just 14 players drafted this year). These things go in cycles and it will likely enjoy an uptick very soon, but there's reason to wonder whether a league with just two glamour programs and one major recruiting state can compete at a high level.

The Big 12 was never in any immediate danger of folding due to its binding Grant of Rights. The question is what happens in seven years when its deals come up. If it implodes, it won't be because of money. It will be because its schools found themselves consistently disadvantaged in the playoff race and/or Texas and Oklahoma feel the league is dragging down their brands.

That's a long ways away. Maybe the conference wins five national titles between now and then.


John David Mercer-USA TODAY Sports 

Stewart: What rule will be invented next to hinder Nick Saban's and Alabama's dominance?

– Stewart T., Huntsville, AL

Good question. They've done about all they can do to the off-field rules, so what's next? Maybe a weight limit on linebackers.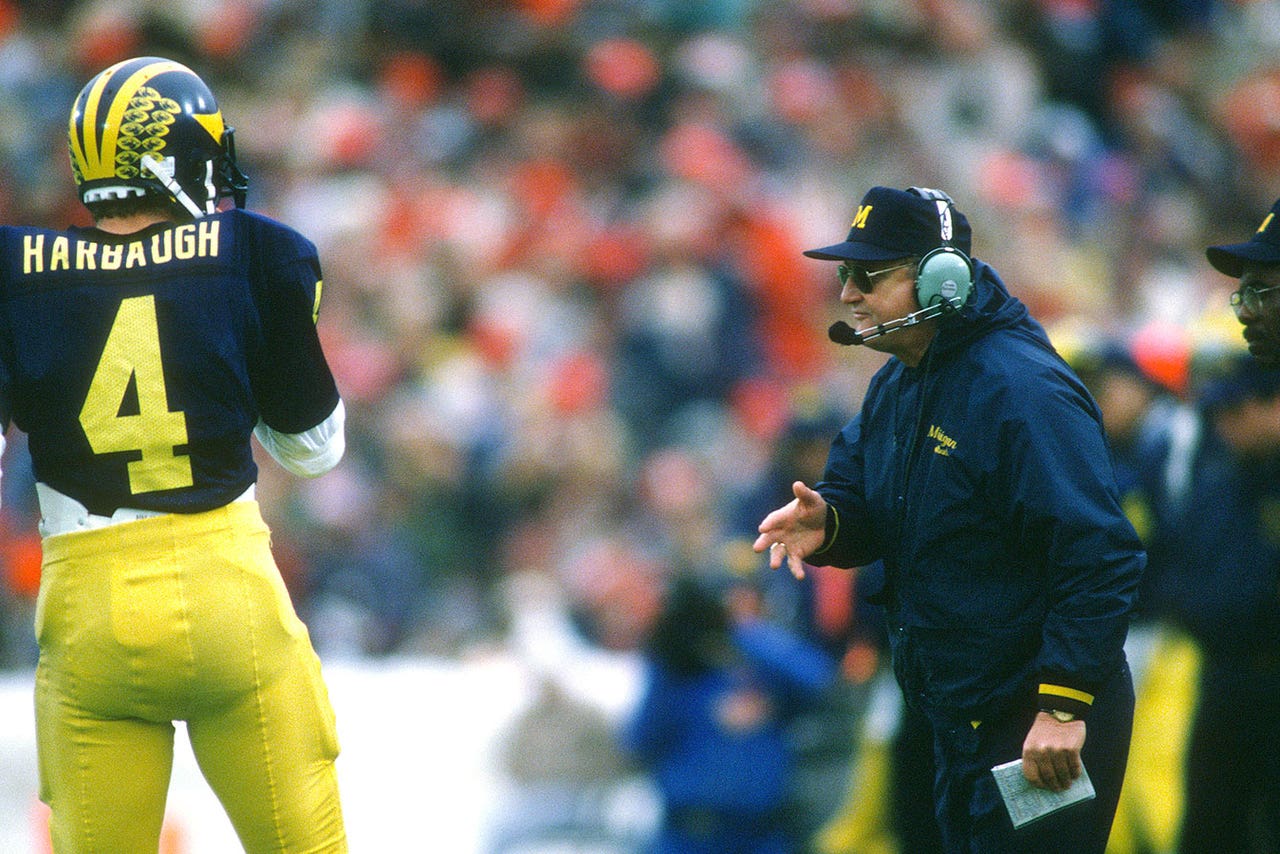 Hi Stewart: Perhaps it's my Ohio State bias showing, but it always bugs me when Bo Schembechler's name is prefixed with "legendary." You even alluded to his exalted status in your answer to Roger from London in last week's Mailbag. What did he achieve that warrants this moniker? Schembechler never won a national championship, never coached a Heisman winner, and went 5-12 in bowl games.

– Brad Poston, Pleasanton, CA

Fair question. If Schembechler were coaching today with the exact same resume, I'm sure the talking-heads shows would fill no shortage of segments debating whether he's overrated. And hey, maybe that was taking place at the time in the letters to the editor of the local paper. I don't know. I was 13 when he retired.

However, you have to put yourself in the head space of a college football fan in the '70s and '80s. There was no national title game much less a playoff. The Rose Bowl was still The Rose Bowl. He went to 10 of them and would have gone to more if not for the Big Ten's no-repeat rule in the early '70s.

He won the Big Ten 13 times in his 21 seasons. His teams finished in the Top 10 of the polls for 10 straight seasons at the start of his tenure and 17 times in 21 years. Sorry, Buckeye, but that's incredible.

P.S.: He also won the "Ten Year War" with Woody Hayes, 5-4-1.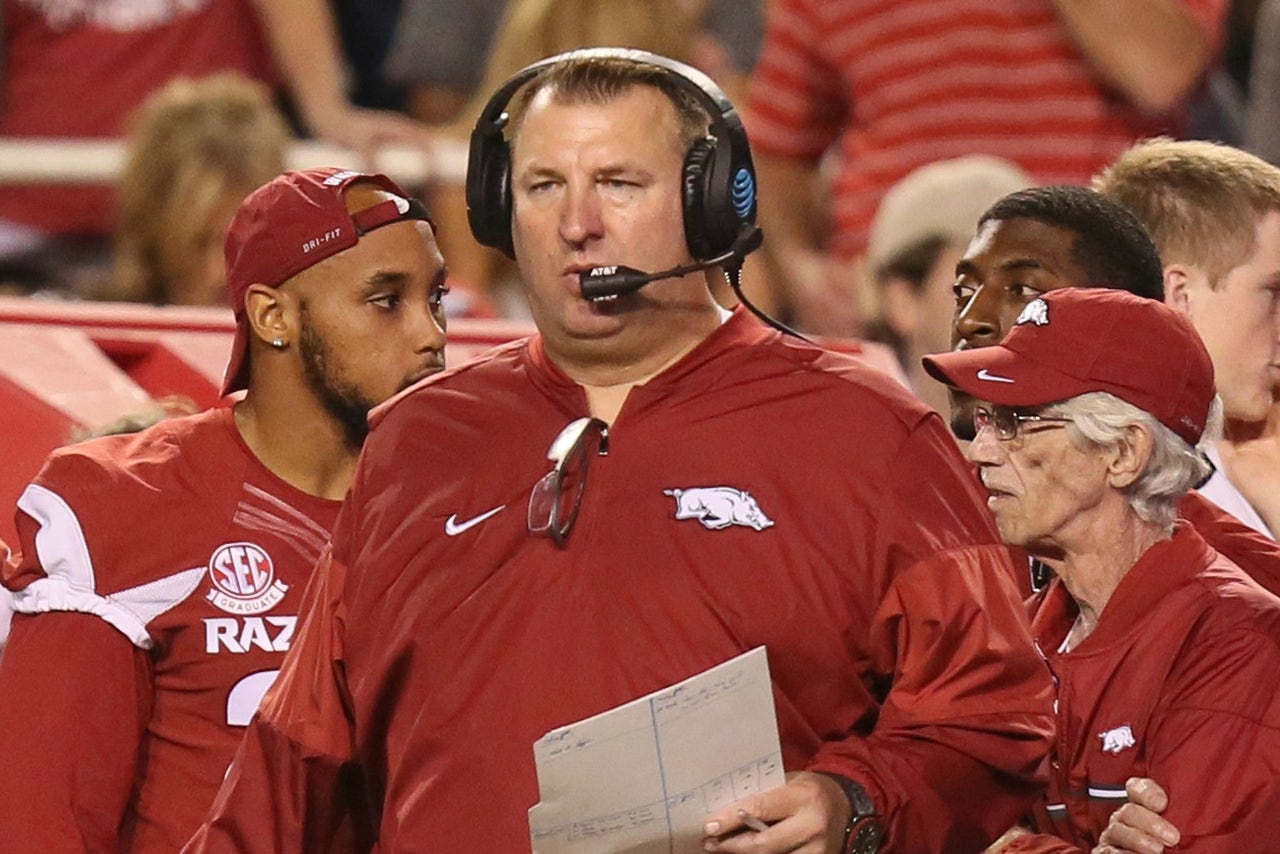 Nelson Chenault-USA TODAY Sports

Stewart: What is Bret Bielema's ceiling at Arkansas? Will he succeed enough to have a long career in Fayetteville, or does his system ultimately rely on too much development of players in an old-fashioned system that the Hogs will constantly be mismatched against other teams? Is Arkansas a place, similar to Mississippi State or West Virginia, where you have to be more modern to succeed?

– Michael

Well, first of all, we know you can win at a high level at Arkansas. Houston Nutt did it, taking the Hogs to Atlanta twice. Bobby Petrino did it, albeit briefly, notching back-to-back double-digit win seasons and a top 5 ranking. And Bielema has shown he can win at a high level in a major conference at Wisconsin. It hasn't happened yet at Arkansas, so the question about his system translating is understandable.

Bielema gets a pass for his first couple of seasons there due to the mess he inherited. But last season, his fourth, was unquestionably a disappointment, as Arkansas blew its last two games against Missouri and Virginia Tech and finished 7-6.

I don't believe Arkansas has to be "modern," per se, but it does have to do something a little bit different. It's never going to out-recruit the more established powers in its own division and conference. It hasn't finished higher than ninth in the SEC in 247Sports' recruiting class rankings since 2008. So it's unrealistic to think the Razorbacks will just put their guys up against the other guys and may the best man win. They've got to find a way to punch above their class.

Which is exactly what Petrino did. He never solved Alabama, but he did beat a Top 10 LSU team during his 2010 Sugar Bowl season (and very nearly beat a Top 10 Ohio State team in that Sugar Bowl) and beat three top 15 teams in his 11-win 2011 season. He did it first and foremost with an innovative offense that flustered what were often more athletic defenses.

Bielema has not demonstrated his strategic edge yet. His rushing attacks aren't steam-rolling people like they did at Wisconsin. Mind you, defense was his much bigger problem last season. But I do believe he's capable of rising up and posting the occasional nine- and 10-win seasons, much like Nutt did, that keep him in business there for a while.

I don't believe he can win the SEC, or reach the playoff, unless he hits a perfect-storm jackpot one year – Saban retires and/or the next Cam Newton graces Fayetteville and/or half the conference joins Ole Miss in NCAA purgatory.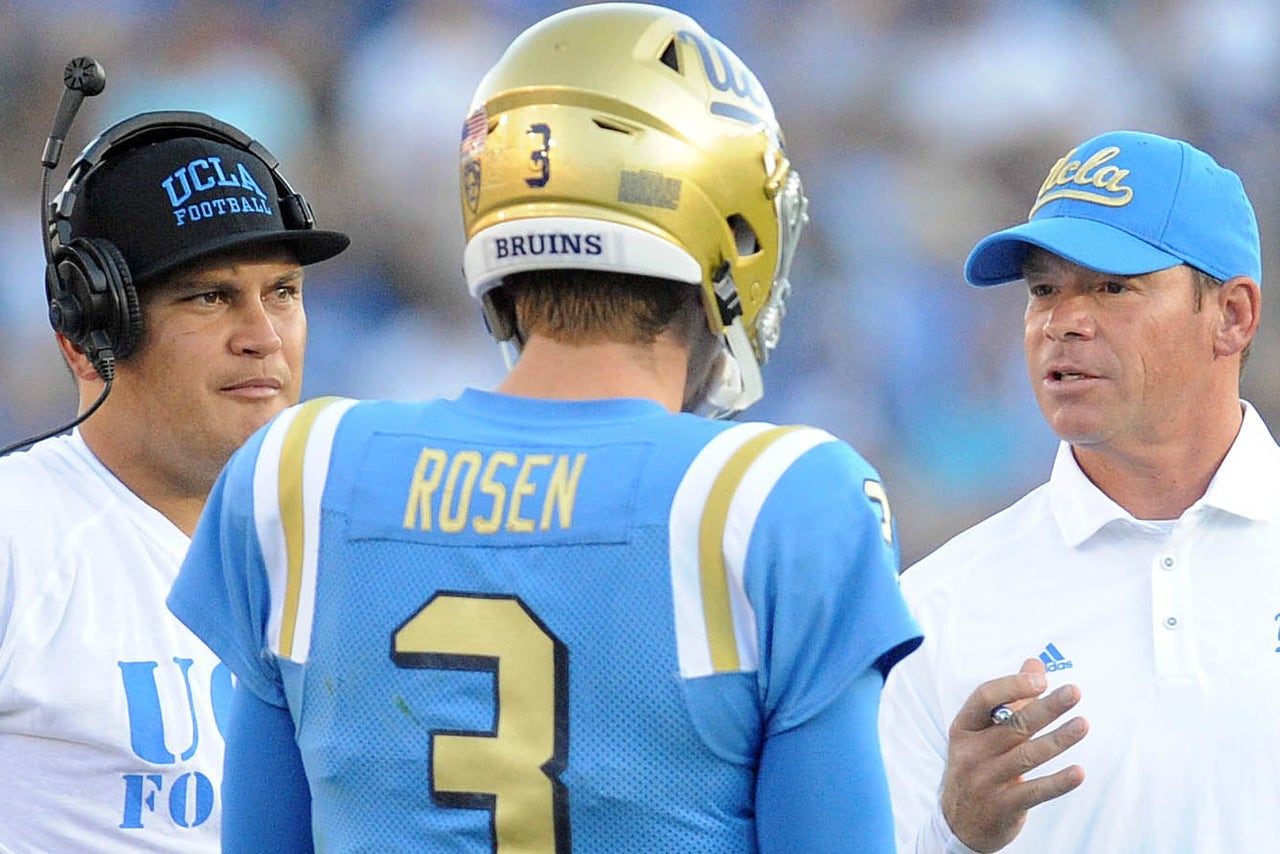 Gary A. Vasquez-USA TODAY Sports

How much do programs care about getting players into the NFL? Would a program switch to a pro-style to attract recruits, and would it attract recruits?

– Jack Miller

All programs want to send as many players as possible to the NFL, but it's more intrinsic to some programs' recruiting pitches than others. Needless to say, Alabama, Ohio State, LSU, Florida State, Miami and others are selling kids on their track record of producing NFL prospects, and a big part of that is touting their system and teaching methods. If, on the other hand, you're Iowa, no doubt you're including Riley Reiff's recent $58 million Vikings contract in your brochures, but the primary pitch is still "come help lead us to the Rose Bowl."

As far as switching styles, though – I wouldn't recommend it. People have tried. Then-DC Will Muschamp pushed Mack Brown to move Texas to a pro-style for much that reason and then chose to do the same at Florida. Both experiments blew up spectacularly and now he runs the spread at South Carolina. The current poster boy for this is UCLA's Jim Mora, who scrapped former coordinator Noel Mazzone's up-tempo spread last year to allow potential No. 1 pick Josh Rosen to play in a pro system. The Bruins plummeted to 127th nationally in rushing offense.

At this point, hopefully people realize that you can get to the NFL playing in just about any system. Pat Mahomes became a Top 10 pick this spring as an Air Raid QB. Fellow first-round QBs Mitchell Trubisky and Deshaun Watson played in spread systems. Ditto for Dak Prescott and Ezekiel Elliott the year before, and Marcus Mariota the year before that.

What is your favorite college football movie of all time? My pick is "The Program."

– Zach Selan, Chicago

So, I've noticed something recently with these "greatest sports movie" arguments. People tend to fall into two camps. You're either partial to the campy Hollywood ones with a feel-good ending, or, you're partial to the "edgy" Hollywood ones that aren't particularly good but aren't as overtly cheesy.

"The Program" falls into the latter category. It's full of lazy clichés about seediness in college football, but it's undeniably entertaining. And it's hard to argue with a film that includes both Halle Berry AND consummate '90s babe Kristy Swanson. It's no "Blue Chips" as far as the "exposing the shocking underbelly of mid-'90s college sports" genre, but it's pretty good IF this is your preferred type of sports movie.

Me? I'm campy. I love "Hoosiers." I cried the first time I saw "Field of Dreams." If "Remember the Titans" comes on TV, I'm not turning it off.

And to that end, the greatest college football movie is … "Rudy," of course. It gets me every time. They're not really going to put him in the game, are they? No way! And he gets the sack! Unbelievable! Ru-dy! Ru-dy!

Also, highly underrated college football recruiting parody: "Johnny Be Good." Anthony Michael Hall as the hot-shot quarterback, Uma Thurman as his girlfriend, Robert Downey Jr. as the best friend.

Find it. Late-'80s gold.


---