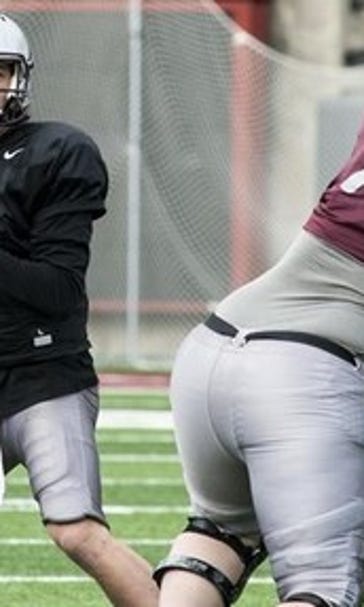 Phillips, Hill battle to become Montana QB
BY AP • April 18, 2017
(STATS) - The competition for Montana's starting quarterback position has drawn considerable attention this spring with the Griz returning an experienced, potentially deep lineup that is anxious for improvement from last season.
Coming off a 6-5 campaign, the Griz are replacing quarterback Brady Gustafson. The picture figures to be clearer after Saturday's annual spring-ending intrasquad game, which will be held about two hours from campus at Naranche Stadium in Butte.
The QB competition has basically dwindled to senior Reese Phillips, the former Kentucky transfer, and Blinn College transfer Caleb Hill, a junior. They appear to have separated themselves from redshirt freshman Gresch Jensen.
Phillips may have the upper hand after being last year's No. 2 behind Gustafson. He was particularly solid in a simulated game last Friday.
Montana started last season by winning five of its first six games, but went 1-4 down the stretch and missed the FCS playoffs in coach Bob Stitt's second season.
The Griz's fast-paced offense will feature veterans across the offensive line and a wide receivers unit led by sophomore Jerry Louie-McGee. Their defense will be even more seasoned with the return of nine starters and 12 players who saw action in more than five games.
---
---