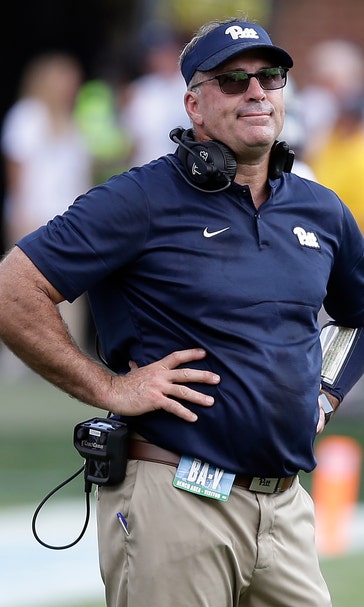 Panthers still searching for consistency as September closes
September 24, 2018
PITTSBURGH (AP) — The silence coming from the back of the bus offered Pittsburgh coach Pat Narduzzi all the proof he needed that his maddeningly inconsistent team remains fully engaged.
For now, that's all Narduzzi can ask for. Well, that and the hope the small mistakes that piled up into a messy loss at North Carolina last Saturday will soon be erased. Or at least minimized.
"I've been on a lot of team buses through the years where ... you come out of the locker room, you jump on the bus and you're hearing some talk in the back of the bus, and you're kind of like as a head coach or a defensive coordinator, you're kind of like, 'Shut up back there,'" Narduzzi said Monday. "But you know what? I was on the offensive bus, I'm talking the entire time, just silent (elsewhere). So it hurts. And I think when it hurts, that's when you know your guys care."
Caring is one thing. Winning is another, something that's proven elusive all six times the Panthers have faced the Tar Heels since Pitt entered the Atlantic Coast Conference in 2013. This one may have been the most painful. The Panthers led at halftime against a team that had won just one of its previous 13 games against Power Five conference opponents.
And then it all went away. A penalty here. A fumble there. A 38-35 loss that dropped Pitt to 2-2 heading into its most difficult stretch of the season. Three of the Panthers' next four games are against Top 25 teams. Pitt visits No. 13 Central Florida on Saturday, then hosts surprising Syracuse followed by a visit to No. 8 Notre Dame and a meeting with No. 22 Duke.
The Panthers likely need a split to have a legitimate shot at reaching a bowl game after missing out in 2017. Not that Narduzzi wants to talk about it. It's still September.
"Things happen during a game," Narduzzi said. "It is moving fast out there, and you've got to think fast, you've got to be locked in. And again, I think our kids are locked in, but you're going to have mistakes. I've never been in a game where you're not going to have mistakes. But again, one less mistake and we win the football game."
The Golden Knights and the Orange play at a high tempo, turning every game into a bit of a track meet. That's not exactly great news for the Panthers, who allowed North Carolina's sputtering offense to roll up 486 yards.
The shaky performance came a week after Pitt kept Georgia Tech in check during a 24-19 victory. The Panthers tackled well and never really let the Yellow Jackets back in the game after going up 21-0 at the break. Facing a starkly different test by the Tar Heels, Pitt regressed on a side of the ball that was supposed to be a strength with nine starters returning and Narduzzi — a standout defensive coordinator at Michigan State before joining the Panthers — in his fourth season.
Four weeks in, the Panthers rank in the bottom half of the ACC in total defense, scoring defense, pass efficiency defense and sacks.
The offense has problems of its own. While senior running backs Qadree Ollison and Darrin Hall have been dynamic at times, the Panthers have developed little rhythm in the passing game. Sophomore quarterback Kenny Pickett is enduring some growing pains in his first year as the starter, but an inability for his receivers to get separation is also a problem. The Panthers are 118th in the country in yards per completion.
"The room sometimes goes lopsided, and the offense plays good enough and the defense doesn't," Narduzzi said. "And then all of a sudden the offense doesn't play good enough, the defense plays their tails off."
It's part of a frustrating pattern that has repeated itself at Pitt for years. The ACC Coastal Division appears to be wide open. The Panthers believe they should be part of the mix — Narduzzi all but guaranteed a spot in the ACC title game during a kickoff luncheon in August — but to do so, they need to stop the one-step-forward, one-step-backward treadmill.
"Coaches want perfection," Narduzzi said. "You're never going to get it, but, you know, you need to be excited after wins and after losses you should be having some disappointment. If not, there's something wrong with your heart."
---
---