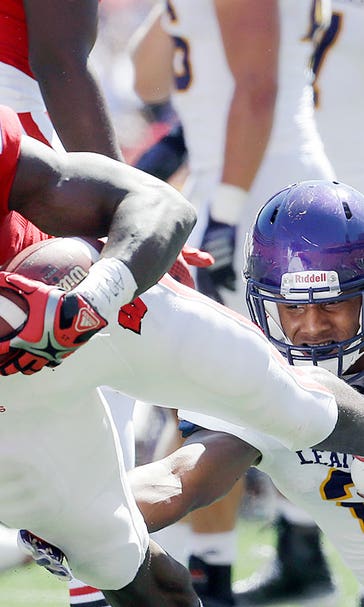 On Campus: Are Melvin Gordon's Heisman hopes dashed already?
September 6, 2014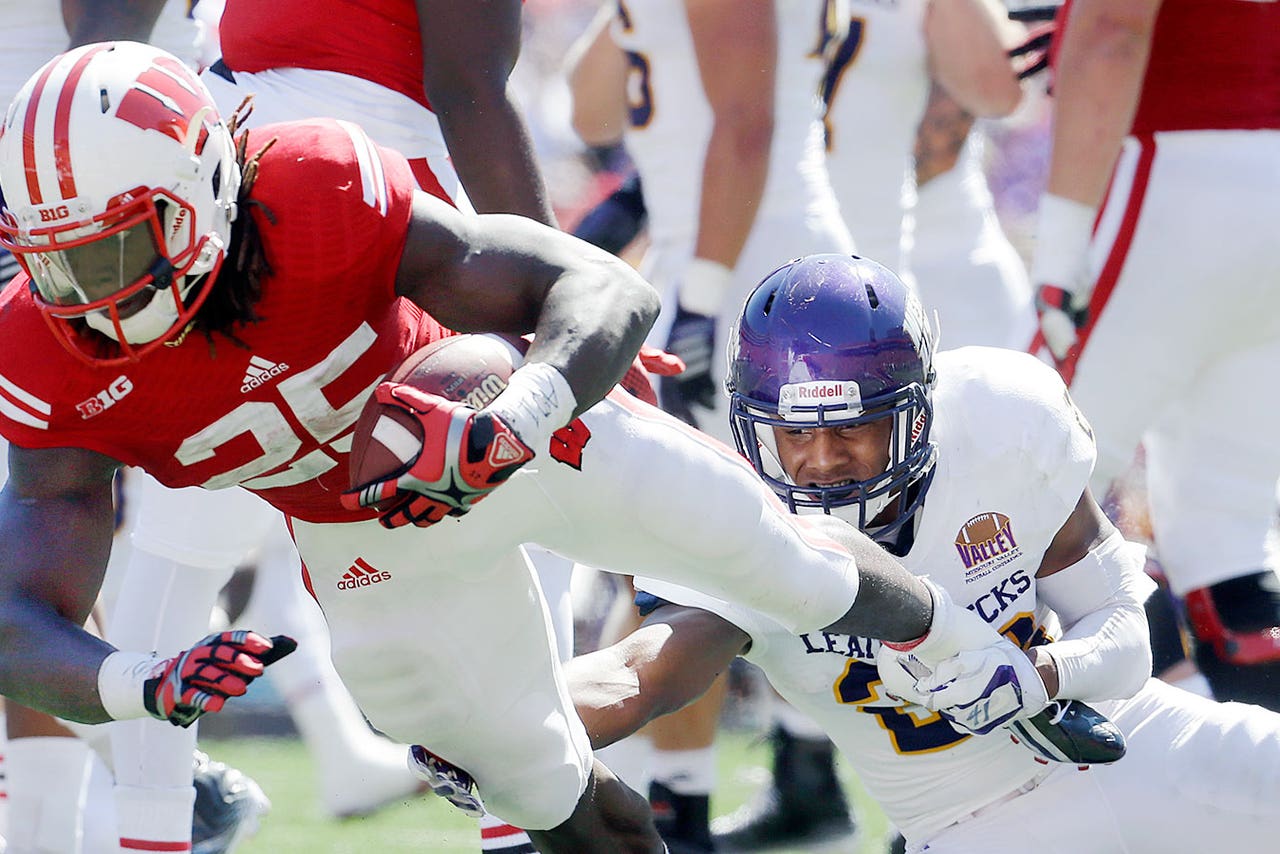 Editor's note: "On Campus" is a new daily file that is designed to take you around the country with our regional sites, providing current news, practice notes, features and more. It will be updated multiple times each day with new stories.
MADISON, WISCONSIN
Can Gordon kiss Heisman Trophy goodbye?
In the world of college football, memorable plays in critical situations can provide the impetus for consideration as a Heisman Trophy finalist. Take, for example, Nebraska running back Ameer Abdullah, who pinballed his way around the field Saturday afternoon, eluding six McNeese State tacklers to score a game-winning 58-yard touchdown catch with 20 seconds remaining.
Wisconsin running back Melvin Gordon watched Abdullah's run on a cell phone as he was leaving his round of media interviews following UW's 37-3 victory against Western Illinois. He was admiring the drive and skill of a good friend. But he also likely couldn't help feeling a bit left out of the party.
Gordon began this season as a legitimate Heisman Trophy candidate himself. In fact, the online gambling site Bovada gave Gordon 12-to-1 odds of winning the Heisman before the season, which was better than all but three players. 
But what about now?
(Click here for more on Gordon and the Badgers' game)
CLEMSON, SOUTH CAROLINA
No mercy rule in place
Still stinging from its second-half deflation against Georgia last week, No. 23 Clemson crushed an overwhelmed South Carolina State club on Saturday, bashing the Bulldogs, 73-7.
Cole Stoudt, making his second start as the Tigers quarterback, threw for 302 yards and one touchdown in limited action, before allowing backups Deshaun Watson (154 yards passing, three TDs) and Nick Schuessler to get some reps in the blowout.
How lopsided was this intrastate affair? Let us count the ways.
(Click here for a breakdown of the beatdown and more ACC roundup notes)
GAINESVILLE, FLORIDA
Gators' attack worth the wait
No one left the game Saturday thinking the Florida Gators were world-beaters, but to a man (and certainly to a fan) it sure felt good finally to play some football again.
Even better, to win again.
Better yet, to win really big.
The much-anticipated debut of UF's new offense was postponed by weather for a week and whatever pent-up frustration the Gators might have dealt with over the previous seven days was taken out on Eastern Michigan to the tune of a 65-0 victory before an enthused and football-thirsty crowd of 81,049 at The Swamp.
(Click here for more info on Kurt Roper's debut as Gators OC)
MINNEAPOLIS, MINNESOTA
Cobb in the zone
David Cobb insisted earlier this fall that he didn't have any individual goals set for himself after rushing for 1,202 yards as a junior last season.
His only goal: 12 wins.
The Gophers running back single-handedly did his part to help Minnesota earn win No. 2 on Saturday against Middle Tennessee State. The senior tallied a career-high 220 rushing yards and a pair of touchdowns to lift the Gophers to a 35-17 victory and a 2-0 start to the season. In doing so, he became Minnesota's first 200-yard rusher since Amir Pinnix did so in 2005 against Michigan State.
(Click here to read more about Cobb's big day)
SEC ROUNDUP
Mizzou coach avoids slipup on old stomping grounds
In recent years, the University of Toledo's famed Glass Bowl has been a house of horrors for big-name visiting opponents. It's something Missouri coach Gary Pinkel knows all too often -- having led the the Rockets program from 1991-2000.
But Mizzou had little difficulty with the MAC power on Saturday, amassing 502 total yards in its 49-24 road victory.
Sophomore Maty Mauk, one of the SEC's few returning starting quarterbacks from last year, was especially prolific on this day, passing for 325 yards and five touchdowns.
(Click here for a quick SEC roundup of Week 2's games)
---