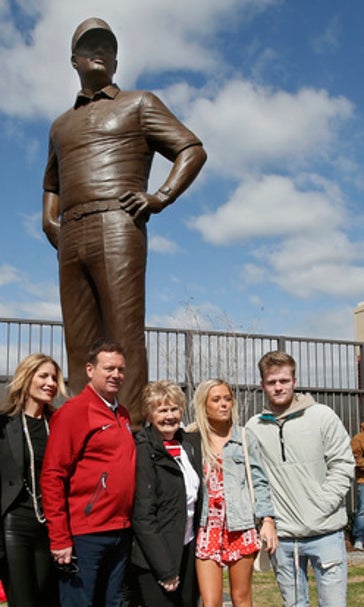 Oklahoma president Boren leaves Stoops ceremony on stretcher
April 14, 2018
NORMAN, Okla. (AP) University of Oklahoma President David Boren had a minor stroke before the unveiling of a statue honoring former Oklahoma football coach Bob Stoops on Saturday morning and was taken away on a stretcher.
The school revealed his condition in a news release Saturday evening.
The 76-year-old Boren is a former U.S. senator and has been the university's president since 1994. He had spoken earlier in the ceremony.
Stoops was being honored in front of a large crowd hours before Oklahoma's spring game. Right before the uncovering of the statue, paramedics made their way to Boren and talked to him near the podium where athletic director Joe Castiglione was speaking. Castiglione told the crowd the paramedics were taking precautions and then implored the crowd to pray. Boren smiled as he was being taken away.
The school said Boren had discomfort and dizziness and he was transported to the OU Medical Center in Oklahoma City, where tests determined that he had a stroke. He had dinner with his family in the evening.
''He is alert and is communicating with family and his excellent team of medical professionals at OU Medical Center,'' the news release said. ''President and Mrs. Boren deeply appreciate the outpouring of love and support they have received.''
It was a scary moment for fans, many of whom weren't immediately sure what was happening. After Boren was removed from the immediate area near the statue, a concerned Castiglione proceeded.
''Well, they don't give you a script for this,'' Castiglione said. ''But I think that knowing that how much President Boren and Molly (his wife) were involved in this day, I think that we will respectfully maybe just drop the covering of the statue of Bob Stoops, and we will thank each and every one of you again for what you have done to make this program so special.''
Boren is retiring in June. The school's Board of Regents announced last month that Jim Gallogly will become the university's 14th president on July 1.
Oklahoma coach Lincoln Riley did not attend the pregame ceremony because he was preparing for the Spring Game.
''It's tough to describe,'' Riley said. ''He's a guy that I'm very close to, means a lot to me, and so tough for it to be such a great event and great thing and to see him not feeling well. It hurts me. I'll be excited to check on him. Haven't had a chance to get an update on him since the game got started. He and Molly are in our thoughts and prayers right now.''
Stoops retired months before the 2017 season. He went 190-48 at Oklahoma and is the school's wins leader. He claimed a national championship in 2000 and reached the national title game three more times with the Sooners.
---
Follow Cliff Brunt on Twitter: www.twitter.com/CliffBruntAP
---
---