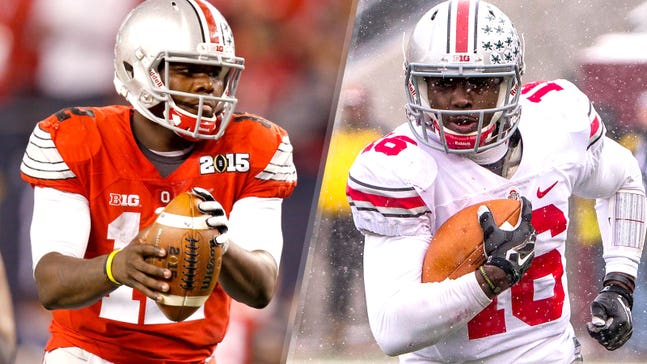 Ohio State QB race: Jones will win job but Barrett steals it back
Published
May. 25, 2015 12:00 p.m. ET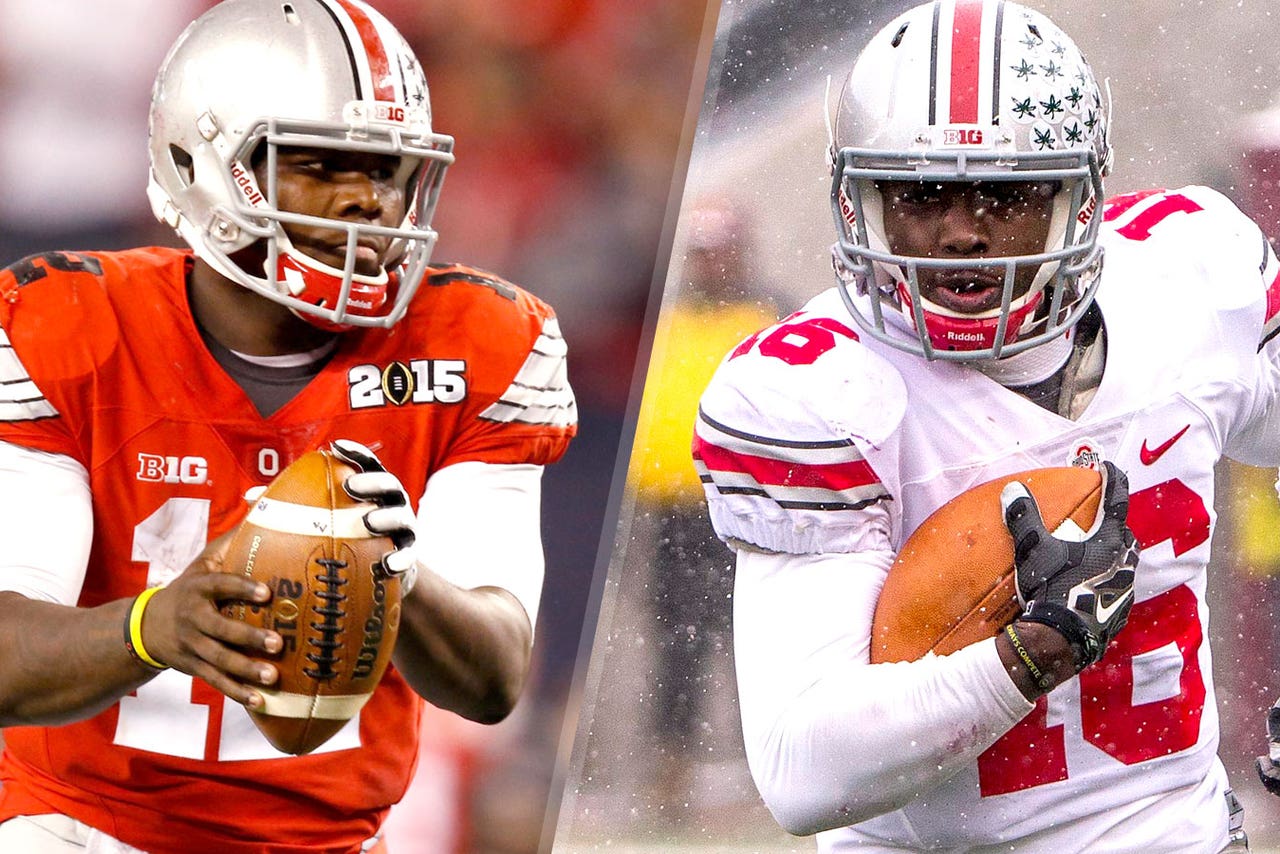 Time for the Monday Mailbag.
As always, if you have a question, send it to me via Twitter to @BruceFeldmanCFB:
From @uwdawgs9: Who will be Ohio State's starting QB?
This question is probably the most intriguing subplot of the 2015 season given the way Ohio State finished last year. Urban Meyer has three very compelling options. My hunch is that Cardale Jones opens the season as the starter. He has the biggest arm and the best size, but also the least experience. J.T. Barrett seems an ideal fit for their offense and probably has a better command of the system.
I could see Jones opening the season as the Buckeyes' starter and Barrett emerging as the No. 1 guy by November.
To me, the wildcard in the race is Braxton Miller, the two-time Big Ten MVP who is trying to recover from shoulder injuries. Miller's the best athlete of the bunch. Does he eventually shift to another position to get on the field in 2015? Does he eventually win back his old job? I'm fascinated to watch this play out.
From @juanblancosbg: Univ of Houston just landed two huge recruit commits in the last week, Jordan Elliott and Ed Oliver. Your thoughts on this?
New UH coach Tom Herman landing those two blue-chip DTs was college football's biggest story in recruiting last week and probably of the entire month. Herman is a dynamic personality, and he was smart hiring some very plugged in Texas recruiters and it's paid dividends already. The new staff has been very aggressive courting the local HS coaches, hosting some 50 a day for each of their spring practice sessions.
Oliver, who some sites ranked as a top-10 overall prospect, is a huge pull for the new staff. Of course it didn't hurt UH's chances with Oliver that his old high school coach, Corby Meekins, is now a Cougars assistant coach. Obviously, we're a long way from signing day and Elliott and Oliver could end up signing someplace else.
There have been plenty of examples of new head coaches landing big recruits months before actually coaching their first game and then later losing those blue-chippers to more traditional powers, but a few upstarts have hung on despite some losses piling up in the fall. Kentucky did when Mark Stoops made a lot of noise on the recruiting trail in his debut season.
At Ole Miss, Hugh Freeze hung on to his first big full class, and some of that he said was due to the fact that his team did better than most expected in his first season.
As I wrote a few months ago, I expect Herman to win a bunch of games and make a top 25 run in his debut season -- and if that happens, he'll have a very good chance to keep Oliver and Elliott.
From @DiegoG20: Will Bob Stoops ever win another national title at OU?
As much as I liked many of the staff moves Stoops made this offseason, the odds are against him winning another title at Oklahoma.
How often does a coach in major college football win another title after winning one early in his career at a school and then going without winning a second for at least 15 years? Usually coaches have lost so much momentum by that point -- and so many key assistants from their earlier successful runs -- it's too tough to rally and get traction to win another one.
I do expect the Sooners to have a bounce-back from last season's dud of a year where they went from title contender to one of the big disappointments of 2015. New OC Lincoln Riley has a clear plan of what he wants to do on offense and he has two elite RBs, some talent at wideout and a couple of QBs with experience.
One guy I expect to have a breakout season for OU on defense is Devante Bond, the former JC transfer at linebacker. He wowed some of his coaches this spring with his explosiveness and athleticism. He's poised for a big year after getting acclimated last fall.
From @MichelleObong: Which division in which conference has the most to prove? Which division should be better this year?
The Big Ten West would be my pick. For starters, it's the East that is generating all the buzz. OSU just won the national title and figures to be preseason No. 1. Michigan State has been superb the past few seasons under Mark Dantonio, and Jim Harbaugh has been the biggest newsmaker in the sport this offseason at Michigan.
All of that casts a large shadow on the West, which shapes up as a suspect division. It has new coaches at its two top programs -- Wisconsin and Nebraska -- and will have three coaches battling to keep their jobs in Illinois' Tim Beckman, Purdue's Darrell Hazel and Iowa's Kirk Ferentz.
From PaulEll8s: What's a realistic, successful season for Michigan look like under Jim Harbaugh?
Realistically, I think cracking the top 25 and being competitive in home games against archrivals MSU and Ohio State would do it. Harbaugh must improve a lagging Wolverines running game, which was eighth in the conference last season. The passing attack was shaky, too. I think new pass game coordinator Jedd Fisch will help, and my guess is Iowa transfer Jake Rudock will settle in and win the QB job. But I'm skeptical that Harbaugh inherited enough difference-makers to do much better than 8-4.
The Wolverines have a tricky non-conference slate with games at Utah and then against Oregon State and BYU (plus an easier one against UNLV). Anything less than 3-1 would sting, but those Utah schools are legit. I think 8-4 is viable. Anything short of that would seem underwhelming.
From @USC_Trojanss: Do you think Vernon Adams will be Oregon's starting QB?
I do. In fact, I'll be very surprised if the former Eastern Washington star isn't the starter in 2015. I think Adams' arm and mobility -- as well as game experience -- will help him take over in Eugene for a team that is loaded at RB and WR. Remember, this is a guy who torched the Oregon State and Washington defenses for 11 TDs and almost 900 yards passing while also doing plenty of damage with his legs.
Bruce Feldman is a senior college football reporter and columnist for FOXSports.com and FOX Sports 1. He is also a New York Times Bestselling author. His new book, The QB: The Making of Modern Quarterbacks, came out in October, 2014. Follow him on Twitter @BruceFeldmanCFB.
---