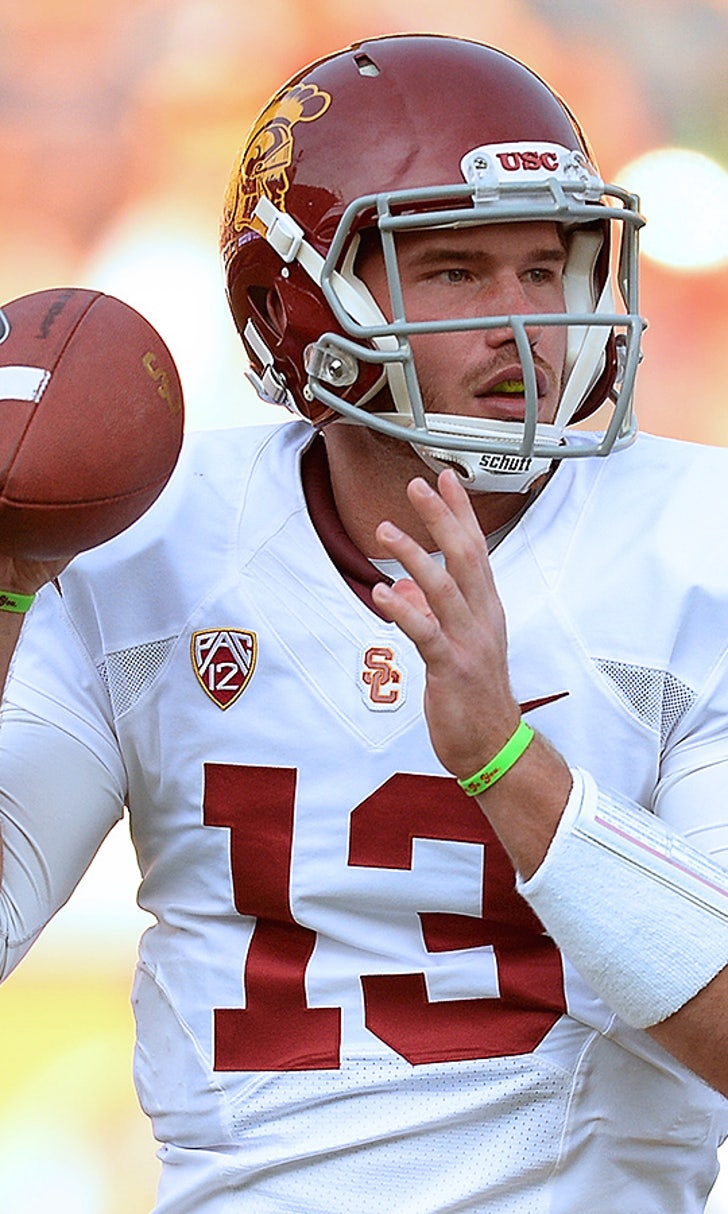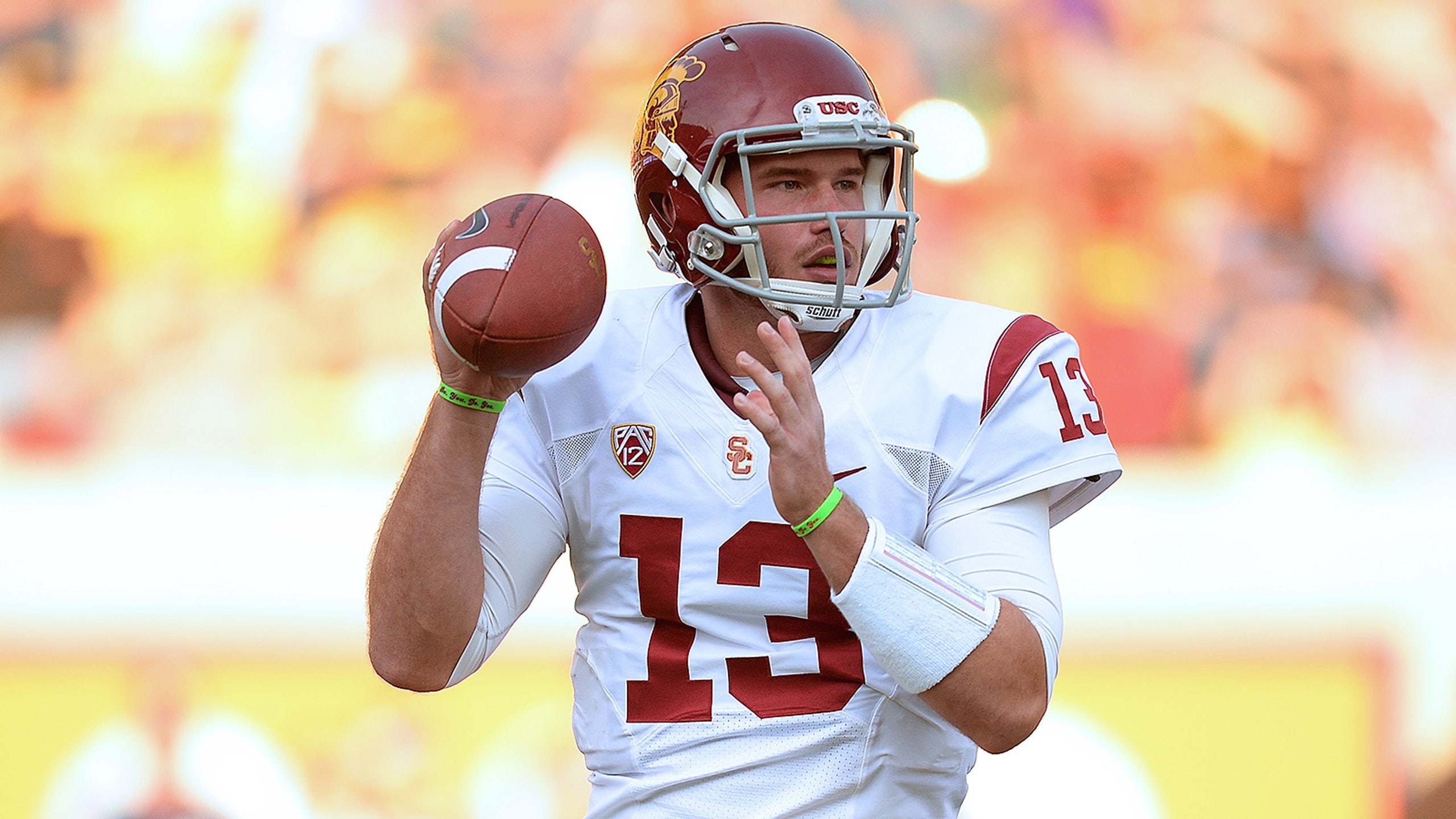 Norm Chow: Ex-USC QB Max Wittek reminds me of Carson Palmer
BY Bruce Feldman • July 29, 2015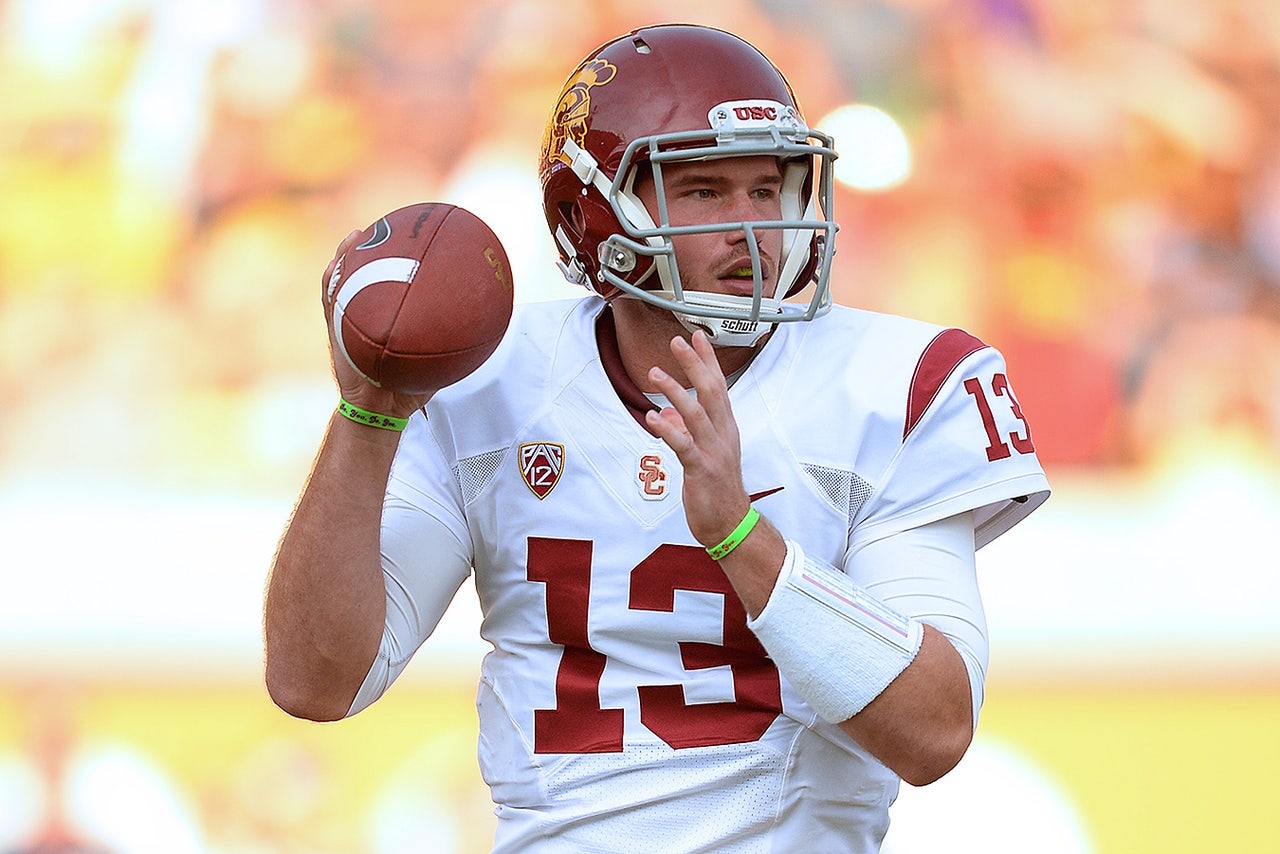 LAS VEGAS -- The last game Max Wittek played in was in this glitzy city. It was in the Royal Purple Las Vegas Bowl, when Wittek saw mop-up duty as the team he was on, the USC Trojans, were routing Fresno State, 45-20. Wittek announced he was leaving USC a few weeks later. It was expected that he would be doing so as a graduate transfer --with Texas being the likely destination.
Wittek visited Austin and loved it. "When I visited there, it was one of the most impressive things I've ever seen in my life," he told FOX Sports Tuesday at Mountain West Media Days. However, things for him got pretty muddled when it came to light that he wasn't going to be able to get his degree from USC.
"It ended up being a weird situation with my credits and stuff," Wittek said, adding that there were two classes he was missing.
Wittek opted to transfer to Hawaii to play for one-time USC assistant Norm Chow, who has groomed more elite QBs than perhaps anyone in college football, from Jim McMahon to Steve Young to Ty Detmer to Philip Rivers to Carson Palmer to Matt Leinart. He sat out the 2014 season but impressed the 69-year-old coach, who despite having one of the few returning starting QBs in the MWC named Wittek UH's new starter.
"He was our scout team quarterback, and he ripped us every day," Chow said of Wittek. "He made some very ordinary walk-on receivers look pretty good."
Hawaii went 4-9. Chow said if Wittek was allowed to play, UH would've had a winning record.
Chow has worked with five first-round QBs. He says the 6-foot-4, 240-pound Wittek's talent is comparable to any of them and even says the former Trojan's arm strength rivals that of Carson Palmer's, who was the No. 1 overall pick in 2003. "If you had to make a training tape, you'd make it with Carson Palmer. This guy would be second. I'm not kidding you. He has good touch, a quick release and great anticipation. Most young kids don't have that. They'll wait till the guy is wide-ass open. This guy anticipates it."
Better still, Chow says Wittek came in and won over his new teammates and was almost a unanimous choice as a team captain. "We talked about this when he came here, that he had to be the one who integrated himself with his teammates," Chow said. "They weren't gonna come to him, and he did it in a nice fashion."
In two seasons at USC, Wittek played 13 games, starting two. He completed 50-of-95 passes for 600 yards with three TDs and six INTs. His buddy Cody Kessler won the job and emerged as a standout for the Trojans. (The two still talk often and remain close. "Cody is my guy," Wittek said.) Despite the modest stats, optimism for the new Hawaii quarterback is big inside the UH program.
Wittek credits Chow for helping refine his game. "It's just a matter of being smart," Wittek said. "Everyone knows I can throw the ball down the field and do this and that, but it's a matter of checking it down when we need to and keep the ball moving forward and keeping it in our hands -- the little things like that. It's more of a philosophy and mindset that he's really worked with me."
A big part of Wittek's struggles playing quarterback has been getting too tempted to show off his big arm at the expense of smart reads. "I was the biggest culprit of that that I could be," he admits. "I wanted every play to make that 'Wow!' throw. If there was a 15-yard out in the route concept, I was gonna throw it, and I was gonna try to find every excuse in the book to fit it in there. And that comes with maturity, even in the time when I haven't been playing. It's something that I have been focusing on, and I think it's gonna show this fall."
Wittek, who turns 22 on July 31, said he has grown up a lot from the days when he arrived at USC as a touted 17-year-old from Orange County powerhouse Mater Dei, stamped with the kinds of expectations you get from following in the footsteps of Leinart and Matt Barkley, fellow Mater Dei products.
"I'd always considered myself mature for my age, but still, how mature can you be at 17?" he said. "There's a couple things that I've had to realize on my own just going through it. Now I'm about to turn 22 and I feel like a completely different person, but that's how it's supposed to be."
Wittek expects to graduate from Hawaii later this year with a degree in psychology. "I actually have about 50 more credits than required to graduate," he said. "Because of the way it goes with the general education classes that are unique to Hawaii that you need to graduate, it pushed me back a little. I have to take Hawaiian studies and anthropology classes."
Both he and Chow feel like all that waiting will pay off for them, on and off the field, this fall.
Bruce Feldman is a senior college football reporter and columnist for FOXSports.com and FOX Sports 1. He is also a New York Times Bestselling author. His new book, The QB: The Making of Modern Quarterbacks, came out in October, 2014. Follow him on Twitter @BruceFeldmanCFB and get all of his content on Facebook.
---