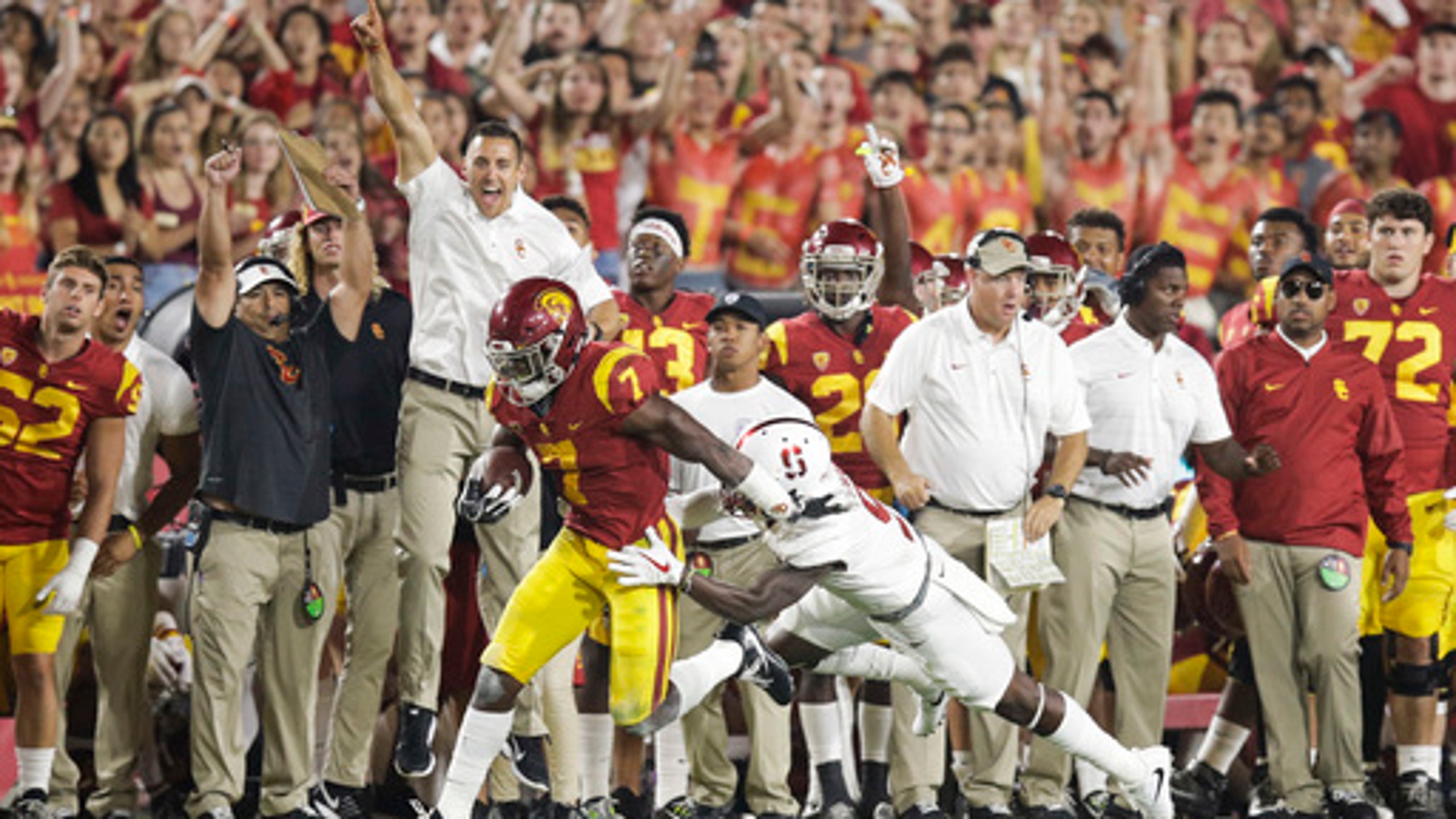 No. 6 USC routs No. 14 Stanford 42-24 for 11th straight win (Sep 09, 2017)
BY AP • September 11, 2017
LOS ANGELES (AP) Southern California ran the ball straight at Stanford in the opening series, and the Trojans never stopped. USC's defense dominated up front and largely stifled the Cardinal's vaunted running game.
The recent roles in this California private-school rivalry were completely flipped Saturday night, and the surging Trojans embraced the chance to be the victorious bullies.
''We beat them at their own game,'' USC safety Chris Hawkins said.
Steven Mitchell and Deontay Burnett caught two touchdown passes apiece from Sam Darnold, and No. 6 USC extended its winning streak to 11 games with a bruising 42-24 victory over No. 14 Stanford.
Darnold went 21 of 26 with 316 yards passing for the Trojans (2-0, 1-0 Pac-12), who snapped their three-game losing streak against their upstate rivals with just their third win over Stanford in nine tries.
USC racked up 623 total yards - the most ever given up by a David Shaw-coached Stanford team - and controlled both lines of scrimmage while winning the first Pac-12 game of the new season. Both teams acknowledged that USC did it by surpassing the famously physical play of the hard-nosed Cardinal (1-1, 0-1).
''We've had some hard days with (Stanford) in the past, but I thought our kids had their jaws set,'' USC coach Clay Helton said. ''I thought they had a mentality of wanting to come out and be physical. They believed in what we were doing, and they executed it.''
Keller Chryst passed for 172 yards and two touchdowns, while Bryce Love had a 75-yard TD run among his 160 yards rushing for the Cardinal, who hadn't played since their season-opening win over Rice in Australia last month.
''Their offensive line played extremely well,'' Shaw said. ''I thought we ran it pretty well. They ran it better than we did. Not used to saying things like that, so all the credit goes to them.''
Stanford had won eight of its last 11 meetings with USC in a dominant stretch that began with its historic 2007 upset victory at the Coliseum.
RUNAWAYS: Ronald Jones II rushed for 116 yards and scored a touchdown in his ninth consecutive game as USC ran the ball for 307 yards. Turnovers and penalties by the Trojans kept it fairly close, but freshman Stephen Carr added 119 yards rushing, and Jones cartwheeled into the end zone with a clinching 23-yard TD run with 4:15 to play.
''Honestly, though, this could be the best thing that happens to our team,'' Stanford safety Justin Reid said. ''We're going to let this feeling sit in our mouth for the rest of the season, because we don't ever want to go through this again.''
BIG FINISH: After a scoreless third quarter, USC made a 90-yard scoring drive capped by Mitchell's second TD on a feathery 11-yard TD pass by Darnold with 9:42 to play. Stanford stayed close on J.J. Arcega-Whiteside's TD catch with 6:41 left, but Jones' incredible second TD run capped a smooth 75-yard drive in USC's 11th consecutive win at the Coliseum.
''I can't comment enough on how fun it is to watch our offense play,'' USC linebacker Cam Smith said. ''There's not one defensive player sitting on the bench, tired. When they're out there, we're like fans. To watch them on third down and I don't have a doubt in my mind that we're going to get it just because of the way they click together. When they get rolling, it's scary.''
THE TAKEAWAY
Stanford: That 62-point performance in the season opener Down Under was impossible to replicate against a top Pac-12 defense, and the Cardinal's offense will know it must add versatility to the attack. Stanford's defense also had big problems at the line of scrimmage, and that isn't a problem with which the Cardinal have much experience. The Cardinal's ability to adjust will determine their chances to make a Pac-12 North run.
USC: With 91 points in two games, this talent-laden offense appears to have the makings of a juggernaut so far. Darnold returned to 2016 form with a smooth, poised performance against a vaunted conference opponent, while the Trojans' receivers appear to be much more reliable than Helton feared. USC's defense largely shut down one of the Pac-12's most respected offenses.
UP NEXT
Stanford: The Cardinal's three-game stretch away from home to open the season concludes at San Diego State.
USC: The Trojans welcome Texas to the Coliseum for a meeting of two powerhouse programs.
---
More AP college football: www.collegefootball.ap.org and www.twitter.com/AP-Top25
---
---