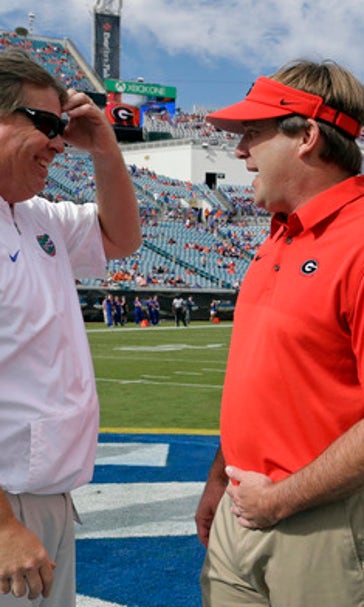 No. 3 Georgia thumps rival Florida 42-7 in 'Cocktail Party' (Oct 28, 2017)
October 28, 2017

JACKSONVILLE, Fla. (AP) Sony Michel slipped through the line untouched, sprinted past several defenders and then spun into the end zone.
The rout was on, and the losing streak was essentially over.
Michel put third-ranked Georgia up big early and put Florida away late, scoring on two long runs in a 42-7 drubbing Saturday that might have been the final game for Gators coach Jim McElwain. It was Florida's most lopsided loss in the series since a 44-0 shutout in 1982.
Michel finished with 137 yards rushing on just six carries and helped the Bulldogs remain unbeaten and in control in the Southeastern Conference's Eastern Division.
Nick Chubb also scored for Georgia (8-0, 5-0 SEC), which started 8-0 for the first time since 2002 and ended a three-game losing streak in ''The World's Largest Outdoor Cocktail Party.''
''This meant a lot to get a win,'' linebacker Lorenzo Carter said. ''It's one of the reasons I came back for my senior year. We hadn't beaten them and I wanted to go out with a win. We had to finish out the right way, and we did.''
So lift a glass to Georgia.
And pour one out for McElwain.
''I haven't been told anything,'' said McElwain, who is now 22-12 in three seasons. ''There have been no conversations about that. ... Nothing in this world surprises me. I know what I was brought here to do. Look, we haven't been good on offense. I get it. We've won a few games, but we haven't won enough; haven't won a championship. That's real. That's life. And I take full responsibility for all of it, no doubt.''
Florida (3-4, 3-3) started the day by responding to a tweet from a sports lawyer who said Florida and McElwain's agent, Jimmy Sexton, have engaged in buyout negotiations and are ''miles apart.'' Athletic director Scott Stricklin released a statement several hours before the game saying the report was inaccurate.
''No one representing the University of Florida or our athletic department has had any conversations with Coach McElwain or his representatives regarding a buyout of his contract,'' Stricklin said.
McElwain was told about it during a team breakfast. ''Those eggs didn't taste real good,'' he said.
But Stricklin stopped short of giving McElwain a vote of confidence after one of the strangest weeks in program history.
McElwain created a firestorm Monday when he said Florida players and families received death threats amid the team's struggles. Stricklin met with McElwain in hopes of gathering more information and helping alleviate any safety concerns. McElwain rebuffed his efforts, prompting a statement from the athletic department that essentially criticized McElwain for being uncooperative.
His reaction raised questions about his relationship with Stricklin and prompted speculation about whether he even wants to be at Florida any longer.
Here are the big questions: Can Florida fire McElwain with cause and avoid a $12.9 million buyout or are they willing to part ways regardless?
Florida's performance against Georgia surely doesn't bode well for McElwain's job security.
The Bulldogs scored on their first three possessions and led 21-0 before the Gators picked up a first down. Georgia used three huge plays to build a three-touchdown lead.
''It was a shocker,'' said Florida safety Chauncey Gardner, who questioned Georgia quarterback Jake Fromm early in the week.
Fromm found D'Andre Swift in the flat for a 39-yard gain that set up Chubbs' 6-yard touchdown run. Dominick Sanders intercepted Feleipe Franks' pass on the ensuing possession, and Fromm threw a perfect, 17-yard pass to Javon Wims in the corner of the end zone. Michel added his first of two scores, a 74-yarder midway through the second quarter. He added a 45-yard TD scamper in the third.
''We're not going to point fingers or complain,'' Franks said. ''You don't live in the past or the future. You have to live in the now. ... We're definitely not going to fold. We're not going to bow our heads down.''
TAKEAWAY
Georgia: The Bulldogs are clearly the best team in the East and look like they could make a run at top-ranked Alabama in the league title game.
Florida: The Gators are dealing with the kind of mess that only a coaching change can correct. It's no longer a matter of if, but when.
SHUTOUT STREAK
The only question that remained late in the game - other than McElwain's future - was whether Georgia would end Florida's NCAA scoring record. The Gators haven't been shut out since a 16-0 loss to Auburn in 1988. They scored with 2:42 remaining against Georgia's backups to extend the streak to 368 games.
UP NEXT
Georgia: Hosts South Carolina next Saturday. The Bulldogs could clinch the East next week, but only if Kentucky loses to Tennessee later this Saturday.
Florida: Begins a two-game road stretch at Missouri. They play at South Carolina the following week.
---
More AP college football: www.collegefootball.ap.org and https://twitter.com/AP-Top25
---
---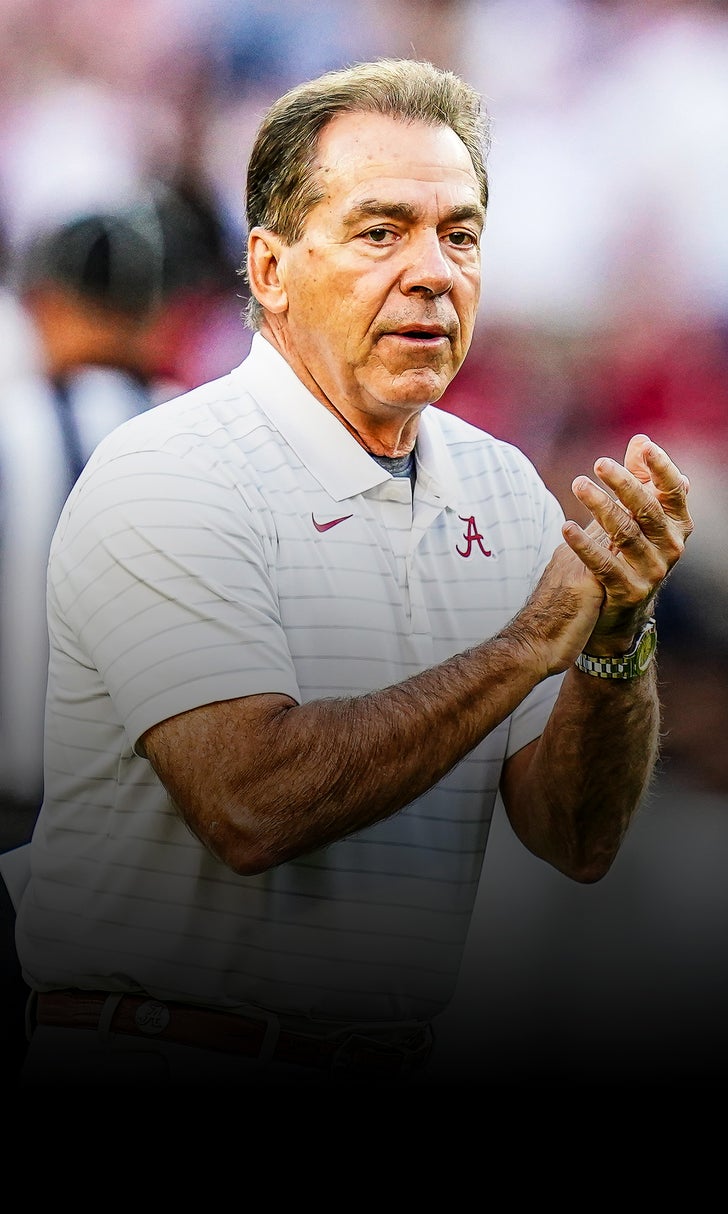 Alabama ranked No. 1 in preseason coaches' poll