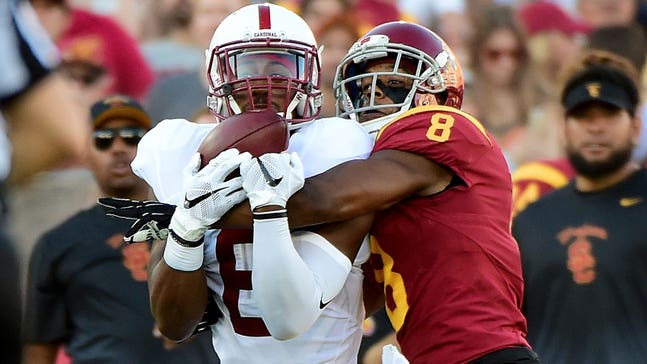 No. 24 USC counting on improved pass D in Stanford rematch
Updated
Mar. 4, 2020 3:50 p.m. EST

LOS ANGELES (AP) Iman Marshall did everything but knock the ball down. When Southern California met Stanford back in September, the Trojans' freshman cornerback was perfectly positioned to contest a jump ball intended for Stanford tight end Austin Hooper.
Instead, Hooper caught the pass for a long gain down to the Trojans 1. The Cardinal won nearly every 50-50 ball in September's 41-31 win.
After following up its worst performance of the season at Oregon with its best to defeat rival UCLA, No. 24 USC's secondary is hoping for a similar turnaround from its first meeting with No. 7 Stanford in Saturday's rematch for the Pac-12 championship.
The Trojans gave up six touchdown passes for the first time in school history against the Ducks, but responded by stifling Josh Rosen and the UCLA passing game by using an aggressive man-to-man defense for nearly the entire game.
''Man coverage, that's what DBs are here for, to lock down receivers. They gave us the opportunity to do that and we did it,'' safety Chris Hawkins said.
Adoree Jackson was pleased with the opportunity to play a high-risk, high-reward scheme, finishing with six tackles and two pass breakups.
''That's what we need from our coaches to have confidence in us and believe in us. We can just do the rest,'' Jackson said.
Defensive backs coach Keith Heyward said the difference between the two games simply came down to execution, noting the coverage called when Marshall had two interceptions against UCLA was the same as when he allowed a long touchdown against Oregon.
''If there's blame, it's on us,'' Hawkins said. ''We were the ones that busted the coverages. They (Oregon) capitalized and it led to a lot of points.''
In the first game against Stanford, there was only one significant coverage breakdown. Jackson slipped and fell, allowing receiver Devon Cajuste to catch a touchdown with 3 seconds left in the first half. USC defenders had good coverage on Stanford's other big passing plays, with Marshall just missing out on several pass breakups or interceptions by inches.
Since then, Marshall has made steady improvement each week. An imposing presence for a corner at 6-foot-2 and 200 pounds, he has been especially effective when putting his hands on receivers at the line of scrimmage.
That meshes well with the Cover-1 defense used against UCLA, but the mobility of Stanford quarterback Kevin Hogan could create issues if USC again relies almost exclusively on man-to-man defense.
Hogan rushed for 45 yards on four carries against USC with a key third-down conversion in the fourth quarter.
''If everybody has got a guy and the quarterback is running, you're not going to see him,'' defensive coordinator Justin Wilcox said.
Still, playing man against Stanford would allow USC to commit extra defenders to stopping running back Christian McCaffrey and force receivers and tight ends to again make those contested plays.
Coach Clay Helton expects Marshall, Jackson and the rest of the youthful USC secondary to win those matchups this time.
''One of the things that gives me confidence is actually how they have progressed as a unit,'' Helton said. ''You're seeing some younger kids that are developing into better defensive backs now. I like where these kids are at, especially the confidence that they gained from that last game.''
---
---