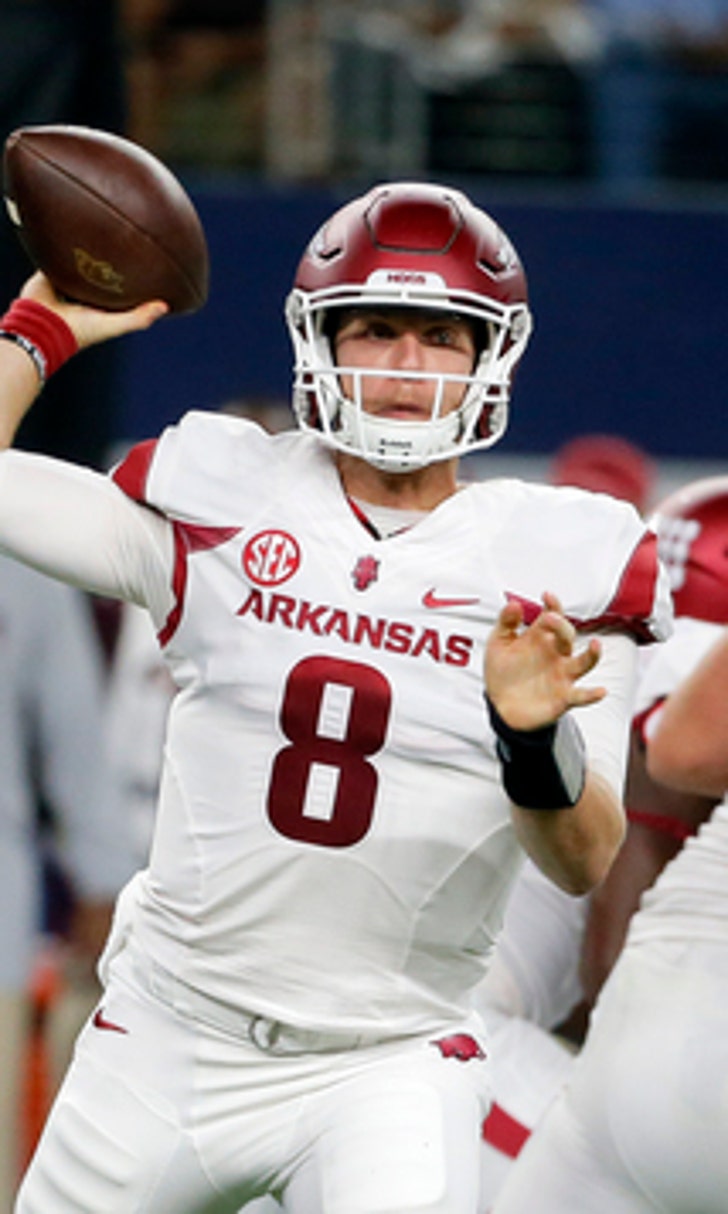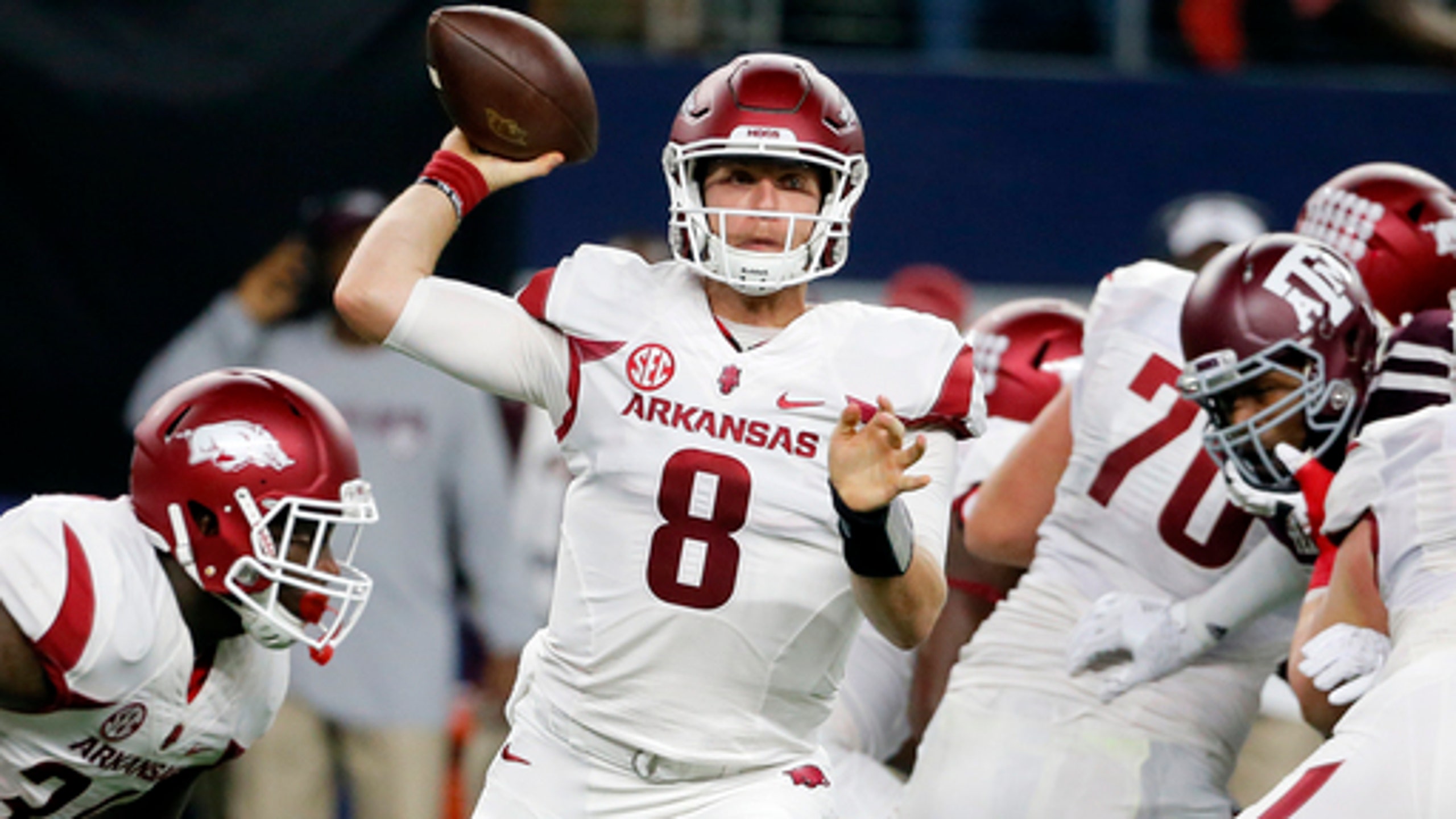 No. 17 Arkansas, No. 21 Auburn meet again after 4-OT battle
BY foxsports • October 21, 2016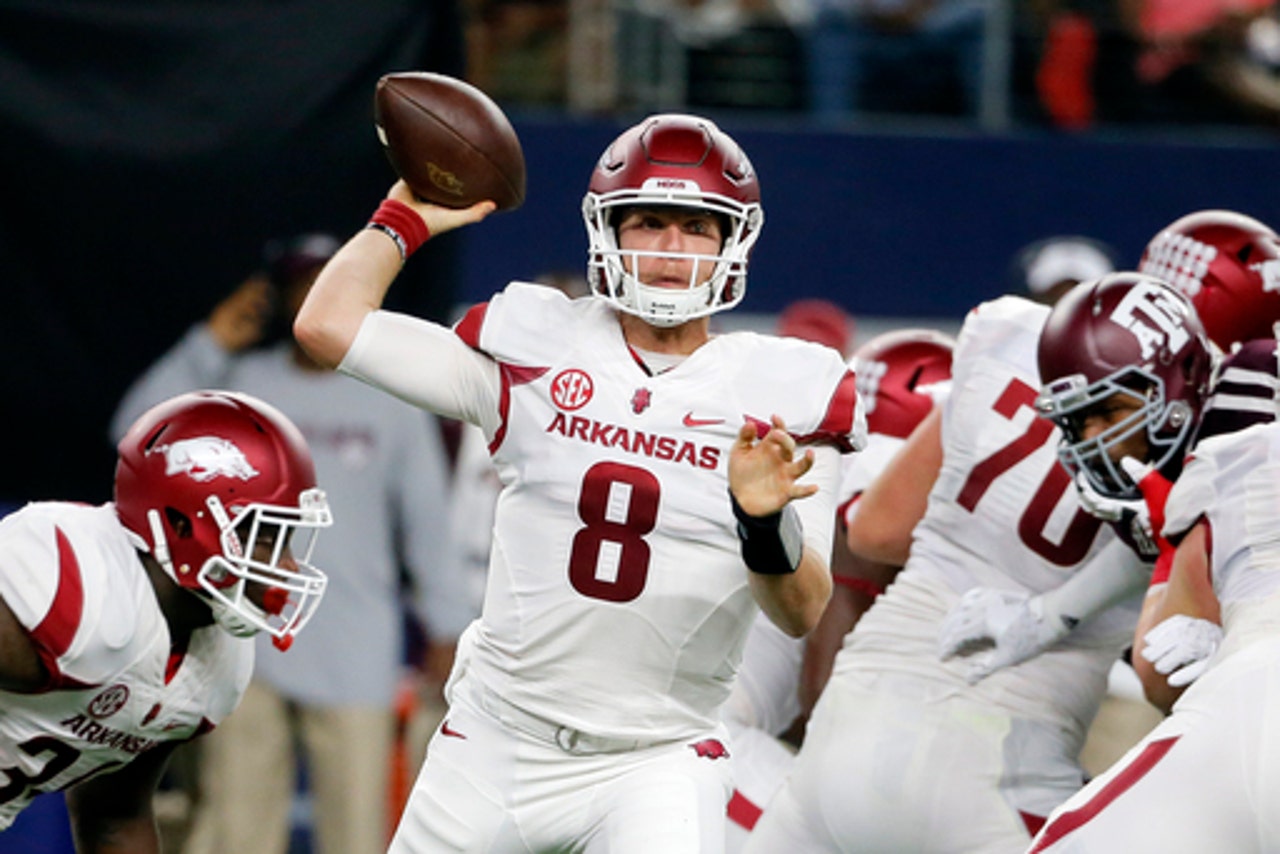 AUBURN, Ala. (AP) The Auburn Tigers are rested from an open date while Arkansas has reached the midpoint of a grueling stretch against ranked teams.
A win in their matchup Saturday would elevate either team's mood and, perhaps, their season.
The 21st-ranked Tigers (4-2, 2-1 Southeastern Conference) hope to have a healthy Kerryon Johnson back running the ball with the extra week following a dominating win over Mississippi State. The 17th-ranked Razorbacks (5-2, 1-2) are fresh from their first league victory, 34-30 over No. 23 Mississippi.
They're also on Round 3 of a five-week stretch against ranked SEC teams.
''To play in the SEC West, it's just a way of life,'' Arkansas coach Bret Bielema said.
As close as they come historically, this rivalry had mostly produced fairly one-sided games in recent years before the Razorbacks' 54-46 win in four overtimes last season.
Auburn holds a 6-5-1 record in meetings at Jordan-Hare Stadium and has overall outscored Arkansas just 633-629 in 25 previous games.
The Tigers this season have had one of the SEC's better defenses while Arkansas managed to score 34 points on the Rebels and 30 in a loss to No. 1 Alabama two weeks ago.
''Our offense is really starting to hum the last couple of games,'' Bielema said.
Auburn's offense has been humming pretty well lately, too. Much of that on both counts has to do with the league's two most efficient passers, the Tigers' Sean White and the Razorbacks' Austin Allen.
A still-inexperienced White helped bring Auburn back on the road last season and further cemented the trust of his coaches and teammates.
''We were still learning about Sean at the time,'' Tigers coach Gus Malzahn said. ''We learned a lot about him that day. We saw the way he handled pressure and getting hit. He showed a lot of toughness that game.''
---
Some other things to watch for when Auburn hosts Arkansas:
AUBURN'S BACKS: Johnson injured his right ankle early in the Mississippi State game, and has practiced this week, though Malzahn hasn't disclosed much about his status beyond that. Kamryn Pettway wound up rushing 39 times for 169 yards and three touchdowns in that game for a team that's third in the SEC in rushing.
RUSHING WILLIAMS: Arkansas running back Rawleigh Williams took over as the SEC's leader in rushing yards following his career-best 180-yard rushing performance against Mississippi. The sophomore had his neck broken in the game against the Tigers last year, missing the final six games of the season, but he's returned to top form this year - having gained 785 yards on the ground through the first seven games.
RAZORBACKS VS. RANKED: Saturday will be Bielema's 46th game as the coach of the Razorbacks, and it will be his 23rd against a ranked opponent. Five of those have come this season, with Saturday's game against the Tigers marking Arkansas' third straight game against a ranked member of the SEC. Next up: No. 15 Florida and No. 25 LSU.
MAD MALZAHN: Malzahn tries not to dwell on last year's game against his home state Razorbacks, but it appeared to be a turning point in the season. After that, Auburn struggled down the stretch until the bowl game. ''When I think about it, it still makes me mad, but that's last year,'' Malzahn said. ''That's history. There's nothing I can do about it.''
EFFICIENT QBS: White is the league's highest rated passer with a 157.2 rating and a 69.7-percent completion rate. Allen is the second-most efficient thrower (156.0) and also leads the SEC with 18 touchdown passes.
---
AP Sports Writer Kurt Voigt contributed to this report.
---
AP college football web site: www.collegefootball.ap.org
---