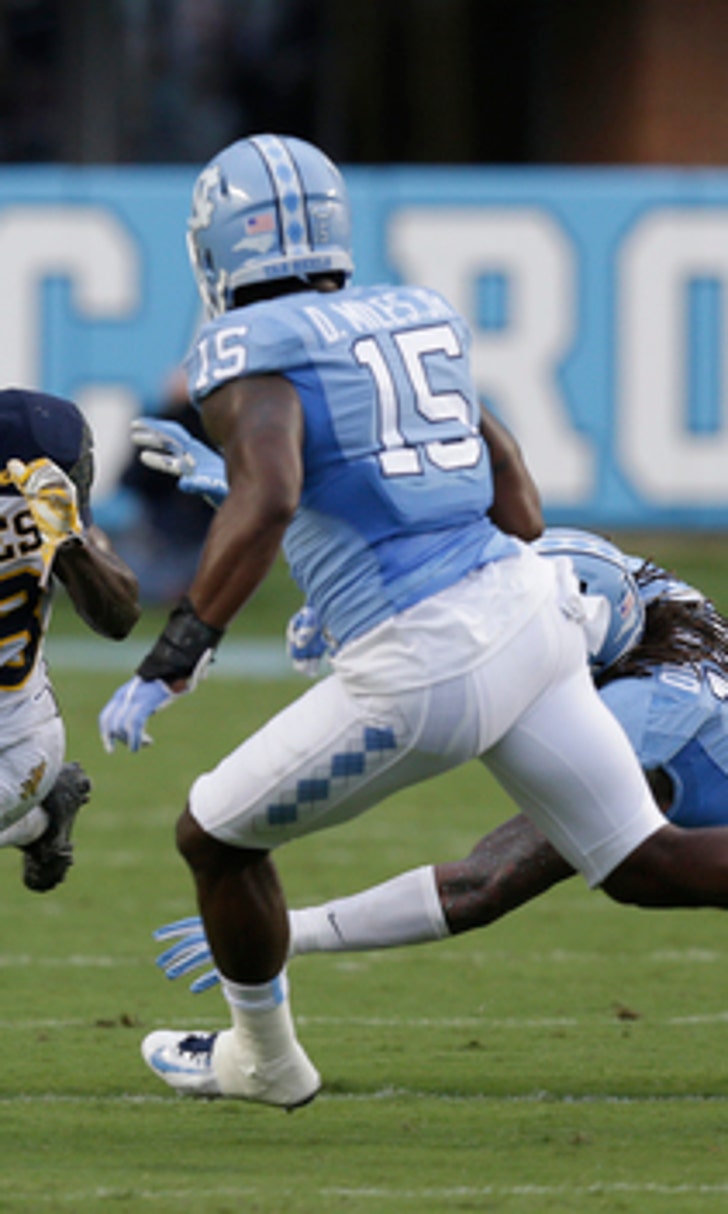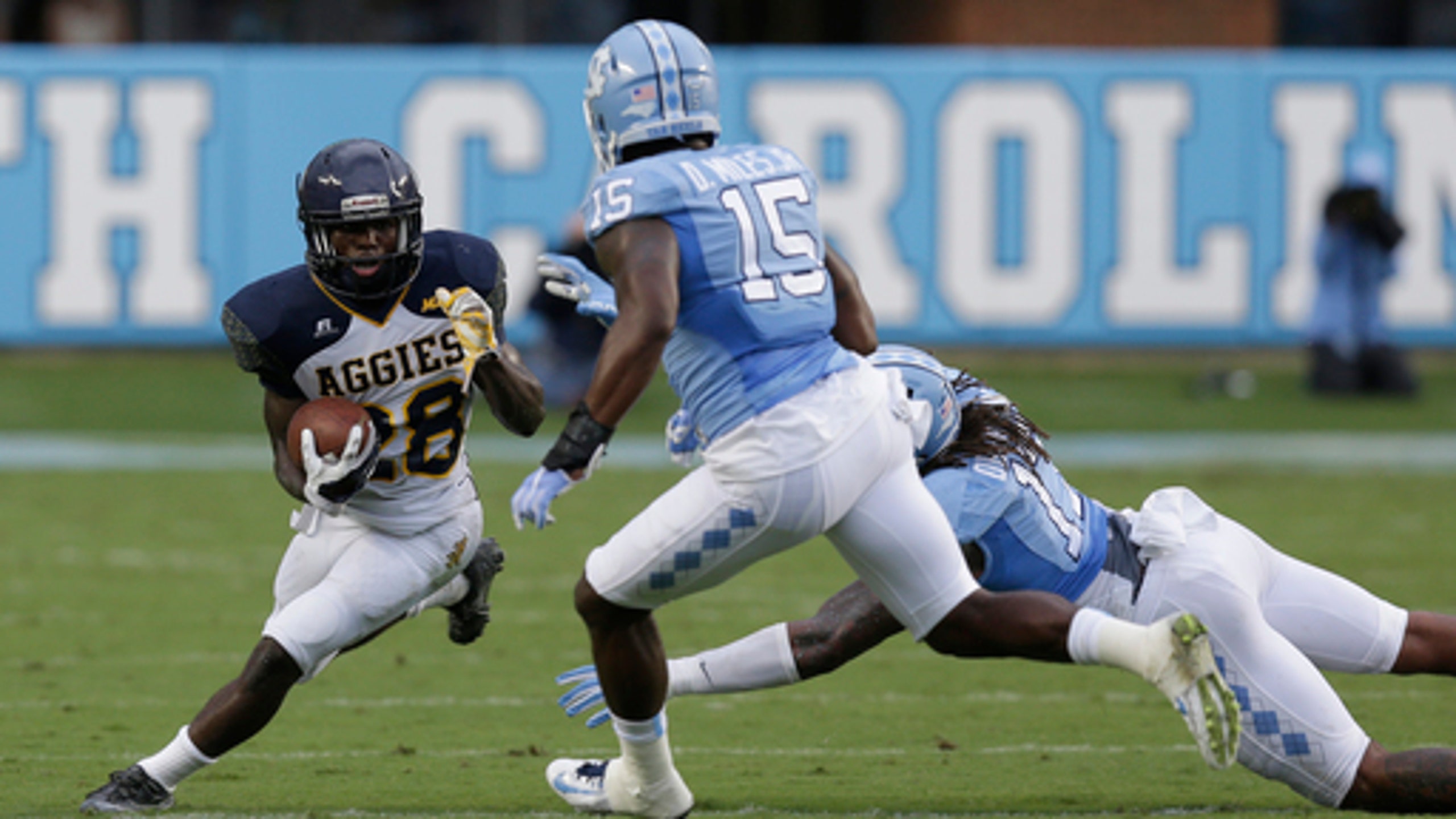 N.C. A&T bowl win a strong close for MEAC
BY foxsports • January 28, 2016
(STATS) -- North Carolina A&T's bowl win last month served as an exclamation point to the Mid-Eastern Athletic Conference season, but it was just the start of the league's new postseason format that will last through at least 2020.
Instead of joining 10 other conferences in the FCS playoffs, the MEAC and Southwestern Athletic Conference champions met in the inaugural Celebration Bowl – a financially advantageous alternative to the FCS postseason which had brought little success to the historically black Division-I conferences.
N.C. A&T left the Georgia Dome on Dec. 19 with a 41-34 victory over Alcorn State, closing the book on a 10-2 season. The Aggies finished 21st in the final STATS FCS Top 25, winning 10 games for the first time since 2003. That was possible thanks to a trip to Atlanta instead of an almost guaranteed loss in the first round of the playoffs.
''I was for it all along ... It's a beautiful experience,'' N.C. A&T coach Rod Broadway said after his team held off the Braves when a fourth-and-goal pass from the 9-yard line fell incomplete with nine seconds left. ''To me ... there's so much more value in this because we're not financed to win national (FCS) championships, but we are financed to win this championship. I'm proud to be part of this bowl.''
N.C. A&T gained exposure for the MEAC on a rare nationally televised stage, and Tarik Cohen soaked up the limelight - running in touchdowns from 73, 74 and 83 yards to finish with a career-high 295 rushing yards and snag the game's MVP.
The junior running back jumped onto the national scene when YouTube videos surfaced last summer of him doing back flips while catching footballs - even two at a time. He had done well for himself during his junior season, earning MEAC Offensive Player of the Year honors, but the Celebration Bowl served as his major coming-out party.
Cohen averaged a whopping 13.4 yards per carry in the win while churning out the third-most rushing yards in an FCS game and fifth-most among FBS or FCS players this season.
''Tarik is special and I guess the nation got a chance to see him perform today. We've been seeing him for three years,'' Broadway said. ''He's capable of doing it any time he touches the ball ... that kid's incredible.''
But it wasn't entirely a matchup against the SWAC's best team that motivated Cohen and N.C. A&T. Instead, it was the Aggies' only conference loss almost a month earlier that they carried into their final game.
The Aggies sat on the only blemish of their 7-1 conference record for 28 days, a 21-16 bitter home loss to state rival North Carolina Central on Nov. 21 - keeping N.C. A&T from owning the MEAC crown outright, instead sharing it with the Eagles and Bethune-Cookman. It was the Aggies' first loss in Greensboro since September 2014.
The defeat was the latest middling performance from an offense that had averaged 34.8 points through its first eight games. The Aggies struggled in a 9-6 win at South Carolina State on Nov. 7 and then failed to blow out Delaware State the way many thought they would the next week before their lone conference loss.
However, a tiebreaker still boosted N.C. A&T into the inaugural bowl game for a shot to close on a high note.
"Central wanted to beat us a little more than we wanted to beat them and that's the honest truth," senior cornerback Tony McRae told the team's official website. "Making the bowl game gave us a chance to refocus and become hungry again."
MEAC teams haven't won in the FCS playoffs since 1999 and have compiled a 6-28 record overall, not always receiving an automatic qualifier. Two of those victories came when Florida A&M won the first FCS title in 1978 - then a four-team playoff - but no MEAC school has returned to the championship game since.
There are still at-large bids available to the playoffs for MEAC teams not qualifying for the Celebration Bowl, but no team was invited in 2015.
---=
Other highlights:
Co-champs: North Carolina Central's win over NCA&T kept the Aggies from an outright championship and it gave the Eagles and Bethune-Cookman a share of their second straight conference crown. Those three teams shared the title with Morgan State and South Carolina State in 2014, and BCU and S.C. State split it the previous season.
---=
All-America Team: Five MEAC players were chosen to the STATS FCS All-America Team. First-teamers were N.C. A&T sophomore punt returner Khris Gardin, South Carolina State senior defensive tackle Javon Hargrave and Norfolk State senior linebacker Deon King. Cohen earned his second selection to the third team and was joined by sophomore teammate Brandon Parker, an offensive lineman. Hargrave earned his second straight selection to the first team.
---=
All-MEAC repeaters: Cohen took the MEAC Offensive Player of the Year honors for the second straight season, as did Hargrave on the other side of the ball. Cohen finished sixth in the FCS with 1,543 rushing yards, scoring 15 touchdowns. Hargrave led the conference with 13 sacks and finished with 59 total tackles.
---=
Other conference awards: North Carolina Central running back Dorrel McClain was named the MEAC Rookie of the Year after running for 958 yards and eight touchdowns, and Parker netted Offensive Lineman of the Year honors. Terry Sims was named the league's top coach in his first season at the helm of Bethune-Cookman, leading the Wildcats to a 9-2 record and a share of their fourth straight MEAC title.
---