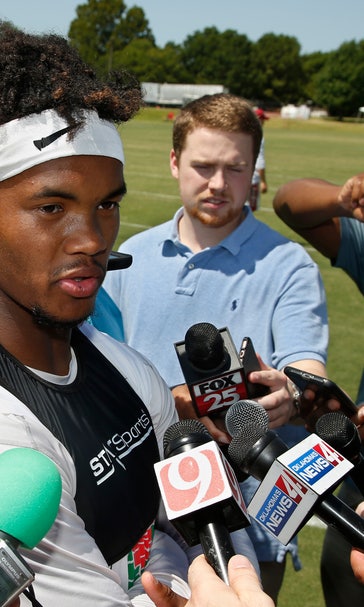 Millionaire baseball pick Murray seeks QB job at Oklahoma
August 11, 2018
NORMAN, Okla. (AP) — Oklahoma quarterback Kyler Murray insists he hasn't changed, yet there are constant reminders that his life will never be the same.
Before June, he was merely a gifted two-sport college athlete. But once the Oakland Athletics took him with the ninth overall pick in the Major League Baseball draft and signed him for nearly $5 million , a new level of fame followed. Murray and the A's agreed that he would come back to Oklahoma and play football, meaning he would return to campus making money on par with football coach Lincoln Riley.
The Sooners have enjoyed teasing Murray about his newly found wealth.
"They obviously make fun of having money," he said, smiling broadly. "All that stuff, they make fun of it, but it's all been good. They showed love, supported me through it all. I'm very thankful for that."
The spotlight on Murray soon could burn even more brightly. He's poised to follow Heisman winner Baker Mayfield as Oklahoma's starting quarterback. If he can beat out Austin Kendall, the 5-foot-10 speedster could be one of college football's most electrifying players. Last season, he completed 18 of 21 passes for 359 yards with three touchdowns and no interceptions and ran 14 times for 142 yards as Mayfield's backup, including a 66-yard burst against West Virginia.
Though his future is in baseball, Murray is focused immediately on the gridiron and earning the starting nod for the opener Sept. 1 against Florida Atlantic.
"I wouldn't be here right now if I wasn't hungry to play this," he said. "I think this is the most anticipated football season I've ever been ready for in my life. I'm ready to go."
For all the things around Murray that have changed, his teammates say he's remained level-headed.
"There's no change," receiver Ceedee Lamb said. "I don't feel like he needs to change. He knows he doesn't need to change to make any difference in this offense. He's always going to be the same person, and that's what I always like about him."
Murray said his family and friends have kept him grounded.
"Obviously, I've got the ability to do things that other college kids don't have the ability to do, but I'm living like a regular kid," he said. "I'm not that kind of guy to come up here and blow money. To me, I'm still broke."
It's been a challenge for Murray to get the people around him to talk about football. When the conversation drifts to baseball and bank accounts, Murray finds himself redirecting.
"I've learned how taxes go now," he joked. "That's not very fun. I'm not really focused on the money part of it. I'm focused on playing football."
Another issue that leads to constant redirecting is the assumption that Murray will start. Riley insists there still is a competition between Murray and Kendall, the 2016 backup. Kendall completed 16 of 22 passes for 143 yards and two touchdowns as a freshman before redshirting last year.
Kendall has heard the excitement about Murray and chooses not to dwell on it.
"Coming into it, you've just got to eliminate the noise from the outside and just go in and grind," Kendall said. "He's (Riley) told us we need to come in here every day, ready to work, come in with questions, come in ready to go and just help lead the team."
But Murray earned the hype by being dynamic last season. His gifts go beyond his arm strength and blazing speed.
"He's not a guy that needs a thousand reps to be good at something," Riley said. "There's a good natural feel and that thing that a lot of great athletes have where they always look smooth and natural, and he certainly has that."
Murray started three games as a freshman at Texas A&M in 2015 and passed for 686 yards and ran for 335 while sharing time with Kyle Allen and Jake Hubenak. He doesn't mind competing for a spot again.
"I've been doing it my whole life," he said. "Middle school, high school — my whole life. Obviously, I competed at A&M. Baker, obviously, No. 1 draft pick — we weren't competing, but for me, I showed up every day to compete. So there's no real effect on that. I come in, work hard, do my job so I'll be in a good position."
---
---