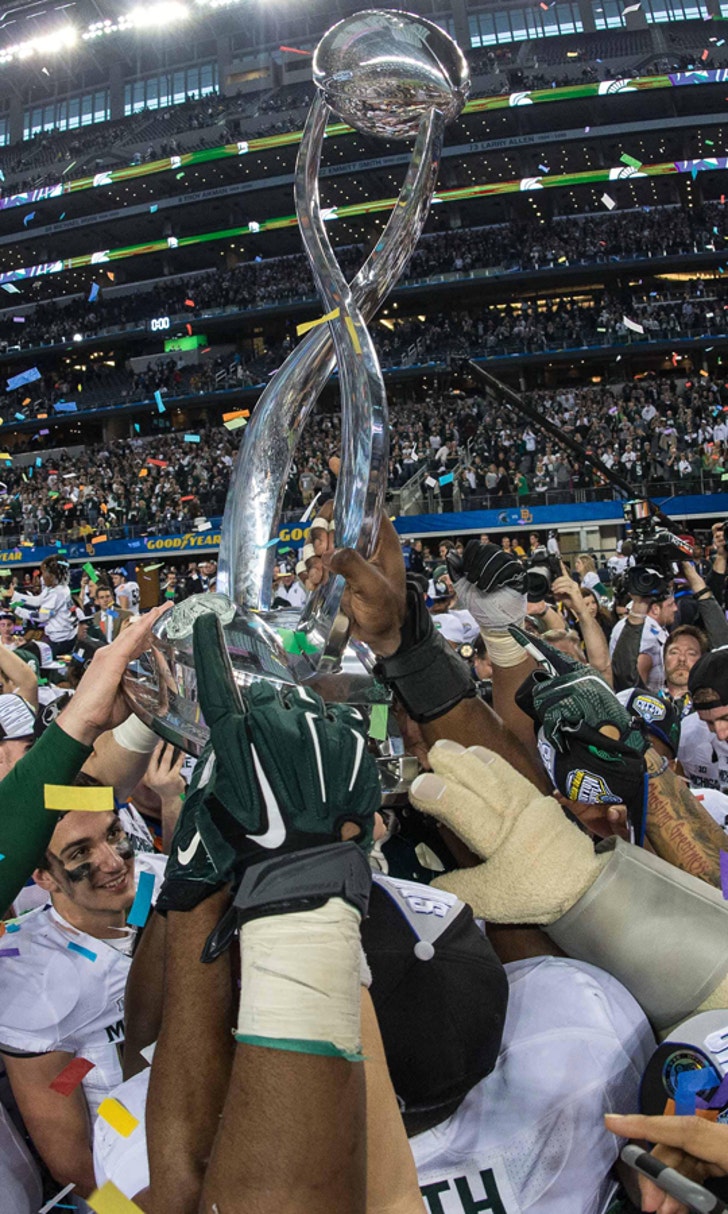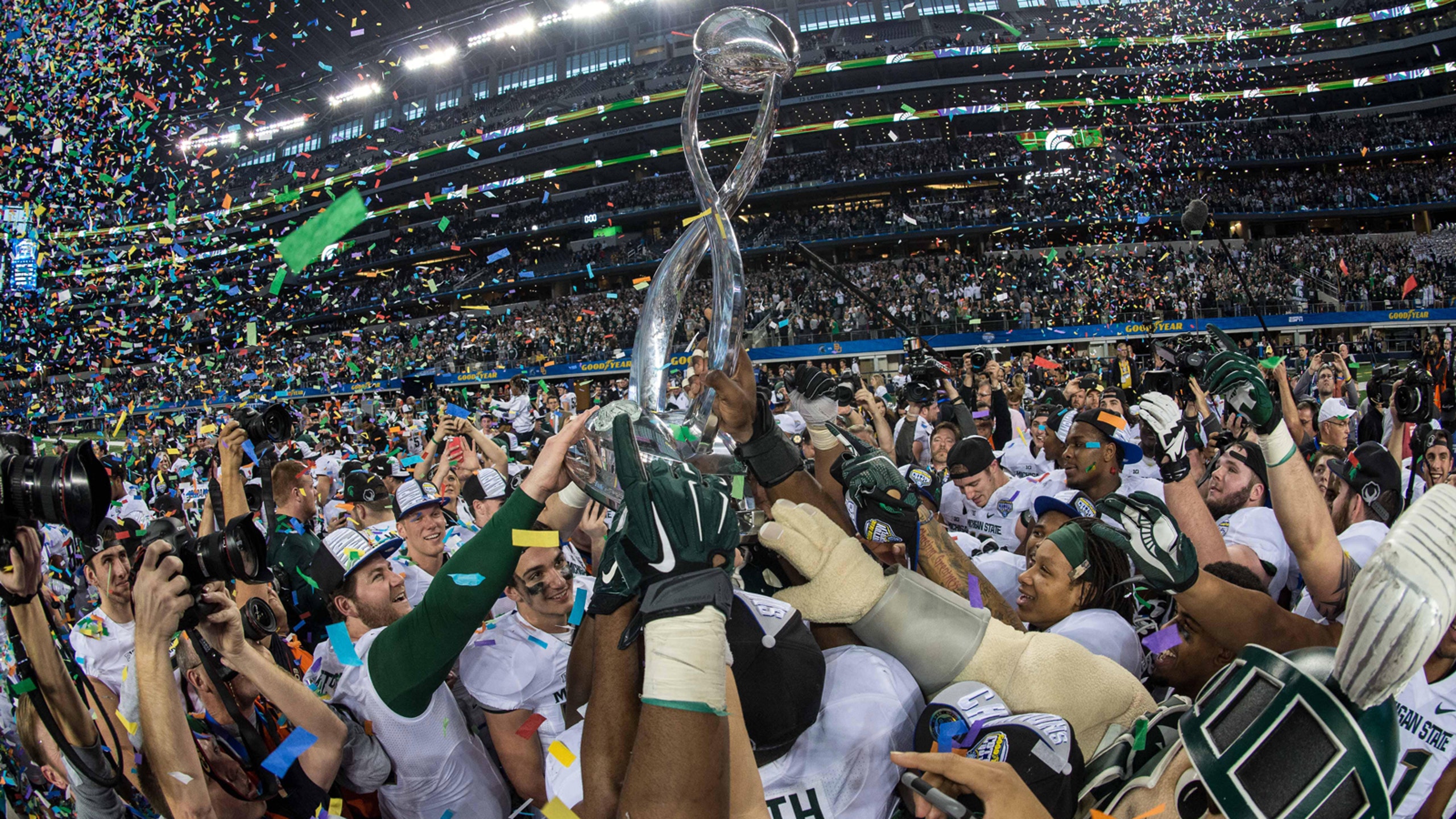 Mark Dantonio: Bowl game buzz carried Spartans through offseason
BY foxsports • July 31, 2015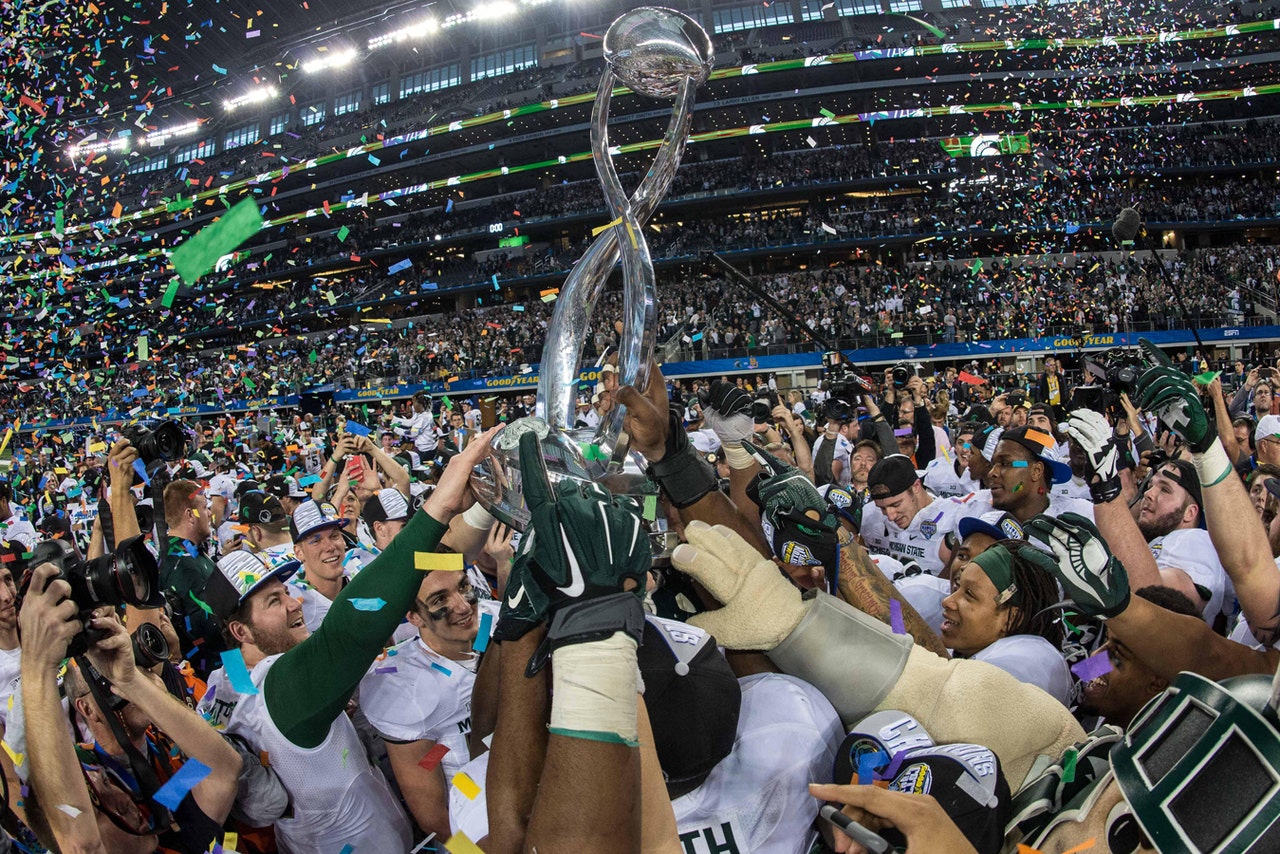 CHICAGO -- Michigan and Ohio State might have gotten a lot of headlines since the beginning of the beginning of the calendar year, but Mark Dantonio took his chance to steal a little credit during Big Ten Media Days. 
Dantonio's Michigan State Spartans picked up one of the first Big Ten football wins of 2015 by rallying to stun Baylor 42-41 in the Cotton Bowl on New Year's Day. That game wrapped up shortly after Wisconsin downed Auburn 34-31 in overtime in the Outback Bowl, and both worked as preludes to Ohio State's surprising 42-35 upset of Alabama in the Sugar Bowl, a win that sent the Buckeyes to the College Football Playoff National Championship Game, where they beat Oregon 42-20 to claim the national title. 
Since then the Buckeyes and Spartans have signed quality recruiting classes and started to put together what could be top-five national classes for next year. 
Dantonio didn't seem to think those things were coincidences. 
"First of all, the bowl game, our bowl game victory was very, very exciting," Dantonio said. "It showed that we could be mentally tough and continue to push through tough times and be able to come out on the front end at the end of the game. And I think we just kept playing. 
"And that was the thing that I remember about that game. Even though we were 20 behind, if we could just get 13 behind, we're back in the game. So that's what we were able to do. And I think the buzz behind that sort of catapulted the whole Big Ten forward based on other things that happened. You know, not only Ohio State's victories in bowl games but a lot of the other teams. I think we were -- I think we won five bowl games, I believe. So that was very exciting for the league." 
OSU's triumph over Oregon made it six postseason victories for the Big Ten, which saw all of its teams go into their bowls as underdogs. 
"As far as the national championship, I've said all along that great football is played in the Big Ten Conference, as it is played in all these other conferences. Great football. There's a lot of parity in college football. Things hang by the inches. When people get hot, great things can happen. And I think you saw that last year by the answer to the question prior to." 
---