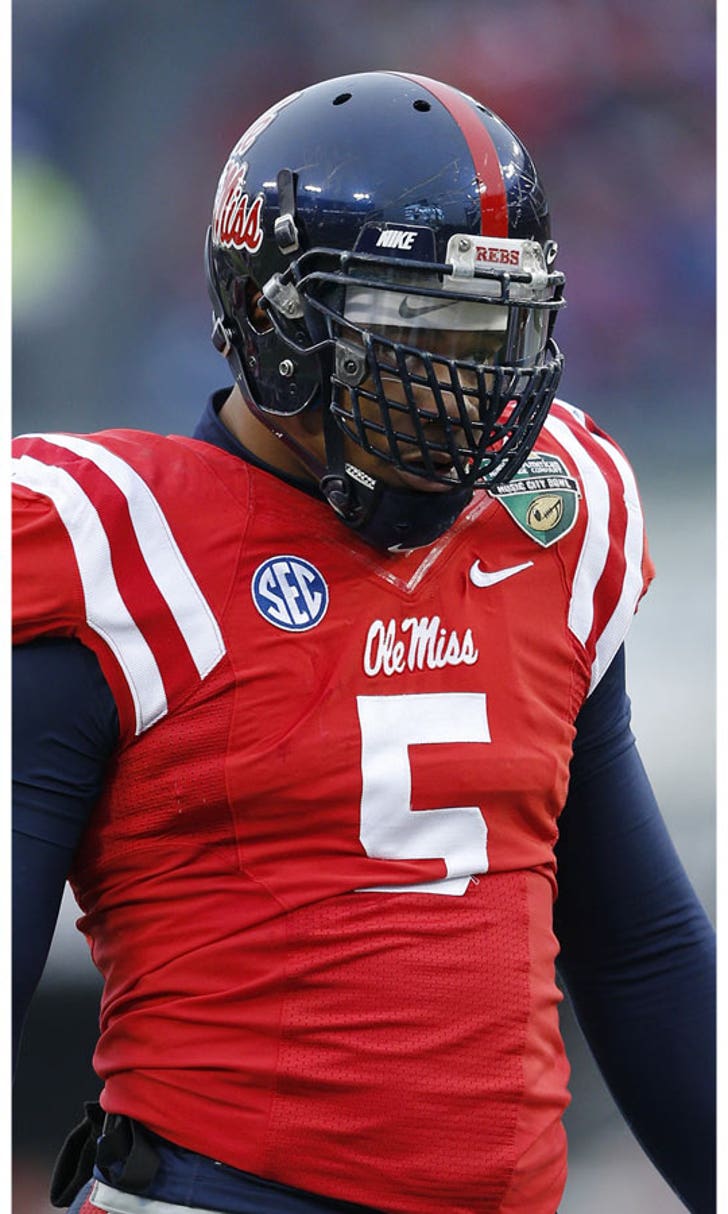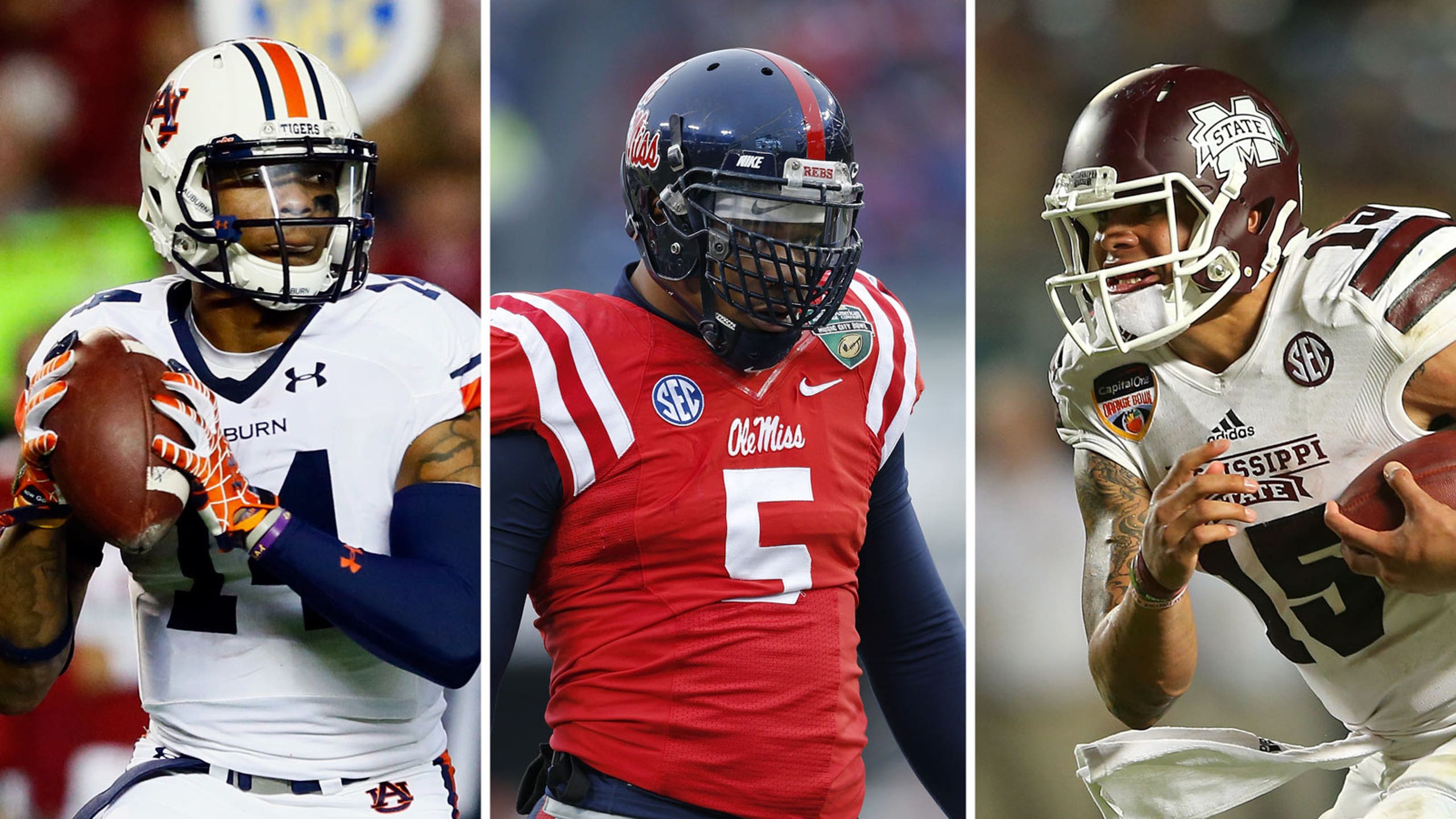 Mailbag: The SEC wasn't nearly as dominant as we thought in 2014
BY Stewart Mandel • January 6, 2015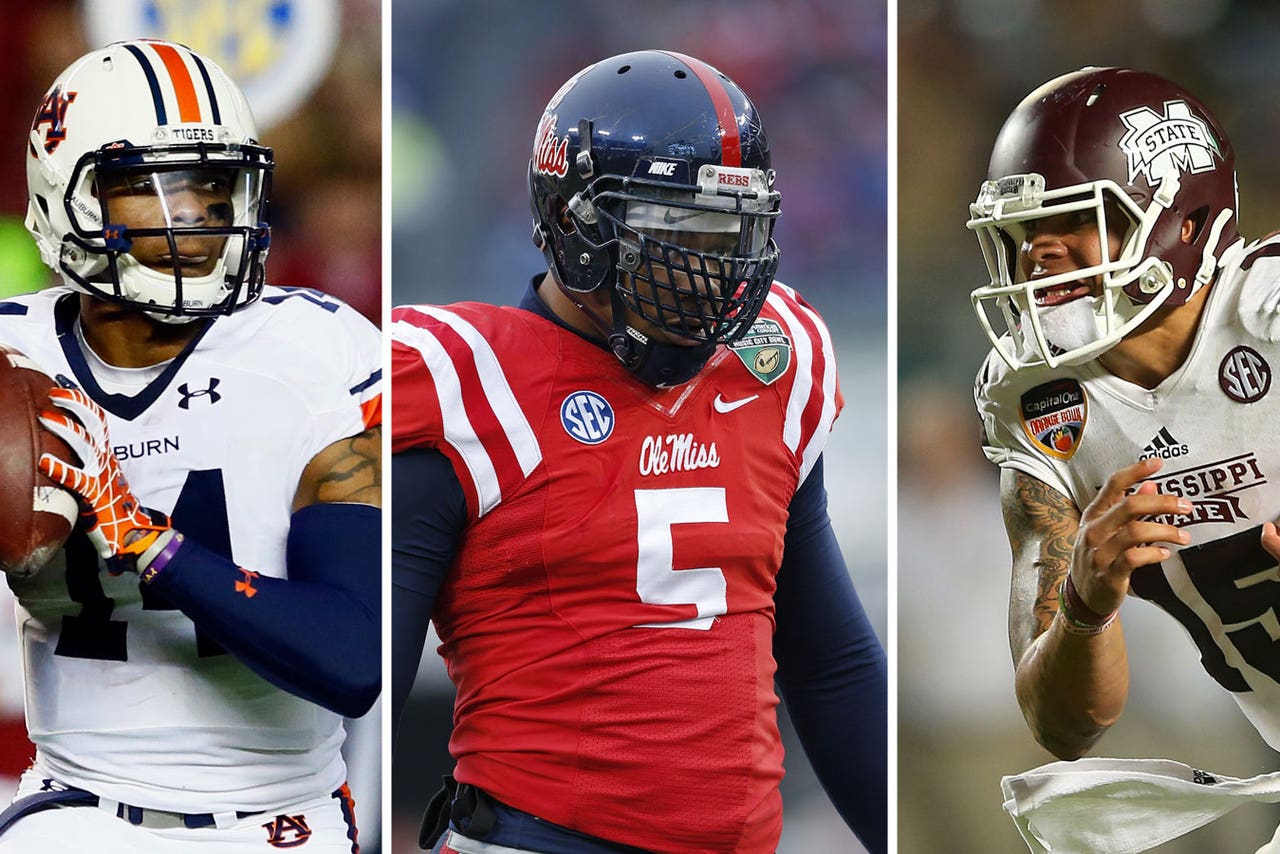 It's a new and unusual national championship week for all of us. As a college football writer I got spoiled spending the first week of every January in either Miami, Arizona or Southern California.
As I write this, I'm in Columbus, Ohio, where it snowed overnight and the forecasted low is 7 degrees. But hey, those semifinal games were awesome.
The other dramatic departure this season is that the coming Oregon-Ohio State matchup is void of any Southern flavor. After the SEC West's 2-5 bowl season, many of you were all too happy to remind me of writing a column in late November entitled: "Why SEC West is the most dominant division ever."
Stewart — I am sure that you are correct in viewing motivation and intangibles as crucial for teams' bowl performances. On the other hand, bowl results are still our best way to assess the relative strengths of the conferences. My take: The Pac-12 and SEC are strong from top-to-bottom, but the ranked teams in the SEC (two through five) were overrated. We underestimated the Big Ten. And the Big 12 is in bad shape, other than its two elite teams. What say you?
— John, Salt Lake City
Normally this is where I trot out the "bowl results can be deceiving" line, but that's more the case of individual teams' games. It's fair to glean bigger-picture observations about conferences when there's a noticeable trend among large numbers of teams. I agree with nearly all of John's observations. But it's worth revisiting how we arrived at our various regular-season misperceptions.
If I could do it over again, I would have used the word "deepest," not "dominant," to describe the SEC West. It still boggles my mind that the seventh-place team was Arkansas. The mistake myself and many made, however, was in assuming such a strong overall division must necessarily have multiple top 10-caliber teams. Looking back, it's no secret how Texas A&M (season-opening win at South Carolina), Auburn (won at Kansas State) and Ole Miss (beat Boise State and Alabama) rose as high as they did, but with hindsight, Mississippi State's ascension to No. 1 could not have been more deceiving. The three top-10 teams it beat to get there — LSU, Texas A&M and Auburn — all finished 8-5. But the Bulldogs remained No. 1 well into November. And Alabama rose to No. 1 by beating Mississippi State. I'd still rank the Tide in the top four today, but they will likely finish as one of just two top-10 teams from the SEC, along with Georgia.
Now, do Ohio State's and Michigan State's (over Baylor) New Year's Six victories mean we underestimated the Big Ten? No, it means we underestimated those teams. No question it's been an encouraging couple of weeks for Jim Delany's conference between the addition of Jim Harbaugh and its Jan. 1 bowl performance, but it's still far from a deep conference. A 6-6 Tennessee team depantsed Iowa. Louisiana Tech handled Illinois to the surprise of no one.
But we were all guilty of disregarding the Buckeyes and Spartans when they lost to Virginia Tech and Oregon, respectively, back in Week 2, because they didn't get chances to redeem themselves by beating respected opponents in conference play. As you saw in the Sugar Bowl, Ohio State's players are just as talented as the top team in the SEC's.
It's an interesting transitional time in college football. Dare I say we're seeing evidence that conference strength is — wait for it — cyclical?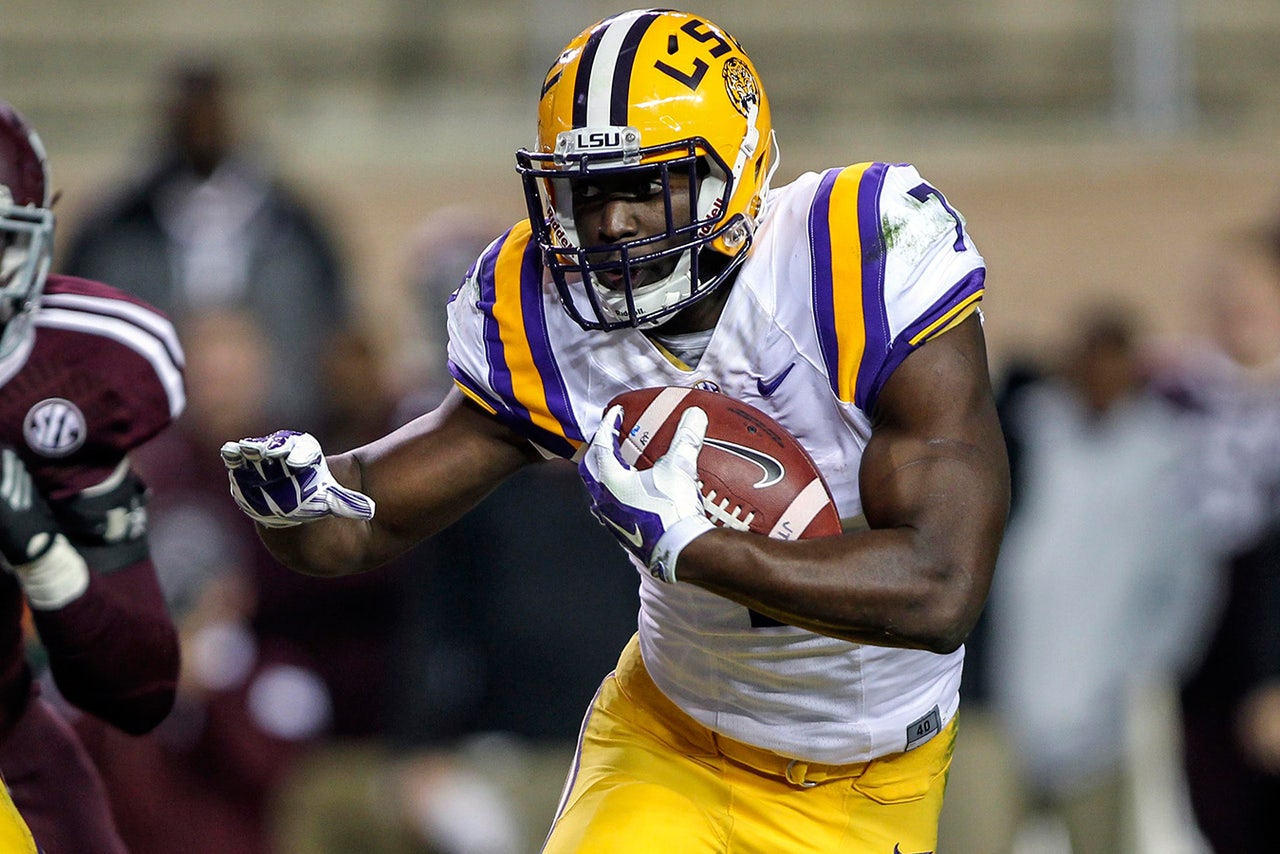 Leonard Fournette's LSU squad was part of a very deep -- but as it turns out, not very dominant -- SEC West.
After TCU's blowout of Ole Miss you tweeted that TCU was obviously one of the four best teams in the country. Certainly people suggested you cool your jets and just watch the next day's football, which gave us Oregon slamming FSU and Ohio State stomping everyone's little No. 1 darling Alabama. So now would you like to take back that tweet? If not, who are they clearly better than?
— Rob, Seattle
Of course I'm not taking it back. TCU was clearly better than Florida State, but it was never realistic the one-loss Horned Frogs would get in over the undefeated Seminoles — especially since Baylor had dibs over TCU, too. For all the talk about "best four teams," the committee really did take the four most-deserving in its eyes. I myself had TCU third and FSU fourth on my FOX Four ballot going into the final weekend, just as the committee did, and yet I had no problem with the 'Noles getting in over the Horned Frogs. The ACC wasn't great but it wasn't the Mountain West, either. In fact I'm not sure the Big 12 was tougher given the third-place finisher was a train-wreck of an Oklahoma team. FSU could at least claim wins over Orange Bowl champion Georgia Tech and a very good Clemson team, both of which will finish the season in the top 15.
Given Oregon's unmasking of FSU, it will be interesting going forward to see whether the public is more accepting of looking beyond wins and losses. A good deal of fans and media found it unfathomable the 'Noles were anywhere lower than No. 1, yet arguably they didn't even belong in the top four. Still, it would take an extremely unusual situation for an undefeated Power 5 champ to be left out altogether.
Similarly, might we feel differently about a TCU-Baylor head-to-head argument in the future? A lot of us felt TCU was the better team, regardless of a last-second three-point road loss when the teams played, and I'm guessing a segment of the committee did, too, but the head-to-head result was impossible to overlook. I feel bad for TCU, because it certainly could have won a playoff game given the chance. But there's going to be a TCU every year of the playoff.
Stewart: Are there similarities between Cardale Jones and Brett Hundley that the Ducks can use for comparison over the next week? I know Hundley is a better runner overall, but I was impressed with Jones' ability to run in big situations against the Tide and wondered if they present similar challenges for a defense that UCLA does?
— Zak, Oregon
Not really. Jones is unique. He looks like a defensive lineman playing quarterback. He's nowhere near as nimble a runner as Hundley or Marcus Mariota, but once he gets rolling you don't want to get in his way. Nor does he appear to be a fully developed quarterback. He looked panicky at times going through his progression. But man does he throw a pretty deep ball.
Ultimately, though, the reason UCLA is not much of a template in preparing for Ohio State is that the Buckeyes have so many more weapons around Jones. Nick Saban made an interesting comment after last week's game. "The one thing that the new quarterback does is he has a tremendous arm. And they have some very talented receivers," he said. "... It wasn't so obvious when you watched the film all season long that they had these great skill players that could really make plays down the field."
So Oregon's biggest concern isn't necessarily defending Jones, it's defending Devin Smith, Michael Thomas, Corey Spencer and Jalin Marshall, who've now torched two pretty good defenses the past two games in Wisconsin and Alabama. Oh, and Ezekiel Elliott, too.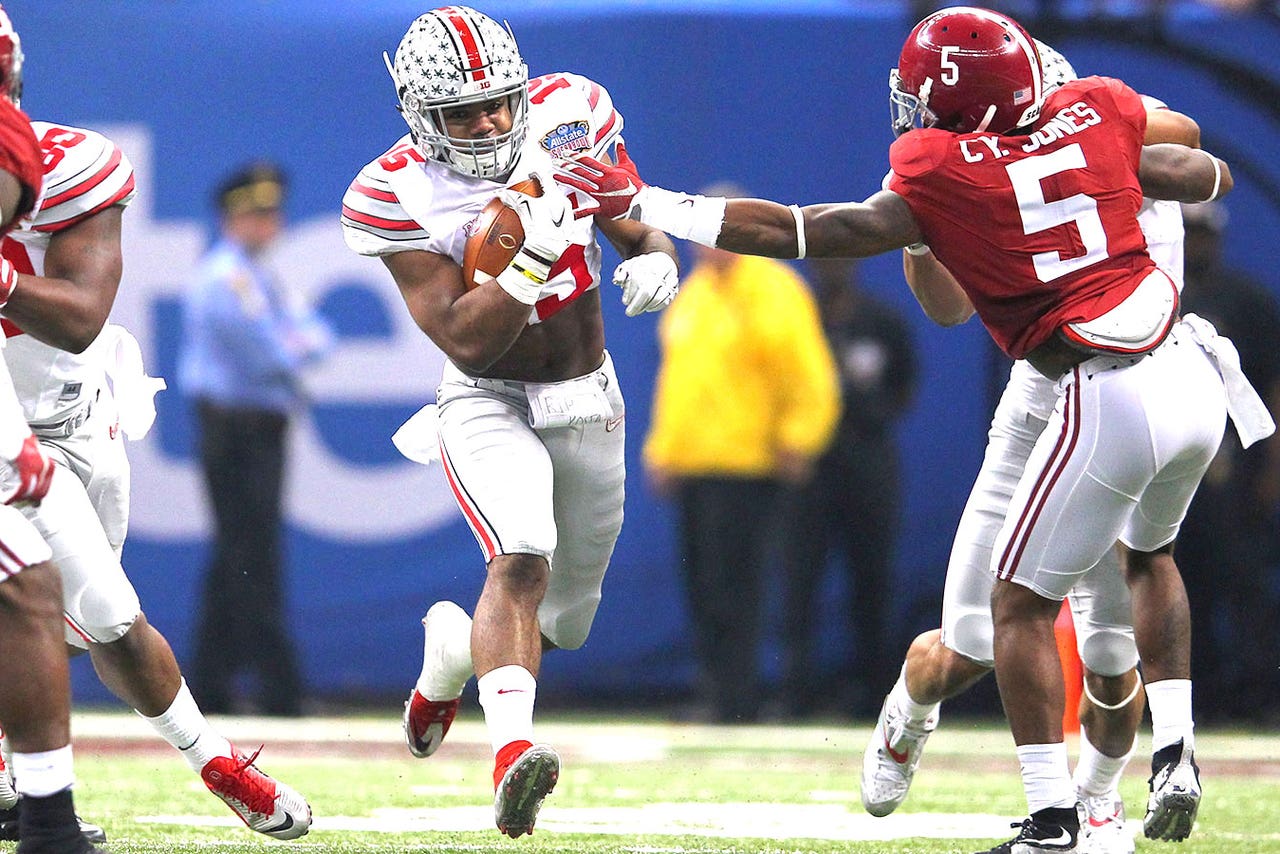 Ohio State's win over Alabama is more a statement about itself than the Big Ten at large.
Hey Stewart! With the NFL talking playoff expansion, what do you think the next step for the College Football Playoff will be? The perfect number for me would be six, giving the top two seeds a bye. What are your thoughts?
— Thomas, Brooklyn, New York
Same answer I give every few weeks. It will go to eight teams in 2020, halfway through the 12-year contract.
Stewart — Are we really looking at New Year's Eve playoffs the next two years? This is crazy considering how awesome New Year's Day was this year. Thoughts?
— Sean, Columbus, Ohio
It depresses me how many of you are only now realizing this. I've been trying to warn you for two-and-a-half years!
Yes, next year's Orange and Cotton semis will be played on Dec. 31, as will the Fiesta and Peach the following year. That's because the Big Ten and Pac-12 (Rose) and SEC and Big 12 (Sugar) contracts with ESPN are separate from the larger playoff contract (as is the ACC's with the Orange Bowl) and those parties locked in their Jan. 1 time slots on an annual basis before ESPN landed the playoff contract. Playoff organizers still could have staged one of the two semifinals in the early Jan. 1 window but deemed it unfair were the winner of that game to have one less day to prepare for the championship game.
This year's was without question college football's most riveting New Year's Day since before the BCS, as evidenced by the record-setting TV ratings for the Rose and Sugar bowls. As for the next two years, the commissioners have long believed their event is so special that it will redefine New Year's Eve in our country. Maybe that transpires eventually, but I would expect significant ratings dips next year.
I conducted an informal Twitter survey on Dec. 31 and found out, as I suspected, that Dec. 31 is a regular workday for most people. As such, TV ratings for the Peach, Fiesta and Orange bowls were puny compared with most non-championship BCS bowls of years past. One of the two semis next year will kick off at 5 p.m. ET — 2 p.m. on the West Coast — on a Thursday afternoon.
Maybe put aside a vacation day now.
Stewart, Who gets the West Virginia-Oklahoma post-bowl game hype award heading into next season? TCU? Tennessee?
— John Ringer, Richmond, Virginia
TCU will likely be ranked high but not just because of its Peach Bowl performance. The Horned Frogs could return 15 starters from a 12-1 team. Tennessee's TaxSlaying of Iowa might lift it into the top 25 because it meant the difference between 7-6 and 6-7, if not much higher than 25th.
I'd go with Clemson. The Tigers have become a consistent 10-win team under Dabo Swinney that merits a certain benefit of the doubt, and throttling Oklahoma 40-6 in a bowl game is a great way to garner an inflated preseason ranking. Especially when, in the Tigers' case, their top-ranked defense was built around an all-senior defensive line. That's not easy to replicate.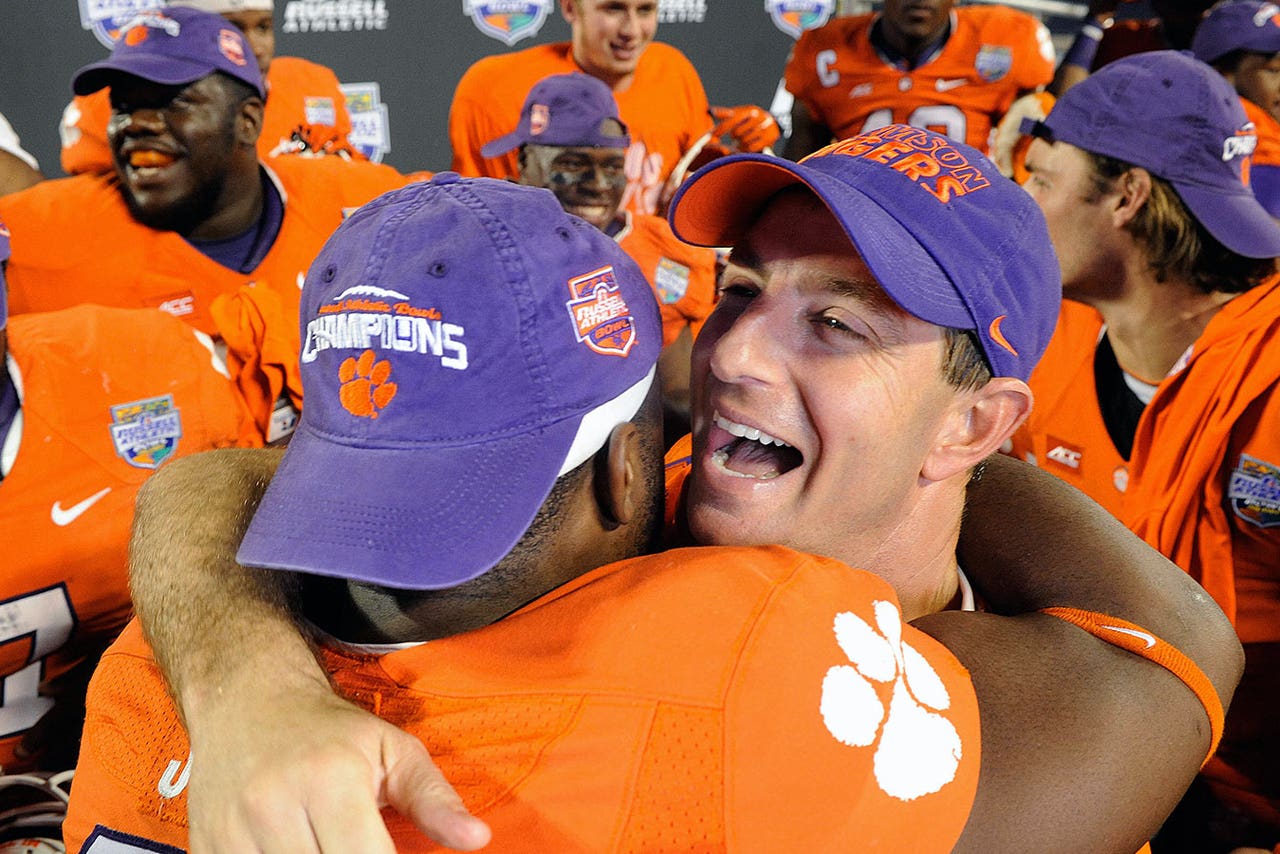 Clemson is likely to get a lot of hype headed into 2015.
SEC West most dominant division ever? You wrote that garbage on Nov. 24th. Will you have the integrity and common decency to admit how big of an ESPN-wannabe tool you are in light of the complete flop of the media-hyped frauds? You clowns can't help but wallow in hyperbole devoid of actual results. Happy New Year, Nostradamus.
— Steve Leach, location unknown
I've got no clever retort. That's pretty strong.
Hi Stewart, With 'Bama's loss to Ohio State, everyone is writing about the end of the Alabama era, the dynasty is over, etc. But that is such a simplistic approach, particularly given that the Tide are about to nail down their fifth consecutive recruiting title. Could you weigh in on the "end of a dynasty" stories and the importance (or not) of recruiting?
— Ken Young, Old Bethpage, New York
First of all, there's no universal definition for what constitutes a dynasty. Secondly, you don't really know a dynasty's over while you're still in it. No one could argue that Miami didn't have a dynasty in the '80s and early '90s. But the 'Canes won four national titles over a nine-year span. Alabama currently has three in six. Florida State under Bobby Bowden went six years between national championships ('93 and '99), and in between Nebraska won three in four seasons ('94, '95 and '97). Does that mean FSU had a dynasty, it went away, and came back? No, they were both part of the same run.
Alabama won three BCS titles in four seasons, and it's won 12 games each of the two seasons since. Does that sound like a program whose era is over? As long as Nick Saban remains in Tuscaloosa, the Tide will continue to be in the mix year-in, year-out. If anything, Alabama will likely have more chances under the new system. After all, it finished the 2013 regular season in the top four, too. If you want to see a dynasty ending, look no farther than Norman, Oklahoma. When Saban starts suffering five-loss seasons and firing coordinators every couple of years, then you'll know the dynasty's over.
Stewart: How similar is the Marcus Mariota-Jameis Winston debate going to be to the Manning-Leaf debate of 1998?
— Scott, Portland, Oregon
If cell-phone cameras and social media had existed in 1998 to capture Leaf's various college escapades — which few outside of Pullman, Washington, knew at the time — then I bet it would have been very similar. As it was, the Manning-Leaf debate as I recall it primarily centered around Manning being clearly more polished and prepared but scouts also being enamored with Leaf's cannon arm. (Side note: Does the unpolished cannon arm guy ever pan out in the NFL? See JaMarcus Russell, Jake Locker, et al.)
I'm sure Mariota's and Winston's physical abilities will be picked apart ad naseum over the next four months. I'm sure, like in '98, many will deem Winston the better prospect. But ultimately, the separating factor is Winston's off-field issues and on-field immaturity, forever encapsulated in that Rose Bowl GIF of Florida State babysitter, er, coach, Jimbo Fisher, telling Winston to "calm the f--- down or you're going to the bench." I don't know if Mariota will go No. 1 overall, as most expect now, but I cannot conceive of a scenario where a GM takes Winston ahead of Mariota, the clear safer pick. The fascinating question will be whether Tennessee or another team with a top 5-10 pick in need of a quarterback is willing to overlook a bazillion red flags and still invest heavily in Winston.
Hi Stewart. With the success of the College Football Playoff this year, when do you see the playoff expanding to eight or 12 teams?
— Phil, Chicago
Eight teams. 2020. Malkovich, Malkovich.
Stewart, Who wins the Notre Dame quarterback job for 2015? Although Everett Golson played a big part in the final game winning drive against LSU, It seems like Malik Zaire is a better runner and takes care of the ball better. Does this mean Golson transfers?
— Luke Rippee, Reno, Nevada
The two-quarterback system worked out pretty nicely against LSU, but it's hard to imagine Brian Kelly employing it for a full season. Zaire will be his guy at some point, but I could see him being loyal to Golson to start the season.
You're already hearing rumors of a possible Golson transfer, which would make a lot of sense for both parties. Imagine if both a former BCS championship game starter and former Big Ten player of the year, Braxton Miller, both become free agents this summer? Wow.
Hi Stewart: How strange that the Webfoots beat the Bucks in the first NCAA basketball playoff championship?  Hopefully history repeats.
— Eric Morris, Home Place, Indiana
It's a pretty wild coincidence. If history repeats itself again next year and Indiana meets Kansas, we'll know the end is near.
Stewart Mandel is a senior college sports columnist for FOXSports.com. He covered college football and basketball for 15 years at Sports Illustrated. His new book, "The Thinking Fan's Guide to the College Football Playoff," is now available on Amazon. You can follow him on Twitter @slmandel. Send emails and Mailbag questions to Stewart.Mandel@fox.com.
---