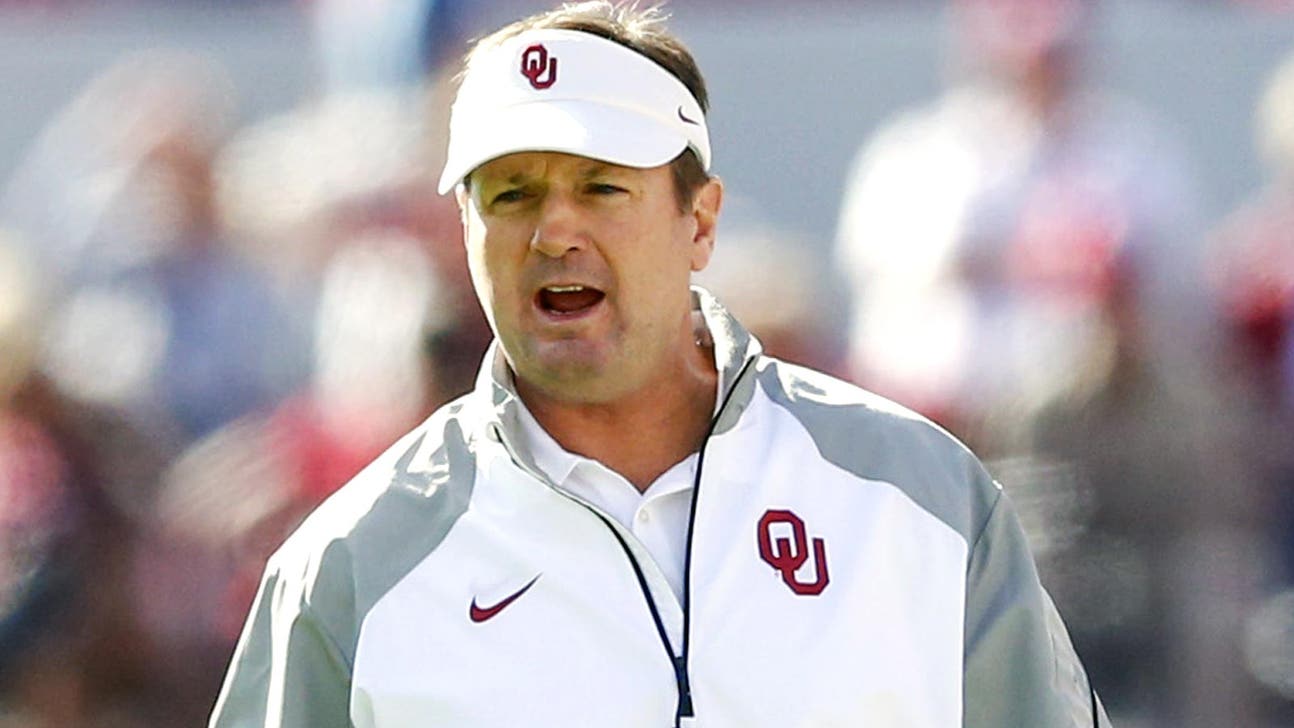 Mailbag: Oklahoma fans deserve better from Bob Stoops & more
Published
Oct. 22, 2014 12:15 p.m. ET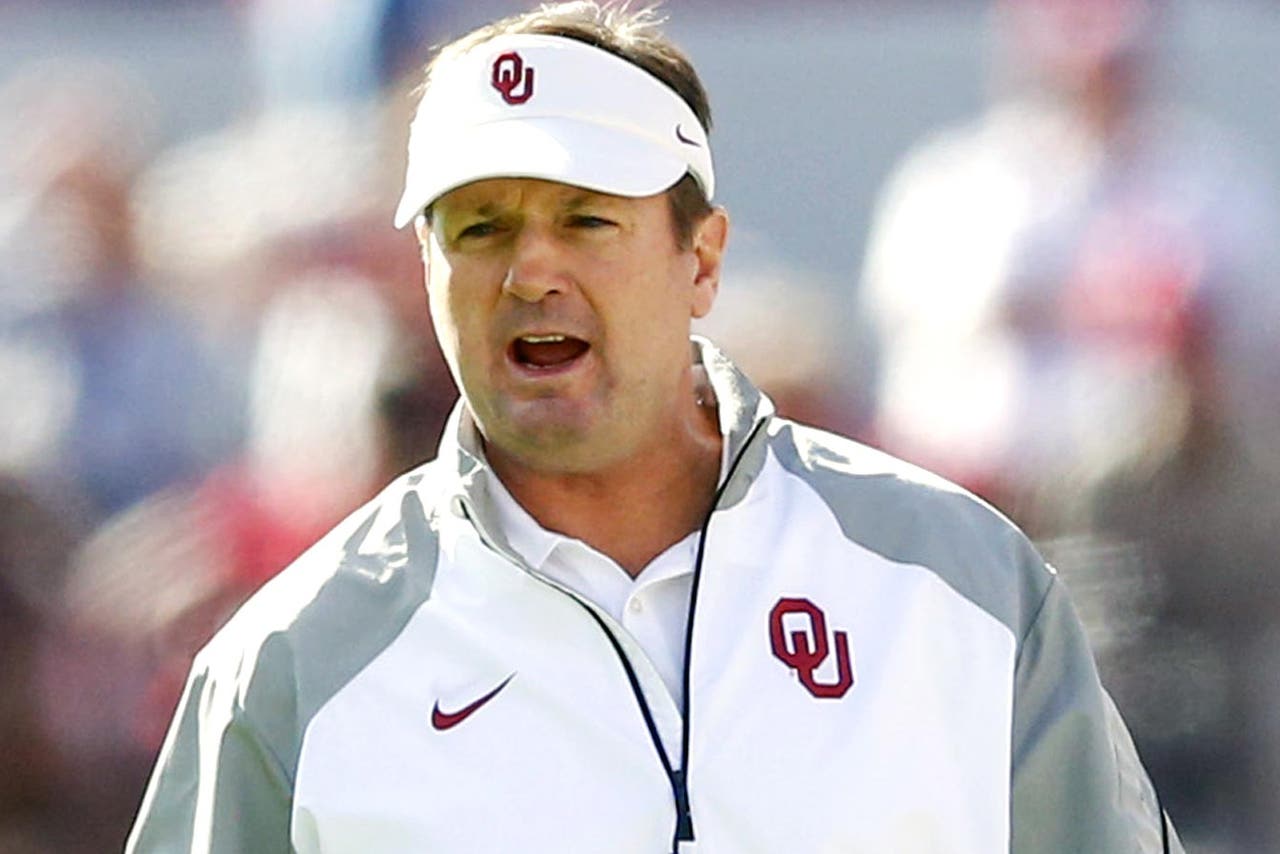 One of the more remarkable recent coaching feats that never gets talked about is the fact Oklahoma's Bob Stoops won eight Big 12 championships in his first 14 seasons. In fact, coming into 2014, Stoops had never gone consecutive seasons without winning at least a share of the crown.
But with no title last year and two conference losses already this year, that streak is clearly on life support, which is unfortunate, because many OU fans would not even have been happy with just that.
Oklahoma has once again started the season in the Top 5 and once again underachieved and choked. Is it time to question whether Bob Stoops can ever win another national championship? I don't think OU will ever be really "bad" under Stoops, but I also don't think they will ever be truly exceptional, either. He's just become too complacent. As a fan, I kind of just wish the national media would forget about us so we don't get embarrassed year after year.
It's interesting how we evaluate a coach's performance from year to year. Last season Oklahoma went 11-2, 7-2 in the Big 12 and did not win its conference, but because preseason expectations were relatively low -- 16th in the preseason AP poll -- Stoops mostly received praise for what the 2013 Sooners accomplished, even before they upset Alabama in the Sugar Bowl. A year later, a bunch of AP and coaches poll voters who read way too much into that out-of-character bowl performance put them in the top five to start the year, so now the Sooners have "underachieved" or "choked."
Of course, Stoops set such a high bar himself by winning a national championship in his second season, 2000, and playing for three more in 2003, '04 and '08. The Sooners have finished sixth in the AP poll twice since '08 but they're certainly not the year-in, year-out elite team that they were earlier in Stoops' tenure. But does that mean Stoops is "complacent" and will "never be truly exceptional" again?
This year's team could easily still turn around and win 10 or 11 games. After all, if one of the most reliable kickers in the sport, Michael Hunnicutt, didn't miss a late 19-yard field goal against Kansas State, we might not even be having this conversation. Their losses have been so close that Jeff Sagarin's ratings still have Oklahoma at No. 6.
But there are a couple of valid concerns worth raising after six years of good-but-not-great Sooners teams. For one thing, Stoops enjoyed a tremendous run of quarterbacks over his first 10 seasons, with two Heisman winners, Jason White and Sam Bradford, and a runner-up, Josh Heupel. So far we haven't seen a worthy heir apparent. Landry Jones set of a lot of records during his four seasons, but he wasn't Bradford. Trevor Knight set expectations soaring with his Sugar Bowl performance, but that's clearly turned out to not be a realistic reflection of his ability.
More troubling, though, Stoops and his brother, Mike, continue to struggle with the new reality in which nearly every opposing Big 12 offense is explosive. This year's defense was billed as the Sooners' best in years, with pass-rushers like Eric Striker and Geneo Grissom and a budding star corner in Zack Sanchez. But the Sooners are once again average on defense, currently 54th nationally (5.22 yards per play). Maybe that's unavoidable playing in the Big 12, but then you better have a big-time offense. OU's is good, but it's not Baylor's or TCU's.
It was never realistic that Stoops would keep playing for national titles virtually every other year, but Stoops as of last year was one of the five highest-paid coaches in the country. I don't think it's being unreasonable to ask for "truly exceptional" once in a while.
It seems there is not a go-to candidate for the potential Michigan and Florida job openings this year (or there wasn't until Mississippi State went on its historic run). Do you think this is a result of conference expansion and the playoff, where smaller schools like Baylor, TCU and Utah can make the playoff if they win their conference? Will we see more coaches upping their deals and staying where they are? Or will the Kings of college football continue to snatch top coaches from smaller schools?
-- Jeremy, West Palm Beach, Florida
This is a great question. I hadn't thought about the effect of conference consolidation on coaching searches. It's a long-established tradition that when a traditional program needs a new coach it often turns to an up-and-comer from the MAC, Mountain West, Conference USA or American/Big East. Most recently, Cincinnati has become the new Cradle of Coaches after serving as a springboard for Michigan State's Mark Dantonio, Notre Dame's Brian Kelly and Tennessee's Butch Jones. But those leagues aren't what they were a decade ago. The big boys have absorbed most of the premier mid-major teams and coaches. There's no obvious Chris Petersen or, once upon a time, Urban Meyer, primed for a big job.
But schools like Florida and Michigan still need to hire a coach, so I assume we're going to see more poaching from programs that don't currently consider themselves little guys. It's widely assumed Dan Mullen will be a hot commodity, possibly within his own conference. My colleague Bruce Feldman suggested on our podcast this week that Florida will try to hire Arizona's Rich Rodriguez. Michigan will almost assuredly take another swing at Jim Harbaugh, but if that fails, one of the sport's most prestigious programs needs to pony up and hire someone who's established himself at a higher level than San Diego State.
While it's common to talk about the separation between the Power 5 and the Other 5 as the haves and have-nots, in reality there's two worlds even within those 65 privileged schools, and there's going to be coaches jumping from one to the other.
Hi Stewart, I'm a Notre Dame fan and I'm trying to rationalize Saturday's loss. My thinking is this -- as long as it was a close game against FSU, the outcome didn't matter. Since ND lost against FSU, it has to win out to be in the mix at 11-1. But ND would still have to win out even had it won that game, because a loss in November would be too tough to overcome. And FSU would be their best win, but the 'Noles would be "just" the 12-1 champion of a weaker conference.
-- Brian, Jacksonville, Florida
Well I have to say, that's a much more creative way to rationalize the loss than to blame it on a great officiating conspiracy involving a controversial call that no detached expert thinks was actually controversial. Unfortunately, though, I don't agree.
For one thing, if Notre Dame had won that game it could have basically written its ticket to the playoff. Well maybe not quite that, but it could have afforded a loss somewhere else and still had a pretty rock-solid case. Beating Florida State at Florida State would not be devalued unless the 'Noles completely imploded afterward. And the "too tough to overcome a loss in November" line of thinking is an antiquated relic from the poll/BCS era. The committee is going to look at a team's entire body of work. Granted, it might not look as favorably on a team that played its best football in October, but a loss at Arizona State on Nov. 8 or at USC on Nov. 29 would not supersede all 11 of its other games.
Hope this answer didn't ruin your bye week.
Hi Stewart, I know there's a whole lot of football left to be played but there's a possibility (albeit very remote) that we could end up with a playoff of Mississippi State, Florida State, Ole Miss and TCU. Do you think TV executives would be upset to have a playoff of three schools that don't necessarily attract a lot of national eye balls and a school that most of America is pulling against because of off-the-field issues.
-- Philip, New Orleans, Lousiana
Well first of all, TV execs would love nothing more than a Florida State team that by then would have won 29 consecutive games and features the most polarizing star player since Brian Bosworth. Every good show has a villain. That's a good question about the less-prestigious programs. In general that's been true both for the BCS and the Final Four -- ratings go down when Cinderella (and I use that term loosely here) advances too far. But this is the first EVER playoff. I would think you could put three junior colleges in there and people would still be fascinated for the semifinal games.
An Ole Miss-TCU championship game, on the other hand, might prove less than a record-setter, but who knows? We've got nearly three months between now and then for Bo Wallace and Trevone Boykin to become full-fledged celebrities. And know that whoever plays in the thing, even if they're from the Northeast and the Far West, it will still be the No. 1 show of the night in Birmingham.
During the first two weeks of the season, we're always reminded not to read too much into a close call or upset. Looking back at the beginning of the season, which game gave the most false impression? On the flip side, which game was most telling of upcoming troubles for a team?
-- Ben, Fort Collins, Colorado
Without question, Texas A&M-South Carolina created a huge false impression. Mind you, it was unavoidable. It's the first major game of the season, on a Thursday night, and the first-time starting quarterback Kenny Hill goes on the road and puts up 52 points against a team that's finished in the top 10 three straight seasons and hasn't lost at home in 18 games. After eight months of waiting for actual football, I wouldn't expect people to watch that and say, "Oh, how interesting. Let's see how A&M does next week."
Of course, Hill immediately becomes a Heisman candidate and the Aggies jump up the polls. If only we knew then that South Carolina would subsequently lose to Missouri and Kentucky, and the Aggies would get blown out in three straight games.
And while this may seem like nitpicking over a 7-0 team, looking back, Florida State's 37-31 close call against Oklahoma State set the tone for just how different this Seminoles team would be from last year's more dominant unit. Tyreek Hill and the Cowboys made FSU look like a very average defensive team that night, and, as it turns out, that's exactly what the 'Noles are. Oklahoma State averaged 5.2 yards per play that night. Seven games later, FSU is allowing 5.1 per game, good for 42nd nationally. For comparison's sake, FSU finished last season 40 spots higher, allowing a full yard less per play (4.1).
I'm a big fan Stewart. Curious though, what does Marshall have to do to make it to a New Year's Day bowl? Looking at the Herd's schedule, they should win out and be 13-0 before bowl season comes around. They remind me of Boise State back in the day (from just a few years ago). Do you think they could pull out a shocker if they played in a big bowl?
-- Brad C., South Carolina
No question, Marshall is very good. I couldn't help notice that the Thundering Herd are seventh overall in Bill Connelly's S&P+ efficiency ratings. That's impressive given the fact those ratings are adjusted for strength of opponents, which you might assume would hurt Marshall. On the contrary, though, Rakeem Cato and the Herd have scored at least 42 points in every game, won all but one game by at least 25 points and Connelly's ratings suggest they're beating up on their overmatched foe exactly as you'd expect a top-10 team to do. As long as Cato's back there I don't see that changing the rest of the way. But outside of computer numbers, it's hard to truly know how good Marshall is without getting to see it play even a semi-decent foe all year.
Marshall's highest-ranked past or future opponent in Sagarin's ratings is No. 83 UAB. If it reaches the Conference USA championship game then we'll get to see the Herd square off against No. 69 Louisiana Tech. Those great Boise teams usually played at least two or three top 25-40 teams. So when it comes time to pick the Other 5 conference champion that gets a New Year's Six bowl berth, will the committee take a 13-0 Marshall team that played a ridiculously easy schedule or a one- or two-loss champion like East Carolina, which beat Virginia Tech and North Carolina, or Colorado State, which won at Boston College? That decision may ultimately say more about the committee's emphasis on strength of schedule than its top four teams. Because based on schedule alone, Marshall has no case.
But if it can get into a game, sure, why couldn't it pull off a shocker? Maybe it will be fortunate enough to draw Alabama, which currently holds an 0-2 record in BCS consolation games.
Stewart: Bob Stoops cannot win a meaningful, big game. Try and refute me...go.
-- C. Haggerty, Parkland, Florida
Oh so Nick Saban got to you too, did he?
Stewart, I hear little to no opposition from folks concerning whether players should be able to sell their autographs. Frankly, that worries me. Fast forward a few seasons and I see big donors from big schools offering big dollars for autographs to influence a recruit's decision. Is this a potential direction that the sport could fall folly to?
 -- Bart Prorok, Auburn, Alabama
It's a consequence that doesn't get discussed enough whenever anyone says, oh, college sports should just adopt the "Olympic model," where the athletes don't get paid but are free to earn compensation through endorsements and the like. Well, there's no recruiting in the Olympics (save for a few dual-citizen cases). You don't have countries pitted against one another in a cutthroat fight to secure the best athletes like you do in college sports. As we know, coaches will pull out anything allowed within the rulebook (and sometimes more than that) to land a recruit, so yes, if the NCAA said tomorrow that players are free to make money off their signatures, of course boosters will suddenly be willing to pay far more than market value for a particularly coveted recruit's autograph.
Is that a direction I'd like to see the sport fall into? Of course not. I don't like the idea of Alabama and Auburn getting into an autograph bidding war. But I also don't like the idea that there are people out there making money off Todd Gurley's signature while he gets punished for trying to do the same. Much of the NCAA witnesses' testimony in the Ed O'Bannon trial basically amounted to fear-mongering -- if you let them start making money, here's all the ills that we fear will follow. In reality, I would guess something like 90 percent of athletes would pick their school for the same reasons they do now – they like the coaching staff, or the location, or the conference, or the academics.
In light of this being the final Mailbag before the playoff selection committee announces its top four teams, do you anticipate writing another Mailbag next week or will the Internet implode by then?
-- Trevor Kuhn, Portland, Oregon
The Internet has survived for this long. What could an unprecedented, intensely scrutinized, guaranteed-to-be-controversial ranking of college football teams possibly do?
Actually, yes, it may very well break the Internet. But if it doesn't, Tuesday night at 8:01 p.m. ET might be the perfect time to send an e-mail for next week's edition. Godspeed.
Stewart Mandel is a senior college sports columnist for FOXSports.com. He covered college football and basketball for 15 years at Sports Illustrated. His new book, "The Thinking Fan's Guide to the College Football Playoff," is now available on Amazon. You can follow him on Twitter @slmandel. Send emails and Mailbag questions to Stewart.Mandel@fox.com.
---