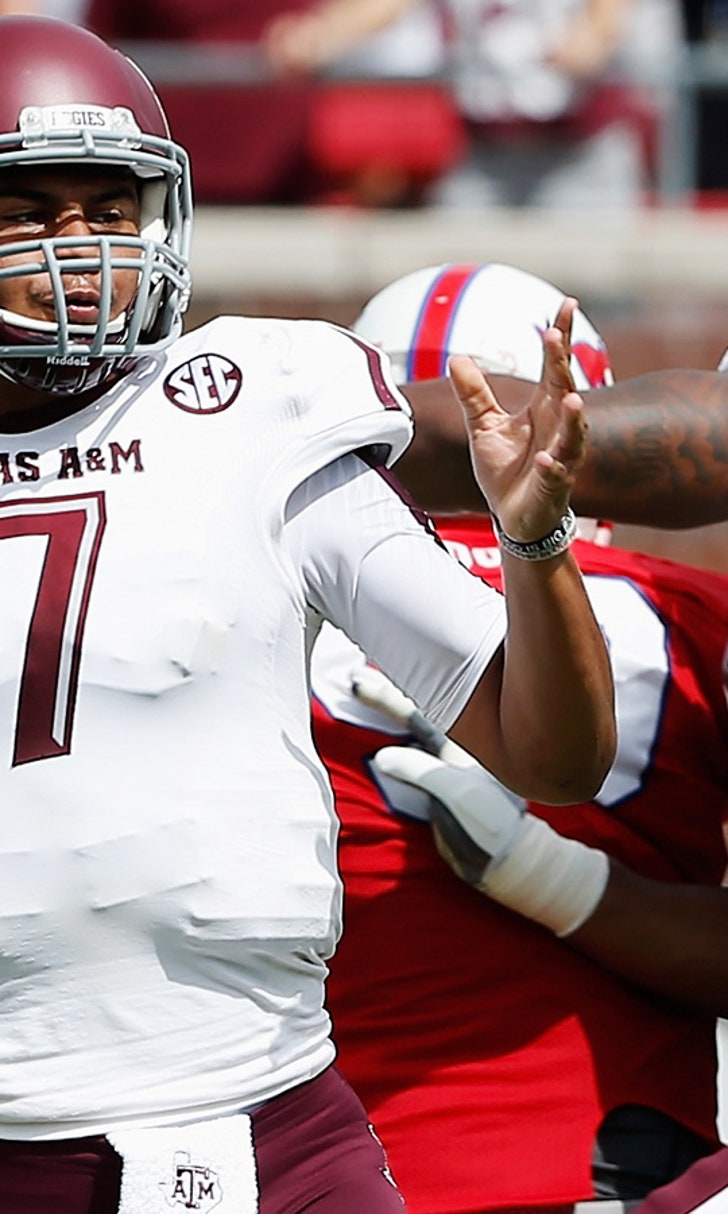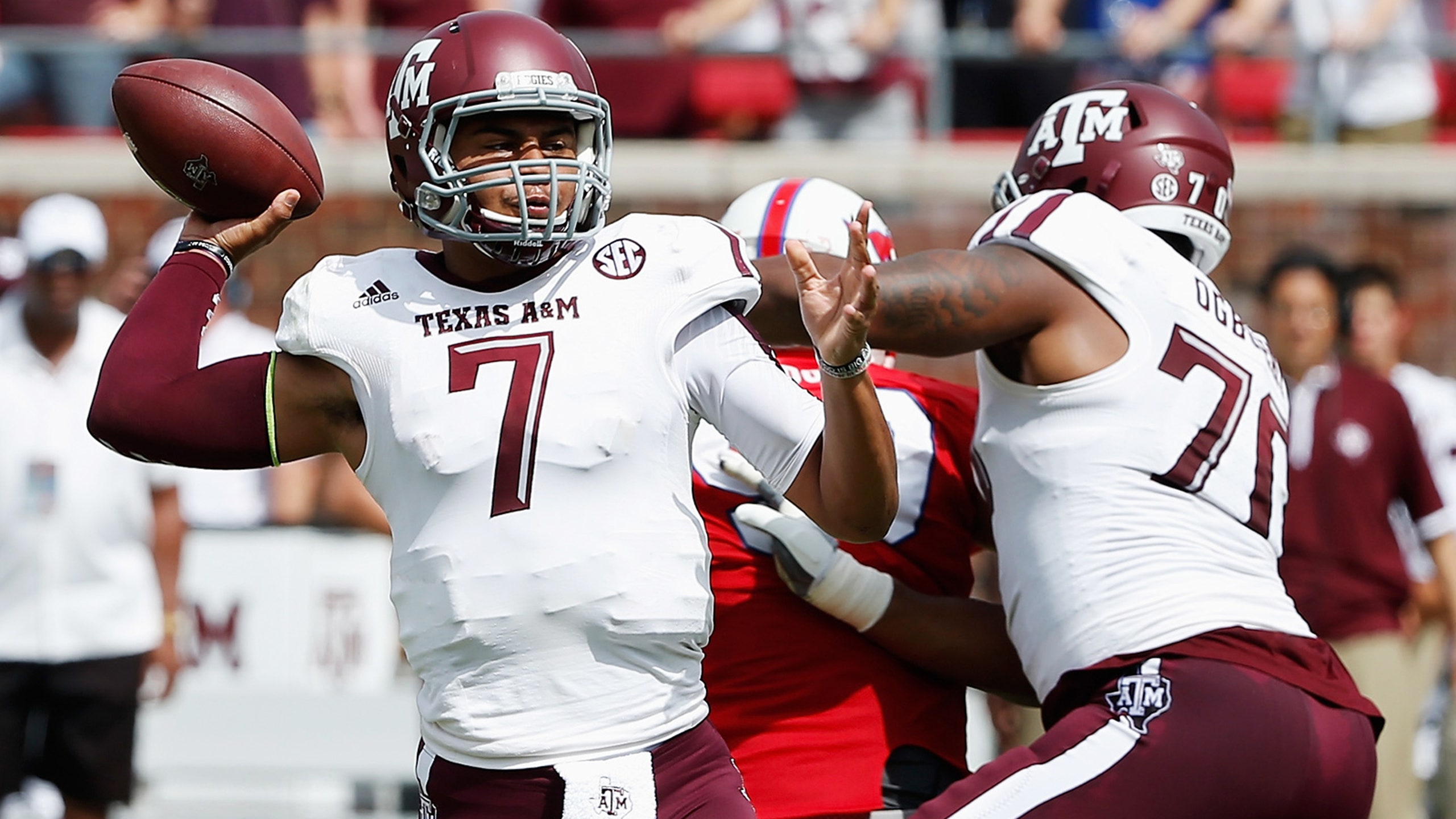 Kenny Hill's dad: Son is leaving Aggies but not set on TCU
BY Bruce Feldman • January 9, 2015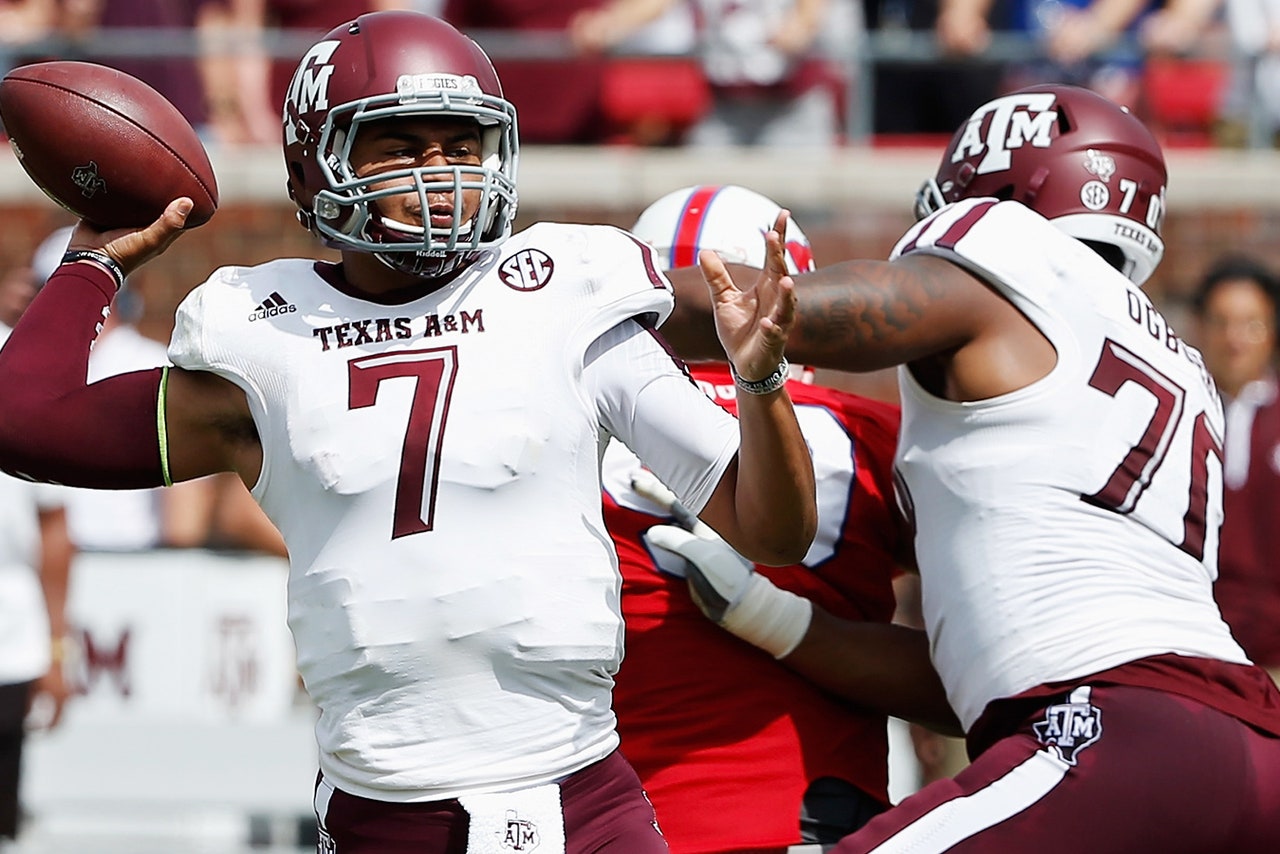 Quarterback Kenny Hill is transferring from Texas A&M, his father Ken told FOX Sports on Friday, adding to not buy all the speculation that his son is already planning on going to TCU. 
"While Kenny is indeed planning on transferring, we have not committed to any school at this time," the elder Hill said via text. "We will begin meeting with schools on the 15th of January when the dead period is over. Any previous reports suggesting we are committed to any school is simply inaccurate." 
The Texas native Hill started the 2014 season for A&M with a bang, flashing onto the Heisman radar by throwing for 511 yards in an opening night destruction of South Carolina on the road, but was later suspended for two games by the Aggies. 
The 6-foot-1, 215-pound sophomore, who will have two seasons of eligibility remaining after sitting out his transfer year in 2015, finished last season with 2,649 yards passing — which led the Southeastern Conference and ranked sixth in the nation — along with 23 touchdowns, eight interceptions and a 154.6 passer rating. He also ran for 156 yards on 52 carries. 
On Friday, A&M coach Kevin Sumlin confirmed that there are no restrictions on Hill's next move and that he is free to transfer to any school.
247Sports reported that Hill's destination will be TCU, a move that would bring Hill back closer to his hometown of Southlake, Texas, a suburb of Dallas. 
Hill, a sophomore, broke Johnny Manziel's school record for passing yards in last season's opener, throwing for 511 yards and three touchdowns in a 52-28 demolition of then-No. 9 South Carolina. The Aggies amassed more total and passing yards in a single game than any opponent in Gamecocks history.
Hill led Texas A&M to a 5-0 start and No. 6 ranking, but a 48-31 loss to Mississippi State on Oct. 4 began a three-game losing streak, the final game of which was Hill's final contest of the season. Hill had seven turnovers in that span as Texas A&M fell out of the Top 25. He was suspended for two games after that for a violation of team rules, and he never played again as freshman Kyle Allen took over the starting job and never gave it back.
Hill also was suspended toward the end of spring practice after an alcohol-related arrest, but worked his way back into Sumlin's good graces enough to get the starting nod during camp.
Off the field, Hill's parents also made headlines, applying to trademark the nickname "Trill" after the eye-popping opener.
Bruce Feldman is a senior college football reporter and columnist for FOXSports.com and FOX Sports 1. He is also a New York Times Bestselling author. His new book, The QB: The Making of Modern Quarterbacks, came out in October, 2014. Follow him on Twitter @BruceFeldmanCFB.
---