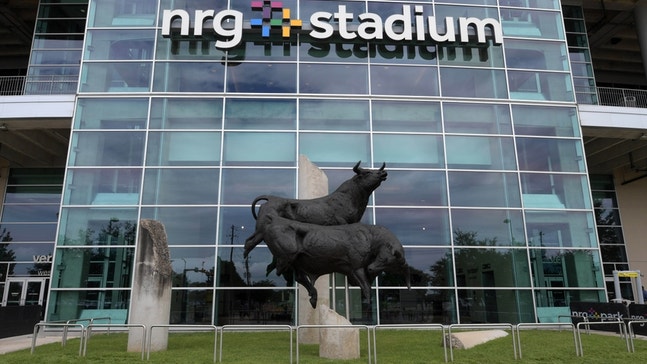 Kansas State Sets Stage for Texas Bowl Victory
Updated
Mar. 4, 2020 8:58 p.m. ET

Fansided, Stan Unruh/FanSided via Jug of Snyder
Kansas State Football players set the tone for the week with a win over the Aggies during Tuesday's Rodeo Bowl crown in Houston. If history is any indication, the outcome is a very good sign.
Despite some rusty roping skills, Matt Seiwert's heart was pounding as if the K-State defensive tackle was on the football field, waiting for the opposing team to hike the football, according to a media release from Kansas State Athletics.
It's nice to see the student athletes having some fun beyond work on the football field. Texas Bowl officials do a nice job with this friendly competition.
"My heart was beating just like when we're out there playing on the football field and all the fans are out there watching us," the Conway Springs, Kansas native Seiwert explained.
More from Jug of Snyder
Seiwert, whose roping team included Tanner Wood, Konnor Cook and Jayd Kirby. "I haven't roped in a long time, but I got lucky and got it done," added Seiwert.
The Wildcats won the seven-event challenge, 5-2, over Texas A&M, creating constant excitement among the K-State sideline that broke out in regular chants during their road to victory.
"I loved their enthusiasm, I thought that was good, and they were competitive," K-State head coach Bill Snyder said. "The young guys that got out and did those things were really into it. It was enjoyable to watch."
Historically, the Rodeo Bowl winner has fared well in the actual football game. Rodeo Bowl officials said seven of the last eight winners of the cowboy-themed competition came out on top in the Texas Bowl.
"I hope it's a sign," Wood said, "and I'm looking forward to going out and playing Texas A&M."
K-State opened the rodeo competition with a victory in the calf-penning event, with Glenn Williams, Evan Curl, Jason Lierz, Kaeson Risner and Nick Lenners doing the work.
After cruising to a win in the roping competition, the Wildcats' barrel man racing team of Kade True, Wesley Burris and D.J. Render dropped a tight race to Texas A&M's trio.
The Wildcats won the next two events to secure the overall competition, however.
Blake Lynch, a 5-foot-5 freshman kicker out of Goddard, Kansas, led K-State to victory in the calf ribbon pull, with Walter Neil, Jr., Logan Stoddard and Wykeen Gill also helping out.
"That was awesome that he was able to get that, win that event and just run as fast as he could," Wood said of Lynch, who was picked up by his teammates after his event win. "I hoped that he could do it and it was awesome when he did."
To seal the deal, K-State pulled out a win in the "Horse Race" competition, which consisted of a back-and-forth relay in a horse costume. K-State's team of AJ Parker, David Tullis, Justin Hughes, Cameron Morgan and Brock Monty completed a comeback two times, winning the second race after a redo was forced because of a costume malfunction from Texas A&M.
"It was just fun to get both teams out here," Seiwert said. "It was kind of a changeup from practice and meetings all week."
Get the FanSided App
K-State's only other loss came in the goat-milking event, with Aidan Murray, Osvelt Joseph, Jordan Noil and Tom Killilea dropping a tight battle to the Aggies.
The Wildcats closed the competition with a win in hay bale stacking, with Devin Anctil, Mike McCoy, Dylan Couch, Kaelin Key, Mitch Copeland, Blake Richmeier, Bronson Massie and Logan O'Dea throwing the bales to victory.
"It shows how country our Kansas boys really are," Seiwert said of the night. "It's kind of for bragging rights, because they're an ag school and we're an ag school."
---
---