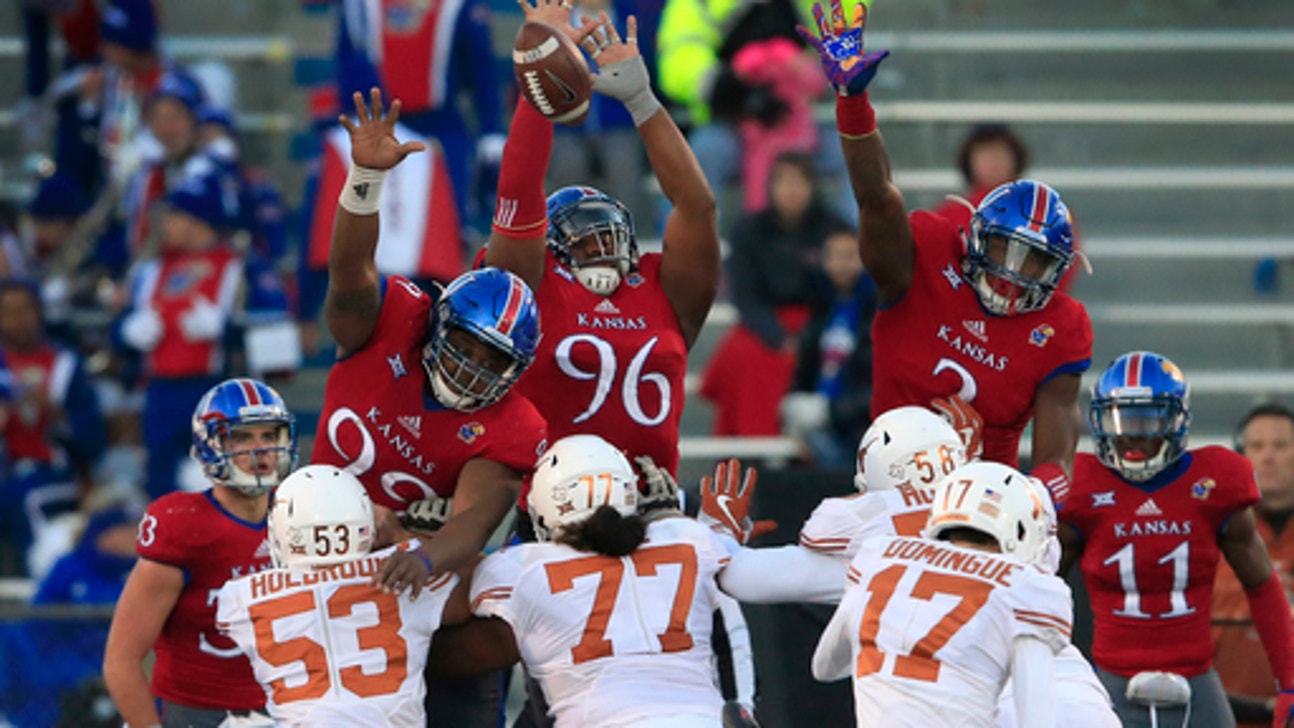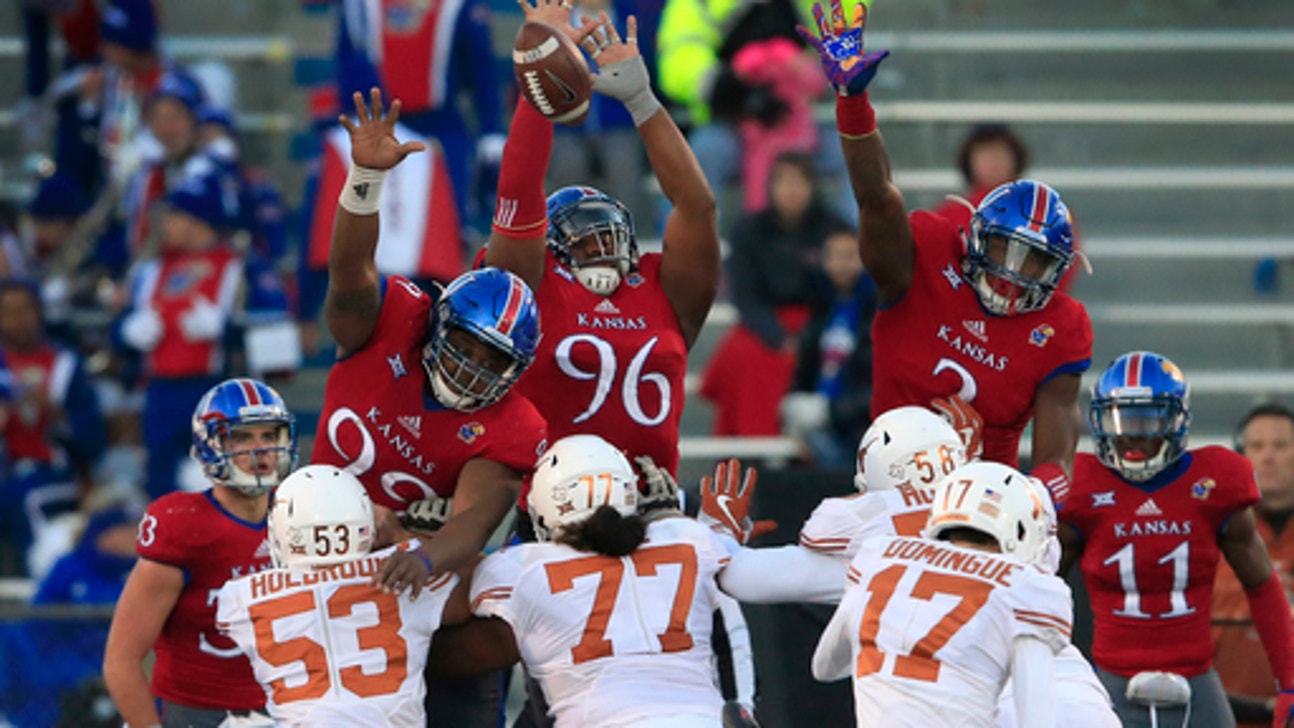 Kansas beats Texas for first time since 1938, 24-21 in OT
Published
Nov. 20, 2016 1:13 a.m. ET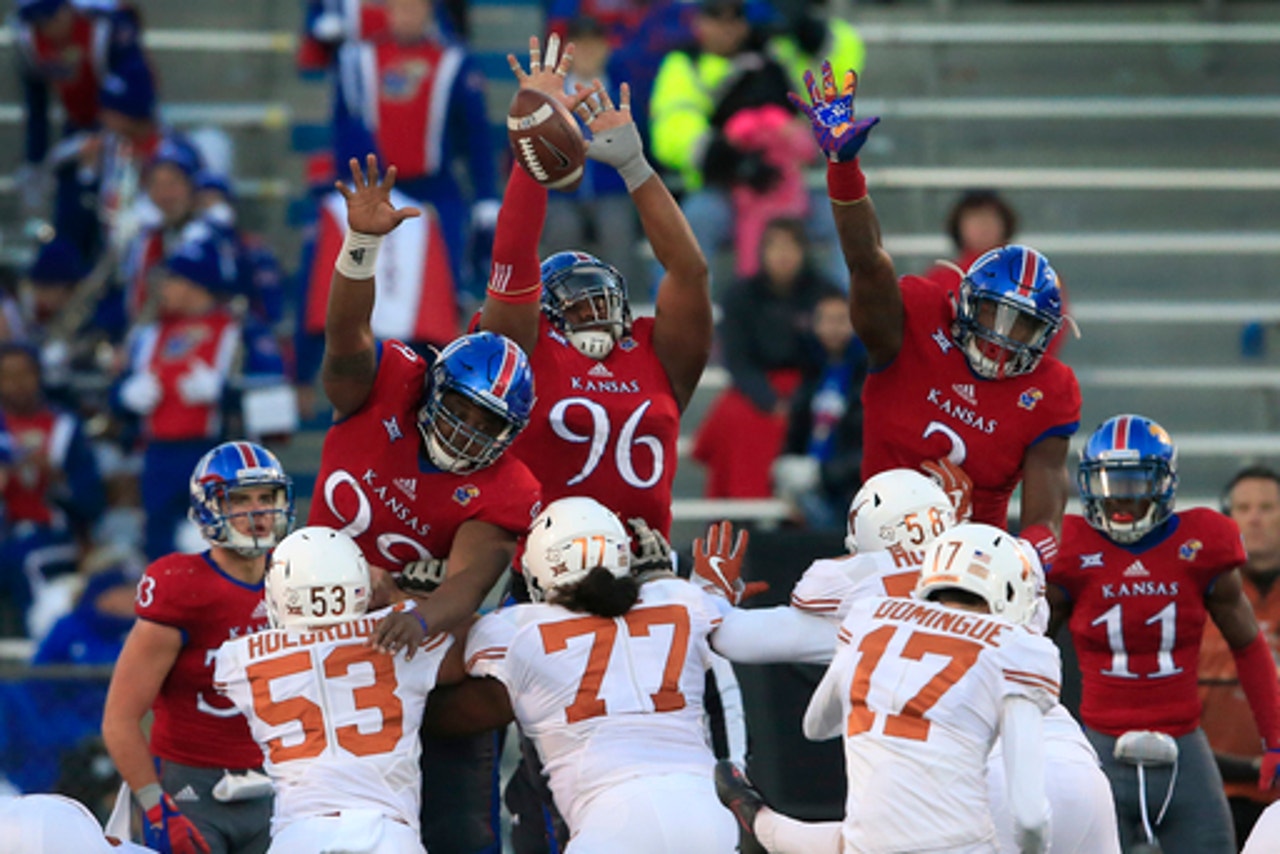 LAWRENCE, Kan. (AP) Matthew Wyman may have booted Charlie Strong right out of Texas.
The senior kicker for Kansas knocked through a field goal to force overtime, then drilled a 25-yarder in the extra session Saturday to send the Jayhawks to a 24-21 victory over the Longhorns - one that just might end Strong's disappointing tenure on the 40 acres.
The moment Wyman's field goal went through the uprights, the Jayhawks (2-9, 1-7) poured off the sideline and into a jubilant pile with thousands of students. The win snapped a nine-game skid, a 19-game losing streak in Big 12 play and was their first over Texas since 1938.
It made Strong's future bleak, but it made Kansas coach David Beaty's appear just a little bit brighter.
''What resilient dudes those guys are,'' he said after his first Big 12 win. ''They've continued to work through some really, really difficult situations, and I've said it before, I feel like we have the right kind of kids in our program. They've stuck it out.''
The Longhorns (5-6, 3-5) squandered chances down the stretch, including a fumble and failed fourth-down try in the final minutes of regulation that could have put the game away.
They got the ball first in overtime, but Shane Buechele badly overthrew his intended receiver on their second play and Mike Lee was there to pick it off. After the Jayhawks marched inside the 5-yard line, their senior kicker playing in his final home game knocked through the winner.
''It's great to send the seniors out like this,'' he said. ''They've been through some struggles, some adversity, so it means a lot.''
Their stirring win made D'Onta Foreman's performance merely a footnote.
The Texas running back carried a school-record 51 times for 250 yards and two touchdowns, though his two fumbles proved costly - not only to the Longhorns' season but quite possibly to Strong's future.
The third-year coach has been on the hot seat all season, and the temperature is only going to rise after a loss to the lowly Jayhawks. Strong dropped to 16-20 since arriving at Texas, and not even the $10 million buyout he would be due could be enough to keep him from getting fired.
''We just had our opportunities there,'' Strong said. ''Not much needed to be said.''
Asked what it means for his future, Strong replied: ''No idea.''
The Jayhawks took advantage of four first-half turnovers, including a pick-six by Brandon Stewart, to take a 10-7 lead into the locker room. But they committed two turnovers of their own in an ugly third quarter, which the Longhorns turned into back-to-back touchdowns for a 21-10 lead.
Kansas marched downfield for a touchdown midway through the fourth quarter, and Steven Sims won the race to the pylon to convert the 2-point conversion and get within a field goal.
That proved to be pivotal in the final minute of the game.
The Jayhawks stuffed Texas on fourth down and regained possession with 58 seconds left. Three passes to Ke'aun Kinner and a targeting penalty got them within field goal range, and Wyman's kick from 36 yards out with 7 seconds remaining sent the game to overtime.
Set up one of the most memorable wins in recent history, too.
''The seniors have been through a whole lot, and we haven't had too much success,'' Kansas safety Fish Smithson said. ''Just proud, proud of how hard we worked. How resilient we've been.''
THE TAKEAWAY
Texas: Texas was shaky throughout the game, especially when Buechele left for a short period in the first half with an injury, in what might go down as the biggest indictment of Strong's tenure.
Kansas: Kansas has been close to breaking through several times this season, including a 24-23 loss to TCU in early October and a 31-24 loss to Iowa State earlier this month.
STRONG'S FUTURE
Texas athletic director Mike Perrin declined to speak with reporters after the game, looking away when he approached them. Strong's wife, Victoria, was crying outside the Longhorns' locker room and even Strong looked visibly shaken as he fielded questions.
''I love coach Strong. That's my dog,'' Texas safety DeShon Elliott said. ''No matter what, I love him, but I said that's not our decision. We can't make that decision. It's the AD and all the men up there.''
SEE YA
After police encircled the goal posts at the south end zone, students raced to the opposite end of the field and hopped on that set. It took them a while before they got them to the turf, then they carried them right out of Memorial Stadium.
UP NEXT
Texas heads to TCU on Saturday for what could be Strong's final game as coach.
Kansas tries to make it two straight on Saturday at Kansas State.
---
More AP college football: www.collegefootball.ap.org and https://twitter.com/AP-Top25 .
---