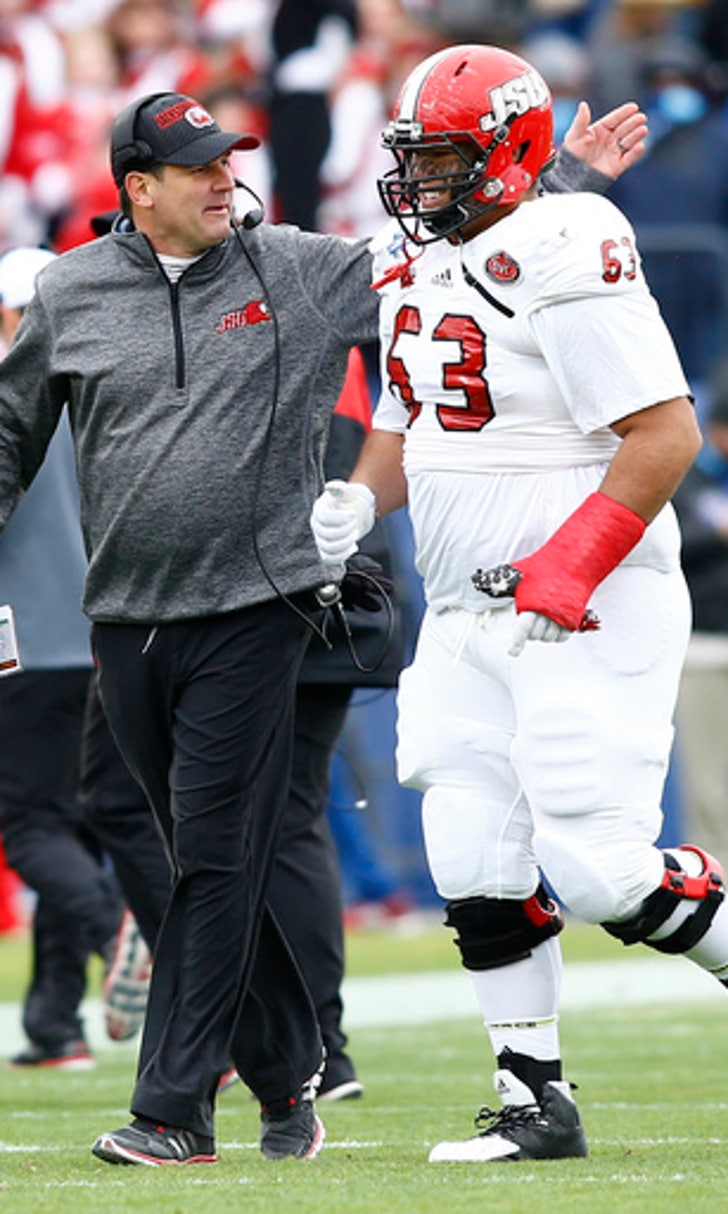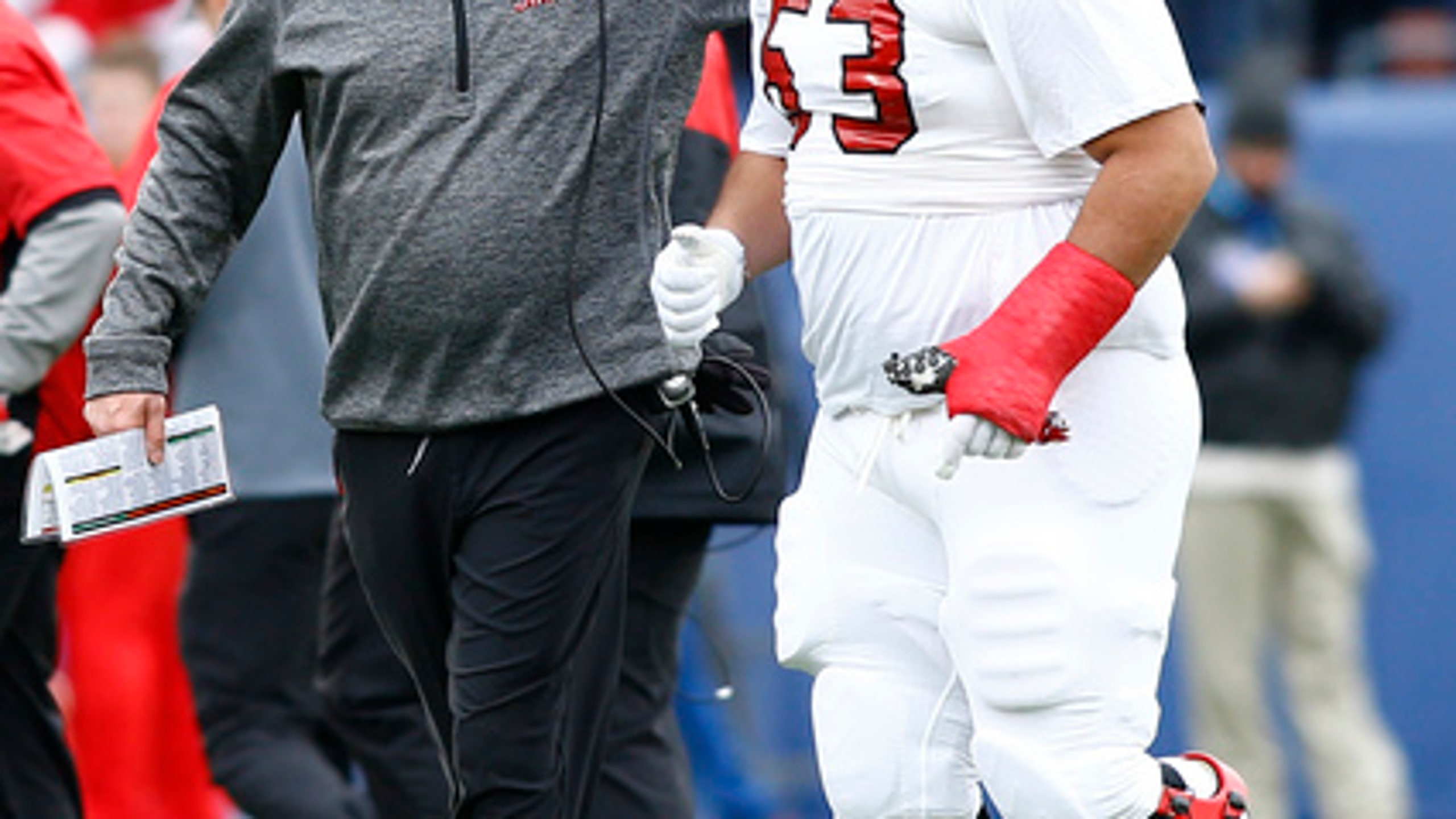 Jacksonville State's success raises bar in OVC
BY foxsports • January 15, 2016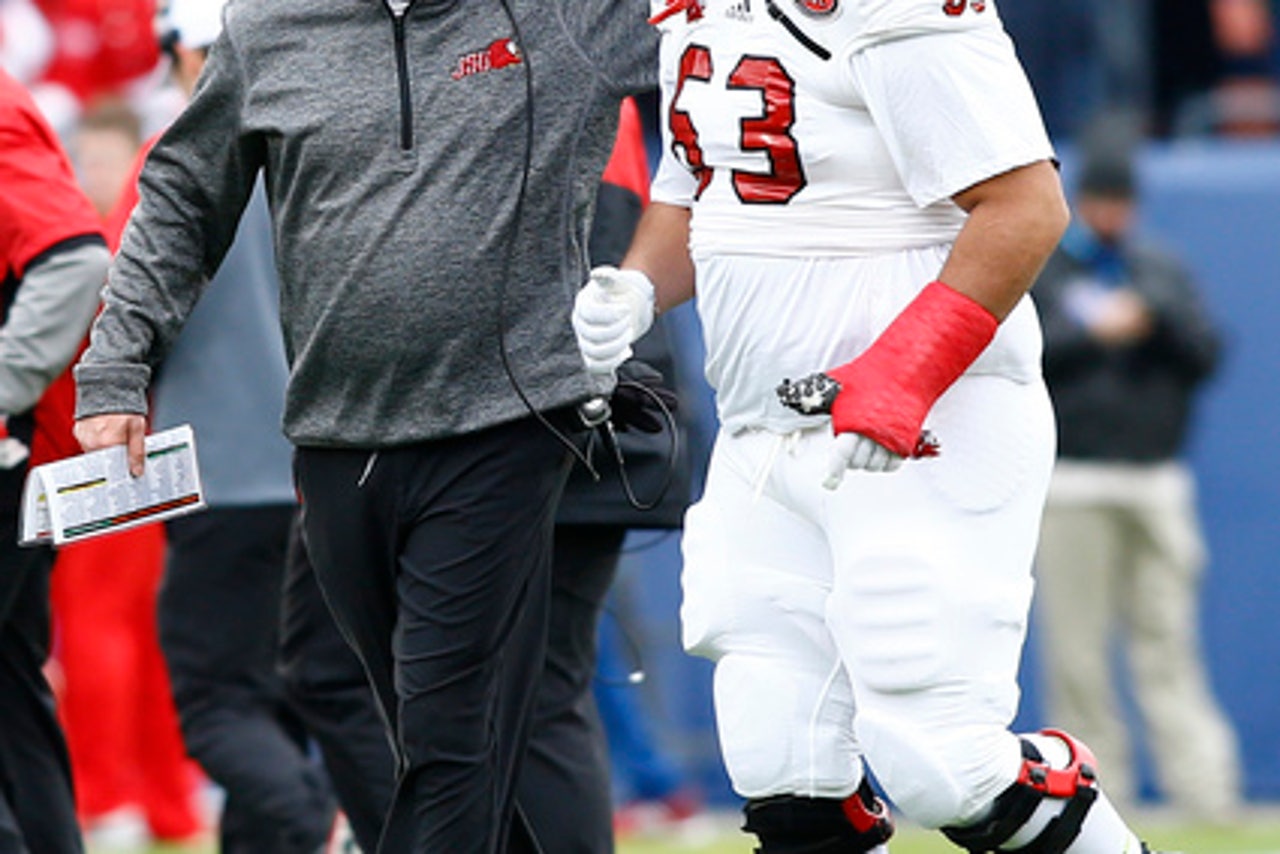 (STATS) - Throughout Jacksonville State's playoff run toward its first FCS championship game appearance, it boastfully carried the flag of the Ohio Valley Conference.
Though the Gamecocks' special season ended with a 37-10 loss to North Dakota State in suburban Dallas, they made plenty of league history along the way.
"We put ourselves in a position to win a national championship and that's right where we want to be," OVC Coach of the Year John Grass said. "We're proud to be representing the Ohio Valley Conference."
The first OVC school to play for a national championship since Eastern Kentucky's four-year run from 1979-82, JSU (13-2) matched the conference record for wins in a season and set a league playoff scoring record in a 58-38 quarterfinal victory over Charleston Southern. The Gamecocks broke it one week later with a 62-10 rout of Sam Houston State in the semifinals.
Jacksonville State became the third program in league history to post back-to-back 8-0 conference finishes, and Grass joined former Eastern Illinois coach Dino Babers as the only ones to win back-to-back OVC titles in their first two seasons.
Junior quarterback and STATS All-American first-teamer Eli Jenkins threw for 2,788 yards and ran for 1,161 to become the only FCS player to top 2,700 yards passing and 1,000 rushing in 2015. Teammate Troymaine Pope set a school and OVC single-season record with 1,788 rushing yards.
"We played well through the season," said Grass, whose team sat atop the STATS FCS Top 25 for most of 2015. "We'll sit back and kind of reflect on it."
The Gamecocks weren't the only OVC team to reach the postseason.
Eastern Illinois (7-5) overcame an 0-3 start to finish one-game behind JSU and earn the school's 16th playoff appearance - sixth-most in NCAA history. Despite losing 53-17 at Northern Iowa in the first round, the Panthers ranked 25th in the final STATS FCS Poll.
On an individual front, Murray State junior KD Humphries led the FCS in passing yards (3,778), average passing yards (343.5), completions (330) and attempts (532).
Other highlights:
Conference champion: A winner of 17 straight OVC games, Jacksonville State averaged 40.1 points and 523.8 yards in league play. The Gamecocks allowed two conference teams to score more than 20 points, the most coming in a 48-41 win at UT Martin on Sept. 26 in their closest OVC game of the season.
---
Game of the Year: Eastern Kentucky 41, Murray State 34 (2 OTs), Nov. 14. - The Colonels ran an FCS-record 123 plays to prevail despite blowing a 20-7 halftime lead. EKU quarterback Bennie Coney threw for 417 yards with three touchdowns and ran for a team-leading 59 as the teams combined for 996 total yards.
----
Offensive Player of the Year: Voted the league's top offensive player, Jenkins threw 21 TDs and ran for 15. His 3,949 total yards of offense this season were second only to Jimmy Garoppolo's league-record 5,112 for EIU in 2013. JSU's career leader in total offense, Jenkins is 26-0 as a starter in FCS regular-season play.
---
Defensive Player of the Year: A STATS All-American First Team selection, Eastern Kentucky defensive end Noah Spence shared the league's Defensive Player of the Year honors with Eastern Illinois' Dino Fanti, and the Ohio State transfer was a true beast this season. Spence led the OVC with 22 1/2 tackles for loss and 11 1/2 sacks. He recorded 63 tackles, 15 quarterback hurries, forced three fumbles and recovered two. Spence, who announced that he will forego his senior season to enter the NFL Draft, was invited to play in the Senior Bowl.
---
Surprise of the Year: Not in a good way, but Eastern Kentucky followed a 9-4 campaign in 2014 by going 6-5 and missing the playoffs despite being ranked in the poll most of the regular season. Lingering injuries to OVC Preseason Offensive Player of the Year Dy'Shawn Mobley and an average of 32.8 points allowed during a 1-3 finish didn't help. The program's collective focus was challenged by the tragic death of defensive lineman Joey Kraemer in September and some threatening graffiti found in the bathroom of a campus building that forced an October matchup with Tennessee Tech to be moved 40 miles away to Georgetown College. The overall result was not enough to save the job of coach Dean Hood, who was fired after eight seasons and replaced by former Tennessee assistant Mark Elder
---
Disappointment of the Year: Times are tough at Austin Peay, which went winless for the second time in three seasons. The Governors' 39 points allowed per game ranked 117th of 125 subdivision schools. They scored their most points of 2015 in a 42-24 loss at Tennessee Tech in the season finale. After coach Kirby Cannon was fired for going 1-34 in three seasons, former Chattanooga assistant Will Healy was tabbed to turn the program around.
---
Ohio Valley by the Numbers:
3 - Outright Sgt. York Trophies won by UT Martin. The Skyhawks went 3-0 in 2015 to earn the award given to the winner of the season series between the OVC's four Tennessee-based schools (UT Martin, Tennessee Tech, Tennessee State and Austin Peay).
3.99 - Grade Point Average held by Jacksonville State receiver Dalton Screws, a chemistry major and biology minor who was named recipient of the first Doris and Eddie Robinson FCS Scholar-Athlete Award.
12 - Career blocks (field goals, PATs and punts) by Eastern Kentucky junior Devin Borders. It's five shy of the all-time FCS record. His seven blocked field goals are three back of the subdivision's top mark.
22 - Single-season Eastern Illinois record for tackles for loss set by Fanti in 2015.
37 - Consecutive road losses by Austin Peay, the longest such skid in all of college football.
43 - Years Tennessee Tech's Watson Brown spent in collegiate coaching before announcing his retirement from the sport Dec. 6. He went 42-60 in nine seasons with the Golden Eagles and earned a share of the league title in 2011.
264 - Receiving yards by Tennessee Tech sophomore Brock McCoin in a 52-24 loss at Houston on Sept. 5 - the most ever by an OVC player against an FBS opponent.
---
Next year: Though Jacksonville State loses five offensive starters, including Pope, and seven on defense, Jenkins, talented receiver Josh Barge and second-team STATS All-American center Casey Dunn return for the league's expected preseason favorite. Eastern Illinois, however, might have something to say about the final conference outcome.
---
2016 Players to Watch: RB Kendall Morris, Austin Peay; RB Devin Church, Eastern Illinois; WR/ST Devin Borders, K Lucas Williams, Eastern Kentucky; WR Barge, QB Jenkins, C Dunn, Jacksonville State; QB Humphries, Murray State; RB Tremane McCullough, Southeast Missouri; DL Ebenezer Ogundeko, WR Patrick Smith, Tennessee State; ATH McCoin, Tennessee Tech.
---
---