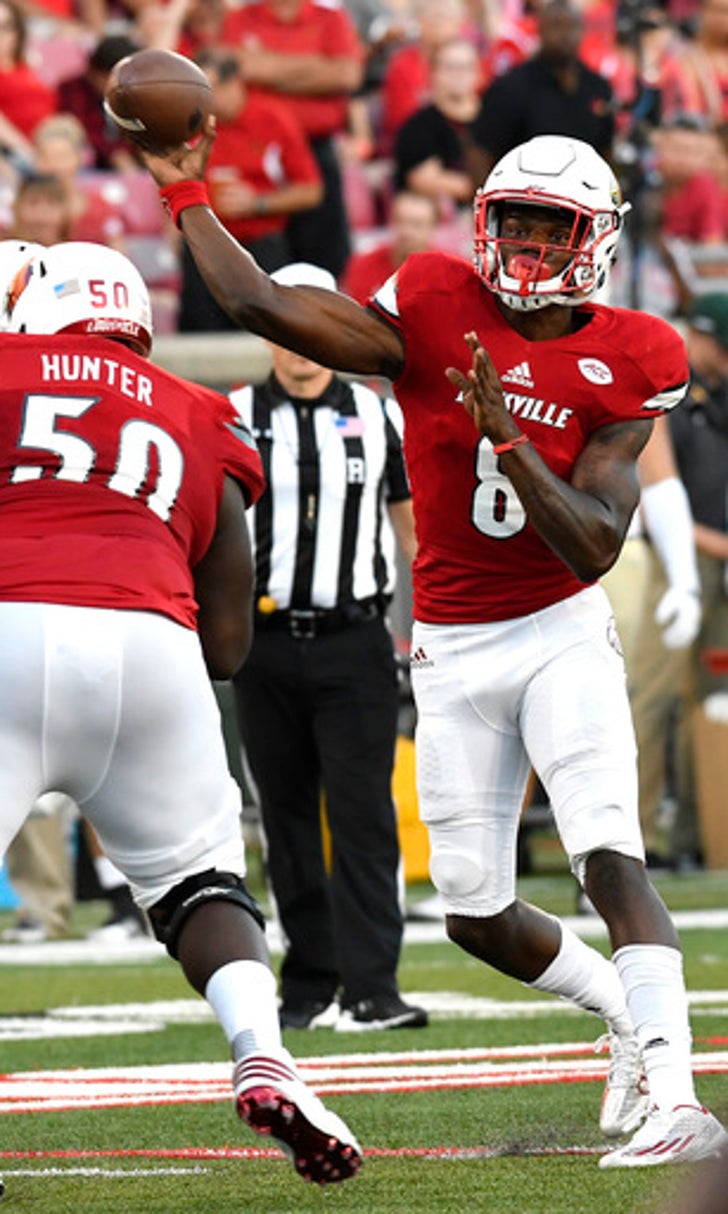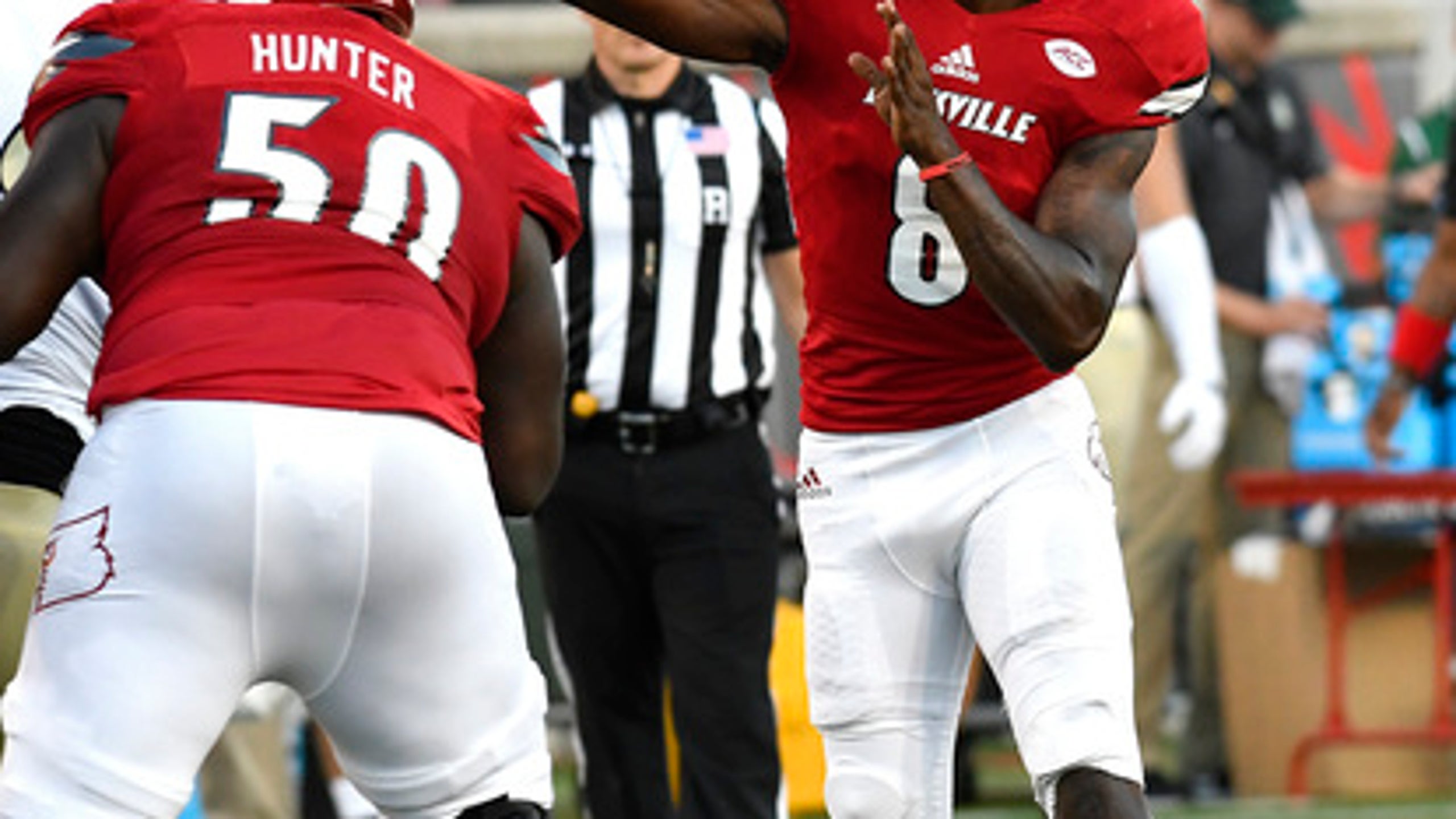 Jackson has hand in 8 TDs in No. 19 Louisville's 70-14 rout
BY foxsports • September 2, 2016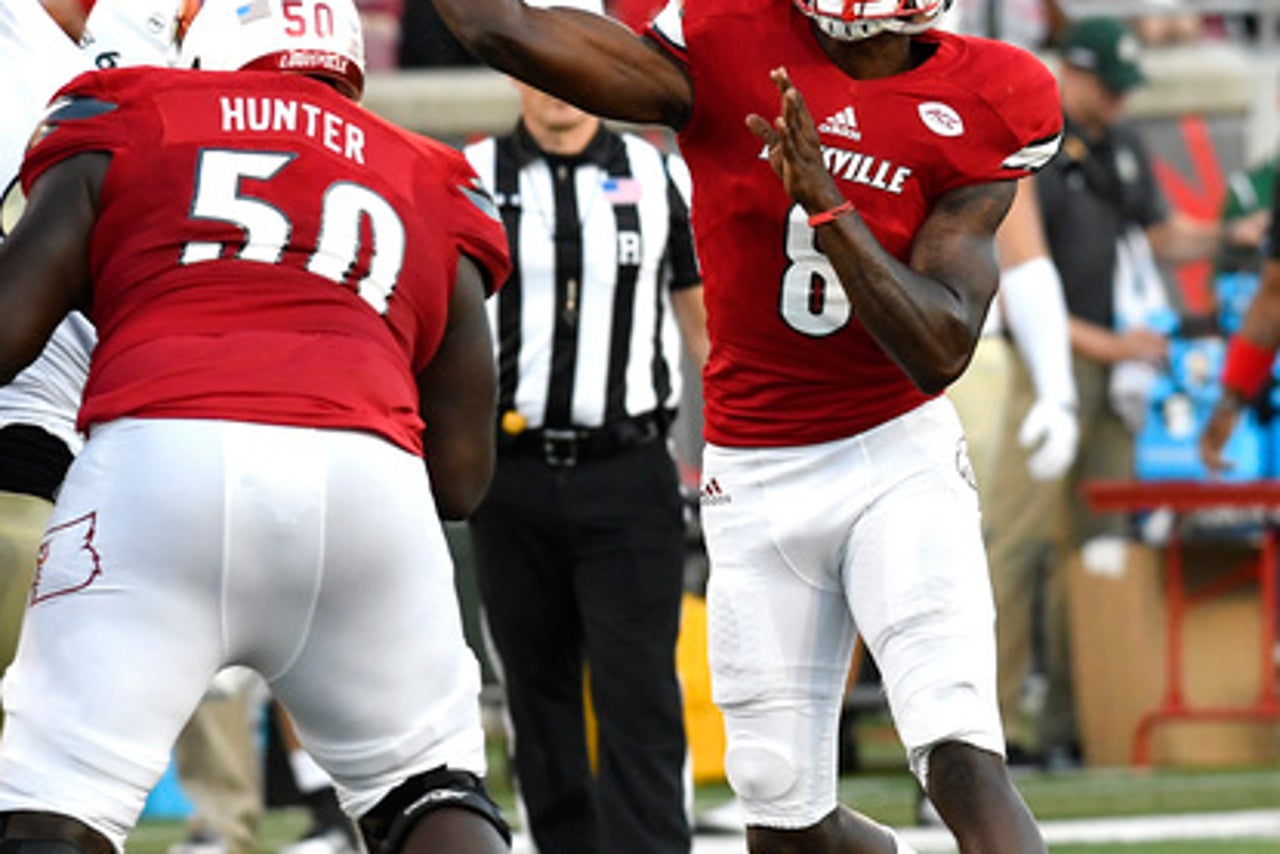 LOUISVILLE, Ky. (AP) Lamar Jackson not only hit 16 Louisville receivers with passes - six for touchdowns - he weaved his way through Charlotte's beleaguered defense for a couple of hard-earned scores himself.
Jackson accounted for a school-record eight touchdowns and 405 offensive yards by halftime to help No. 19 Louisville dismantle Charlotte 70-14 on Thursday night in the season opener for both teams.
''I was just trying to get everyone the ball,'' said Jackson, who completed 17 of 23 passes for 286 yards. We have a lot of big-time players, and I'm trying to get the ball in their hands instead of it looking like me running around all the time.''
Jackson broke Chris Redman's 1998 record for combined rushing and passing TDs and tied Redman's mark for passing TDs. He seemed poised to add a few more before exiting without taking a snap in the second half.
Cardinals coach Bobby Petrino joked, ''He should've had nine.''
Jackson rushed 11 times for 119 yards, including a 36-yard TD run on Louisville's opening drive. Louisville outgained Charlotte 663-208.
Jackson's performance was an impressive follow-up to his breakout freshman season in which he combined for 2,800 yards and 23 TDs - including 960 rushing to break Louisville season and career marks by a QB. His final game last season was a 453-yard, three-TD combined effort in a Music City Bowl win over Texas A&M that earned MVP honors.
That showing raised expectations for this year, and the 6-foot-3, 204-pound Jackson quickly delivered for a sellout crowd of 53,127.
That was only after a shaky start in which Jackson had to escape Charlotte's blitzes and run, while a couple of his passes sailed.
The 49ers barely touched Jackson several plays later as he broke through a left-side hole and barreled for the first of eight TDs on nine first-half possessions.
Jackson weaved a 1-yard TD run between a run of powerful throws that broke the game open. He hit six receivers with touchdowns long and short, and the 49ers could do nothing to stop them.
''We were having a hard time handling Lamar,'' Charlotte coach Brad Lambert said. ''We had some free guys early in the game on some blitzes and he can do that to you. He can make you look bad.''
Jackson was most pleased to do it with his arm, keeping with his goal of being a better pocket passer.
He made good use of his running backs, hitting Jeremy Smith out of the backfield for a 24-yard TD, Brandon Radcliff with a 16-yard TD and L.J. Scott for a 20-yard score.
Jackson's best TD throw came late in the first half when he hit senior James Quick in the back of the end zone, a play initially ruled out of bounds. Replay showed Quick pulling in Jackson's pinpoint pass with little room to spare as his feet dragged past the end line; the call was reversed to the delight of a red-clad crowd as the score broke Redman's mark.
Given another scoring opportunity as seconds ticked down toward halftime, Jackson positioned Louisville with a 6-yard run to the 1 before coaches called timeout with nine seconds remaining. H-back Cole Hikutini then took Jackson's short pass for a 1-yard TD reception four seconds later, capping the record-setting night.
THE TAKEAWAY
CHARLOTTE: The learning process continues for the 49ers as they managed just 208 yards and failed to convert 13 third-down chances against their first ranked opponent. They're 0-2 in the Bluegrass State after losing big at Kentucky last fall.
LOUISVILLE: The Cardinals offensive line initially looked shaky as Jackson had to escape Charlotte's rush. But they settled down and didn't yield a sack with three QBs. The rout allowed Petrino to use a lot of his bench. ''After getting the ball back and having that two-minute drive, we said let's get the 2s (second-teamers) out there,'' Petrino said.
UP NEXT
CHARLOTTE: The 49ers open at home against FCS Elon, looking to end an 11-game losing streak.
LOUISVILLE: The Cardinals own a two-game winning streak and 8-6 series lead against Syracuse as they travel to open Atlantic Coast Conference play and face new Orange coach Dino Babers on Sept. 9.
---