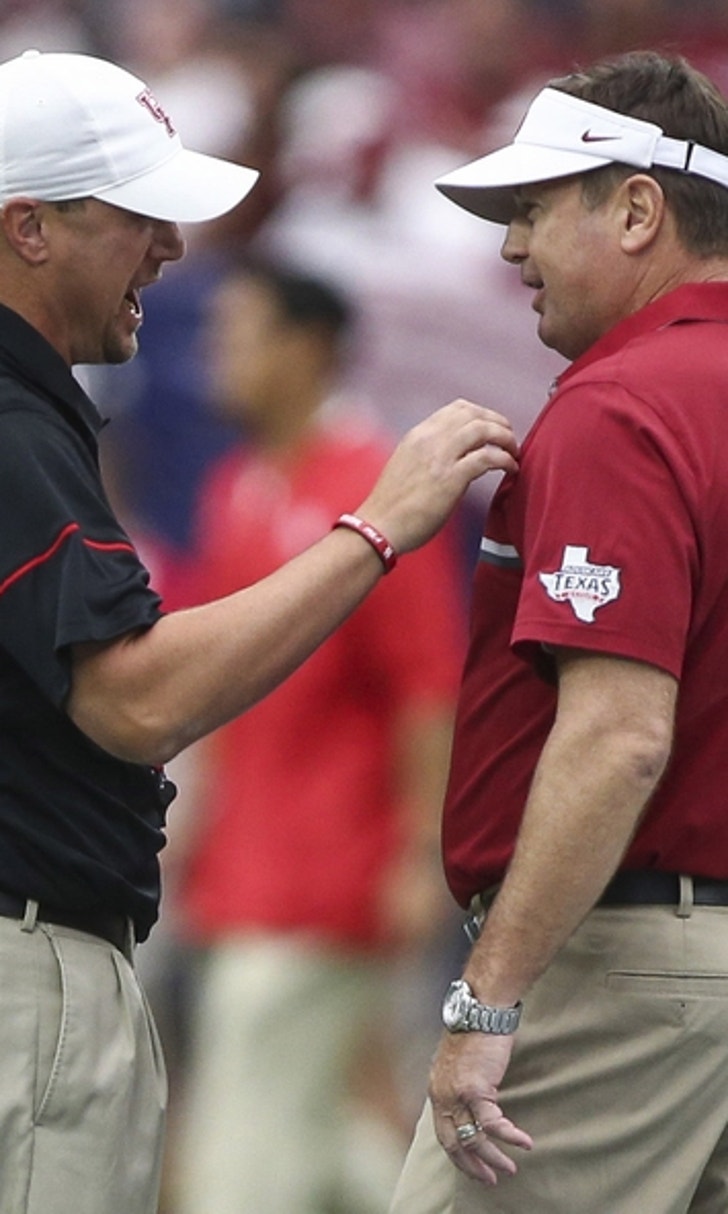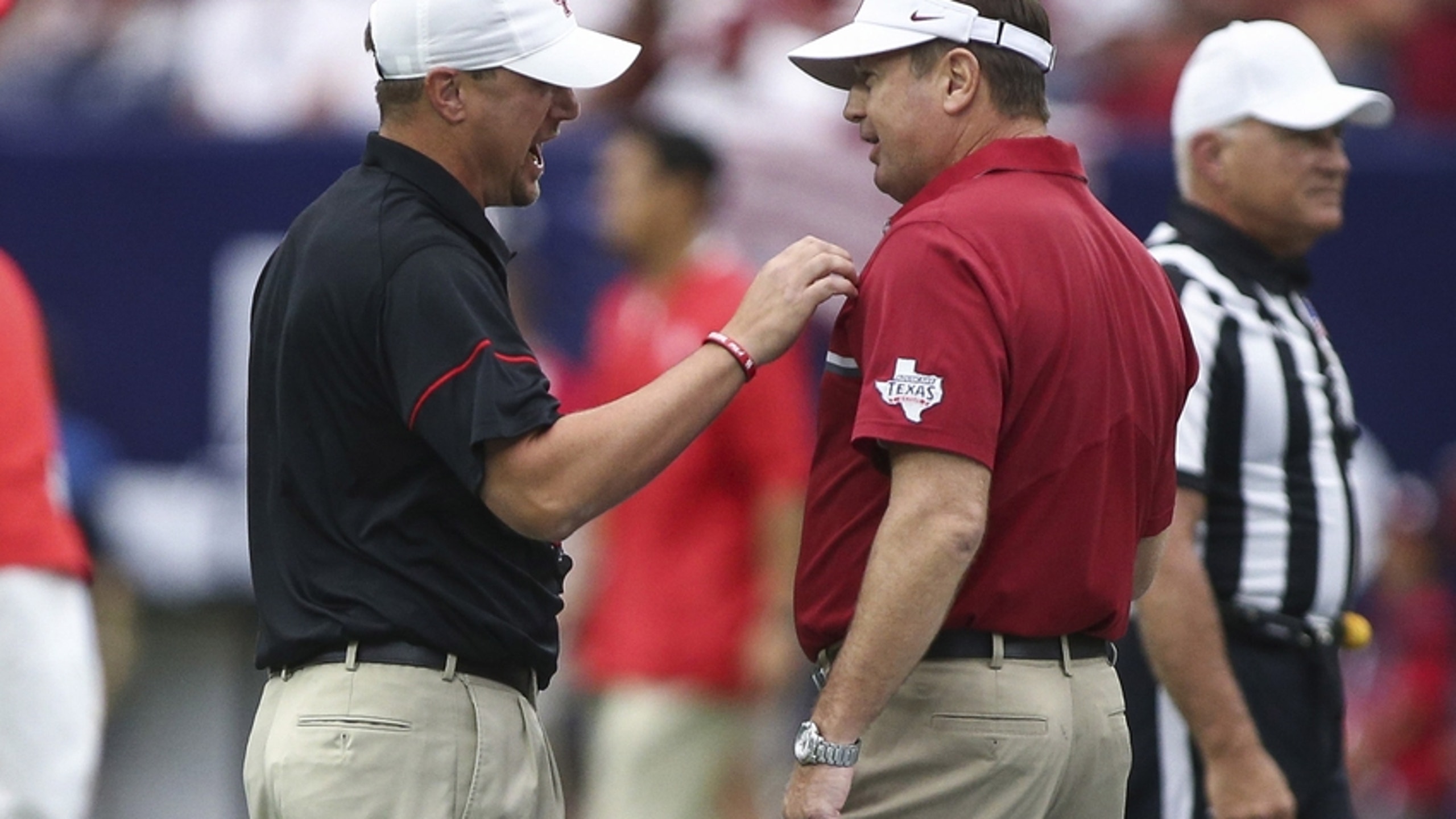 Is LSU Looking at Bob Stoops in Its Search for a New Head Coach?
BY foxsports • September 28, 2016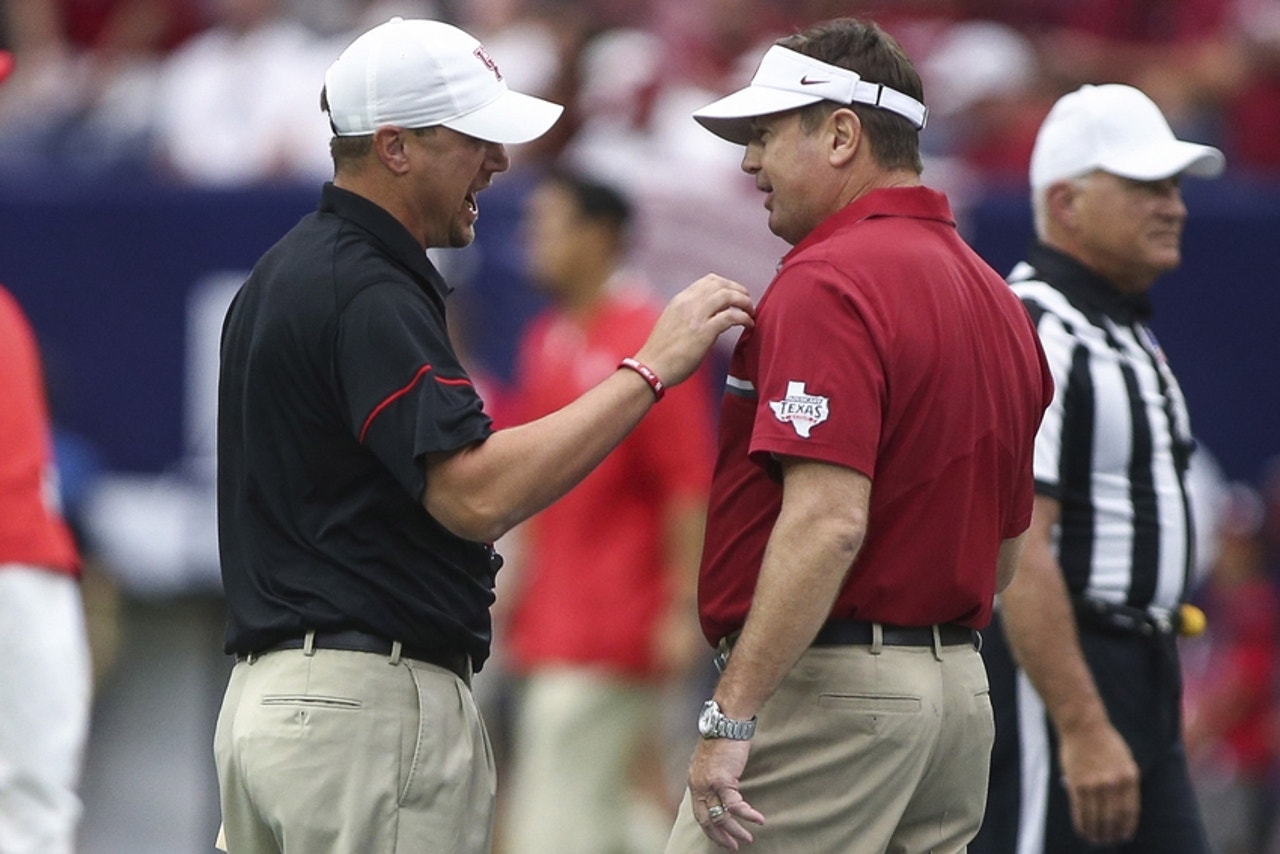 Sooner fans won't be happy to hear this, but in the round-and-round-we-go sports world we all live in, here we go again. Don't be surprised to hear Bob Stoops' name mentioned as a potential candidate for the LSU head coaching job.
Sep 10, 2016; Baton Rouge, LA, USA; LSU Tigers head coach Les Miles congratulates Russell Gage (39) after a tackle against the Jacksonville State Gamecocks during the second half at Tiger Stadium. LSU defeated Jacksonville State 34-13. Mandatory Credit: Crystal LoGiudice-USA TODAY Sports
Former LSU coach Les Miles was given the heave ho on Sunday after the Tigers' controversial 18-13 home loss to surprising Duke, known many times over for its prowess on the basketball court than on the gridiron.
Once the word got out that Miles, the man they called the "Mad Hatter," had been relieved of his duties four games into the 2016 season – with once top-10-ranked LSU now supporting two stunning losses out of the four played – the carnival wheel of possible replacements instantly began spinning and firing out all the familiar names we're used to hearing and a few more.
While the candidate search and media speculation runs its course, LSU athletic director Joe Alleva has said that Tiger defensive line coach Ed Orgeron will serve as interim head coach.
Tom Herman of Houston, a team that Oklahoma is painfully familiar with, and Florida State's Jimbo Fisher are reported to be on the short list of candidates as LSU's next head coach. Alleva said Orgeron also will be interviewed for the job.
According to a report by FoxSports.com, Alleva is only considering candidates with head coaching experience. "This job is too big," he told FoxSports.com. "No matter how good you think someone is, you don't know how good they are."
Other names that the rumor mill has spit out the past several days for public feasting and sports radio talk-show fodder are former Baylor head coach Art Briles, Lane Kiffin at Alabama, Larry Fedora at North Carolina, Gary Patterson of TCU, Michigan State's Mark Dantonio, Louisville's Bobby Petrino and, yes, Oklahoma's Bob Stoops.
It should not be surprising that Stoops' name would come up when a high-visibility job like the one at LSU comes up. On the other hand, with the huge success he has had at Oklahoma, it actually would be a gross oversight if Stoops' candidacy wasn't considered.
The chances are probably very low that the OU head coach would even talk to LSU officials about the post if approached. He has removed his name from previous head coach openings at elite programs like Florida and Ohio State, reiterating over time that he is very happy where he is.
With such a long list of viable candidates who meet the LSU athletic director's primary job requirements, the Tigers should not have much trouble finding a good personnel fit, someone with a track record of success at a major college program, or even at the NFL level,  to fill the open position.
Miles, who coached at Oklahoma State in two separate stints (from 2001-04 as head coach), was at LSU for 12 seasons. According to a survey of coaches' salaries published by USA Today, Miles was the ninth highest-paid coach in college football, bringing in total pay of approximately $4.4 million annually. Stoops ranks fourth on the list, with total annual pay of $5.4 million.
More from Stormin in Norman
This article originally appeared on
---