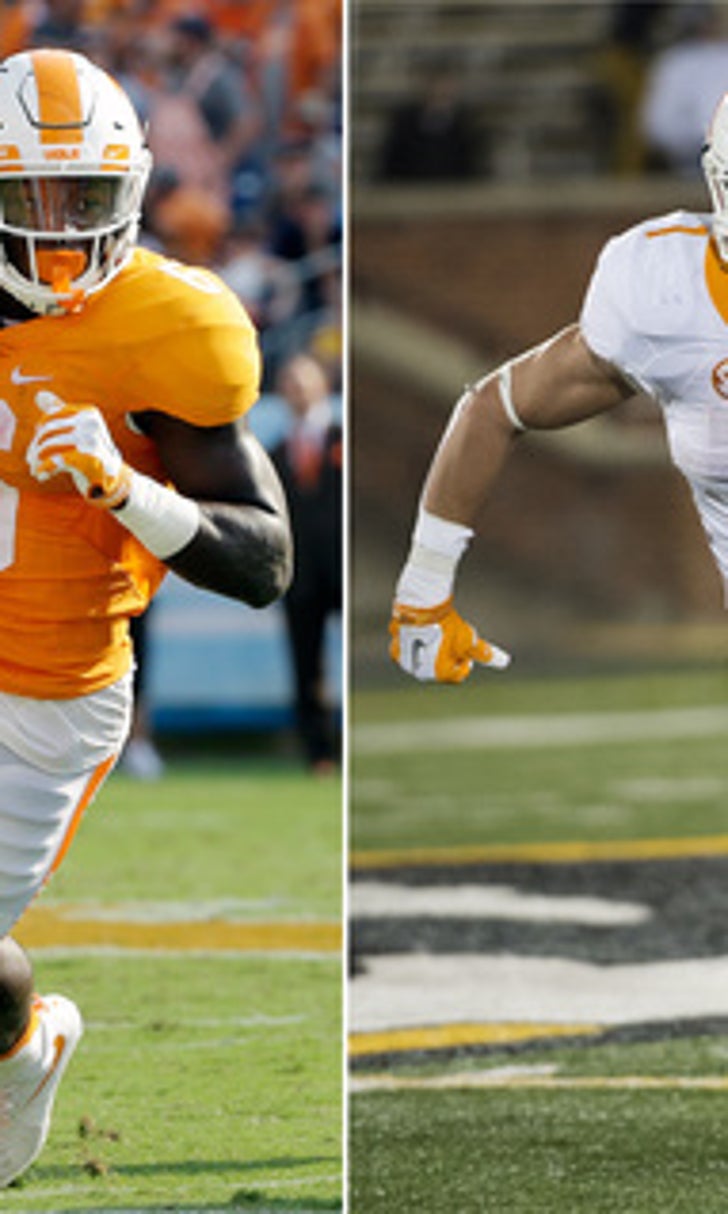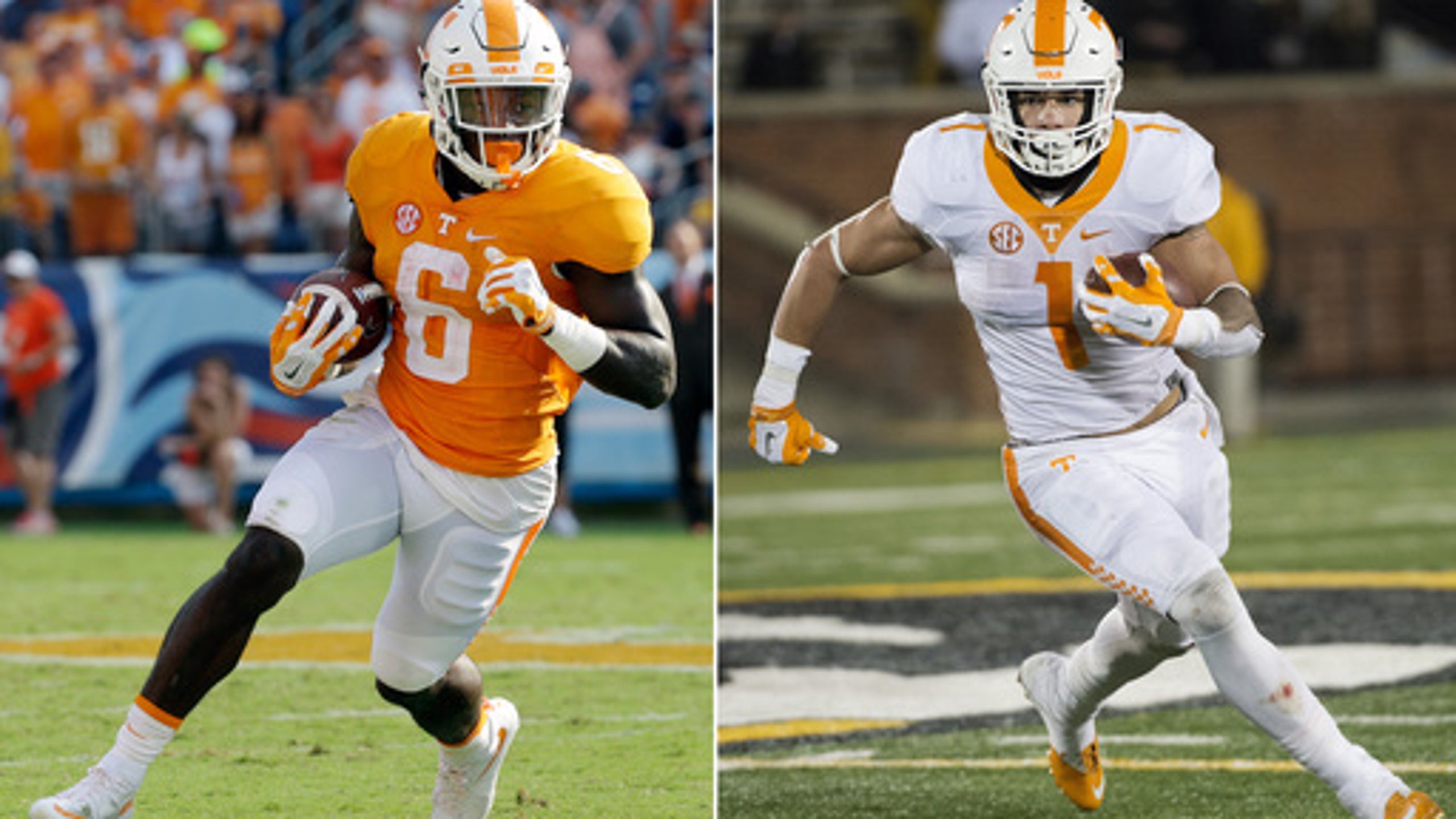 Hurd, Kamara lead dynamic rushing attack for No. 9 Tennessee
BY foxsports • August 22, 2016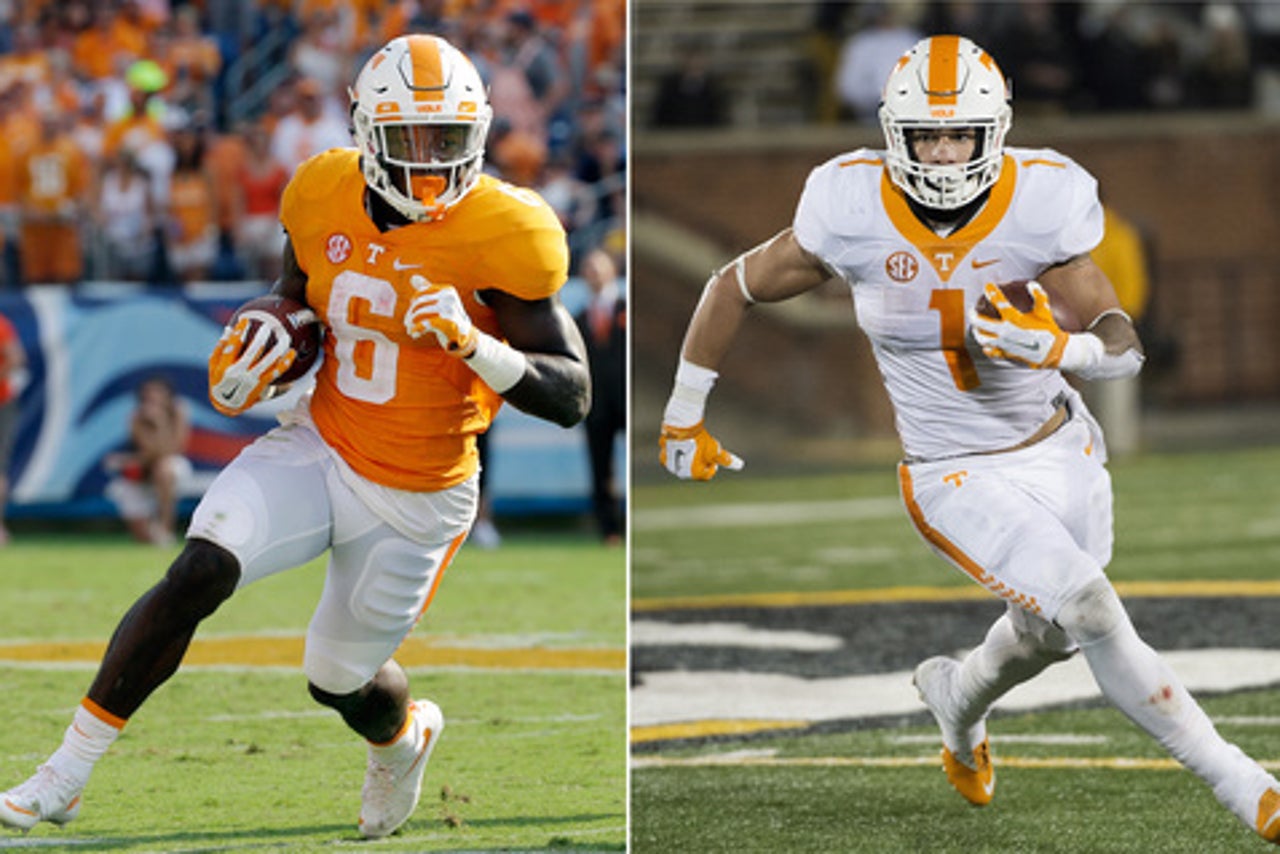 KNOXVILLE, Tenn. (AP) Tennessee running backs Jalen Hurd and Alvin Kamara have notable contrasts on and off the field.
Kamara's the flashier player, whether he's showing off his fashion sense during the team's pregame walks into Neyland Stadium or showcasing his speed once he's in the game. Hurd comes across as more serious in interviews and more physical with a ball in his hands. Hurd, at 6-foot-4 and 240 pounds, is 6 inches taller and 25 pounds heavier than Kamara.
Those different styles produce similarly productive results. After teaming up to rush for 1,986 yards and 19 touchdowns last year, Hurd and Kamara will try to prove they're one of college football's top running back tandems when No. 9 Tennessee opens the season Sept. 1 by hosting Appalachian State.
''Me and Alvin have always clicked,'' Hurd said. ''I wouldn't say we have similar personalities, but kind of opposites attract.''
Only once in school history have two Tennessee players rushed for 1,000 yards in the same season. Gerald Riggs Jr. ran for 1,107 yards and Cedric Houston ran for 1,005 yards in 2004.
Hurd and Kamara have a chance to match that feat. Hurd rushed for 1,288 yards and 12 touchdowns last season. Kamara ran for 698 yards and seven scores.
''We're just as cool as two peas in a pod, I guess,'' Kamara said.
They've answered any concerns about how these two former five-star recruits would coexist. Kamara describes a dynamic in which each pushes the other to get better.
Running backs coach Robert Gillespie says Hurd improved his pass-catching skills after witnessing the receiving ability of Kamara, who caught 34 passes for 291 yards and three touchdowns last season. Kamara says he spent the offseason making himself a better pass protector because he wasn't as effective as Hurd in that aspect of the game.
''Both of those guys respect each other,'' Gillespie said. ''They understand they need each other to be successful. The biggest thing is this. They realize they need each other to win. Winning is the ultimate goal for us. We don't care about accolades, rushing yards and stats.''
Some individual achievements remain well within reach.
For instance, Hurd has 2,187 yards rushing through his first two seasons. That puts him 891 yards shy of the school record held by Travis Henry, who played at Tennessee from 1997-2000. Hurd doesn't bother downplaying what it would mean to become the most prolific rusher at a program that has produced the likes of Arian Foster and Jamal Lewis.
''I know a lot about the history of running backs here,'' Hurd said. ''To go after that record and possibly get it is even amazing to think about.''
For his part, Kamara has emerged as a team leader at Tennessee while making the most of his second chance with a Southeastern Conference program.
Kamara began his college career at Alabama and was suspended twice while redshirting his lone season with the Crimson Tide. After spending one year at Hutchinson (Kansas) Community College, Kamara transferred to Tennessee and has made such an impression that he was selected as one of four team captains this year.
The Volunteers need big efforts from both Hurd and Kamara as Tennessee pursues its first Southeastern Conference title since its 1998 national championship.
They won't be asked to carry Tennessee's rushing attack on their own. Quarterback Joshua Dobbs has run for 1,160 yards over the last two seasons. Offensive coordinator Mike DeBord says sophomore John Kelly has performed well in the preseason, which could add some depth to Tennessee's backfield.
But they're the main cogs in a rushing attack that must lead an offense that doesn't feature a consistent passing game. Tennessee coach Butch Jones praises the approach Hurd and Kamara have shown in the preseason while reminding them to work on conditioning and finishing runs.
''The mark of a great back is can you do it over and over and over and over again,'' Jones said.
They'll try to show they can do just that, with each back benefiting from the other's presence.
''We're real tight,'' Kamara said. ''That helps when it comes to game day and it comes to practice. When I look at him, I know he's going to give his all, and he knows I'm going to give my all.
''It all goes hand in hand.''
---