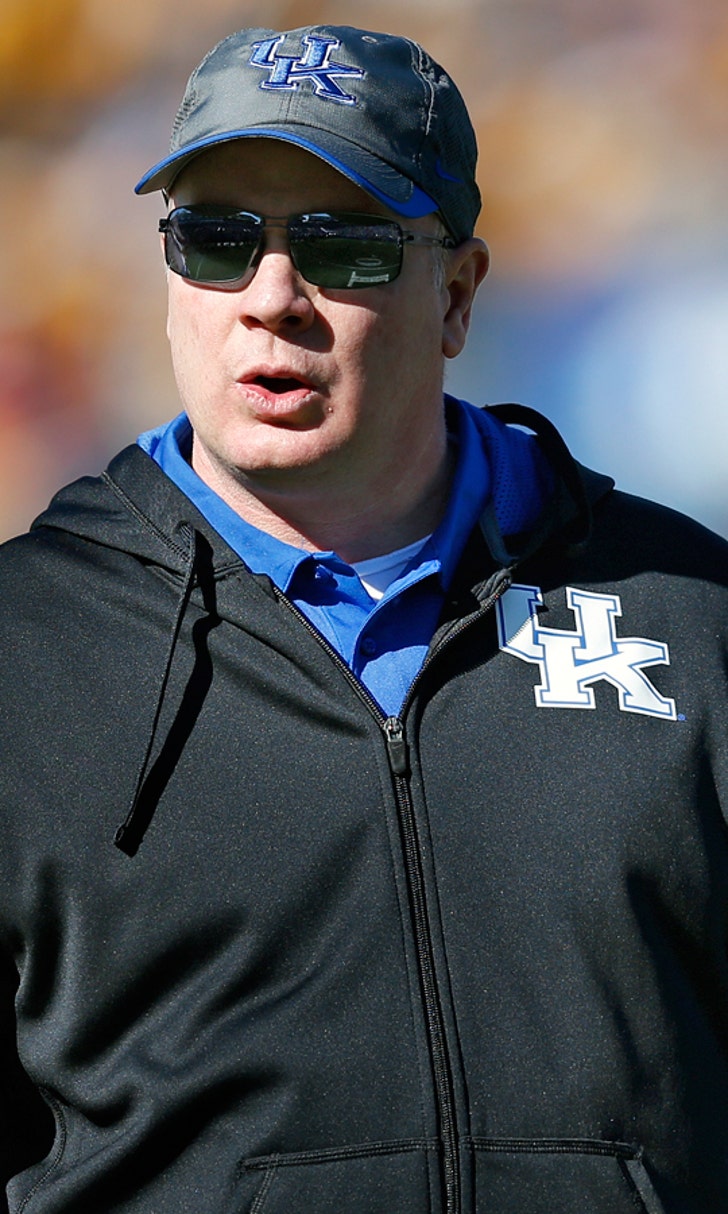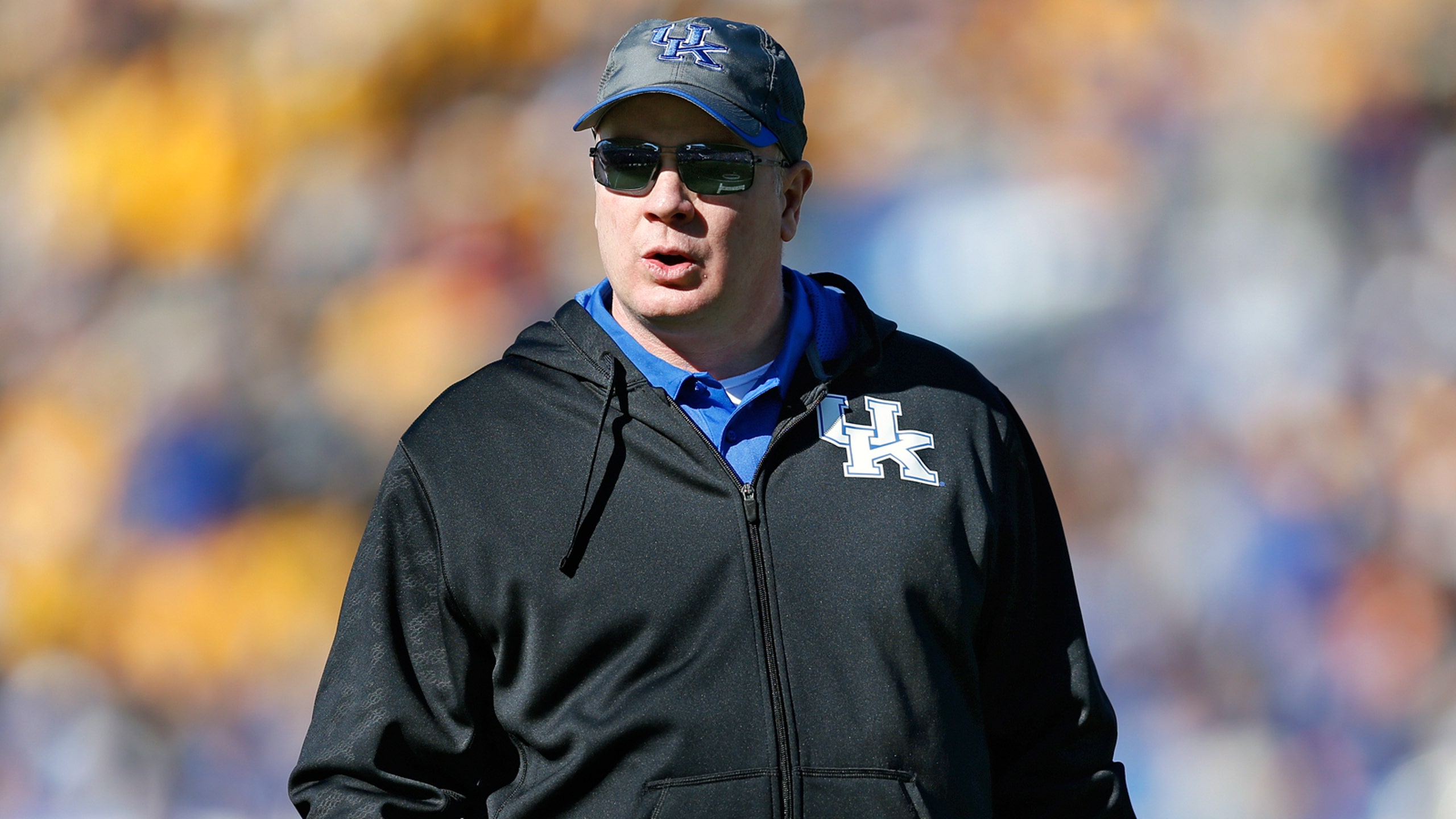 How Kentucky's poaching Big Ten territory to compete in SEC
BY Aaron Torres • August 8, 2014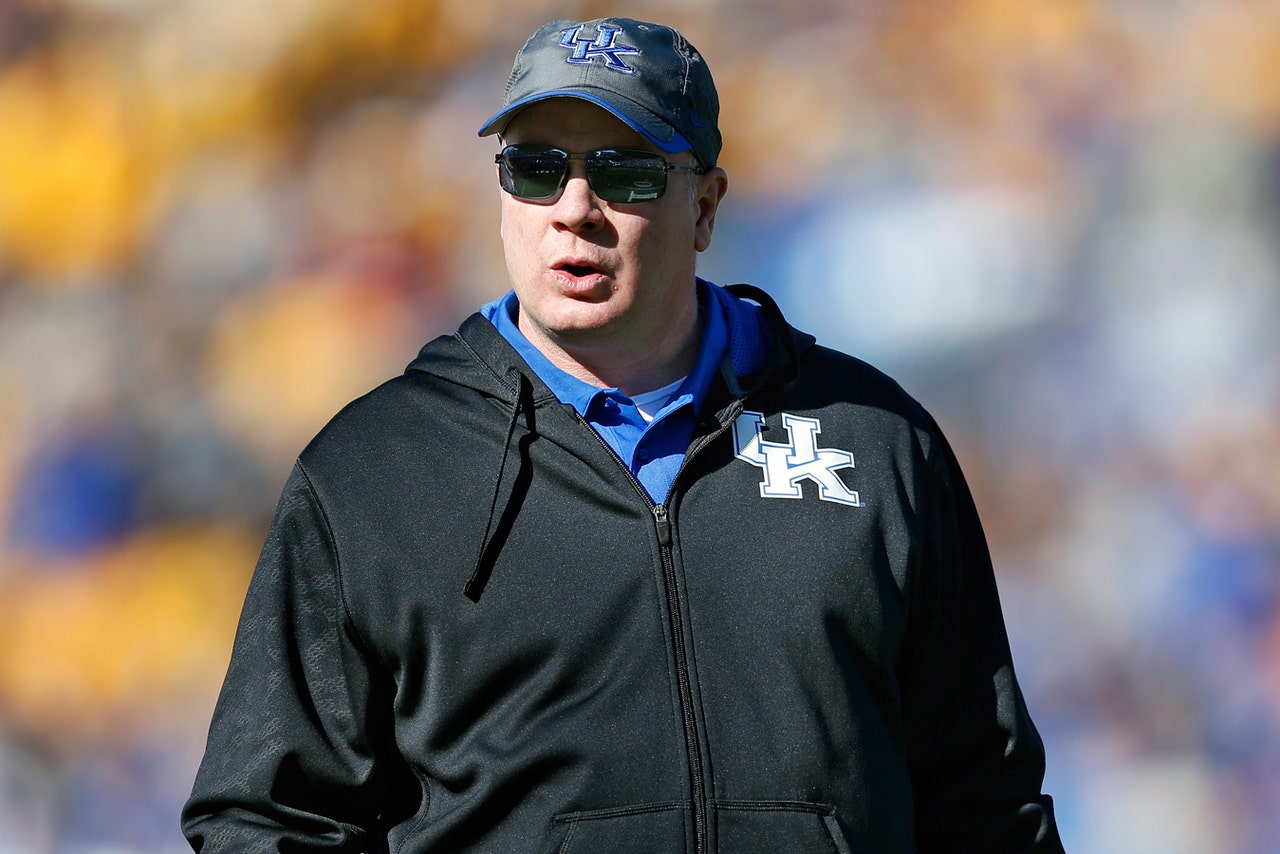 College football has, and always will be, a sport of haves and have-nots.
Schools like Alabama and USC will always get players, because, well, they're Alabama and USC. The Tide have four straight top-ranked recruiting classes, while the Trojans have not fallen outside the top 12 nationally in three years despite sanctions severely limiting scholarships.
Of course not every school has such pull, meaning that if you're a coach at a non-traditional power, you better start thinking outside the box. And there is one program in the SEC right now doing just that.
So who is this budding college football program of mystery? It's Kentucky, where head coach Mark Stoops is optimistic entering the 2014 season on the heels of bringing in the best recruiting class the school has ever seen -- one which could eventually make the Wildcats a real threat in the SEC East.
"We want to be a tough, blue-collar kind of football team," Stoops, who was hired in November 2012, said in a recent interview with FOX Sports. "We want to build the program the right way, and have a strong foundation. The group we're bringing in this fall exemplifies that."
Kentucky, which finished 2-10 and winless in the SEC last season, might not be on the tip of most college football fans' tongues, but it was for high school kids last winter. The Wildcats' 2014 class, which was ranked 22nd by 247 Sports, features players who picked the program over Alabama, Notre Dame, Ohio State and pretty much every other college football power.
A significant way Stoops and his recruiters were able to make that happen was by going in a different direction: north. In a league dominated by players from the Southeast, Stoops elected to use Kentucky's own geography as the second-uppermost state in the conference to his advantage.
In his home state of Ohio, Stoops and the Wildcats were able to offer prospects an opportunity only Kentucky could put on the table: the chance to play in college football's toughest conference, and do it at a school located a short drive from home.
"I know the quality of players in Ohio," Stoops said. "I felt like we had something to offer by being so close and giving them a chance to compete in the SEC."
That mindset immediately paid dividends for Stoops' first full recruiting class, players becoming true freshmen this fall. That group is stocked with guys from Ohio, who in years past might have rarely considered playing anywhere else but the Big Ten.
For example, according to 247 Sports' composite rankings for 2012, just two of the top 35 Ohio recruits ended up in the SEC (and one of them committed to Missouri, technically a Big 12 school at the time.). Meanwhile, 26 settled in the Big Ten, with Ohio State and Michigan taking 19.
In 2013, the SEC drew just as many from the top 35 – a pair to Kentucky – while the Big Ten exerted its dominance over the region again, drawing 24 recruits.
This season, though, eight of the top 35 Ohio recruits chose Kentucky, while Alabama (1) and Tennessee (2) joined the Wildcats in drawing top talent from the state to the SEC. The number of those top players headed to the Big Ten was cut to 14.
And make no mistake: Those players were not only highly ranked, but coveted by recruiting powers from the Big Ten and beyond. Thaddeus Snodgrass, a 247 Sports composite 4-star wide receiver, had offers from Ohio State, Penn State, Michigan State and Notre Dame. Safety Darius West, a fellow 4-star talent, had offers from half of the Big Ten and additional ones from the likes of Missouri, Duke and the Fighting Irish. Running back Mikel Horton could've played for reigning national champion Florida State but decided to head to Lexington. Defensive backs Dorian Baker and Mike Edwards (3-star talents) passed up multiple Big Ten offers, too.
What the moves have done is help shape a recruiting identity for Kentucky.
"It's interesting because before Stoops arrived, they really felt like they had to compete by recruiting Florida, Georgia, Alabama, places like that," Scout.com national recruiting analyst Brandon Huffman said. "Stoops comes in and his name carries weight in Ohio. So if you're a high school kid in Ohio, even if you're not getting recruited by Alabama or Georgia, it's still the SEC. And it's a reason to look at Kentucky."
Statistics indicate the Wildcats hadn't mined the state much before Stoops. From 2004 to 2013, Kentucky convinced just 18 Ohio kids to sign on the dotted line. For comparison's sake, Stoops and first-year Wildcats recruiting coordinator Vince Marrow brought in 11 in a single haul.
With its ability to sell players outside of the South on the SEC, Huffman sees similarities between Kentucky's recruiting approach and that of another SEC underdog that came on the scene the past few years.
"That's exactly what (former Commodore and current Penn State coach) James Franklin did to get Vanderbilt recruiting at an elite level," Huffman said. "He really emphasized national recruiting. Maybe to the kids in SEC country, you couldn't hide that you weren't very good. But to kids from the Northeast or West Coast, they didn't know how bad Vanderbilt had been. Just that they played in the SEC."
Of course, while Ohio recruiting is part of Kentucky's story, the Wildcats also took care this season to lock up their borders as well. They signed defensive lineman Matt Elam, a 4-star from recruit from Elizabethtown who chose the Wildcats over Alabama, Ohio State, Notre Dame and Mississippi State. They also secured a commitment from one of the top quarterback prospects in the country, Drew Barker, a 4-star talent from Hebron who turned down Miami, Louisville and South Carolina.
What makes the accomplishments maybe more impressive, Huffman notes, is that they came at a time when high school kids in Kentucky had another tangible place to play big-time college football in-state, at Louisville.
"Granted, some of those guys committed after Charlie Strong left for Texas (including Elam)," he says. "But several committed before a 2013 season in which Louisville was a darkhorse national championship contender."
But the success Stoops had last signing day won't mean too much if the wins don't start to eventually accumulate. It may be OK to go 2-10 during your inaugural year on campus, but eventually the progress has to show on the field.
No one expects national championships, SEC titles or 10-win seasons for the Wildcats right away, but there is an expectation that this team will be better equipped to compete with some of the league's better teams. 
"I know we're improved," Stoops said. "We have some young guys, but I'm excited to see their progress come this season because I know we've improved. We'll get a chance to see how much here soon."
Meanwhile, Kentucky's recruitment of Ohio doesn't look like it will let up anytime soon: The Wildcats already have six kids from the state committed in the class of 2015 and two more in 2016.
Who would've thought that one day we could see a team competing in the Southeastern Conference with so many players from the North?
Aaron Torres is a show writer for Fox Sports Live and a contributor to FoxSports.com. Follow him on Twitter @Aaron_Torres or e-mail at ATorres00@gmail.com.
---