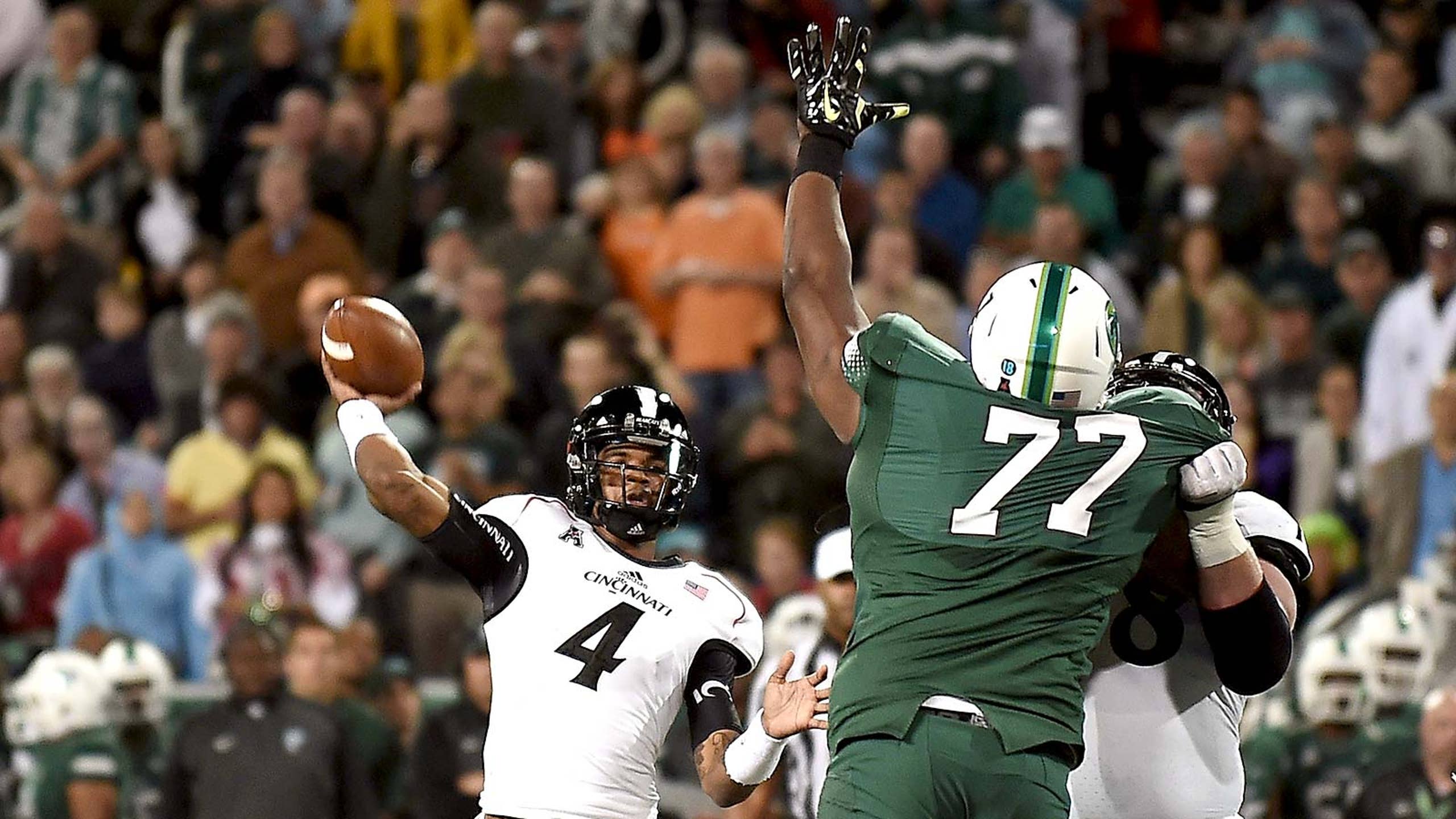 Homecoming king: Legaux leads Cincy past Tulane in hometown
BY foxsports • November 1, 2014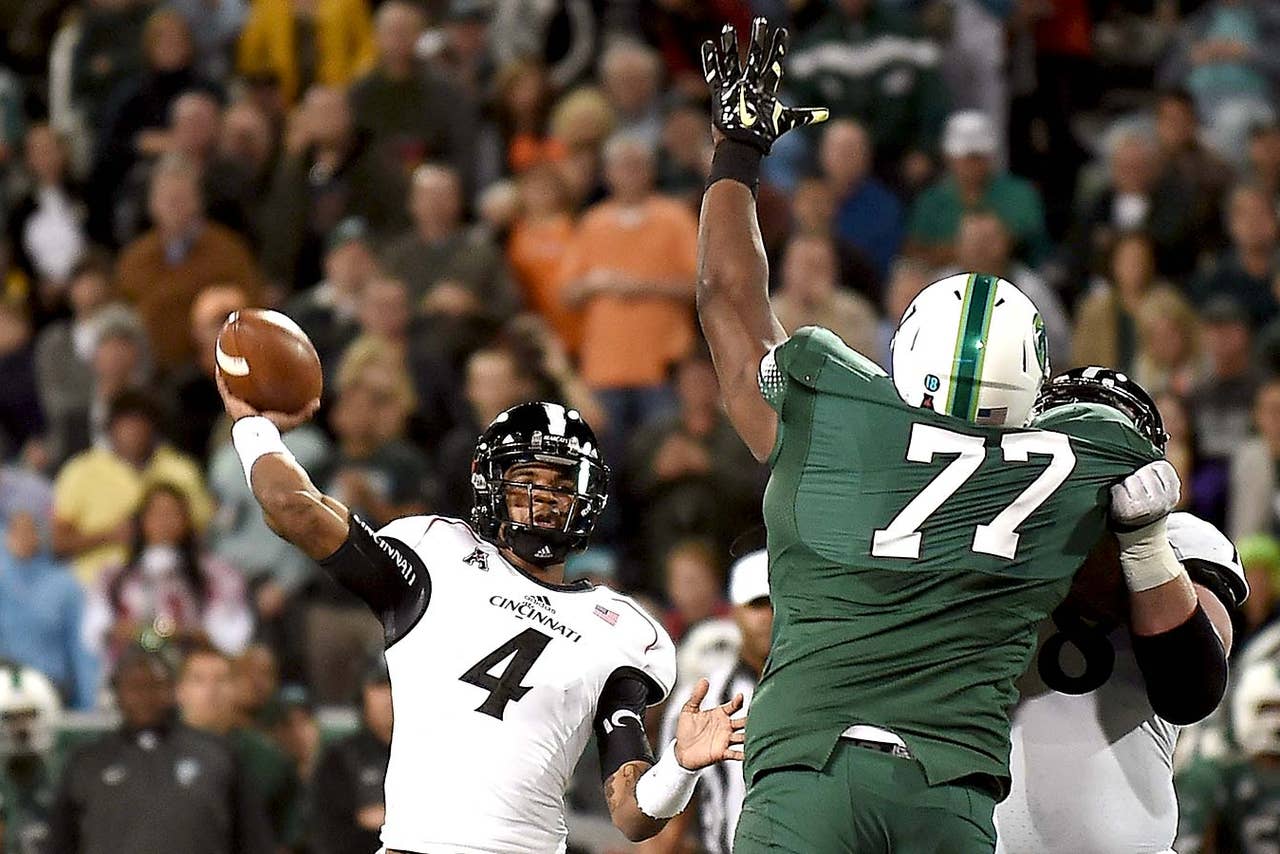 NEW ORLEANS -- Cincinnati backup quarterback Munchie Legaux was happy to be back home in the Big Easy, if only to see family and friends.
With Gunner Kiel returning from injured ribs and getting the start, Legaux wasn't sure how much he'd play.
The Bearcats wound up needing Legaux, and he came through with his first three touchdown passes of the season, leading Cincinnati to its third straight victory, 38-14 over Tulane on Friday night.
''I just hoped to see my family, first of all,'' Legaux said. ''I didn't expect to go out and have three touchdowns or anything like that, but I'll take it any day, especially in my home city.''
Legaux was 16 of 24 for 211 yards. His touchdowns went for 5 yards to Max Morrison, 54 yards to Casey Gladney and 18 yards to Shaq Washington.
Cincinnati (5-3, 3-1 American Athletic Conference) also gained 265 yards on the ground, with Rod Moore highlighting his 124-yard night with a 61-yard run and Mike Boone rushing for 114 yards, including a 24-yard touchdown.
''Both of them were running hard,'' Cincinnati coach Tommy Tuberville said. ''Those guys are going to complement each other. It's been fun to watch them.''
Tulane quarterback Tanner Lee, playing for the first time since injuring his shoulder on Sept. 27, was 24 of 35 for 205 yards and a touchdown. His 10-yard scoring pass to Charles Jones pulled Tulane (2-6, 1-3) to 24-14, but the Bearcats responded with a touchdown on Washington's one-handed catch in the back corner of the end zone.
Freshman Dontrell Hilliard rushed for 123 yards for Tulane, and Lazedrick Thompson scored on a 19-yard run early in the second half.
Tulane coach Curtis Johnson said his team's relative youth seemed to be a liability at times, as it has been much of the season. The Green Wave had a dozen freshmen in regular roles, including seven starters.
''It's no excuse, but freshmen are freshmen,'' Johnson said. ''The best thing about freshmen is they become sophomores. ... We've just got to continue educating, and getting after it.''
The Bearcats took a Halloween night crowd out of the game -- indeed, motivated many to leave at halftime -- by opening up a 24-0 lead despite a rough opening few minutes.
Kiel's deep pass on the first offensive snap of the game was intercepted by Parry Nickerson.
Tulane then quickly drove inside the Cincinnati 10, but the Bearcats stuffed Thompson on third-and-goal from the 2. Tulane kept the offense on the field and tried to fool Cincinnati with play-action on fourth-and-goal, but Howard Wilder read it and sacked Lee to end the threat.
''I saw the play-action but he kept the ball in his left hand the whole time and faked with his right,'' Wilder said. ''So I just had good eyes and good awareness that I had to make a play.''
A few plays later, Tulane defensive end Tyler Gilbert was flagged for a personal foul and ejected for a helmet-to-helmet hit on Legaux, and the Green Wave's defensive play seemed to steadily deteriorate after that.
''It's tough. We really needed TG,'' Tulane defensive tackle Tanzel Smart said. ''We lost a couple of pass penetrations because he's one of our biggest pass rushers.''
Legaux, who was not sacked, drove the Bearcats for 17 points on his first three drives.
''Coach just told me to be ready to play throughout the week,'' Legaux said. ''If it was to go in in the fourth quarter or the first quarter, I was going to be ready to go out and play like I did today.''
When Tulane finally forced a punt, Green Wave returner Teddy Veal tried to field it inside his own 10 and mishandled it into the end zone. Cincinnati's Eric Wilson recovered for the score, and the Bearcats were not seriously threatened again.
---