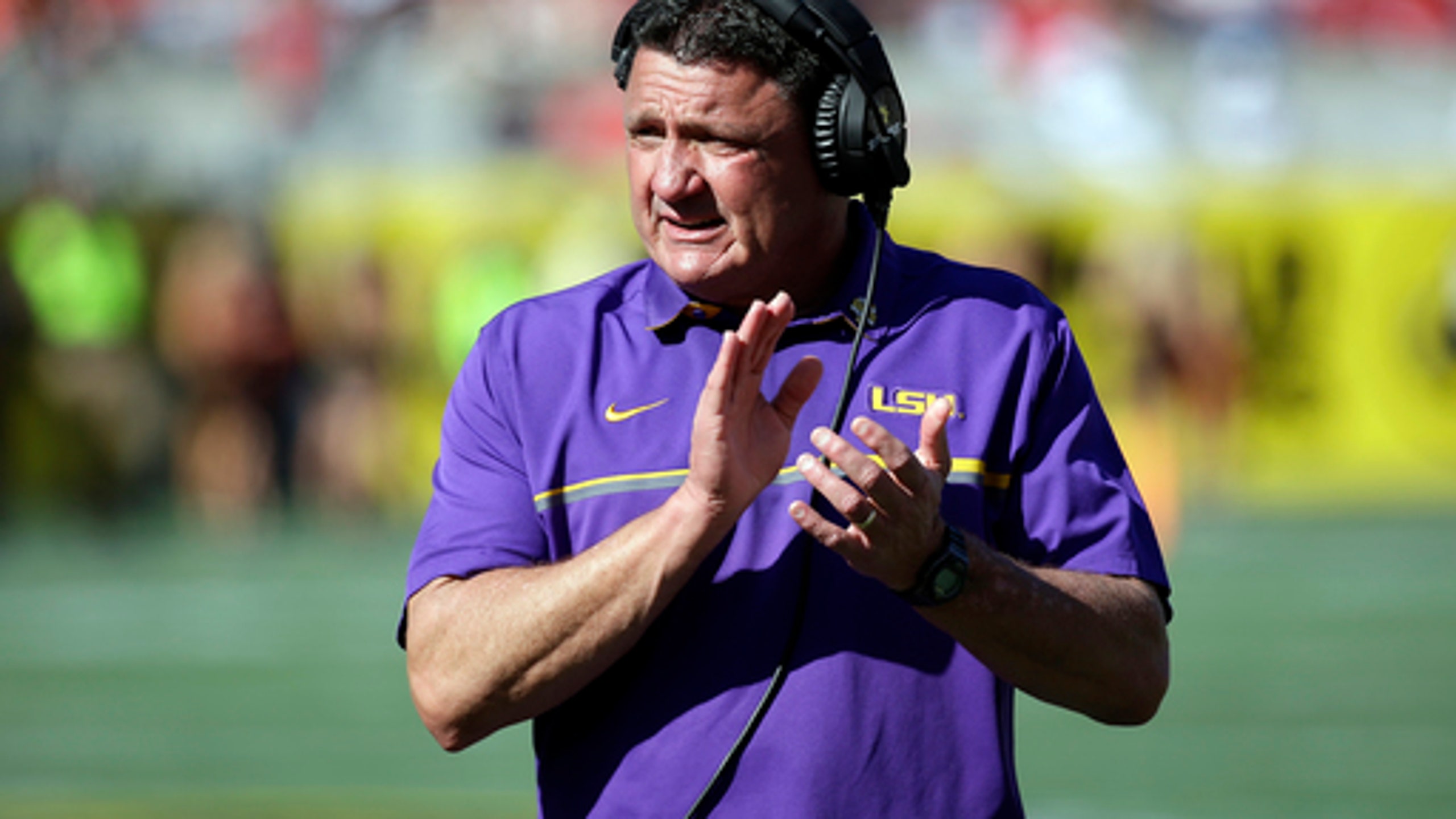 Gregarious Ed Orgeron relishes second SEC chance at LSU
BY AP • July 10, 2017
HOOVER, Ala. (AP) Ed Orgeron is still an imposing figure at a podium even at 56 years old.
With his barrel chest and booming, gravelly voice, LSU's new football coach was the star attraction on Monday at Southeastern Conference media days. With his gregarious personality, Orgeron talked about the challenge of pushing the Tigers to the top of the league's loaded Western Division.
Ten years ago, it was hard to imagine he would be center stage on this platform.
It's been nearly a decade since Orgeron was fired from Ole Miss following three mostly dismal seasons as head coach. But the man called `Coach O' has slowly clawed his way back up the coaching ladder and is one of just a handful to get a second chance on the sidelines in the SEC.
Orgeron was reflective, saying he did some soul-searching following his days at Ole Miss. He called his mentors and together they tried to identify the things that led to his trouble with the Rebels. They came up with two things that had to change.
''I was going to treat the team exactly like I treat my sons - no different,'' Orgeron said. ''And then I was going to treat every coach on the coaching staff with respect and let him coach his position.''
Armed with his new philosophy, Orgeron is trying to make the most of his do-over.
It's not the first time a coach has made the rare jump from one SEC program to another.
Steve Spurrier (Florida/South Carolina) and Nick Saban (LSU/Alabama) both took their second SEC job after rough stints in the NFL. Others like Will Muschamp (Florida/South Carolina) and Houston Nutt (Arkansas/Ole Miss) had at least some success at their first school before being pushed out and grabbing another SEC job.
Orgeron's resurrection might be the most unlikely of them all.
Coach O's three-year stint at Ole Miss from 2005 to `07 was a total disaster. He finished with a 10-25 overall record, including a 3-21 mark in the SEC. After he was fired he went back to being a defensive assistant, slowly rehabbing his reputation as a defensive line expert and stellar recruiter during stops at Tennessee, USC and finally LSU.
LSU has been a natural fit for the Larose, Louisiana, native and his personality was popular immediately. When Les Miles was fired midway through last season, Orgeron was named the interim coach and guided the Tigers to a 5-2 record over the final two months of the regular season.
Two days after the regular season, LSU announced he had earned the full-time job .
''I feel like he never is tired,'' LSU running back Derrius Guice said. ''He's the same 24-7. He probably sleeps screaming. He's the same all day. There's never a day when he's having a bad day.''
He's the first Louisiana native to lead LSU since Jerry Stovall in the early 1980s. Now he's hoping to push the program back to the top of the Western Division that's been dominated by Alabama for the past several seasons.
''I understand that the head coach at LSU must beat Alabama,'' Orgeron said. ''And I think the way to beat Alabama is to recruit at their level.''
LSU might have greater resources for success than Ole Miss, but those advantages bring expectations. The Tigers will be expected to win early and often during Orgeron's tenure.
There's certainly reason to believe that could happen. Eight starters return on the offense, including quarterback Danny Etling, Guice and four offensive linemen. The 5-foot-11, 212-pound Guice ran for 1,387 yards and 15 touchdowns last year.
Five starters return on defense, including linebacker Arden Key, who made 56 tackles last season, including 14.5 tackles for a loss and 12 sacks.
LSU has a difficult schedule this season, including five of eight SEC games on the road. The imbalanced schedule happened because the Tigers had five home games last year because Florida played at LSU after their originally scheduled game in Gainesville, Florida, was postponed because of Hurricane Matthew.
-----
More AP college football: http://collegefootball.ap.org and http://www.twitter.com/AP-Top25 .
-----
Follow David Brandt on Twitter: www.twitter.com/davidbrandtAP .
---
---