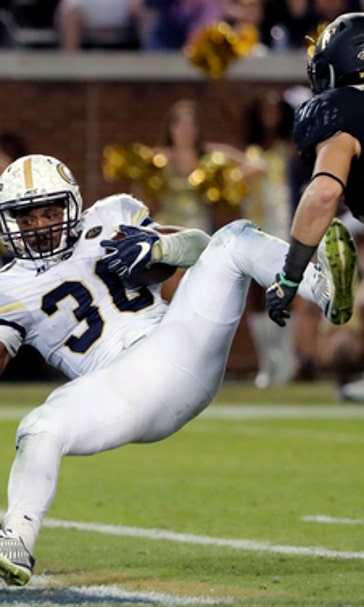 Georgia Tech's rushing attack faces its biggest challenge
October 26, 2017

ATLANTA (AP) Running back KirVonte Benson knows Georgia Tech must run the ball effectively to upset No. 7 Clemson this week.
Based on what happened in the last two games of the Atlantic Coast Conference series, Benson understands that it's going to be tough.
Clemson (6-1, 4-1 ACC) is coming off a bye week and is loaded with talent and depth on defense. The defending national champion Tigers rank in the top 10 nationally in scoring, total yards, yards per play and sacks, and they've dominated Georgia Tech (4-2, 3-1) the last two years.
Clemson easily won both games by limiting coach Paul Johnson's spread option attack to an average of just 83 yards rushing. The Tigers held Georgia Tech to 124 total yards last year, the lowest total in Johnson's 10-year tenure.
But Benson says Georgia Tech can change the trend Saturday at Death Valley. With quarterback TaQuon Marshall and Benson, the Yellow Jackets have the ACC's two leading rushers. Benson thinks suggestions that they have ''no chance of winning'' and ''it's going to be maybe some kind of fluke'' to win are overblown.
''There's a lot of hype on the defensive side of Clemson, but it doesn't mean nothing to us,'' Benson said. ''They're just regular people on the other side, so we're going to go as such and that's how we're going to play.''
Johnson's teams have led the ACC and finished in the top 10 nationally in rushing yardage during his first nine seasons, but those numbers can be marginalized. The Jackets have shown some big flaws this year, blowing substantial leads against Tennessee in the opener and last week at Miami to lose each game by one point in the final seconds.
The Tigers, led by defensive end Austin Bryant and linebacker Dorian O'Daniel, are stout. Johnson spoke highly of defensive linemen Christian Wilkins and Clelin Ferrell, adding that he couldn't remember Clemson ever lacking talented players up front.
''When I first came, there might have only been four or five, now there are eight,'' Johnson said. ''It's like they roll them, keep them fresh and they've got a lot of erasers on defense. They can get lined up wrong and not fit right, somebody beats a block and comes to the rescue. They've got guys that can do that.''
Marshall knows it will be critical for the Jackets to score an early touchdown or two. Their strength on the offensive line lies in the three-man push of guards Shamire Devine and Parker Braun and center Kenny Cooper. Devine, at 6-foot-7, 380 pounds, takes up a lot of space for Marshall and Benson to dash up the middle and break outside.
''I have confidence in them,'' Marshall said. ''They're going to do their job and we're going to get a push up front. I'm really not too worried.''
The Jackets could have depth problems. Guard Brad Morgan and center Scott Morgan, both reserves, are battling injuries, so if a starter goes down, Georgia Tech might have to use walk-ons.
Benson is playing with a sore hamstring. Linebacker Brant Mitchell and offensive tackle Jake Stickler have practiced in pain this week.
''You're always going to get banged up and beat up when you play, but I think we're in pretty good shape,'' Johnson said.
---
More AP college football: http://collegefootball.ap.org and http://www.twitter.com/AP-Top25
---
---