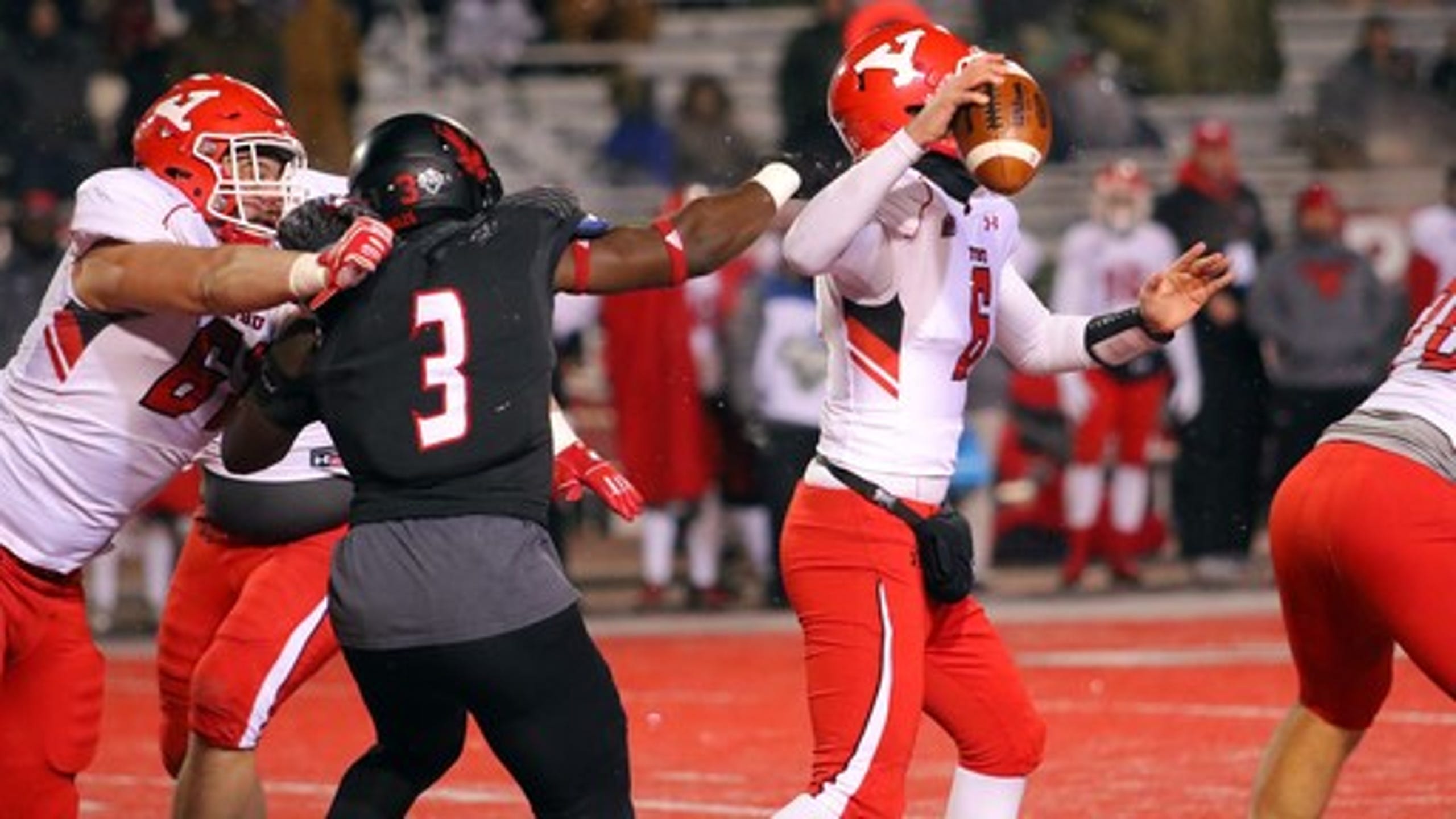 Games of the year in the FCS Top 25
BY AP • December 30, 2016
(STATS) - It's time to salute all the games decided in the waning seconds or overtime and the excellent rivalries across the FCS.
But a list of the best games this season would go on and on. The matchups involving Top 25 teams have provided an already overflowing amount of memories.
So here's a countdown of the best games involving ranked teams. Perhaps the one remaining - Youngstown State versus James Madison in the national championship game - will be the best one yet.
Happy New Year!
---=
No. 15:
No. 8 Eastern Washington 34, No. 10 Northern Iowa 30 (Sept. 17)
It wasn't all Gage Gubrud and Cooper Kupp all the time for Eastern Washington this season. Kupp was sidelined with an injury and Gubrud was replaced in the third quarter by backup quarterback Reilly Hennessey, who rallied from a 24-7 deficit with three touchdown passes on the famed red turf. His 23-yarder to fourth-string tight end Beau Byus on a fake field goal with 43 seconds left overturned a 30-28 deficit.
Byus' touchdown remains the only reception of the redshirt sophomore's career.
---=
No. 14:
No. 4 Jacksonville State 27, No. 17 Coastal Carolina 26 (Sept. 17)
In a thriller at Jacksonville State that had five lead changes, the Gamecocks overcame a 26-20 deficit when quarterback Eli Jenkins capped an 87-yard drive with a 14-yard touchdown run and Cade Stinnett added the extra point with 6:44 left. Jenkins finished with 359 total yards (248 passing, 111 rushing) and also passed for two touchdowns.
Coastal kicker Ryan Granger's 51-yard field goal attempt with 2:27 left came up short.
---=
No. 13:
Penn 27, No. 24 Harvard 14 (Nov. 11)
In a Friday night lights matchup between the Ivy League powers of the last two decades, Penn broke a 14-14 tie on Alek Torgersen's 2-yard touchdown pass to Justin Watson with 15 seconds remaining. Taylor Hendrickson recovered a Harvard fumble two plays later and returned it 18 yards for a game-ending score.
A second straight loss to Penn kept Harvard from clinching a share of the league title, and a week later, the Crimson lost again and the Quakers earned a co-championship with Princeton.
---=
No. 12:
Cal Poly 42, No. 6 Montana 41 (Sept. 27)
Cal Poly was sitting two spots outside the Top 25 when it knocked off visiting Montana for the third straight season in a back-and-forth Big Sky Conference opener. Trailing 41-35, running back Kyle Lewis was wide open when quarterback Dano Graves found him for a 39-yard touchdown pass with 4:29 remaining and Casey Sublette added the extra point.
In defeat, Montana quarterback Brady Gustafson completed 47 passes and freshman wide receiver Jerry Louie-McGee caught 21 - both school records.
---=
No. 11:
No. 1 Sam Houston State 41, No. 11 Chattanooga 36 (Dec. 3)
In a second-round playoff game, fifth-seeded Southland Conference champ Sam Houston State improved to 12-0 as Jeremiah Briscoe threw for five touchdowns to set the FCS single-season record at 57. Yedidiah Louis caught three of the scores, finishing with eight receptions for 156 yards, and had a key 53-yard run in the fourth quarter.
The visiting Mocs started a drive from their 38 with under three minutes to go and moved to the Sam Houston 25 before the 10-play possession ended with 17 seconds left.
---=
No. 10:
No. 5 The Citadel 24, Wofford 21, OT (Oct. 22)
The Citadel improved to 7-0 on its way to 10 straight wins under first-year coach Brent Thompson. Cody Clark's 21-yard field goal in overtime gave the Bulldogs the lead before cornerback Ben Roberts finished off the Southern Conference road win by recovering William Gay's fumble on Wofford's possession.
The Citadel made a number of key defensive plays. The Bulldogs trailed 21-14 when Kailik Williams charged into the backfield on a blitz and grabbed a quarterback pitch out of midair with one hand and went 13 yards for the tying score with 5:57 to play. Jonathan King then blocked a 49-yard field goal with 1:10 to play.
In a second-round playoff rematch, Wofford had many of the defensive stops for a 17-3 win.
---=
No. 9:
No. 11 South Dakota State 19, No. 1 North Dakota State 17 (Oct. 15)
In the Dakota Marker game, South Dakota State ended an eight-game losing streak against five-time defending FCS champion North Dakota State on Taryn Christion's 2-yard touchdown pass to Jake Wieneke on 4th-and-1 with one second remaining. The visiting Jackrabbits scored the final 16 points and Christion had 444 yards of total offense (303 passing, 141 rushing).
The rivals went on to share the Missouri Valley Football Conference title before NDSU won a rematch in the FCS playoff quarterfinals 36-10.---=
No. 8:
No. 23 North Carolina A&T 39, Kent State 36, 4 OTs (Sept. 10)
Kent State went ahead 36-33 on Shane Hynes' 42-yard field goal in the fourth overtime, but North Carolina A&T backup quarterback Oluwafemi Bamiro and wide receiver Denzel Keyes connected on a 15-yard touchdown pass to lift the MEAC squad to its first-ever win over an FBS opponent.
Tarik Cohen rushed for 123 yards and a touchdown and had nine receptions for 128 yards in the win.
---=
No. 7:
No. 7 James Madison 47, No. 6 Richmond 43 (Nov. 5)
In a CAA Football showdown, quarterback Bryan Schor accounted for 376 yards of total offense and four touchdowns, including a 9-yard pass to Jonathan Kloosterman with 1:36 remaining, to give James Madison the lead for good at 40-37.
Khalid Abdullah rushed 123 yards and two touchdowns in the road win, helping offset Richmond quarterback Kyle Lauletta's 435 passing yards and six total touchdowns.
---=
No. 6:
No. 6 Richmond 36, No. 16 Albany 30, 3 OTs (Oct. 8)
David Broadus scored on a 4-yard touchdown run in the third overtime and the Richmond defense held off Albany to hand the Great Danes their first loss.
Richmond freshman Deontez Thompson came off the bench to rush for 112 yards and three touchdowns. Albany nearly won on the final play of regulation, but Ethan Stark was wide right on a 50-yard field goal attempt, which kept the score 20-20.
---=
No. 5:
No. 5 James Madison 27 No. 4 (No. 1 seed) North Dakota State 17 (Dec. 16)
The magnitude of fourth-seeded James Madison's semifinal-round playoff win, which ended North Dakota State's 22-game playoff win streak and bid for a sixth straight FCS national title, outweighed the actual game, which saw the Dukes jump to a 17-0 lead in the first half before the Bison tied it in the third quarter.
Running back Khalid Abdullah rushed for 180 yards and caught one of quarterback Bryan Schor's three touchdown passes. Linebacker Dimitri Holloway, subbing for a suspended Brandon Hereford, was all over the field with a career-high 16 tackles.
---=
No. 4:
No. 10 Charleston Southern 59, No. 14 Coastal Carolina 58, 2 OTs (Oct. 1)
Solomon Brown blocked Coastal Carolina's extra point attempt in the second overtime, lifting Charleston Southern to a wild road win over its FBS-bound rival. Shane Bucenell threw four touchdowns, including a 15-yarder to Jared Scotland in the second OT, and fellow Buccaneers quarterback Robert Mitchell rushed for two scores.
Coastal standout De'Angelo Henderson had 208 yards from scrimmage and scored four touchdowns.
---=
No. 3:
No. 1 North Dakota State 50, No. 8 Eastern Washington 44, OT (Sept. 10)
At a rocking Fargodome, North Dakota State won its first meeting against Eastern Washington since the Bison were handed what had been their only loss in the FCS playoffs (in 2010). Bison safety Tre Dempsey intercepted Eagles quarterback Gage Gubrud on the second play of overtime to set up Lance Dunn's 25-yard touchdown run on the Bison's first play of their possession.
NDSU forced overtime at with a 14-play scoring drive capped by Cam Pedersen's 28-yard field goal with 42 seconds left. Jordan Dascalo had a 49-yard attempt for Eastern with six seconds to play, but was wide left.
---=
No. 2:
No. 1 North Dakota State 23, FBS No. 13 Iowa 21 (Sept. 17)
Iowa City became Upset City when North Dakota State's Cam Pedersen kicked a game-ending 37-yard field goal for the Bison's sixth straight win over an FBS opponent since 2010.
The Missouri Valley Football Conference power imposed its will by possessing the ball for 36 minutes, 40 seconds while outgaining the Hawkeyes 363-231. King Frazier rushed for 99 yards and a touchdown.
---=
No. 1:
No. 13 Youngstown State 40, No. 3 (No. 2 seed) Eastern Washington 38 (Dec. 17)
The play of the year decided the second national semifinal. The visitors from the Missouri Valley trailed for over 39 minutes before stunning Eastern Washington on junior tight end Kevin Rader's miraculous 5-yard touchdown reception from Hunter Wells with 1 second remaining. Rader wrapped his right arm under linebacker Ketner Kupp's arm and secured the football on the defender's back with his feet on the ground before he was pushed out of bounds.
The winning drive came after the Eagles took a 38-34 lead on wide receiver Shaq Hill's 1-yard run with 4:24 left. While Wells was the hero, Penguins running back Tevin McCaster rushed for a game-high 154 rushing yards - nearly half in the fourth quarter - and scored three touchdowns.
---
---