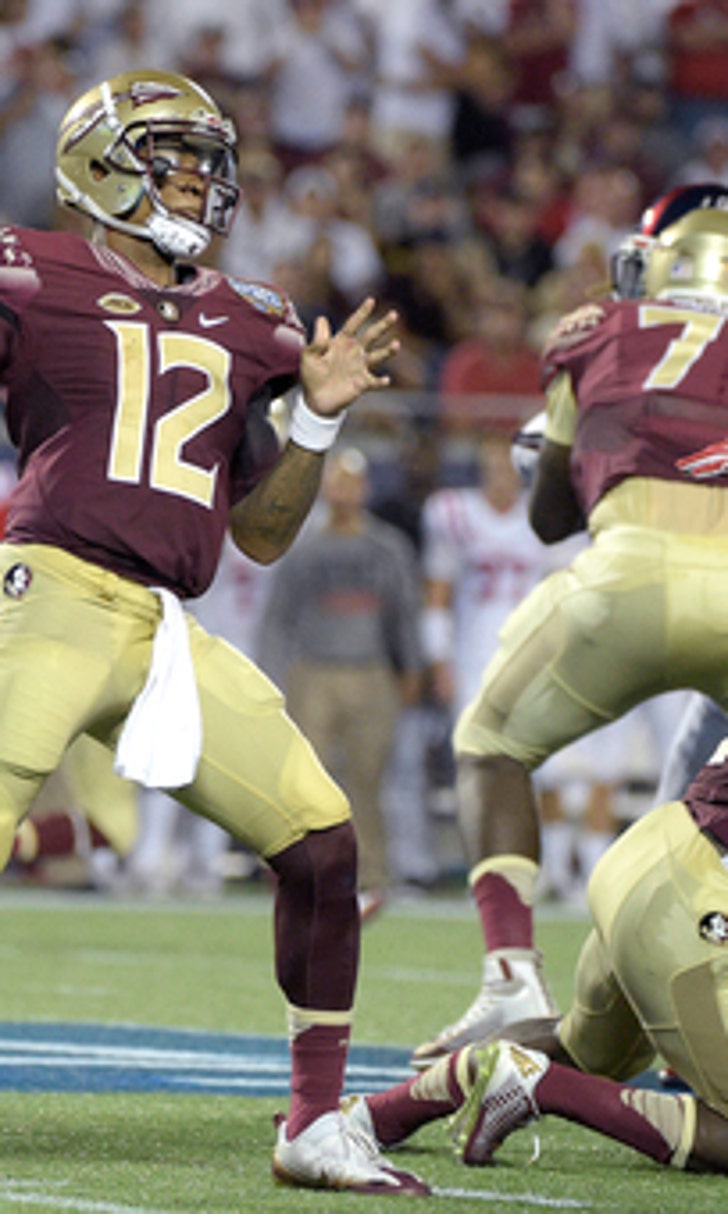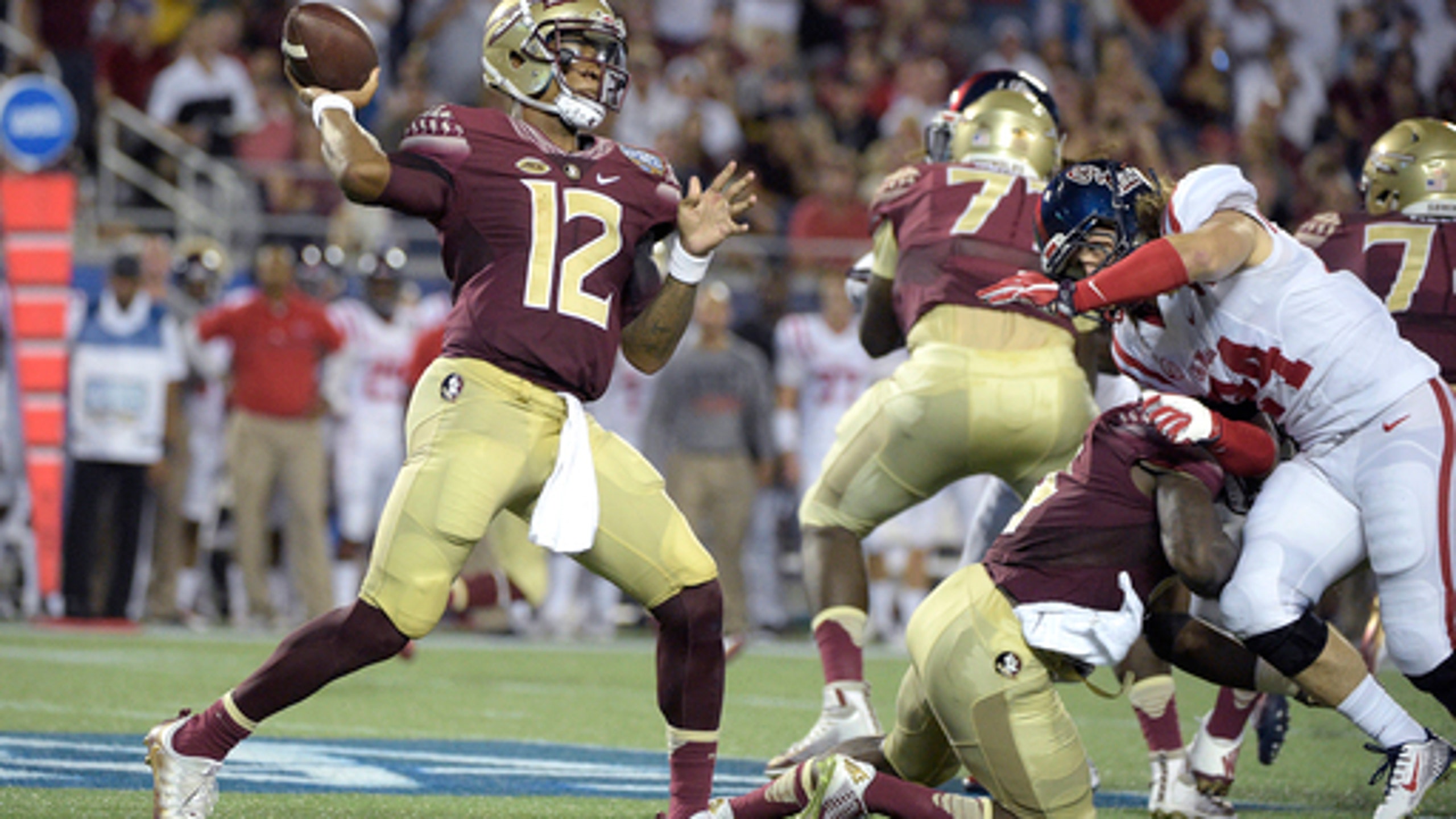 FSU QB faces quick turnaround after record-setting debut
BY foxsports • September 6, 2016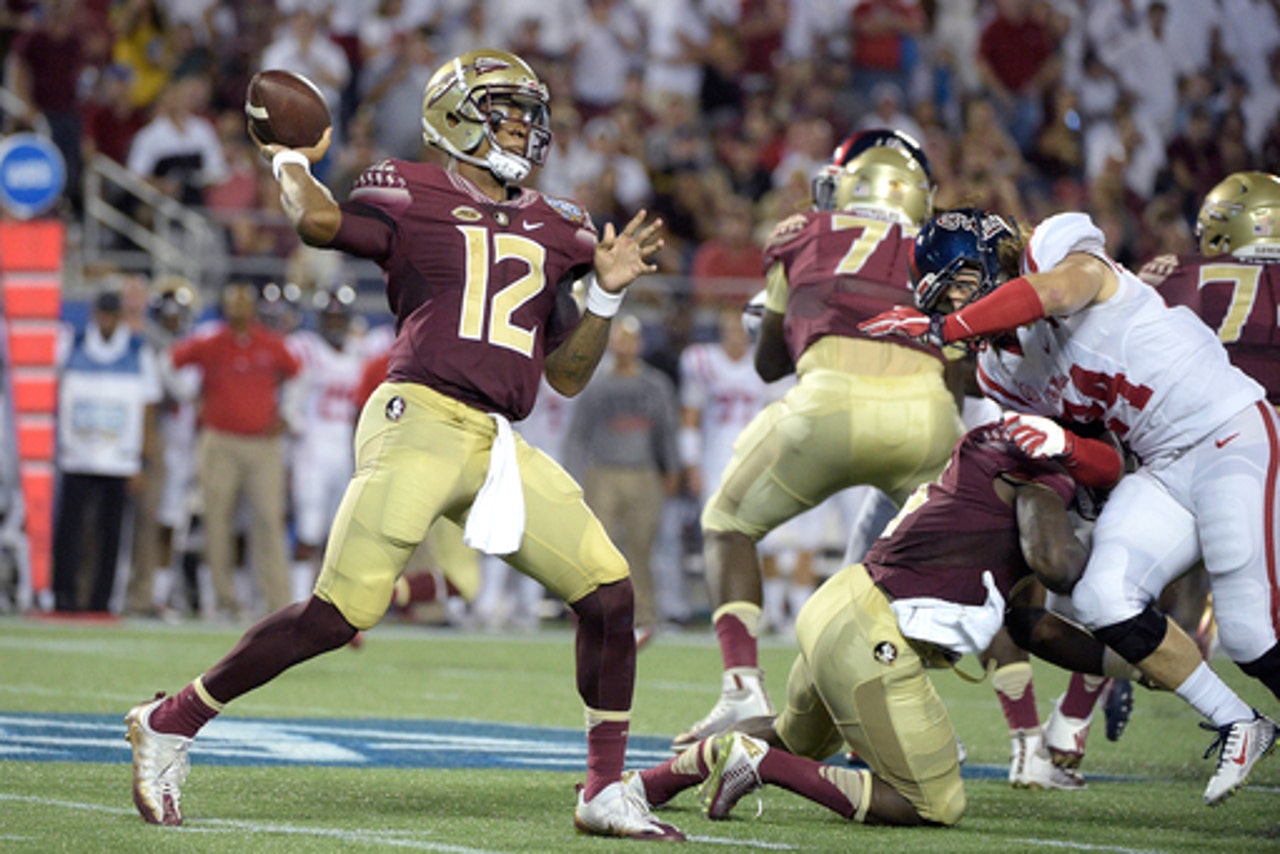 Deondre Francois has heard the daunting comparisons to Jameis Winston. The Florida State freshman quarterback appears to be able to shoulder the weight that comes with the expectations - and then some.
Francois did a couple of things in his debut that not even Winston did in his first start.
The Seminoles quarterback passed for 419 yards in Florida State's 45-34 comeback victory over Mississippi and is the first Atlantic Coast Conference freshman QB to have a 400-yard game in his debut. Duke's Dave Brown (1989) and Clemson's Charlie Whitehurst (2002) also threw for over 400 yards in their first start but they had played as freshmen.
It is also the most passing yards by a Florida State quarterback in an opener. With 59 rushing yards, Francois' 478 yards of total offense are the seventh-most by an FSU player.
Winston, who threw for 356 yards and scored six touchdowns in his first game in 2013, was on Florida State's sideline during Monday's game.
Francois said he received a pregame text from Winston, telling him to stay composed and calm. When Florida State fell behind 28-6 midway through the second quarter, Winston again told Francois to be a leader and keep a smile on his face despite everything that was going wrong.
''Jameis is a great player and leader,'' said Francois, who also threw for a pair of touchdowns. ''I took some of his attributes and how he rallied up guys when they were trailing like in the national championship game (against Auburn). They were down early and that was a bigger stage than this but he was calm.''
The 22-point comeback over the Rebels, ranked No. 19 in Tuesday's Top 25, is the largest in school history. The previous mark was two years ago when Winston rallied the Seminoles from a 21-point deficit to a 42-31 win at Louisville.
Francois and Florida State, which moved up to third in the poll, won't have much time to celebrate. The Seminoles host Charleston Southern on Saturday and then face another tough test on Sept. 17 at No. 13 Louisville.
''There were a couple times that he got a little shook on the sidelines. The thing about it, he bounced back, and that's what he did in practice,'' Florida State coach Jimbo Fisher said. ''At the end of the day, it's one game. Now we've got to get better and move on.''
Fisher was also pleased with how well Francois started to manage the game better late in the second quarter. He started to settle down and went more to the check down receiver, which freed up more single coverage in the second half that the Seminoles took advantage of with more passes downfield.
While the yards stand out, the one stat that meant the most to Fisher is that Francois had no turnovers.
''He made plays with his feet and his arms but more importantly, he made it with his mind, and that's the key to playing quarterback,'' Fisher said.
Francois still has more ahead if he wants to continue to be mentioned in the same breath as Winston, who is in his second year with Tampa Bay. As a redshirt freshman Winston won the Heisman and led Florida State to a 14-0 season and its third national championship.
Winston also still has the school's single-game passing record of 444 yards against Clemson in 2013.
Francois' performance capped a good weekend for freshmen quarterbacks in high-profile national games.
Shane Buechele became the first freshman to start a Texas opener since Bobby Layne in 1944 and threw for 280 yards as the Longhorns defeated Notre Dame 50-47 in double overtime. The win also catapulted the Longhorns from unranked to 11th in this week's Top 25.
Georgia's Jacob Eason, who entered during the second quarter of the Bulldogs' 33-24 win over North Carolina, had a 51-yard completion to Isaiah McKenzie during the fourth quarter that was Georgia's longest pass play in nearly three seasons and led to a go-ahead field goal. The Bulldogs moved up nine spots to No. 9 in the poll.
Top-ranked Alabama ended up using two freshmen in its 52-6 blowout of Southern Cal. Blake Barnett played the first two series before Jalen Hurts came in and led the Crimson Tide to five touchdowns and a field goal during the second and third quarters. Barnett directed two fourth-quarter scoring drives.
---
Online: AP College Football website www.collegefootball.ap.org . Follow Joe Reedy on Twitter at http://www.twitter.com/joereedy .
---