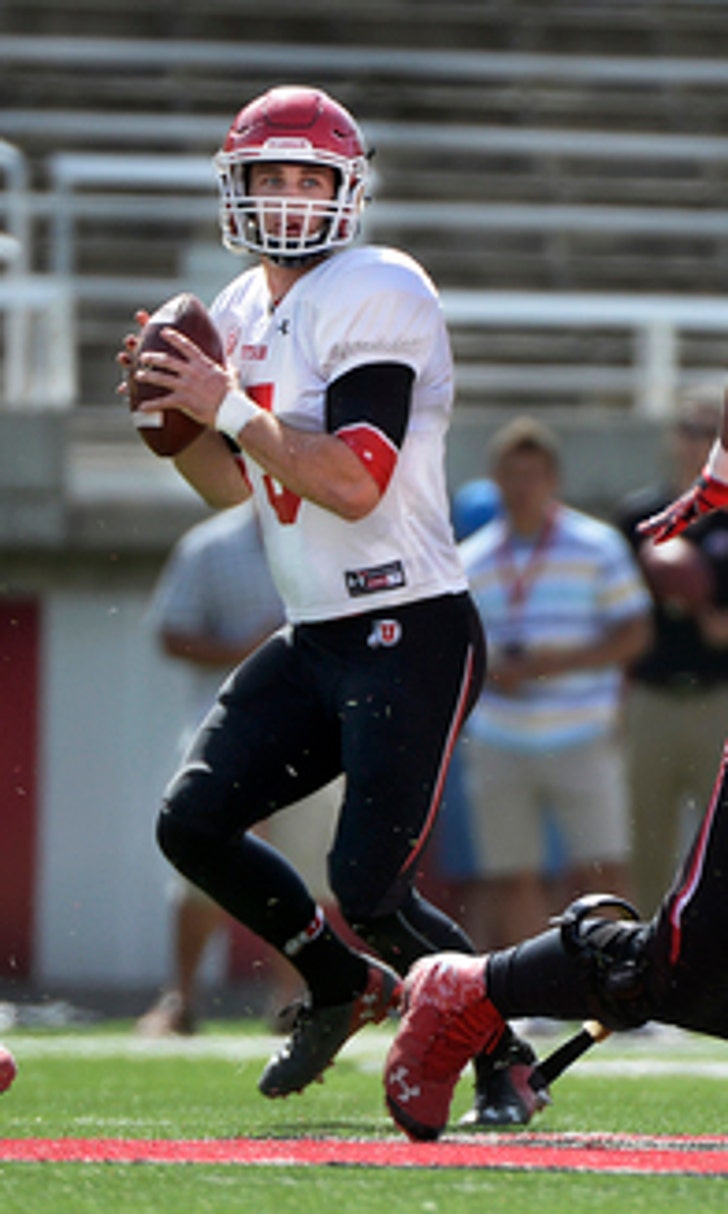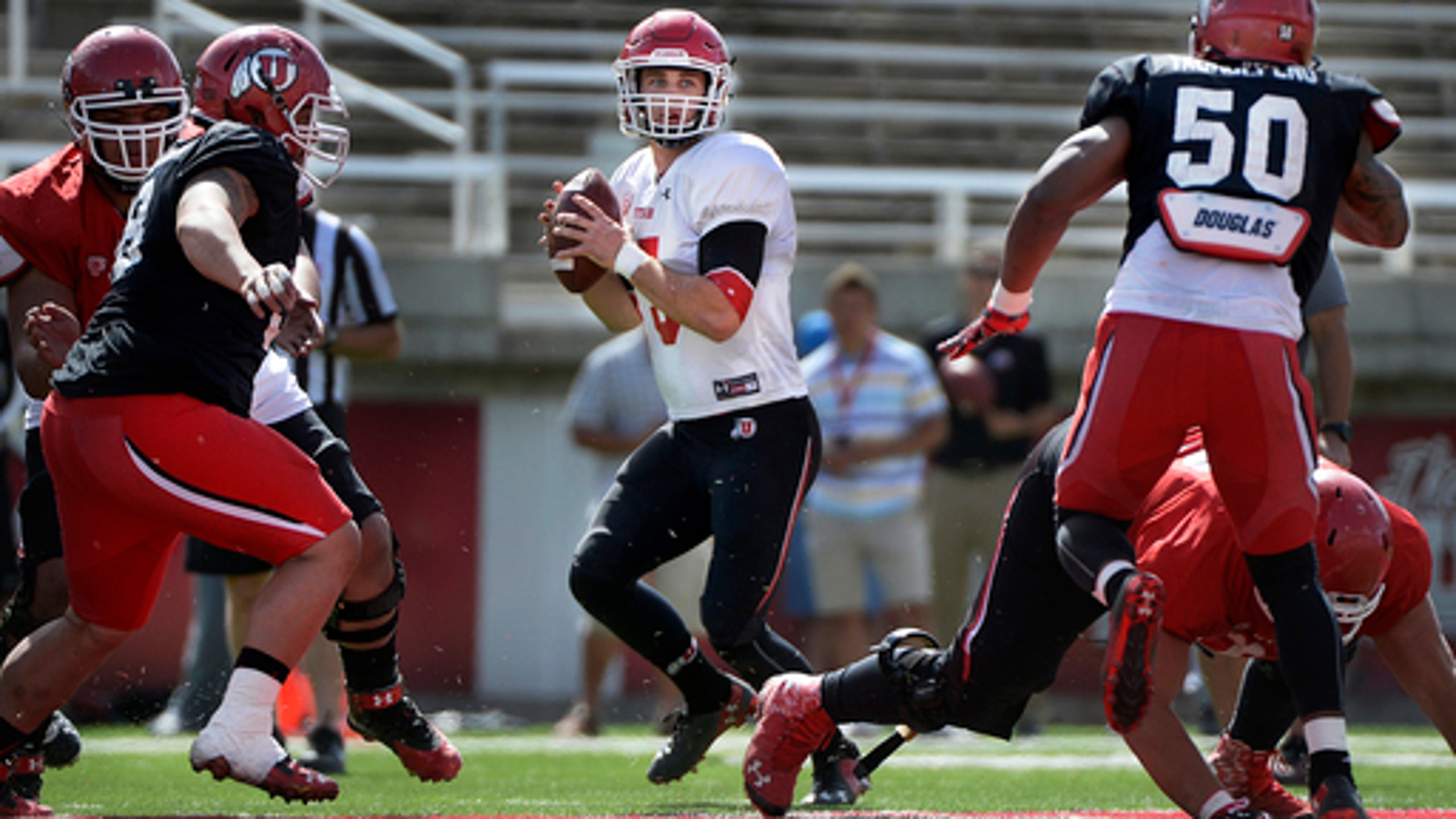 From QB to safety, Chase Hansen excels for No. 24 Utah
BY foxsports • October 5, 2016
SALT LAKE CITY (AP) Chase Hansen was considered the quarterback of the future when he arrived at Utah in 2012, but circumstances pushed him to safety last season. What was thought to be a temporary move has become a full-time job as the No. 24 Utes now have one of the budding young safeties in the Pac-12.
''He's playing as good as any safety in the conference,'' Utah coach Kyle Whittingham said. ''He's all over the place. He's a big-play guy. He's stripping the ball, he's recovering fumbles. He's doing a great job in coverage. He's physical. He's a great tackler. He's exceeding my expectations.
''I believed he was going to be very good. But I didn't know he'd be this good this quickly.''
The redshirt sophomore made the switch last midseason as the 6-foot-3, 212-pound dual-threat quarterback was wasting away behind Travis Wilson and Kendal Thompson. Whittingham insisted the move was temporary, but Hansen played well and was promoted to starter against Washington, where he had a career-high 11 tackles, a forced fumble and a pass breakup before a lower leg injury ended his season.
Hansen had a decision during the offseason - stay at safety or go try to win the quarterback job. With former Washington quarterback Troy Williams transferring in and 2015 Florida Gatorade Football Player of the Year Tyler Huntley signing, Hansen believed he would help more at safety. Additionally, he enjoyed playing defense.
''When I was in high school, even when I was at quarterback, I loved to run, I loved to run hard,'' said Hansen, who served a two-year Mormon mission in Australia. ''I loved the contact. It just feels more like football to me.
''There's something therapeutic about hitting people really hard and kind of going crazy out on a football field.''
The Utes host Arizona on Saturday and Hansen enters as the No. 3 tackler on the team with 26. He also has 1.5 tackles for loss, a fumble forced, a fumble recovered and a pass breakup. Hansen is still learning the intricacies of the position - proper technique, footwork, running backward, covering tight ends. He's also trying to become more instinctive where he can instantly react to what he sees instead of hesitating.
Hansen wants to hit like Seattle Seahawks safety Kam Chancellor and cover like Baltimore Ravens safety and former Ute Eric Weddle.
''Two things, he's smart and he's athletic,'' Utah defensive coordinator Morgan Scalley said. ''You can't play safety here if you're not athletic and he's athletic and fast and is able to do it. So the physical ability is No. 1. Then No. 2, how bright he is. ... We ask a lot of our strong safeties in terms of knowing the defenses and being able to do a bunch of different things and communicate that to the rest of the defense. He's perfect for that.''
Utah cornerback Dominique Hatfield added, ''Coming from quarterback you probably wouldn't think a guy would be as physical as him, but he works hard.''
Whittingham believes playing quarterback helped because the position requires a high football IQ. Hansen got plenty of study time during the spring while recovering from the injury. He acknowledged learning was difficult, but there was a level of relief in switching positions. There's so much that goes into playing the quarterback position, but safety allows him to ''let loose, fly around and hit people.''
''It was more of just switching the switch to my more aggressive mindset,'' Hansen said. ''Which I feel like I've always kind of had.
''I guess I'll never know what kind of quarterback I would have been, but I feel like I can become a better safety. I have more potential as a safety, I guess.''
It's all safety all the time these days, but Hansen is technically the emergency quarterback. Williams and Huntley are the lone quarterbacks on the roster after Brandon Cox decided to transfer in the fall. That chapter of his playing career appears over, but those memories do linger.
''I'd be lying if I said I didn't think about whether or not I'd still ever play the position,'' Hansen said. ''Because they even told me if something happens you have to be ready to come play some quarterback as well. Which I was all for. ... The reason I loved it so much is because you can have a huge impact on the game. Bigger than any other position, obviously.
''But at this point I don't think I've looked back, especially seeing as well as Troy is doing, seeing the type of quarterback Tyler is, I haven't looked back.''
---