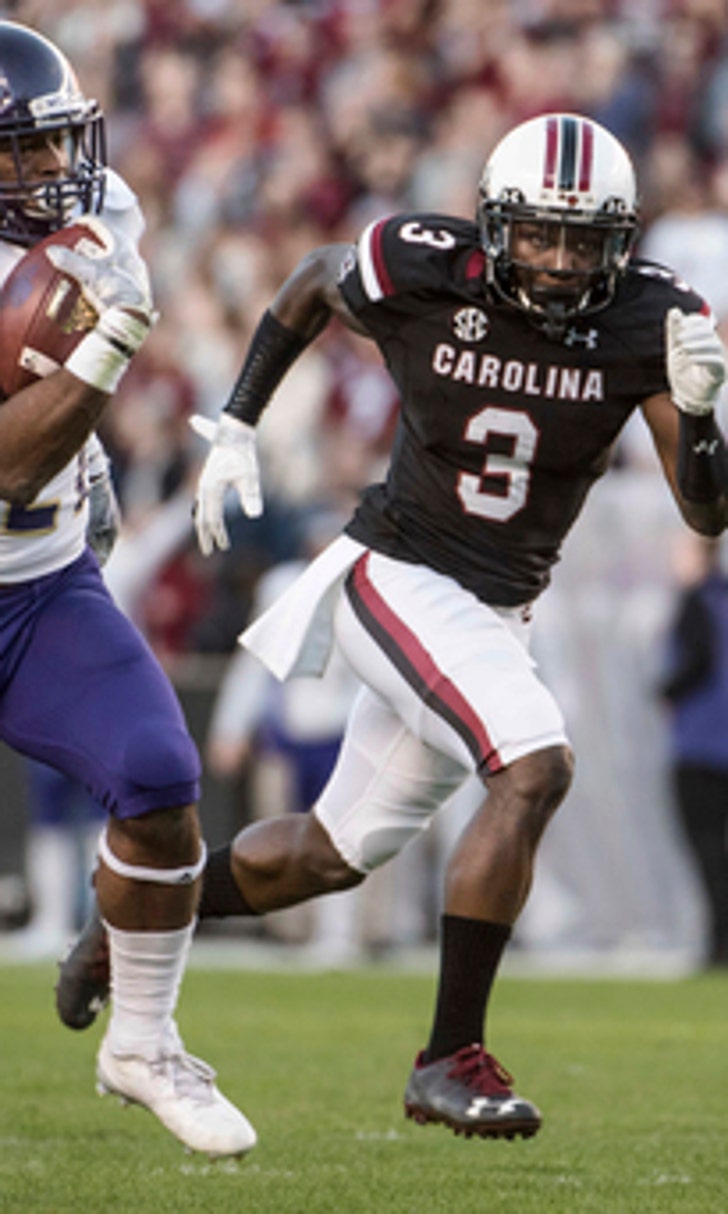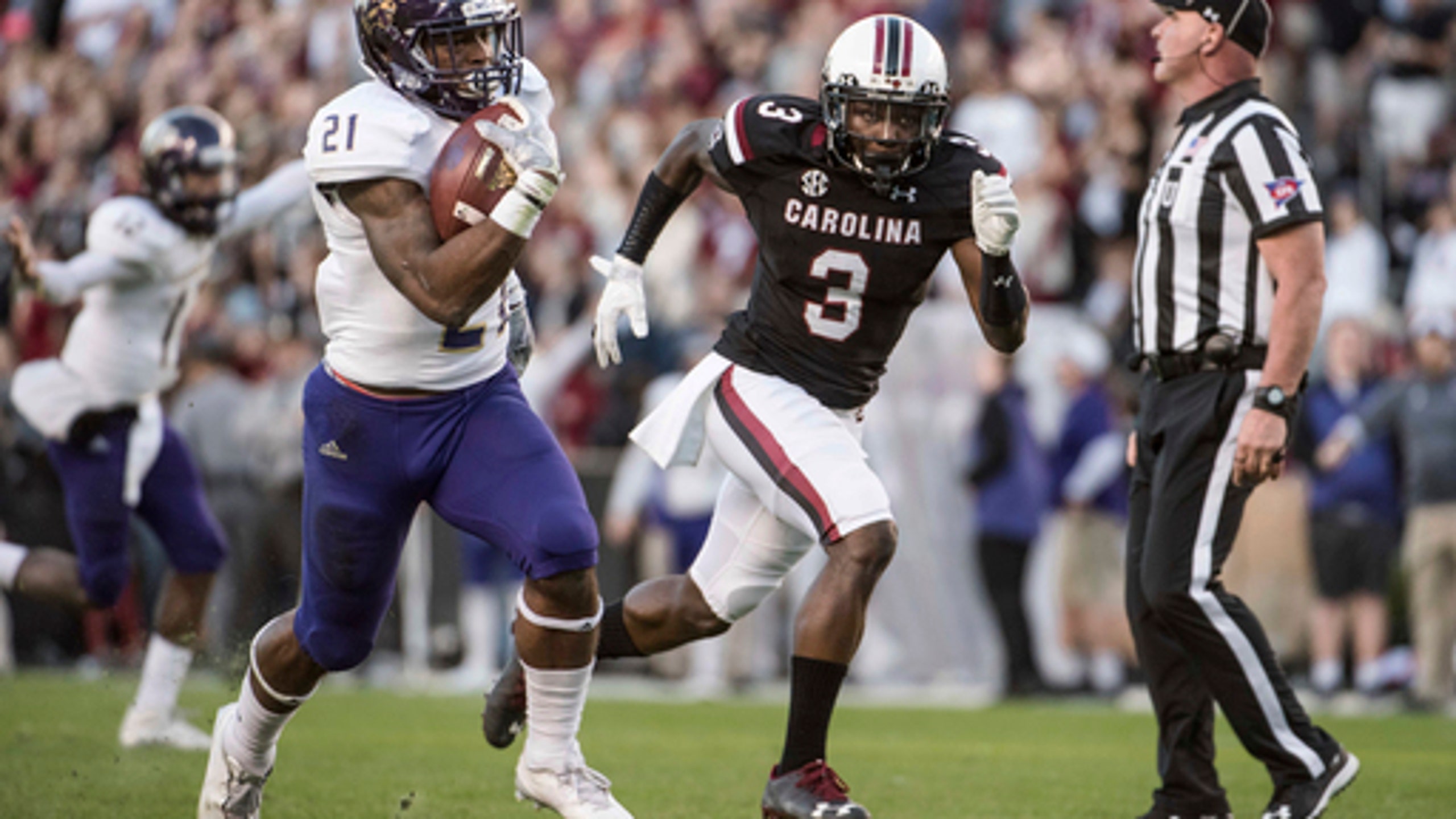 Four named STATS FCS national players of week
BY foxsports • November 21, 2016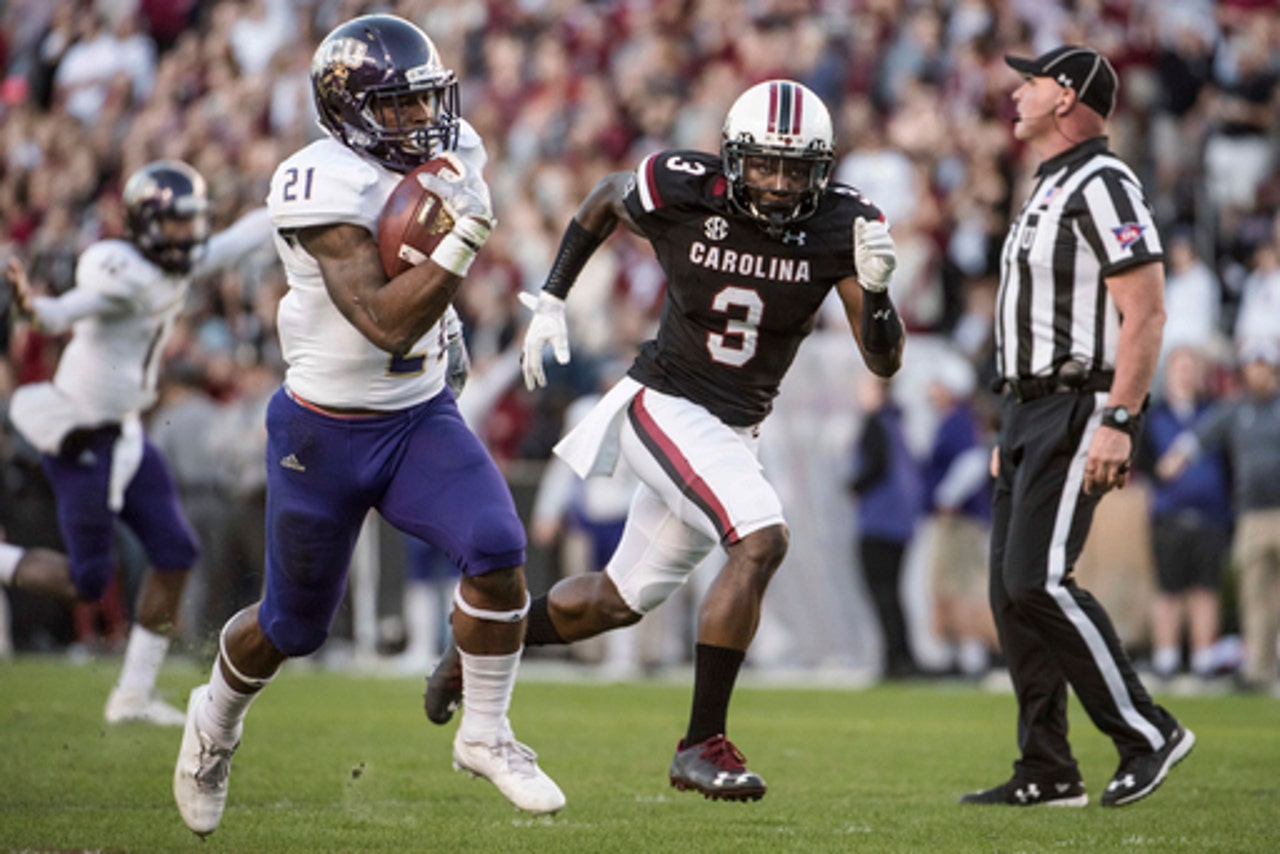 (STATS) - There's often nothing like a player capping the season with his best performance.
South Dakota State's Dallas Brown is taking his senior season to the postseason, but Howard's Anthony Philyaw, Western Carolina's Detrez Newsome and Towson's Aidan O'Neill must have been thrilled to know they have something to build on for 2017 - though it might be difficult considering their high performances this past Saturday.
The four players were named Monday as the STATS FCS National Players of the Week for games played Nov. 17-19.
NATIONAL OFFENSIVE PLAYER OF THE WEEK
Anthony Philyaw, Howard, RB, R-Jr., 6-1, 205, Los Angeles
After missing two seasons, Philyaw came back strong this year, capping the campaign with a school-record 281 rushing yards and two touchdowns in Howard's 26-21 win over Delaware State in the MEAC. Philyaw went head-to-head with Delaware State freshman Mike Waters (228 rushing, two touchdowns) and was a little better on a workhorse total of 36 carries. His 45-yard touchdown run in the first quarter put him over 1,000 yards for the season and he went on to score again on a 23-yard run. His second 200-yard game of the season lifted him to 1,230 for the season.
Honorable Mention: Kendell Anderson, RB, William & Mary; Jeremiah Briscoe, QB, Sam Houston State; Chase Edmonds, RB, Fordham; Trey Green, QB, Prairie View A&M; Darius Hammond, RB, Charleston Southern; Manusamoa Luuga, RB, UC Davis; John Russ, QB, Mercer; Sam Straub, QB, Southern Illinois; Alek Torgersen, QB, Penn; Rylan Wells, QB, Jacksonville
NATIONAL DEFENSIVE PLAYER OF THE WEEK
Dallas Brown, South Dakota State, LB, R-Sr., 5-11, 200, Tucson, Arizona
Brown is a hybrid linebacker who uses his speed to make plays. He made plenty of them in South Dakota State's 45-24 win at Northern Iowa, helping the Jackrabbits clinch their first Missouri Valley Football Conference title and an automatic bid to the FCS playoffs. He had seven tackles (three solo), including a sack, forced a forced fumble, intercepted a pass at the goal line late in the first half and applied pressure that led to a teammate's 65-yard interception return for a touchdown in the closing minutes.
Honorable Mention: Abdullah Anderson, DT, Bucknell; Rayshan Clark, CB, Albany; Kendal Franklin, DE, McNeese; Patrick Kenney, LB, Bryant; Jarius Moore, LB, Texas Southern; Jonathan Peterson, DE, San Diego
NATIONAL SPECIAL TEAMS PLAYER OF THE WEEK
Detrez Newsome, Western Carolina, RB/KR, Jr., 5-10, 210, Raeford, North Carolina
Newsome was a one-man wrecking crew as the Catamounts were competitive in a 44-31 loss to SEC member South Carolina. He amassed a school-record 365 all-purpose yards, including a Southern Conference-record 240 on seven kickoff returns. He scored on a 93-yard return, one of his two touchdowns as he rushed for 115 yards and a score to surpass the 1,000-yard mark for the second consecutive season. The FCS leader in all-purpose yards also had a 10-yard reception.
Honorable Mention: Miles Bergner, PK/P, South Dakota; Alex Chadwick, PK, Houston Baptist; J.J. Jerman, PK, East Tennessee State; Jonathan Martin, P, Albany; Xavier Nelson, KR, Duquesne; Jalen Rima, RS, Northern Iowa
NATIONAL FRESHMAN PLAYER OF THE WEEK
Aidan O'Neill, Towson, PK, Fr., 6-1, 182, New Paltz, New York
Towson took momentum into the offseason when O'Neill kicked a 55-yard field goal on the final play of the Tigers' 32-31 CAA Football win at Rhode Island. The Tigers' first game-winning kick since 2011 was the second-longest field goal in school history. O'Neill tied the school record with four field goals as he also converted from 19, 45 and 37 yards. The Tigers were only 4-7 this season, but O'Neill's game-winner provided a three-game winning streak.
Honorable Mention: Joe Alessi, RB, Youngstown State; Kenji Bahar, QB, Monmouth; Marlon Bridges, S, Jacksonville State; Cole Johnson, QB, James Madison; Earl Harrison, RB, Tennessee State; Josh Hill, LB, Montana State; Kurt Rawlings, QB, Yale; Mike Waters, RB, Delaware State; Kentell Williams, RB/RS, Austin Peay
---