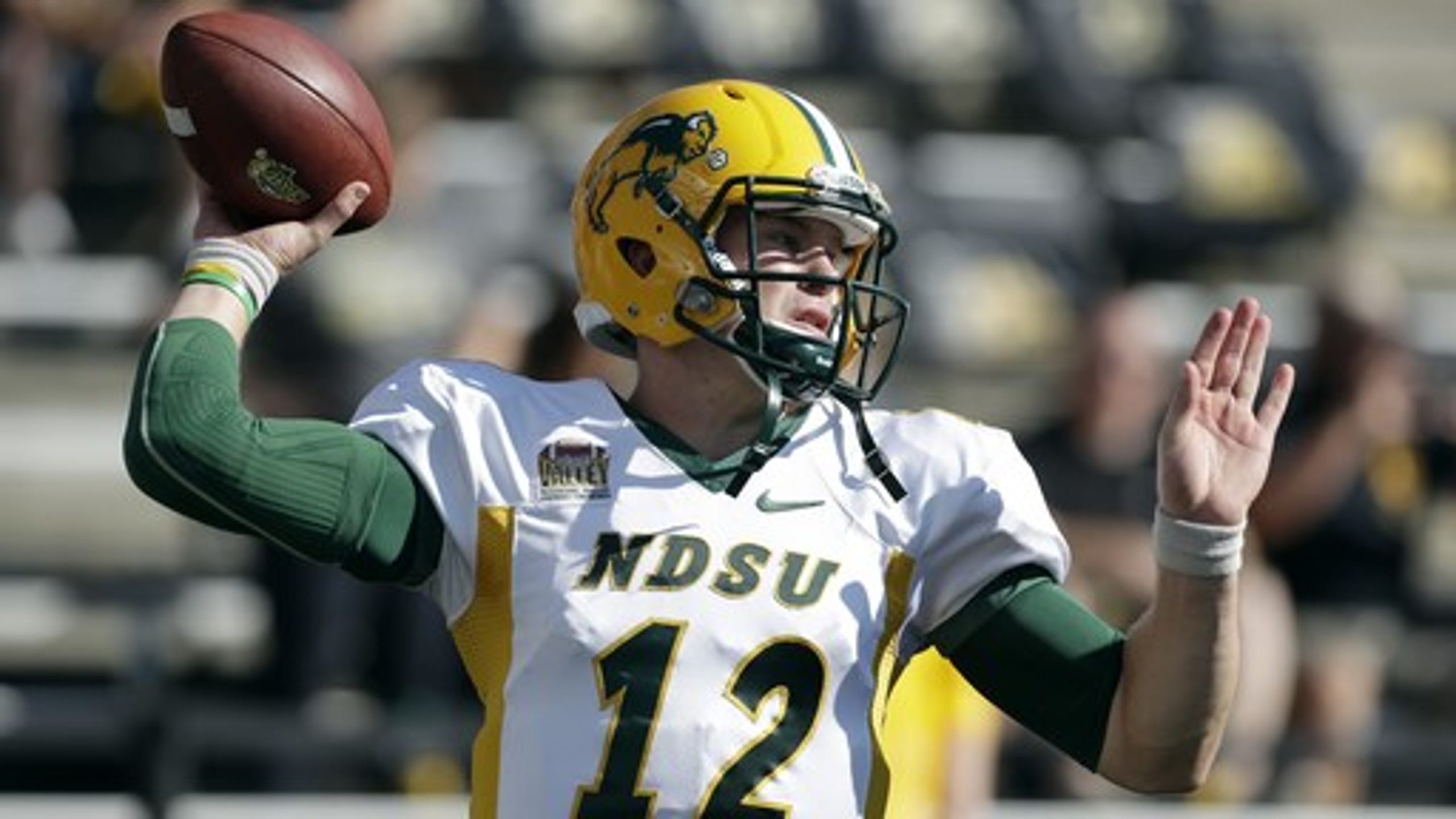 FCS Top 25: Stick fuels No. 1 NDSU
BY foxsports • October 2, 2016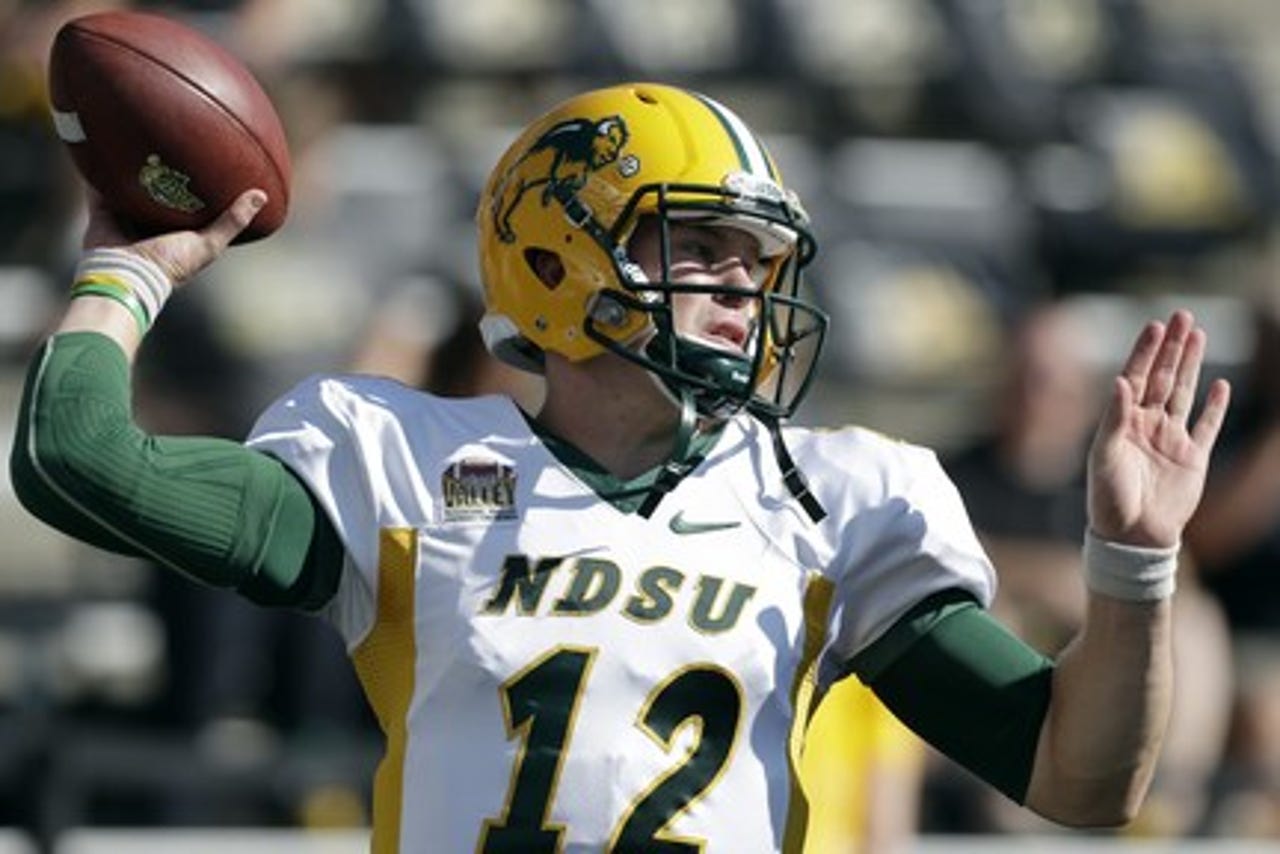 (STATS) - With Carson Wentz at the Fargodome for North Dakota State's Homecoming Day game against Illinois State on Saturday, Bison quarterback Easton Stick surely wanted to impress his predecessor.
Stick passed for three touchdowns in the second quarter as top-ranked NDSU beat No. 18 Illinois State 31-10 before 18,907 in the first meeting between the Missouri Valley Football Conference programs since the 2014 FCS national championship game.
While Wentz is pleased to be 3-0 directing the Philadelphia Eagles' offense as the No. 2 pick in the 2016 NFL Draft, Stick is 12-0 as NDSU's starter, including 4-0 this season. He went 8-0 a year ago when Wentz was sidelined with a wrist injury. Wentz, of course, returned to lead the Bison to their fifth straight national championship win in January.
He scored the game-winning touchdown in the final minute of their 29-27 win over Illinois State in the 2014 final.
North Dakota State (4-0, 1-0) used explosive plays to take a 28-10 lead by halftime. Wide receiver Darius Shepard scored on a 31-yard jet sweep in the first quarter before Stick connected on three unanswered touchdowns in the second quarter: 65 yards to receiver R.J. Urzendowski, 38 yards to running back Lance Dunn and 35 yards to tight end Nate Jenson.
"I was so happy in the first half with the big plays we were able to get," head coach Chris Klieman said. "I thought Easton was on-point and made some excellent throws, and guys made catches that got us that early lead. Defensively, we were kind of on our heels in the first half and probably needed to play a little bit better."
Stick completed 13 of 18 attempts for 256 yards - one shy of his career-high - leading an offense that held the ball for 36 minutes, 28 seconds. Linebacker Pierre Gee-Tucker led the defense with seven tackles, one sack, two tackles for loss, two quarterback hurries and a fumble recovery.
The Bison's win was their 75th since the start of the 2011 season. They have lost only five times in that span.
Illinois State (2-3, 0-2) suffered its third straight loss, which must be stunning to the Redbirds considering they defeated Northwestern on Sept. 10. It's their first three-game losing streak since 2008 - the year before Brock Spack became head coach.
Jake Kolbe was 23 of 35 for 285 yards and a touchdown in the loss.
---=
STATS FCS TOP 25 SCHEDULE
Saturday, Oct. 1
All Times ET
No. 2 Sam Houston State (4-0, 3-0 Southland) 63, Stephen F. Austin (3-2, 1-1)
Jeremiah Briscoe was 25 of 33 for a career-high 438 yards and a program-record seven touchdowns as Sam Houston made it six straight wins in the "Battle of the Piney Woods." Nathan Stewart (five receptions, 183 yards) and Yedidiah Louis (seven receptions, 119 yards) both caught two touchdowns.
The game drew a series-record 27,411 to NRG Stadium in Houston.
---=
No. 4 Eastern Washington (4-1, 2-0 Big Sky) 63, UC Davis (1-4, 0-2) 30
Eagles senior Cooper Kupp became the Division I record holder for career receiving yards when he caught 12 passes for 274 yards and two touchdowns. His 5,417 yards surpassed Elon's Terrell Hudgins, who had 5,250 yards from 2006-09.
Quarterback Gage Gubrud remained red hot, going 33 of 46 for 486 yards and six touchdowns. He also rushed for a touchdown.
---=
No. 5 Chattanooga (5-0, 3-0 Southern) 37, East Tennessee State (2-2, 1-2) 7
Derrick Craine rushed for three short touchdowns and the Chattanooga defense limited ETSU to 132 yards in the Mocs' 16th victory in their last 17 Southern Conference games. They are 5-0 for the first time since 1979.
---=
No. 6 Richmond (4-1, 1-1 CAA) 31, Towson (1-3, 0-2) 28
Richmond went ahead 31-28 on David Broadus' 2-yard run with 10:16 remaining and held on to even its CAA Football record. Kyle Lauletta's 233 passing yards and three touchdowns helped overcome Towson running back Darius Victor's four touchdowns.
---=
No. 7 James Madison (4-1, 2-0 CAA) 43, Delaware (2-2, 0-1) 20
Quarterback Bryan Schor led a 607-yard JMU assault with 312 total yards (209 passing, 103 rushing) and four total touchdowns (one passing, three rushing). Khalid Abdullah rushed for 159 yards and two touchdowns on only 10 carries.
---=
No. 15 South Dakota State (2-2, 1-0 Missouri Valley) 52, No. 8 Western Illinois (3-1, 0-1) 14
Tight end Dallas Goedert caught four of Taryn Christion's five touchdown passes, finishing with eight receptions for 204 yards.
WIU's Steve McShane was held to 56 yards on 14 carries.
---=
No. 9 The Citadel (4-0, 3-0 Southern) 37, Western Carolina (1-3, 0-2) 14
While remaining atop the SoCon with Chattanooga, The Citadel ran the ball 84 times for 513 yards. Rod Johnson turned three of his six carries into touchdowns and Reggie Williams racked up a game-high 133 yards.
The Bulldogs defense was only on the field for 16:50, but had seven sacks.
---=
No. 10 Charleston Southern (3-2) 59, No. 14 Coastal Carolina (3-2) 58, 2 OTs
Johnny Robinson blocked Coastal Carolina's extra point attempt in the second overtime, lifting Charleston Southern to a wild win over its rival. Shane Bucenell threw four touchdowns, including a 15-yarder to Jared Scotland in the second OT, and fellow Buccanneers quarterback Robert Mitchell rushed for two scores.
Coastal standout De'Angelo Henderson had 208 yards from scrimmage and scored four times.
---=
No. 11 Montana (3-1, 1-1 Big Sky) 43, Southern Utah (2-2, 1-1) 20
Brady Gustafson passed for 415 yards and four touchdowns and the Grizzlies racked up 605 yards - their highest total since 2013 - to defeat the defending Big Sky Conference champion.
---=
No. 12 Northern Iowa (2-2, 1-0 Missouri Valley) 42, Southern Illinois (2-2, 0-1) 21
UNI quarterback Aaron Bailey threw three touchdowns to Daurice Fountain and added a score on the ground. He had 284 total yards (186 passing, 98 rushing).
---=
Southeast Missouri State (2-3, 2-0 OVC) 21, No. 13 Eastern Illinois (3-2, 1-1) 14
SEMO went ahead 21-14 on Jesse Hosket's 45-yard touchdown pass to Marquette Murdock with 11:13 remaining in the third quarter and the lead held up. Hosket accounted for all three Redhawks' touchdowns.
---=
North Dakota (3-2, 2-0 Big Sky) 31, No. 16 Cal Poly (3-2, 1-1) 24
North Dakota made it three straight wins as Keaton Studsrud was 15 of 21 for 249 yards and two touchdowns with another score on the ground. With leading rusher Joe Protheroe sidelined with a foot injury, Cal Poly's FCS-leading rushing attack was held to a 202 yards - 161 below its season average.
---=
No. 17 Villanova (4-1, 2-0 CAA) 42, Elon (2-3, 1-1) 7
Villanova rolled to its fourth straight win as quarterback Zack Bednarczyk threw for 270 yards and three touchdowns. The Wildcats' time of possession was 40:54.
---=
New Hampshire (3-2, 2-0 CAA) 21, No. 19 William & Mary (2-3, 0-2) 12
William & Mary's Kendell Anderson carried the ball 25 times for 168 yards and a touchdown, but the rest of the offense managed only 67 yards. UNH quarterback Trevor Knight had both a touchdown pass and run and the Wildcats held the ball for 35:11, playing before a record home crowd of 21,943..
---=
No. 20 Youngstown State (3-1, 1-0 Missouri Valley) 30, South Dakota (1-3, 0-1) 20
Youngstown's defense limited high-scoring South Dakota to 254 yards and safety Jalyn Powell scored on a 21-yard interception return.
---=
Nicholls (1-2, 1-0 Southland) at No. 23 McNeese State (2-2, 1-1), (n)
---=
Missouri State (3-1, 1-0 Missouri Valley) 45, No. 24 Indiana State (3-2, 1-1) 24
The Bears outscored Indiana State 21-0 in the second half and pulled an upset behind quarterback Brodie Lambert (279 yards, three touchdowns) and running back Calan Crowder (131 yards, three touchdowns). Indiana State's Isaac Harker was 35 of 52 for 344 yards and a touchdown with two interceptions in the loss.
---=
Friday, Sept. 30
No. 25 Harvard (3-0) 31, Georgetown (3-1) 17
Harvard totaled 535 yards of offense and built a 31-7 lead. Tight end Anthony Firkser caught five passes for a career-high 147 yards and two touchdowns.---=
Thursday, Sept. 29
No. 22 North Carolina A&T (3-1, 1-0 MEAC) 31, Hampton (1-3, 1-1 MEAC) 9
Tarik Cohen's career-long 94-yard touchdown run highlighted a 256-yard, three-TD effort in A&T's MEAC-opening win. The senior increased his career total to 44 touchdowns, a school record.
---