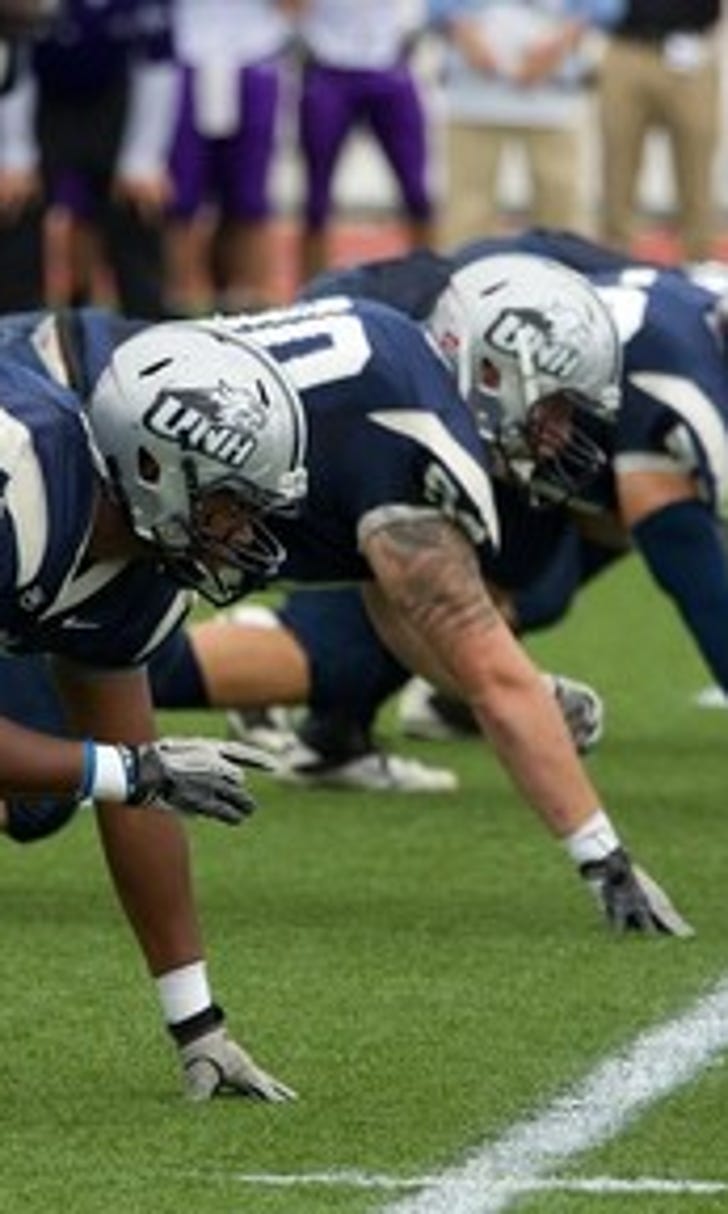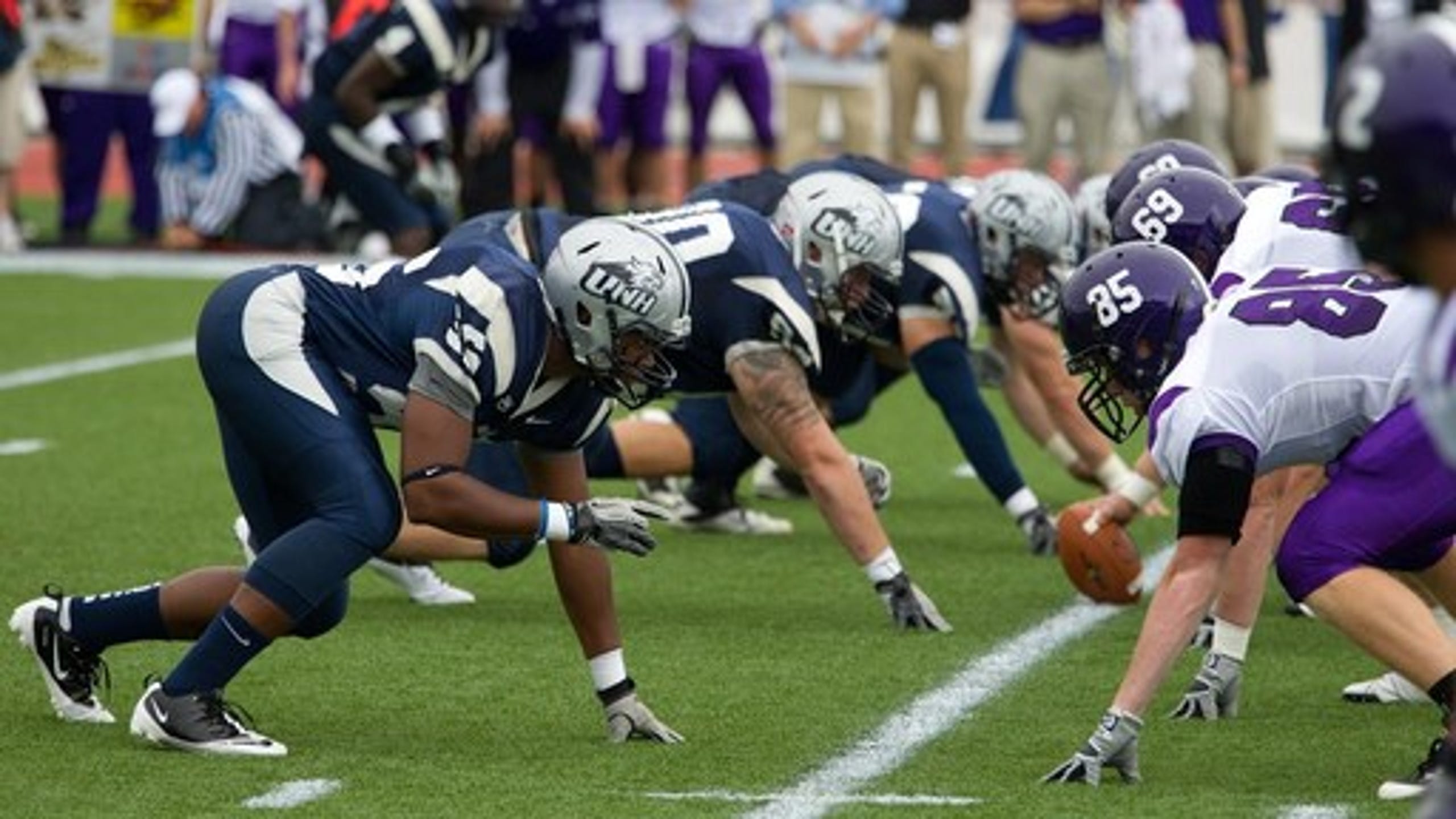 FCS Top 25 preview - Week 2
BY foxsports • September 8, 2016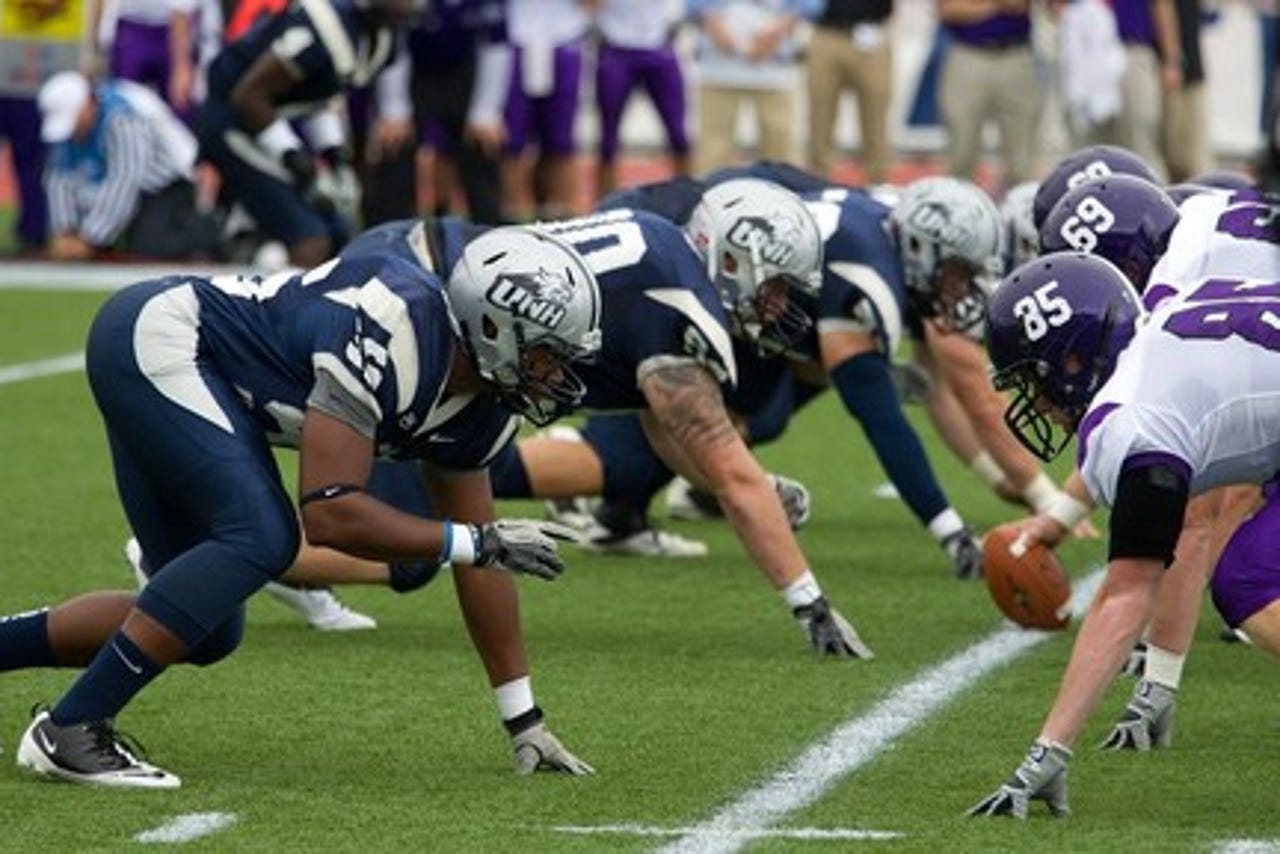 (STATS) - The buzz surrounding the inaugural game at Wildcat Stadium on Saturday night is fueling people set to descend on the new jewel at the University of New Hampshire.
For veteran coach Sean McDonnell and his team, the motivation comes from the No. 24 Wildcats needing a pivotal win against dangerous Holy Cross.
UNH struggled mightily in its 31-0, season-opening loss at San Diego State last week. For a program that has qualified for the FCS playoffs in 12 straight seasons - the active national high - another loss could turn 13 unlucky sans the Wildcats winning the automatic bid with the CAA Football title. They were picked fifth in the conference's preseason poll.
"For our alums coming back and people in the state, it's something that's deserving to these people that have put New Hampshire on the map by working hard, by playing hard, by doing the right things on and off the football field," McDonnell said of Wildcat Stadium. "It's a mixture of excitement for those people to come back and take pride, and now we have a very good, first-class and number one facility in the state of New Hampshire for football, for soccer, for Special Olympics, for all these things.
"I think there's going to be a bunch of excitement, I think there's going to be a great crowd. The thing that we have to understand that this is a good football team coming in here in Holy Cross, and we've got to play our tails off in order to meet the expectation and the excitement that's going to be coming in that night."
UNH's outdated Cowell Stadium has undergone a $25 million renovation and been transformed into the 11,015-seat Wildcat Stadium. The Wildcats have won 11 consecutive home openers, including a 39-32 victory over Holy Cross in 2011.
At the same time as kickoff at Wildcat Stadium, over 1,600 miles away, South Dakota State will be christening its new 19,340-seat venue, Dana J. Dykhouse Stadium. Called a "game-changer" at the Missouri Valley Football Conference school, the $65 million project has replaced old Coughlin-Alumni Stadium.
The ninth-ranked Jackrabbits (0-1), coming off a 59-41 loss at TCU, figure to get on track against Pioneer Football League member Drake in the stadium opener.
"It's a phenomenal facility," SDSU coach John Stiegelmeier said. "To get this done, obviously great leadership and then our supporters backed the leadership. We've played in some really nice stadiums, but I think this is going to shock some people from South Dakota what we would be able to do and continue to think big at all our schools."
---=
FCS GAME OF THE WEEK=
The Matchup: No. 8 Eastern Washington (1-0) at No. 1 North Dakota State (1-0)
Kickoff: 3:30 p.m. ET at the Fargodome (18,700)
Television: NBC North Dakota and ESPN3
Series: Eastern Washington leads 1-0 (prior meeting: 38-31 in overtime at EWU in the 2010 FCS national quarterfinals)
The Skinny: This much-anticipated showdown brings together the two most recent national champions in the FCS (EWU in 2010 and NDSU from 2011-15). The host Bison's only playoff loss in their FCS history (a 22-1 record) was against EWU in 2010.
EWU expected a bounce-back season after going 6-5 last year, but its 45-42 win at Washington State was a surprise considering the Eagles were breaking in a brand new offensive line as well as QB Gabe Gubrud. All the redshirt sophomore did was drop a school-record 551 total yards and six total touchdowns on his Pac-12 opponent. All-America wide receiver Cooper Kupp sets new records by the week and will be flanked by NDSU's new starting cornerbacks. Advantage, Kupp. The Eagles did well to stop the run in their opener but will struggle against NDSU's big, veteran offensive line. The Eagles surrendered 258 rushing yards per game last season.
NDSU star linebacker Nick DeLuca is scheduled to play after returning from a separated left shoulder in the Bison's 24-17 overtime win over No. 7 Charleston Southern. Gubrud must seek quick passes to avoid the pass rush of defensive ends Greg Menard and Brad Ambrosius. The Bison will look to control the ball with the run, and the depth at running back is important with King Frazier still slowed by an ankle injury. Like EWU, the Bison have a talented redshirt soph QB in Easton Stick, who limits turnovers and keeps the chains moving. The return game is dangerous with Bruce Anderson on kickoffs and Eric Perkins on punts. The Bison have won 43 straight home games against non-conference opponents.
Prediction: The EWU passing game will be relentless, but NDSU will keep pounding away offensively. North Dakota State, 45-28.
---=
STATS FCS TOP 25 SCHEDULE=
X-Predicted Winner
Saturday, Sept. 10
All Times ET
No. 7 Charleston Southern (1-1) at X-Florida State (1-0), 12:30 p.m. - No news is good news at Charleston Southern, which hopes for a credible performance after a bad week - Florida State-like! - both on and off the field.
Presbyterian (0-1) at X-No. 6 Chattanooga (1-0), 2 p.m. - The Southern Conference champion Mocs are building with each non-conference game, going from Shorter to Presbyterian to Alabama (Nov. 19).
No. 10 Youngstown State (1-0) at X-West Virginia (1-0), 2 p.m. - Until Pittsburgh returns to WVU's schedule, this will have to serve as the Backyard Brawl. The Penguins are thinking upset after a thorough win over Duquesne.
No. 25 North Dakota (0-1) at X-Bowling Green (0-1), 3:30 p.m. - After falling 77-10 to Ohio State, Bowling Green is not facing quite the same offense this week. It didn't help the Fighting Hawks to lose No. 1 wide receiver Clive Georges to a season-ending knee injury.
No. 10 Illinois State (1-0) at X-Northwestern (0-1), 3:30 p.m. - Still hard to get a feel on the Redbirds, who, oh yes, are two-time defending Missouri Valley co-champs. It looks like a George Moreiera-led committee will have to replace two-time All-America running back Marshaun Coprich.
Central Connecticut State (0-1) at X-No. 12 James Madison (1-0), 4 p.m. - Scoring 80 points against Morehead State is great, but it underscores why JMU fans have grown restless over the Dukes' annual non-conference schedule.
No. 19 Northern Arizona (0-1) at X-No. 18 Western Illinois (1-0), 4 p.m. - Staring at an 0-2 start, the Big Sky favorite is a little more desperate. OK, it helps to have quarterback Case Cookus as well.
No. 16 Portland State (1-0) at X-San Jose State (0-1), 4:30 p.m. - Defending the run is San Jose State's weakness. As the visiting Vikings go for a third straight win over an FBS opponent, quarterback Alex Kuresa and running back Nate Tago are coming off career-high rushing totals.
X-No. 14 Montana (1-0) at No. 3 Northern Iowa (1-0), 5 p.m. - Pretty weird that Griz QB Brady Gustafson is ranked fifth in the FCS in passing yards, but only fourth in the Big Sky. He needs to play the first half against UNI the way he did the second half against Saint Francis a week ago.
Furman (0-1, 0-0 Southern) at X-No. 15 The Citadel (1-0, 1-0), 6 p.m. - The Citadel won one of the best games of opening week - a 24-23 thriller at Mercer. The visiting Paladins are probably still miffed by the seventh-place predictions in the SoCon preseason polls.
X-No. 13 William & Mary (0-1) at Hampton (0-1), 6 p.m. - CAA power Richmond struggled to win at Hampton last September, but the Tribe will be looking to gain momentum after a subpar outing at North Carolina State.
No. 23 North Carolina A&T (1-0) at X-Kent State (0-1), 6 p.m. - With a lot of offensive weapons, the Aggies have a shot in the first of two FBS games in eight days.
Norfolk State (1-0) at X-No. 2 Richmond (1-0), 6 p.m. - Former Richmond coach Latrell Scott (2010) comes to town with his Norfolk State squad. Maybe that can motivate the Spiders from having an emotional letdown following the big win at Virginia.
Lehigh (0-1) at X-No. 22 Villanova (0-1), 6 p.m. - Coach Andy Coen's first win at Lehigh was against Villanova, but the Wildcats can give Andy Talley his 250th career win (first 28 at Division II St. Lawrence).
Florida A&M (0-1) at X-No. 17 Coastal Carolina (1-0), 7 p.m. - Coastal running back De'Angelo Henderson can take sole possession of the NCAA Division I record for consecutive games with a touchdown. With a TD in each of the Chants' final 11 games, he can tie Danny Woodhead's NCAA record set at Division II Chadron State (38 games).
X-No. 11 McNeese (1-0) at UL-Lafayette (0-1), 7 p.m. - What a change in approach when McNeese is throwing the ball 45 times in a game under first-year coach Lance Guidry. New Cowboys QB James Tabary started three games at Arkansas State last year, but not against fellow Sun Belt member UL-Lafayette. In this series, McNeese holds a 20-15-2 lead.
Holy Cross (1-0) at X-No. 24 New Hampshire (0-1), 7 p.m. - In the inaugural game at Wildcat Stadium. UNH needs to wash away last week's 31-0 loss at San Diego State. Holy Cross QB Peter Pujals is closing in on 10,000 total yards in his career with 9,609.
Drake (0-1) at X-No. 9 South Dakota State (0-1), 7 p.m. - Country artist Luke Bryan is headlining a concert at Dana J. Dykhouse Stadium on Thursday night, but the Jackrabbits say he won't "Crash My Party" at their home opener. With QB Taryn Christion and wide receiver Jake Wieneke, it's all Jackrabbits.
No. 5 Jacksonville State (1-0) at X-LSU (0-1), 7:30 p.m. - The Gamecocks have only lost to FBS teams (Michigan State and Auburn) in the regular season the last two years. No, the third time isn't the charm for coach John Grass.
---