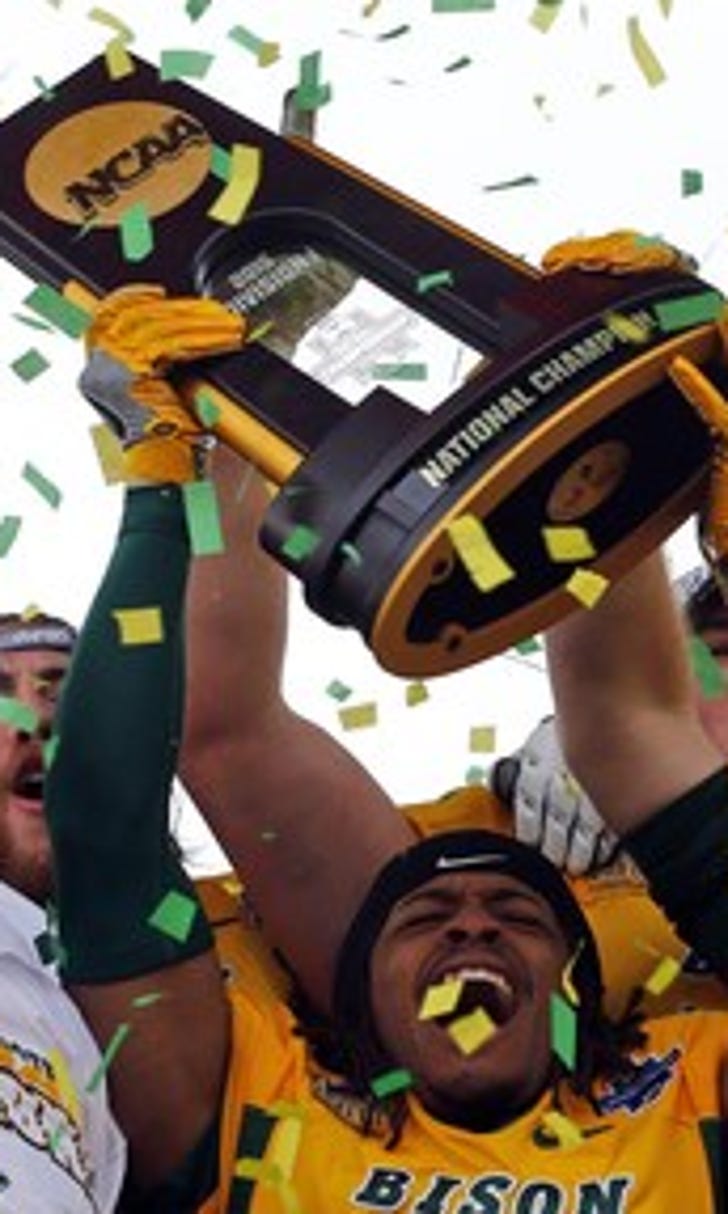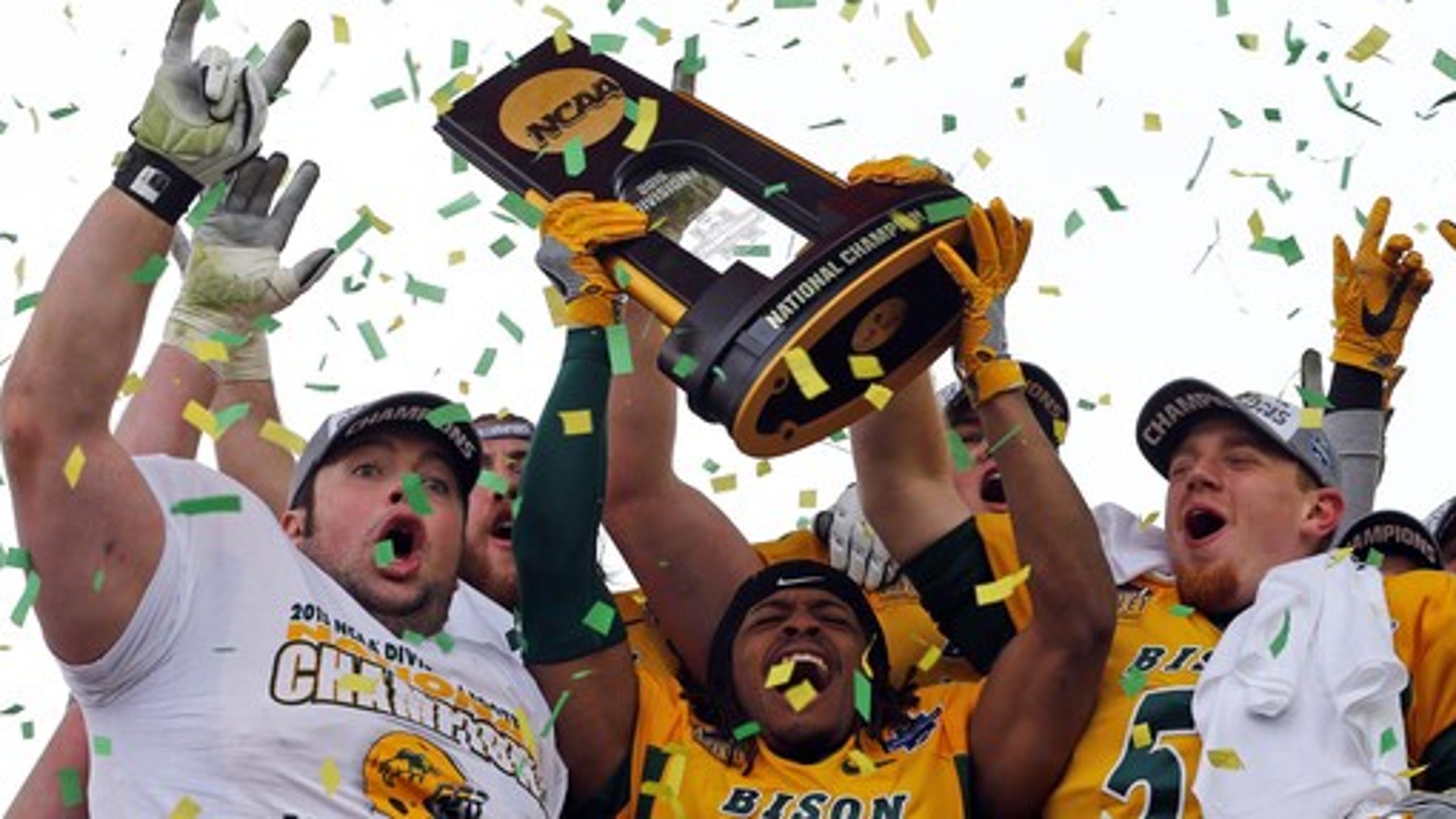 FCS Top 25 Preview
BY foxsports • October 6, 2016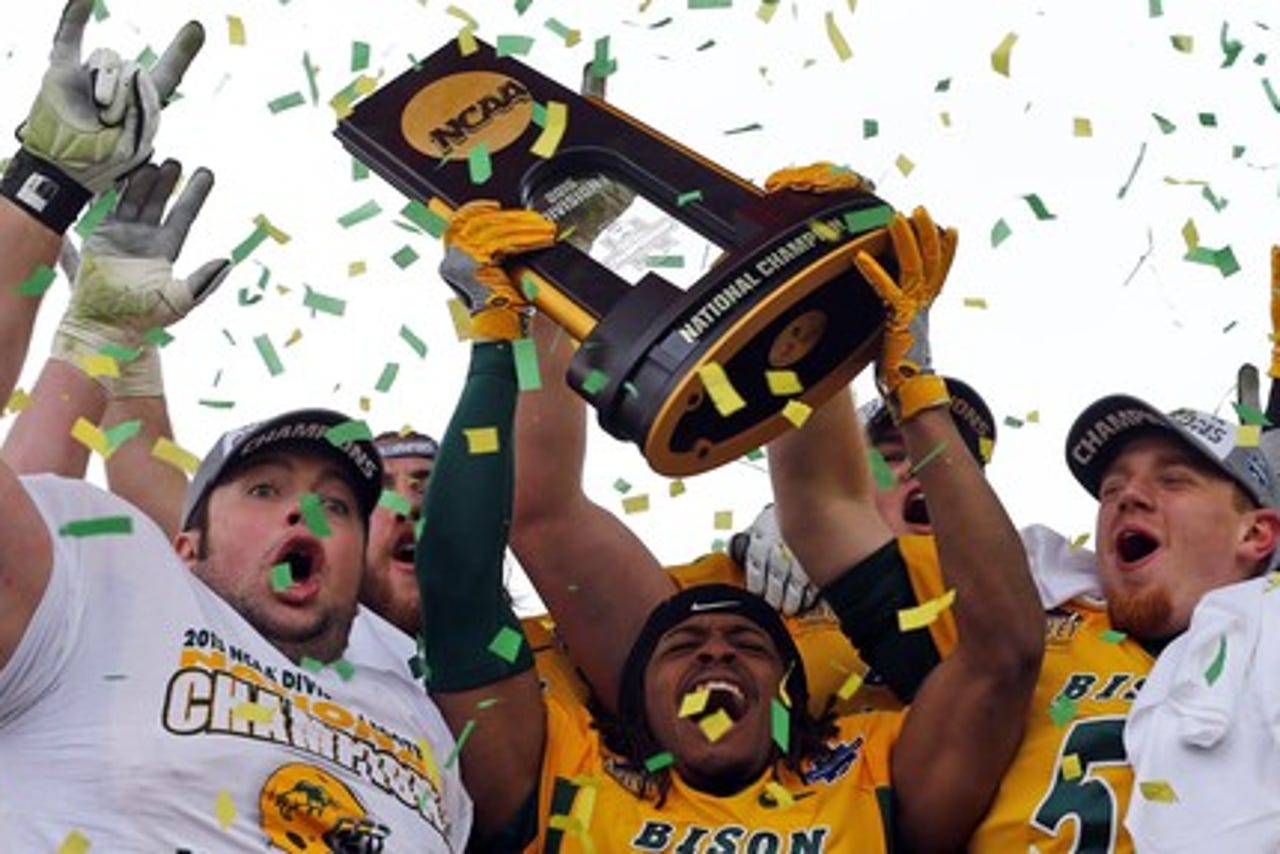 (STATS) - North Dakota State's success during its five-year reign as FCS national champion is well documented. In fact, the Bison's 75 wins are more than any team in college football.
The Bison's upset of Iowa last month was the program's 15th appearance on ESPN or ESPN2 since 2011. Plus, the two appearances by ESPN's "College GameDay" in Fargo and 40-plus games on ESPN3 keep the Bison on everybody's mind.
That includes high school recruits who want to keep NDSU at the top of the FCS.
Bison Nation is great for the exposure of the FCS level, but is it great for all the other FCS schools trying to compete with the Bison? Is it just making the gap between them and the rest of the nation larger?
Most likely, but some embrace that challenge.
"They have everything they need in terms of facilities and budget and coaching staff, the community support - the things we all want," South Dakota State coach John Stiegelmeier said.
"In this case at South Dakota State, with a new stadium, it's slowly growing towards that direction. I tell our coaches, I tell our players, we've got to beat them, you have to beat them on the field. They have an unbelievable home-field advantage at the Fargodome. If you did a study, I can't imagine the impact that environment has on scores and games and so on.
"So maybe if they stumble a couple times and they don't get every playoff game in the Fargodome prior to Frisco (site of the FCS championship game), that slows 'em down a little bit. But I have tremendous respect for North Dakota State, for coach (Chris) Klieman - always have and always will. Hey, they're doing something we all are trying to do."
The teams that generally have the best chance of stopping the dynasty are right within the Bison's Missouri Valley Football Conference. Since 2011, four of their five losses have come from four different teams within their conference.
Northern Iowa coach Mark Farley, whose team has perhaps battled NDSU the hardest in recent years, believes the financial commitments that schools are making to their football programs will raise them as well, ultimately cutting into the gap.
Tough games await NDSU. After Saturday's visit to Missouri State, it plays four straight MVFC teams ranked in the Top 25.
Of course, beating the Bison in the regular season means only so much. Somebody is going to have to beat them in the playoffs to start bringing them back to the pack.
---=
FCS GAME OF THE WEEK=
The Matchup: No. 6 Richmond (4-1, 1-1 CAA) at No. 16 Albany (4-0, 1-0)
Kickoff: 3:30 p.m. ET at Casey Stadium (8,500) in Albany, New York
Series: Richmond leads, 3-0 (most recent meeting: Richmond won 38-31 at home on Oct. 31)
The Skinny: Richmond safety David Jones had five takeaways (four interceptions, one fumble recovery) in last year's Spiders win.
QB Kyle Lauletta ranks second in the FCS in passing yards (1,504). His favorite WR, Brian Brown, leads CAA Football in receptions (31), receiving yards (524) and TD receptions (five). The Spiders' veteran defense ranks fourth nationally in total defense (276.2 ypg).
Albany is coming off its bye. The Great Danes are the best in the FCS at forcing turnovers - 16 for a plus-13 margin. Sophomore RB Elijah Ibitokun-Hanks ranked third nationally in rushing yards per game (138.8) and is tied for second in points per game (12).
Prediction: The Great Danes are only 6-19 in CAA games since joining the conference, so this is their biggest game to date. Albany, 28-24
---=
STATS FCS TOP 25 SCHEDULE=
All Times ET
X-Predicted Winner
Thursday, Oct. 6
X-No. 9 The Citadel (4-0) at North Greenville (3-2), 7 p.m. - The Bulldogs sacrificed a home game when this game was moved up from Saturday because of Hurricane Matthew's potential arrival.
Norfolk State (1-4, 0-2 MEAC) at X-No. 18 North Carolina A&T (3-1, 1-0), 7:30 p.m. - Running back Tarik Cohen isn't the only player rewriting the Aggies' record book. Wide receiver Denzel Keyes needs only more TD reception (he has 19) to take sole possession of the team's all-time lead.
Saturday, Oct. 8
Rhode Island (1-4, 0-2 CAA) at X-No. 14 Villanova (4-1, 2-0), noon - Coach Andy Talley says sophomore Zach Bednarczyk may have the best arm of any quarterback in his 32 seasons at 'Nova.
Cornell (3-0, 1-0 Ivy) at X-No. 22 Harvard (3-0, 1-0), 1 p.m. - With 111 all-time wins in Ivy League games, Crimson coach Tim Murphy appears destined to surpass Al Bagnoli (formerly Penn, now Columbia), who has 113, this season.
Tennessee Tech (2-3, 2-1 OVC) at X-No. 3 Jacksonville State (3-1, 0-0), 2 p.m. - Junior defensive end Darius Jackson, who joined the STATS FCS Defensive Player of the Year Watch List this week, needs a half sack to equal the school's all-time mark (16, Chris Landrum and Warren Blair).
X-No. 15 Youngstown State (3-1, 1-0 Missouri Valley) at No. 23 Illinois State (2-3, 0-2), 3 p.m. - The visiting Penguins, moving into the difficult part of their schedule, are one of only two teams in the FCS not to allow a rushing touchdown.
X-No. 11 Northern Iowa (2-2, 1-0 Missouri Valley) at South Dakota (1-3, 0-1), 3 p.m. - The other FCS team not to allow a rushing touchdown also resides in the Missouri Valley - UNI.
X-No. 1 North Dakota State (4-0, 1-0 Missouri Valley) at Missouri State (3-1, 1-0), 3 p.m. - NDSU's first-year starting cornerbacks, Jalen Allison (23 tackles) and Jaylaan Wimbush (five pass breakups), are holding their own while answering one of the team's question marks going into the season.
William & Mary (2-3, 0-2 CAA) at X-No. 7 James Madison (4-1, 2-0), 3:30 p.m. - With other teams' focus on stopping the JMU rushing attack, quarterback Bryan Schor has been sneaky good this season, ranking in the top 20 in the nation in passing efficiency.
Mercer (2-2, 1-1 Southern) at X-No. 5 Chattanooga (5-0, 3-0), 4 p.m. - The Mocs' only loss in their last 17 SoCon games was against Mercer last year. Said quarterback Alejandro Bennifield: "We had a lot of mistakes on the field that ultimately led us to a loss. This year in practice, there's a sense of harder focus as everyone wants to be at their best because we left so much out on the field last year."
Indiana State (3-2, 1-1 Missouri Valley) at X-No. 13 Western Illinois (3-1, 0-1), 4 p.m. - WIU wide receiver Joey Borsellino surpassed 2,000 career receiving yards two weeks ago and Lance Lanoir went over 3,000 yards last weekend.
Northern Colorado (3-1, 1-0 Big Sky) at X-No. 4 Eastern Washington (4-1, 2-0), 4:05 p.m. - EWU All-American Cooper Kupp needs 44 receptions to set the FCS record for career receptions. What do you think, maybe he'll get it in the third quarter?
Mississippi Valley State (0-5) at X-No. 10 Montana (3-1), 4:30 p.m. - Huh? What?
Tennessee State (4-0, 1-0 OVC) at X-No. 19 Eastern Illinois (3-2, 1-1), 7 p.m. - EIU has 15 FBS transfers, including its top three quarterbacks. A win is imperative for the Panthers to be in the Ohio Valley Conference title race.
X-No. 2 Sam Houston State (4-0, 3-0 Southland) at Incarnate Word (1-4, 1-2), 7 p.m. - Without having an impressive non-conference opponent on their schedule, the Bearkats will look to continue to put up big numbers. Their 54.6-point average leads the FCS by nearly seven points per game.
X-No. 20 McNeese (3-2, 2-1 Southland) at Southeastern Louisiana (1-3, 1-1), 7 p.m. - Nineteen different McNeese players have caught a pass this season, including QB James Tabary on a batted ball.
X-No. 12 South Dakota State (2-2, 1-0 Missouri Valley) at Southern Illinois (2-2, 0-1), 7 p.m. - Eastern Washington-esque: SDSU has 17 touchdown passes in four games (sophomore starter Taryn Christion with 15 and Zach Lujan with two).
X-No. 24 North Dakota (3-2, 2-0 Big Sky) at Sacramento State (1-4, 1-1), 9 p.m. - With 10 interceptions, UND already has four more than last season. Deion Harris has a team-high three picks as well as two of the Fighting Hawks' three pick-sixes.
Idle: No. 8 Charleston Southern (3-2), No. 17 Coastal Carolina (3-2), No. 21 Cal Poly (3-2, 1-1 Big Sky) and No. 25 Central Arkansas (4-1, 3-0 Southland)
---