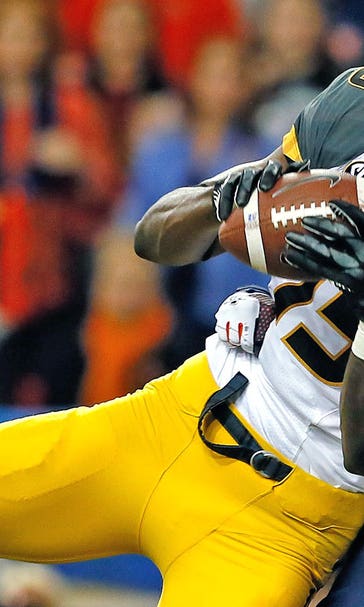 Ex-Missouri WR Dorial Green-Beckham joins Oklahoma Sooners
BY Bruce Feldman • July 3, 2014
Former Missouri receiver Dorial Green-Beckham, once the nation's No. 1 recruit, is now a new member of the University of Oklahoma program, coach Bob Stoops announced Thursday. 
"We are pleased to welcome Dorial to the University of Oklahoma, where he is excited to continue his education and resume his playing career," Stoops said. "Dorial understands the privilege and responsibilities of representing the Oklahoma football program. He is a talented young man who is eager to get to work with the rest of our team in the classroom and on the field."
The 6-foot-6, 225-pound wideout was kicked off the Missouri team in April after an incident at an apartment complex in Columbia. The 21-year-old Green-Beckham is accused of forcing his way into an apartment to look for his girlfriend and then shoving a female down some stairs. The police report of the incident was disturbing, but the accuser decided not to press charges. Still, Mizzou brass opted to boot Green-Beckham, who had been in trouble with the law several other times. 
"I appreciate this opportunity from Coach Stoops and the University of Oklahoma," said Green-Beckham. "There are people here who will help me build a strong foundation. I've disappointed myself and others in the past. I know that I have a lot of work to do, and I'm ready to get started. OU is a great program, and I feel privileged to be part of it. The university has made the expectations clear, and I want to live up to them and be a positive part of the campus and team. I also want to thank Coach Gary Pinkel and the University of Missouri."
On the field, no one has ever questioned his talent. Green-Beckham has terrific size, outstanding range and a surprising burst for being so big. Last season, he caught 59 passes for 883 and 12 TDs, which included a six-catch, 144-yard, two-touchdown performance in the SEC Title Game against Auburn. Green-Beckham has two seasons of eligibility remaining and does have a redshirt year left.
Under NCAA rules, Green-Beckham can immediately enroll in classes and begin team activities. He would be eligible to compete in games for the Sooners beginning in 2015. However, a source told FOX Sports on Thursday that there is a chance that Green-Beckham may be eligible for an NCAA waiver to be clear for this fall, and that OU will pursue that process. The Sooners are thin at wideout and lost their leading receiver from last season, Jalen Saunders, to the NFL.
---