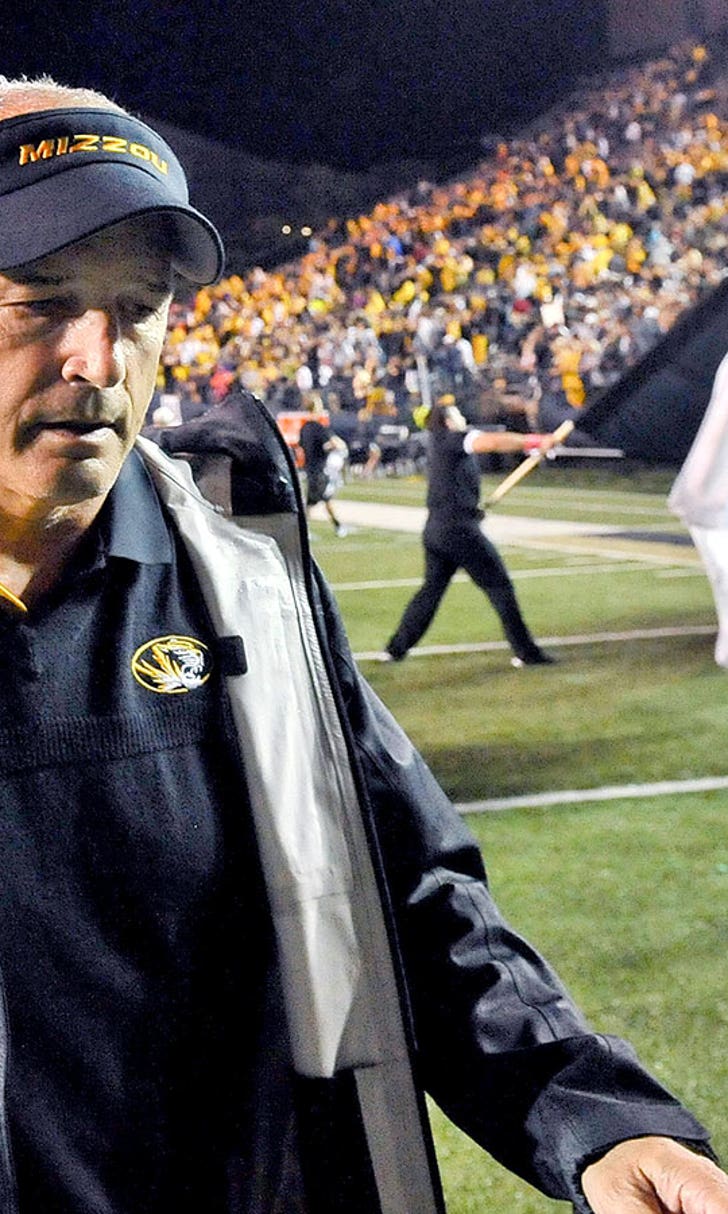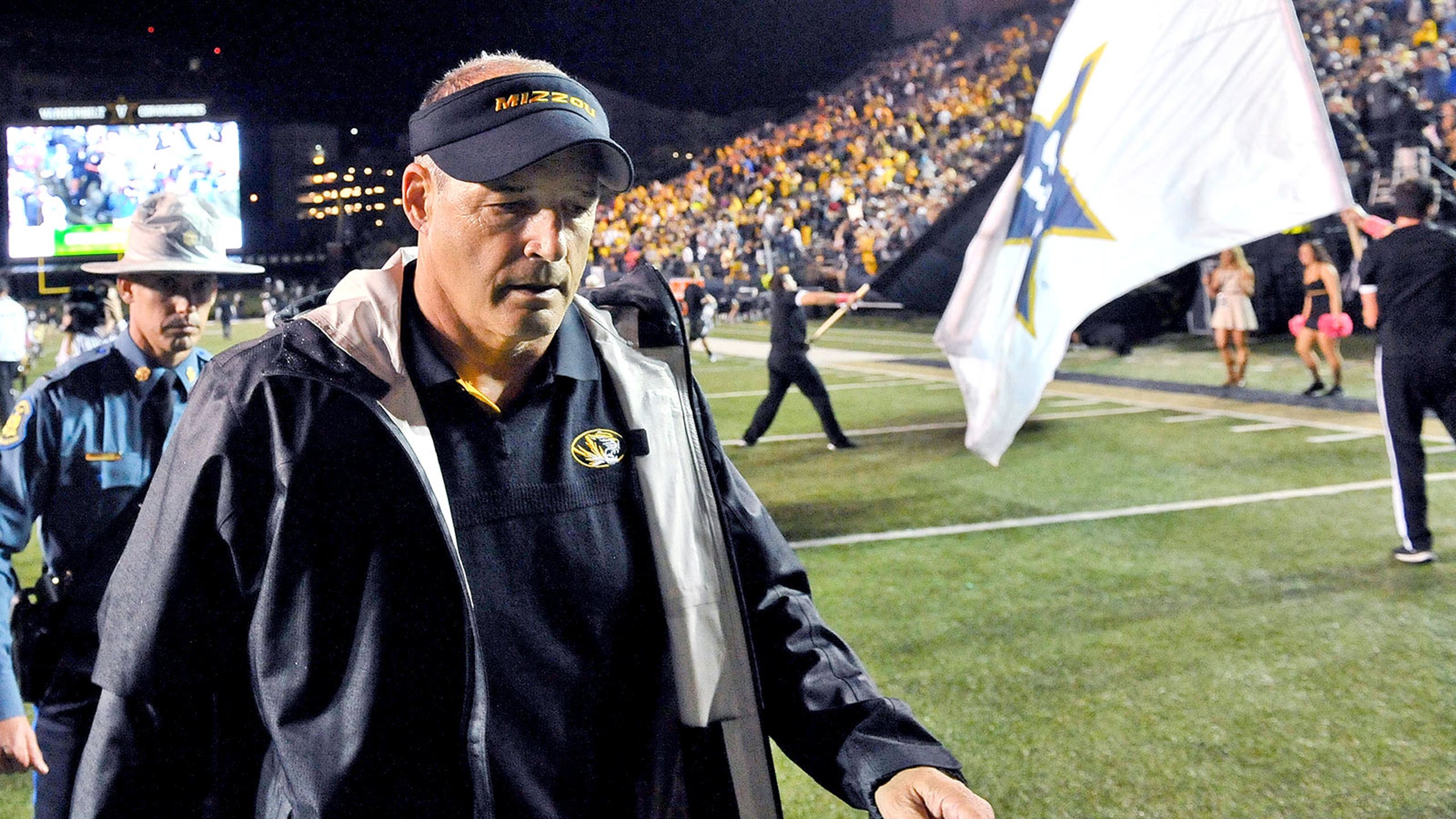 Emotional Mizzou coach Pinkel: I'll miss players most when I resign
BY foxsports • November 16, 2015
COLUMBIA, Mo. (AP) -- Stepping off the podium, Gary Pinkel dried his eyes, put on a happy face and let his wife do the talking.
Missy Pinkel said the couple will be busy. Now that he no longer be football-obsessed, she can teach him to cook. Maybe help him become a better dancer.
"We'll be fine. We're going to do a little bit of everything, right?" she asked her husband. "Golf, travel and spend time with family."
The 63-year-old Pinkel decided it best to enjoy life for however many years he has left while dealing with non-Hodgkins lymphoma diagnosed in May. In front of a couple hundred friends, family members and players Monday, Pinkel joked that he'd rather "die on a beach" than coaching football.
"I've got to do something, work more like a normal job, where I can be significant," Pinkel said. "I'll just be able to be a normal person."
He added, "I'm doing the right thing."
Then again, he said he'd probably never really stop coaching. He caught himself "yelling at the TV" on Sunday night when the Seahawks played the Cardinals, both teams featuring former Missouri players.
Pinkel fought back tears several times during the news conference that served as a formal goodbye. He choked up when it came to discussing his team and during the multiple standing ovations from a crowd that included several assistant coaches who ignored his suggestion to concentrate on this week's game plan and interim university president Mike Middleton and chancellor Hank Foley at the center court news conference at Mizzou Arena. Also there was Michael Sam, who starred at Missouri before becoming the first openly gay player to be drafted by an NFL team.
"The most important thing," Pinkel said haltingly, "is my players. I'm going to miss them, scolding them when I had to scold them, hugging and touching them every day."
Pinkel always tells players that they'll have his phone number for life, that he'll always be there for them.
The timing is coincidental to campus upheaval last week that resulted in the removal of the university system president and chancellor following student protests -- including a prominent promise of a boycott from members of the football team, a stance Pinkel supported. But the stress level could not have been good for the coach.
About six months since the diagnosis, Pinkel is still adjusting to the new reality.
"When you get it, it's so numbing," Pinkel said. "For a week you look at yourself and you say, `You have to be kidding me.'"
The news conference was Pinkel's first opportunity to discuss his decision at length, other than after the BYU triumph over the weekend. The cancer diagnosis was leaked on Friday and after the game players rallied around the coach on the field in Kansas City.
"My players and coaches had to be the first ones to know, and I was really upset about that," Pinkel said.
Pinkel underwent multiple treatments in May and June and informed athletic director Mack Rhoades, who joined the school in late April. But he felt healthy and made no plans to step down.
"I was fine," he said. "I'm high energy. I feel fine now, I really do."
During fall drills, he reassessed his future. The Monday of Missouri's bye week, he underwent another in a series of PET scans and decided this would be his final season.
"This job, it's every minute of every day, you've got to give all your energy, put everything into it," Pinkel said. "Is that the right way to spend my time? I decided at that time I was going to embrace the healthy times and battle when the tough times come."
Pinkel is the career wins leaders at two schools, with 118 at Missouri and 73 at Toledo. This has been a down year for Missouri (5-5), coming off consecutive SEC East championships, but he's had five 10-win seasons and won five division titles. When he was younger, Pinkel remembers with certainty that he'd chosen the right profession.
"They pay these guys to coach football? Can life get better than that?" Pinkel said. "I've never worked a day in my life."
Rhoades will have a separate news conference Wednesday to discuss the coaching search in more detail. Among the top candidates is Rhoades' last coaching hire, Houston's Tom Herman, along with Justin Fuente of Memphis. Rhoades said Pinkel won't be involved in the search for a successor, but might ask Pinkel's opinion if he was familiar with any of the candidates.
"I think he can be certainly a great asset to this institution," Rhoades said. "We'll make sure he stays as close as he wants."
Pinkel reiterated at his afternoon news conference setting up the Tennessee game that he'll never coach again, saying it's far too stressful. He also believes being outside the search process is proper.
"That's the way it should be," Pinkel said. "If I was the athletic director I wouldn't want someone walking behind me."
---