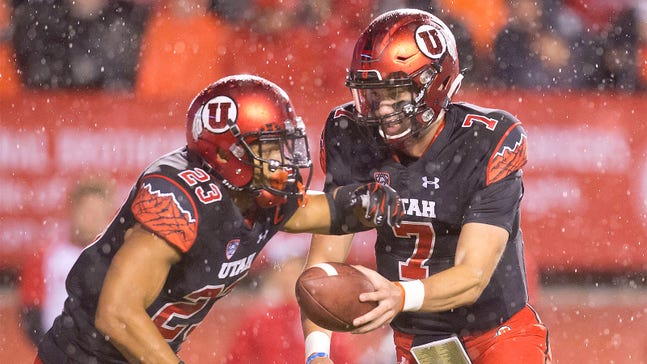 Devontae Booker quietly carrying No. 13 Utah's offense
Published
Nov. 3, 2015 6:24 p.m. ET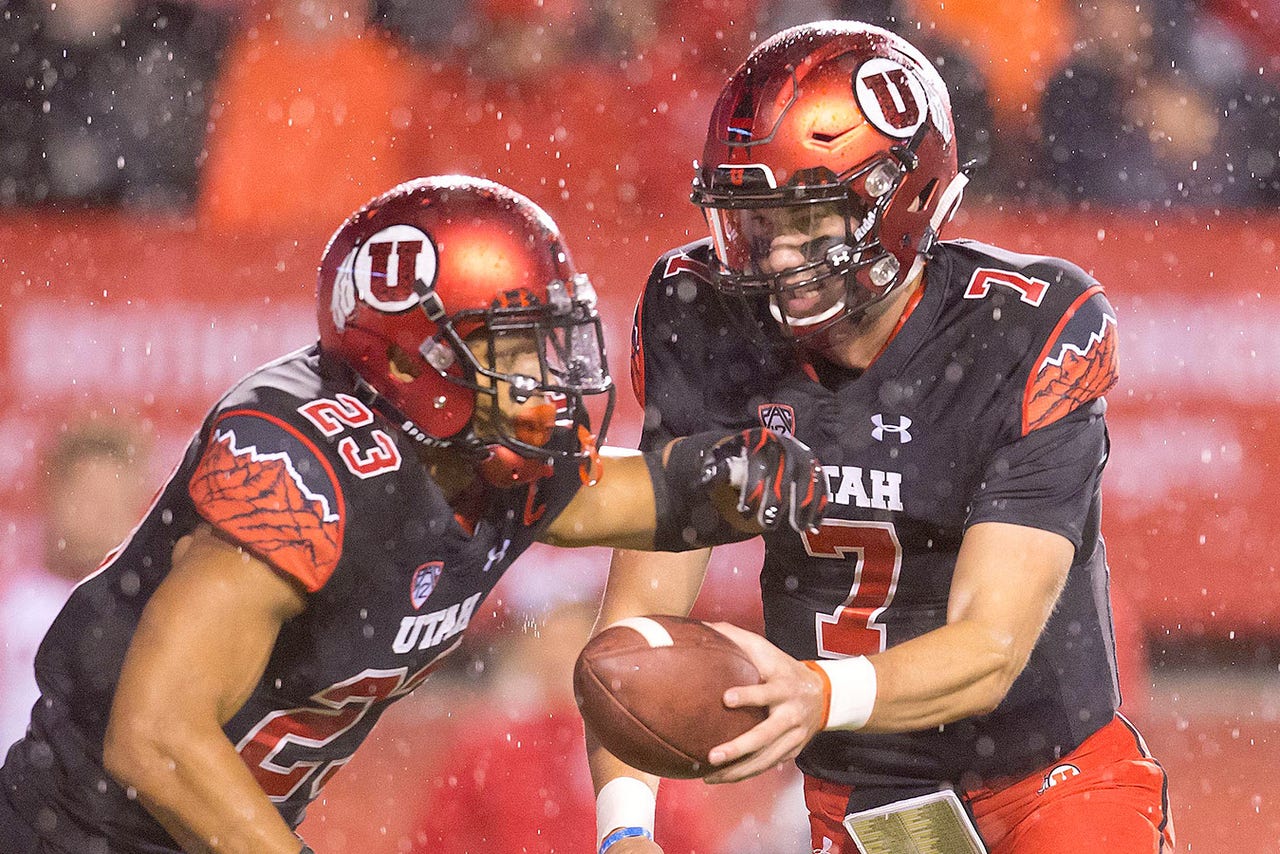 SALT LAKE CITY (AP) LSU running back Leonard Fournette is the Heisman favorite with a month to go in the regular season.
Florida State's Dalvin Cook would be right there if not for injuries.
Both Ohio State's Ezekiel Elliott and Oregon's Royce Freeman are household names.
Devontae Booker, however, may be doing more with less for No. 13 Utah without the nationwide recognition.
''I think he is (underrated),'' Arizona State coach Todd Graham said. ''You have to stop him and you have to have all hands on deck to do it.''
Booker has 966 yards rushing on the season, which ranks No. 13 in the nation. He's likely to cross the 1,000-yard threshold for the second consecutive year against Washington on Saturday. The 5-foot-11, 212-pound senior is also an active part of the passing game, so his 156.0 all-purpose yards per game rank No. 11 in the country.
Fournette (1,352 yards rushing), Elliott (1,130) Freeman (1,109) and Cook (1,037) are all ranked in the top 10, but all four have much more offensive weaponry surrounding them than Booker.
Florida State quarterback Everett Golson is a former Heisman candidate who led Notre Dame to the 2013 BCS title game.
No. 1 Ohio State has a team fresh off a national championship and three quarterbacks expected to be drafted into the NFL one day.
No. 4 LSU and Oregon are perennially two of the top recruiting programs in the country.
Fournette leads all running backs in the nation with 43.2 percent of his team's total scrimmage yards, according to STATS. Booker is No. 5 at 40.2 percent while Elliott (34.7 percent) is No. 10 and Cook (34.5 percent) is No. 11.
''A lot of times if you don't get 200 yards a game, or something like that, you don't just jump out at people other places that don't know anything about him or have never even seen him play,'' Utah running backs coach Dennis Erickson said. ''(NFL scouts) know. They don't care about numbers. They care about evaluating in a lot of different ways.''
NFL Media analyst and former scout Bucky Brooks echoed those sentiments and called Booker ''one of the most compete backs that I've seen.'' Brooks described him as a three-down back that can run inside or outside with physicality. He added that Booker has soft hands in the pass game, doesn't have elite speed, but has a nose for the end zone.
''I think he has some really quality intangibles,'' Brooks said. ''I think the big thing that you're looking for, the pro game is typically played within a five-, 10-yard box. Is he tough enough, physical enough, elusive enough to consistently get to the second level and make those plays? I would say, yes, he is.''
Booker's biggest area for growth may be in his pass protection and his knowledge of the game and offensive concepts.
Utah linebacker Gionni Paul played his first two years at Miami and faced future NFL running backs Giovani Bernard, Duke Johnson and Mike James, in addition to Royce Freeman. He said Booker tops them all.
Booker, in his normal soft-spoken tone, knows he doesn't get the same amount of national love as some of his counterparts. He uses it as motivation. The focus is finishing off Utah's so far very successful season and playing on Sundays next year.
''At the end of the day when everything's said and done and they really get to watch me play, I think their opinions will change,'' Booker said. ''Things will start changing and my name will start buzzing.
''I've always been pretty much underrated my whole career playing football. It's nothing new. Even if I did have all the limelight and everything, I'd still approach it the same way as I am now.''
---
---