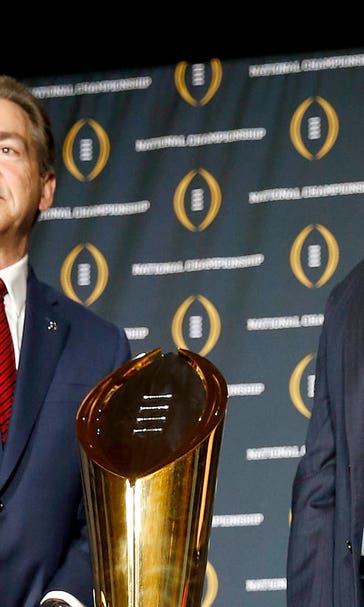 Dabo Swinney praises Nick Saban, calls 'Bama 'what we want to become'
BY Bruce Feldman • January 10, 2016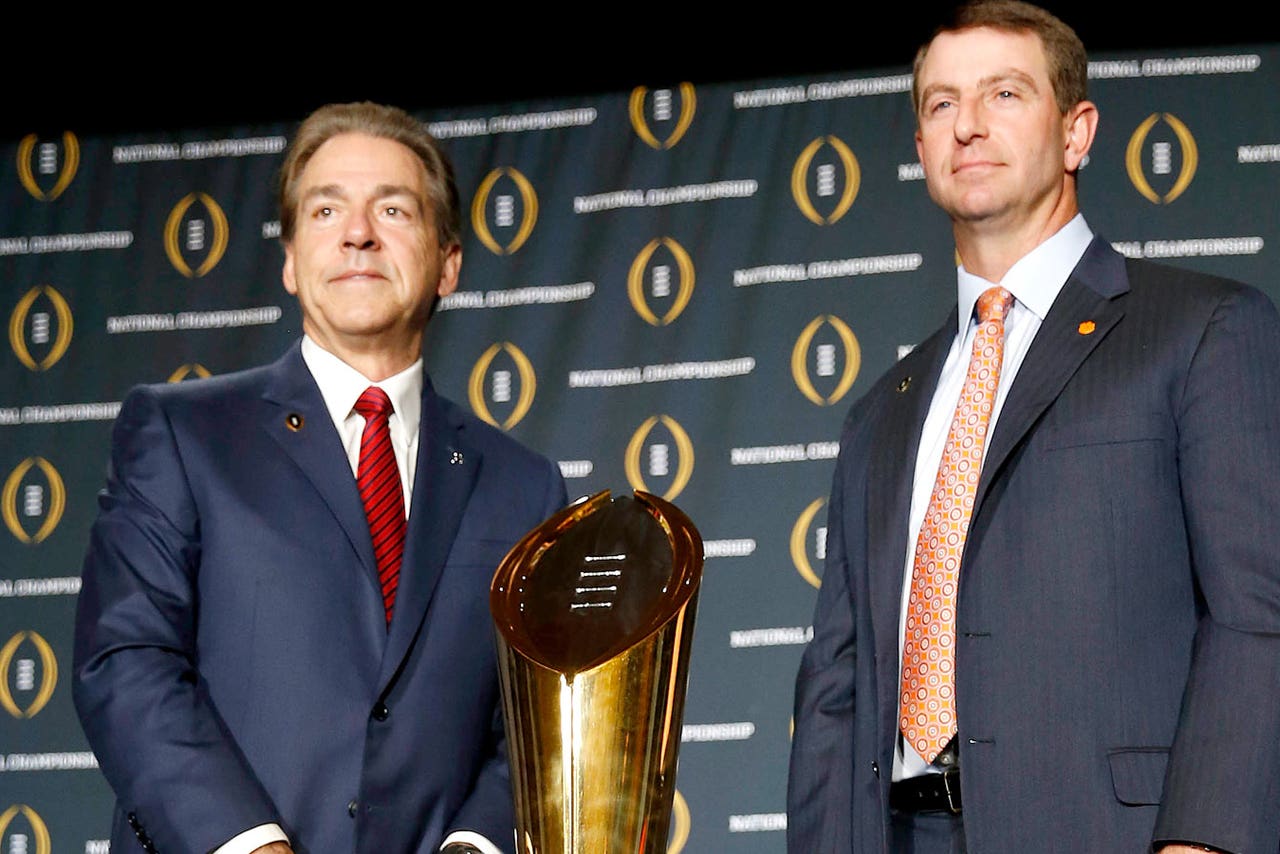 SCOTTSDALE -- Dabo Swinney, the 2015 national coach of the year, was effusive in his praise for his rival in Monday night's national title game, Alabama's Nick Saban, at the Sunday morning press conference.
"It's incredible," said Swinney, the former Crimson Tide wideout, when asked about what Saban has done at his alma mater. "He's one of the greatest coaches that's ever coached the game. Regardless of what happens Monday night, you can't argue that. He's already won four national championships. This is the first one I've sniffed as a coach, and he's going for his fifth. It's incredible."
The 64-year-old Saban is 99-18 at Alabama and is bidding to win his fourth national title in the past seven years. Saban has seen many assistants come and go. He has lost dozens of players to the NFL, many leaving early. And yet he has won at least 10 games eight consecutive seasons. Saban's worst season in that stretch is when the Tide went 10-3 and finished 10th in the AP poll. In the past five years, Saban's teams have gone 35-5 in the SEC, the roughest conference in college football, and the Tide show no signs of slowing down.
"People sometimes will say, 'Well, anybody can go win at Alabama.' Well, no, that's not the case," Swinney said. "Not everybody can coach a great team. Not everybody can coach a great player, and I think that he has a gift to be able to do that. You have to be able to recruit consistently at this level. And you've got to be able to put a staff together and build that, and so you have to have a vision for what you want to do, articulate that vision, have your core values, and I think he's done a great job in instilling that at the University of Alabama, and the consistency is unprecedented.
"I mean, it's just incredible, especially in today's time when you're playing 13, 14, 15 games. It's just very difficult to do. I have great respect for that. In fact, I've got 11 guys on my staff in different capacities that have won national championships, and I've kind of talked to them and got them all up in front of the team. You take a guy like (Tigers D-line coach) Dan Brooks, for example. Dan Brooks has been coaching 42 years, and he's coached at Florida and Tennessee and North Carolina and Clemson. This guy has been at some great programs, and he's got one national championship. It's really hard to do. And if you look around, I don't know, maybe there's probably only 34 or 35, maybe 36 programs that have ever won a national championship in the history of college football.
"I think it's amazing what they've done, but that's why they're the University of Alabama and I have all the respect in the world for what they're doing, and that's what we want to become as a program. We want to be a program that is competing at this level on a consistent basis, and I think to do that, you've got to be a top-10, top-15 type program year in and year out.
"That's the thing that I'm most proud of with our program, because only us and Alabama have had five 10-plus win seasons in a row. So that's the type of consistency that you have to have and the type of culture that you have to establish in your program to have the opportunity. This is a culmination of seven years of a lot of consistency, and you know, hopefully this won't be our (only) time. Hopefully we can be back. I don't know if we can make it four out of the next seven years, but it won't be for a lack of effort."
Bruce Feldman is a senior college football reporter and columnist for FOXSports.com and FS1. He is also a New York Times best-selling author. His new book, "The QB: The Making of Modern Quarterbacks," came out in October 2014. Follow him on Twitter @BruceFeldmanCFB and Facebook.
---