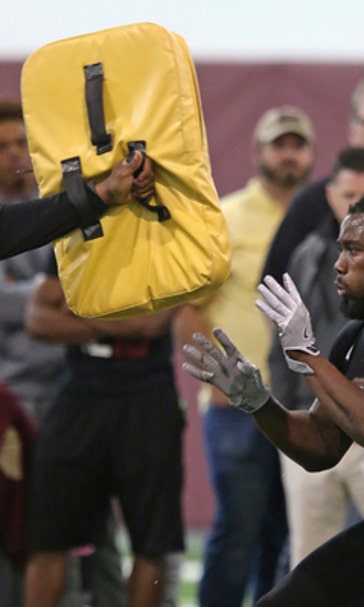 Cook, Walker main attractions at Florida State pro day
BY AP • March 28, 2017
TALLAHASSEE, Fla. (AP) Dalvin Cook and DeMarcus Walker felt like they had something to prove at Florida's pro day after their performances at last month's NFL scouting combine.
Both were much happier after Tuesday's workouts, which were attended by scouts and assistant coaches representing all 32 NFL teams.
Walker, who was second in the country with 16.0 sacks last season, was demonstrative, screaming at the end of his drills, ''You guys wanted to see a show, here it is!''
''When I finished off the workout I said to a couple of the coaches `sorry for the wait.' I had to come out and show them,'' said Walker, the first FSU player in 20 seasons with two straight double-digit sack seasons.
Walker only interviewed for teams and did the bench press at the combine, which meant he had a lot more to prove. The 6-foot-4, 280-pound defensive lineman quelled most concerns with an unofficial time of 4.76 seconds in the 40-yard dash and had a broad jump of 9-foot-7.
Cook's draft stock took a slight hit at the combine, after he ran a 4.49 in the 40. He slightly improved on that with a 4.43.
The 5-foot-11, 213-pound All-America running back, who is the leading rusher in school history with 4,464 yards, said his plan all along was to run during his pro day.
''I wanted to be efficient and accomplish everything out there that I wanted to do,'' Cook said.
Most of Cook's position drill work had to do with catching the ball out of the backfield. He did a variety of short, intermediate and long routes without any drops. Cook had 33 receptions for 488 yards last season, including a career-best 59-yard touchdown reception in an Oct. 8 win at Miami.
Florida State coach Jimbo Fisher believes it is Cook's ability as a receiver that separates him from the other backs.
''All of those fast guys don't catch it,'' Fisher said. ''He is in tremendous shape. The thing he does in the first quarter, he does at the end of the game too.''
Cook said he has received plenty of questions trying to compare himself to LSU's Leonard Fournette as both are vying to be the first back selected when the draft starts on April 28 in Philadelphia. Cook said they are different due to different body types and that it all depends on which type of back a team wants.
Walker said he came in with a chip on his shoulder because evaluators were still wondering how quick he can get off the line. Walker felt like he showed that he has a quick burst during the position drills.
''I just had to show them that I can move. I was ready to work,'' he said. ''My numbers, no one's better. They just wanted me to come out and show them.''
Walker can play either defensive end or tackle in pass-rushing situations. Fisher also said that Walker's other attribute is his ability to process things off of film and improve.
Of the two, Cook is the most likely to be the ninth Florida State player selected in the first round since 2011. The Seminoles have had a player go in the first round four straight years.
Offensive tackle Roderick Johnson, cornerback Marquez White and wide receivers Jesus ''Bobo'' Wilson, Kermit Whitfield and Travis Rudolph also worked out Tuesday and received plenty of interest from evaluators.
Florida State has had 38 players drafted since 2011, which is tied for second most with LSU. Alabama leads the way with 44. The Seminoles had only two selected last season, which was the lowest total in Fisher's seven-year tenure.
The Seminoles' pro day usually attracts a couple head coaches and general managers, but that wasn't the case this year due to the league meetings taking place in Arizona.
---
More AP college football: www.collegefootball.ap.org and https://twitter.com/AP-Top25
---
Follow Joe Reedy on Twitter at www.twitter.com/joereedy
---
---