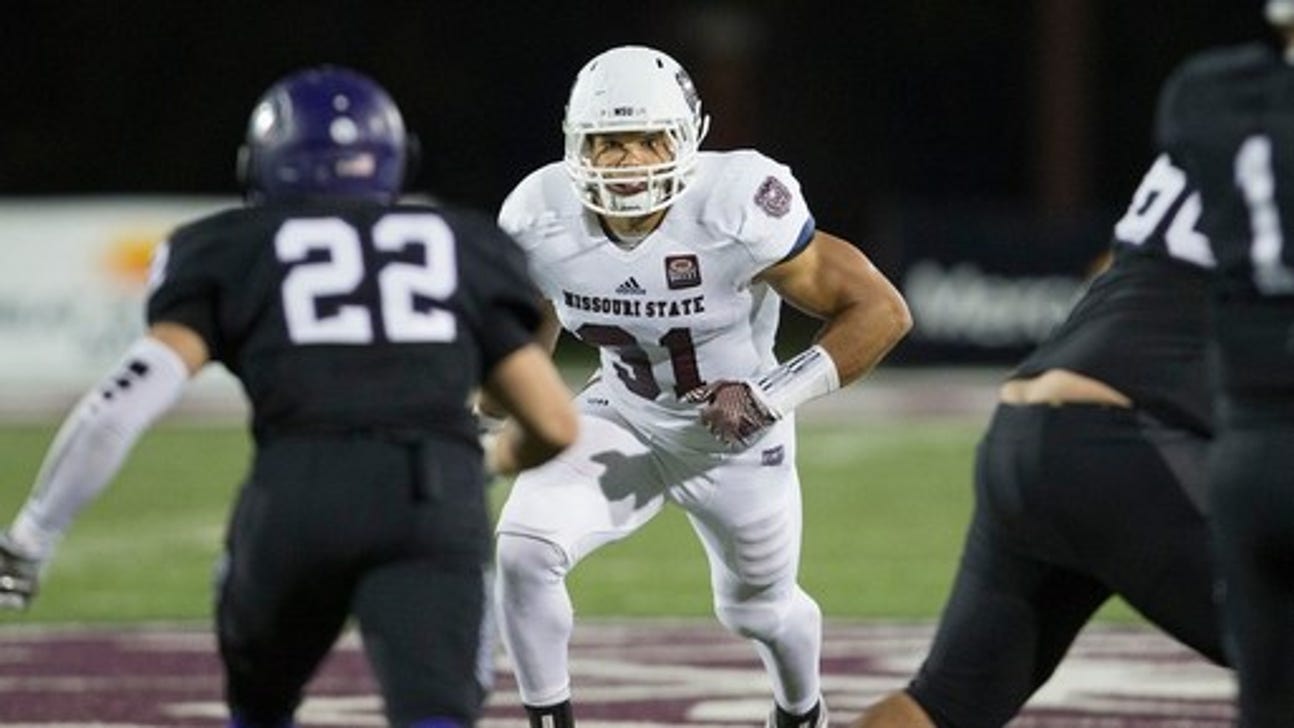 Cole seeks big impression at NFLPA all-star game
Updated
Mar. 4, 2020 12:27 p.m. ET

(STATS) - Dylan Cole is at ease being himself, not stressing over what others think of him. Between plays, the former Missouri State linebacker sometimes sings on the field - to the point that annoyed teammates will tell him to shut up.
"I've been called a gentle giant. I've been called a psycho. I've been called weird, goofy, loud, obnoxious," he said. "You name it, I've probably been called it. My personality's kind of all over the board."
This week, Cole cares a little more about his perception. He is trying to give NFL scouts an accurate sense of his ability while he participates at the NFLPA Collegiate Bowl in Carson City, California. Saturday's sixth annual all-star game at the StubHub Center (4 p.m. ET, FS1) will conclude a week's worth of practices, meetings between players and scouts, and sessions from the NFLPA on playing at the next level.
Cole, who will play for coach Jim Zorn as part of Team American, is one of 23 players from FCS schools.
While the so-called "small school" players like Cole often feel they have to do a little more than FBS players to prove themselves, Cole compiled a strong resume at Missouri State. He started every game of his four-year career and led the FCS in tackles (142) and tackles per game (12.9) as a senior as well as the Missouri Valley Football Conference in each of his final two seasons.
A 2016 first-team All-American, he finished third in the voting for the STATS FCS Buck Buchanan Award, which honors the national defensive player of the year.
"I grew into a leader, which is very important in football - it's a team sport. Sometimes you've got to motivate some people around you," Cole said. "As a linebacker, I feel like I'm pretty versatile, I feel like I'm one of the more athletic people that will ever be one the field. That's just kind of one of the mentalities that you have to have. When I went out and played, I felt like I was the most athletic person out there, the most prepared. So I felt like I was equipped to be the best player on the field."
Cole might have been that the day Missouri State lost at Oklahoma State in 2014. He had a school-record six tackles for loss, including a sack, as part of a dominating performance.
An inside linebacker at Missouri State, he isn't sure if he will be asked to shift to the outside in the NFL, where he will have to become better prepared for man-to-man coverage. At just over 6 feet tall and weighing nearly 240 pounds, he's a little undersized for the next level.
But there's no disputing his athletic, instinctive ways for getting to the ball. As a senior, he had 85 solo tackles, forced three fumbles and intercepted two passes.
"I'm pretty excited, pretty anxious to get out there, show what I've got against some stiffer competition," Cole said. "Maybe check off any question marks that the scouts do have for me, because I know there are a few.
"I felt in high school I was overlooked. I feel like in college I'm overlooked a little bit going to the pros. I'm kind of used to it. I continue to have that chip on my shoulder, that I continue to be the best I can, keep proving people wrong and proving myself right."
North Carolina A&T running back Tarik Cohen, Saint Francis free safety Lorenzo Jerome, Chattanooga offensive guard Corey Levin and Dartmouth inside linebacker Folarin Orimolade are other past first-team FCS All-Americans participating in the NFLPA game.
Also from FCS schools are San Diego cornerback Jamal Agnew, Southern Illinois inside linebacker Chase Allen, South Dakota place-kicker/punter Miles Bergner, Eastern Washington wide receiver Kendrick Bourne and defensive end Samson Ebukam, Cornell punter Chris Fraser, Montana quarterback Brady Gustafson, Jackson State defensive tackle Cornelius Henderson, Coastal Carolina running back De'Angelo Henderson, Alabama State defensive tackle Roderick Henderson, Weber State linebacker Tre'von Johnson, South Carolina State offensive tackle Javarius Leamon, Illinois State offensive guard Cameron Lee, Western Illinois wide receiver Lance Lenoir, Southern Utah cornerback Josh Thornton, Southern running back Lenard Tillery, William & Mary offensive tackle Jerry Ugokwe and Grambling State wide receiver Chad Williams.
Former NFL coach Mike Martz is guiding Team National for the third straight year. The National has won each of the first five NFLPA games.
---