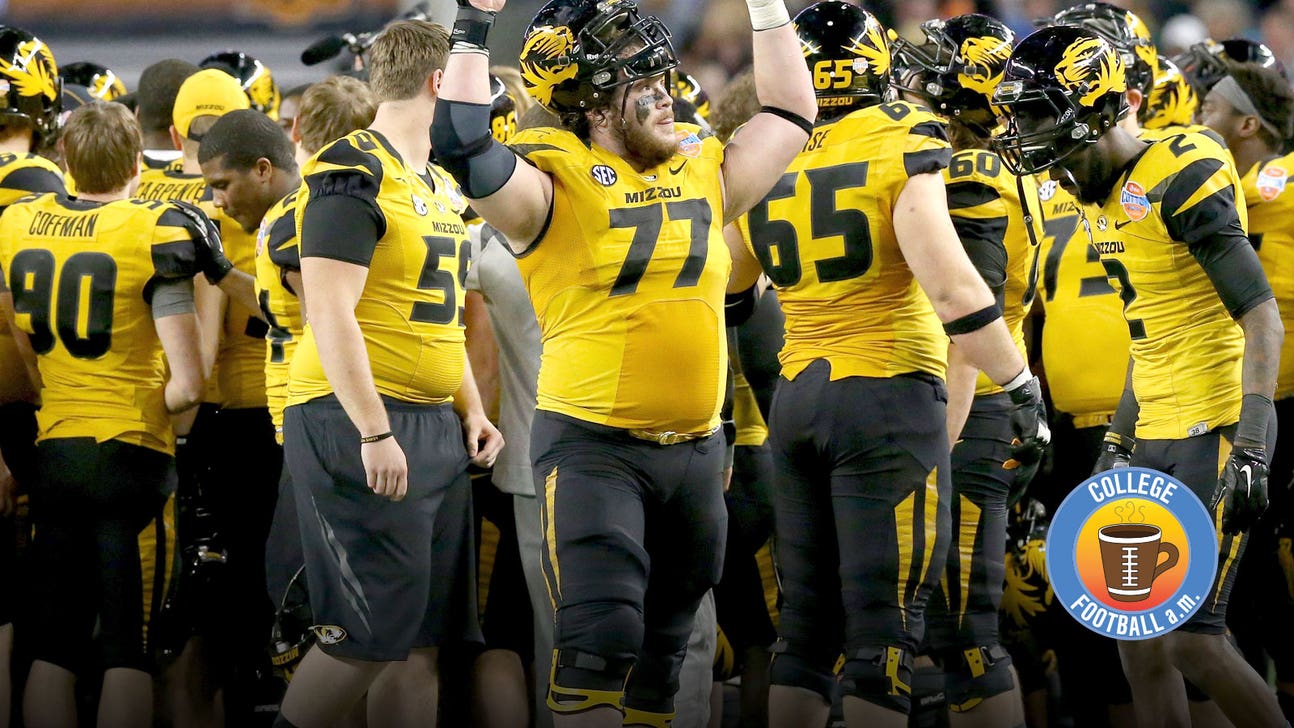 CFB AM: Watch horde of burly Mizzou linemen 'twerk' at practice
Published
Aug. 12, 2014 9:00 a.m. ET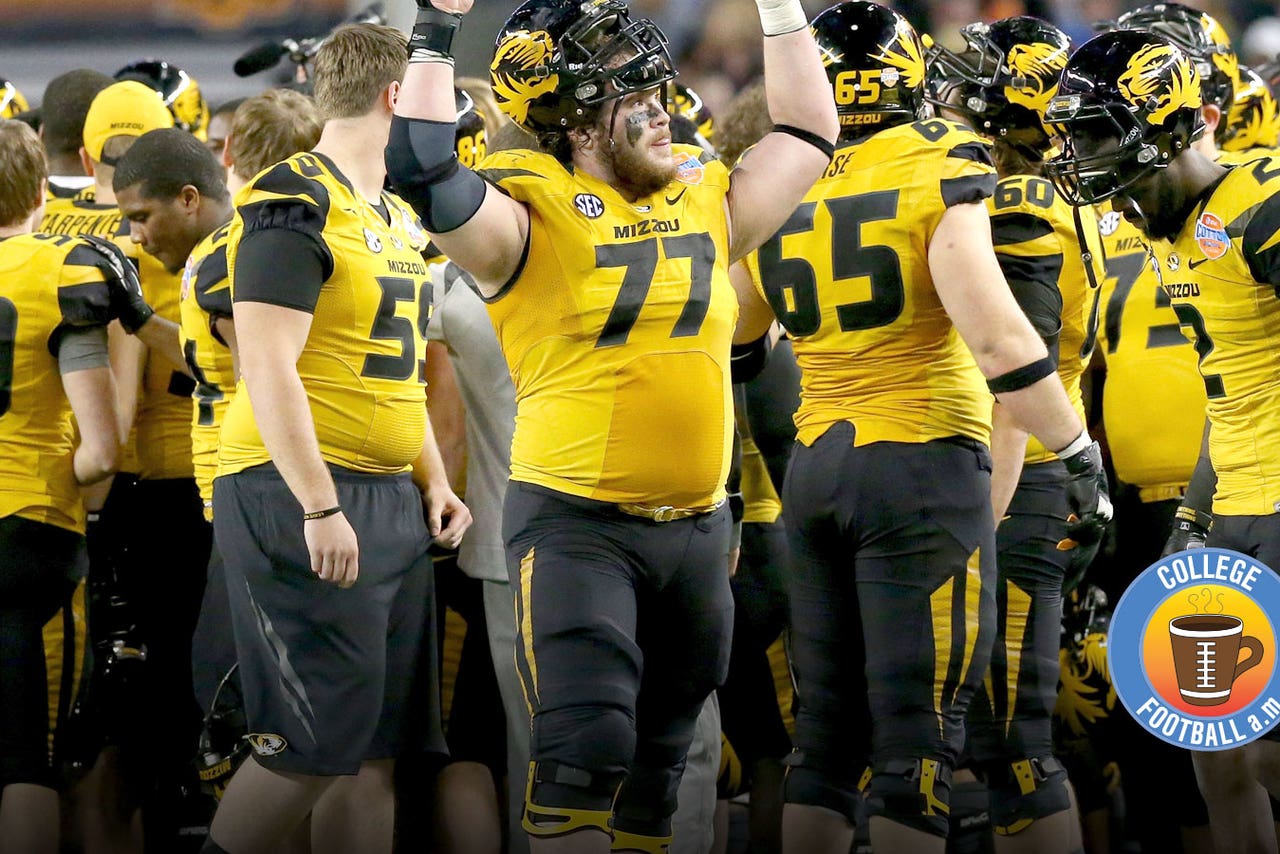 When CFB AM was created, few rules were crafted to govern this space.
Just be an informative, entertaining and clean place to stop by in the morning for a few minutes, get current on some college football news and entertainment and move along with your day.
One rule I did give myself for this column and life in general?
Avoid mentioning the word "twerk" at all costs. There's really never a need for it.
Today, I need to apologize, because Missouri's offensive linemen have provided us with a video that's just too good to pass.
Twerking, if you're unfamiliar with the term, is a provocative form of dancing involving "thrusting hip movements and a low squatting stance."
(Man, I feel my soul warping and dignity slipping away by the word here.)
At a recent Mizzou practice, a horde of burly lineman decided to twerk as their fellow Tigers roared in laughter. The song playing in the background is "Wiggle," by Snoop Dogg and Jason Derulo. No, it's not clear why they would ever do this or who would put them up to it.
Here's the regrettable but, yes, hilarious video:
(h/t Bleacher Report)
THREE THINGS YOU NEED TO KNOW
1. Some crucial news out of Norman: Oklahoma is attempting to suspend linebacker Frank Shannon, its leading tackler last season, for one year after an internal Title IX investigation into sexual assault allegations revealed Shannon violated the school's sexual misconduct penalty. University president David Boren released a statement Monday afternoon, saying, "The University is unable to enforce its process at this time. The University has and is taking every legal step possible to move this process forward."
Oklahoma can't immediately suspend Shannon because he has the right to appeal the ruling to a district court. Barring an unforeseen victory for Shannon, it appears the Sooners will have to do without him in 2014. Sophomore Jordan Evans is one likely candidate to fill the spot.
2. And some unfortunate news in Eugene: Oregon starting left tackle Tyler Johnstone re-tore his right ACL and will miss the season. Johnstone originally tore it in last season's Alamo Bowl against Texas and was working back from that injury in hopes of playing this fall. Junior Andre Yruretagoyena played with this first team this spring while Johnstone was out and will likely start at LT when the Ducks open their season against South Dakota on Aug. 30.
3. Someone hung a Johnny Manziel Texas A&M jersey on Bear Bryant's statue outside Bryant-Denny Stadium in Tuscaloosa. If that's not a first-degree felony, then just end all laws forever.
THREE THINGS YOU SHOULD KNOW
1. West Virginia coach Dana Holgorsen is gonna get dinged a little bit for this: Speaking to the media on Monday, he said, "I know you lie in recruiting a bunch, and that's just part of it." It's really not anything new or controversial, though. Who doesn't already assume coaches lie in recruiting?
2. Stewart Mandel dropped in on Ohio State in Columbus and wrote about the revamped defense under new co-defensive coordinator Chris Ash and how it will likely be the development on that side of the ball that allows the Buckeyes to be playoff contenders (or not). Everyone wants to see Ohio State's front seven, because it could be among the best in the country with DEs Noah Spence and Joey Bosa and DTs Adolphus Washington and Michael Bennet along the defensive line, followed by a deep LB unit behind them. Count me in that group as well, but I'm more eager to see the Buckeyes secondary fly around in a way we probably haven't seen from them.
"[Meyer] said he wanted a defense that challenges the offense, that's aggressive, that will attack, not worry about the 'what ifs,' create confusion," Ash told Mandel. "Those are things I believe in to be successful. When he started talking my language, I started listening."
3. Colorado State locked Jim McElwain into a new five-year contract that runs through the 2018 season, which includes a base salary of $1.5 million and an initial buyout of $7.5 million. Without knowing the specifics, it seems like a great deal for CSU. McElwain, who previously worked as Nick Saban's offensive coordinator at Alabama, is a rising name among young head coaches and would have gotten interest this offseason from bigger programs if the Rams matched or improved on their 8-6 season (including a New Mexico Bowl win) of 2013.
But $7.5 million is hefty buyout figure. For reference, James Franklin's Vanderbilt buyout was $1.5 million when he left for Penn State and Charlie Strong's Louisville buyout was $4.375 million when he left for Texas. So McElwain is going to be in Fort Collins for a while, which isn't a bad thing at all if it fits him and his family.
THREE THINGS YOU MAY WANT TO KNOW
2. I'm not one to go crazy for teams unveiling new uniforms – we've reached the overkill stage of that particular recruiting tactic – but I kinda like these new San Jose State helmets. Simple, yet they stand out.
3. SI's Martin Rickman outlines three "apocalyptic scenarios" for the first college football playoff. If you're a fan of insanity, you're a fan of Marshall this season.
LASTLY
* Good read from Michael Casagrande on T.J. Yeldon, a quiet Alabama star who's not one for attention.
Have a great Tuesday, all.
Teddy Mitrosilis is an editor and writer for FOXSports.com. Follow him on Twitter @TMitrosilis and email him at tmitrosilis@gmail.com.
---