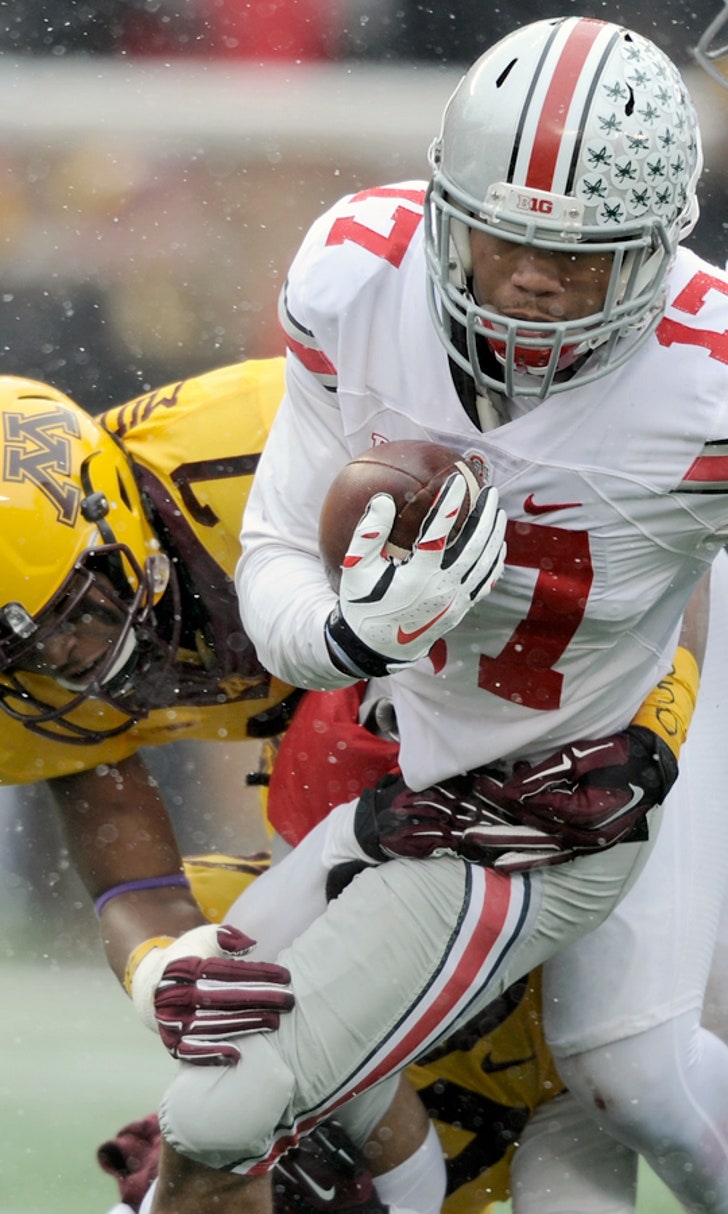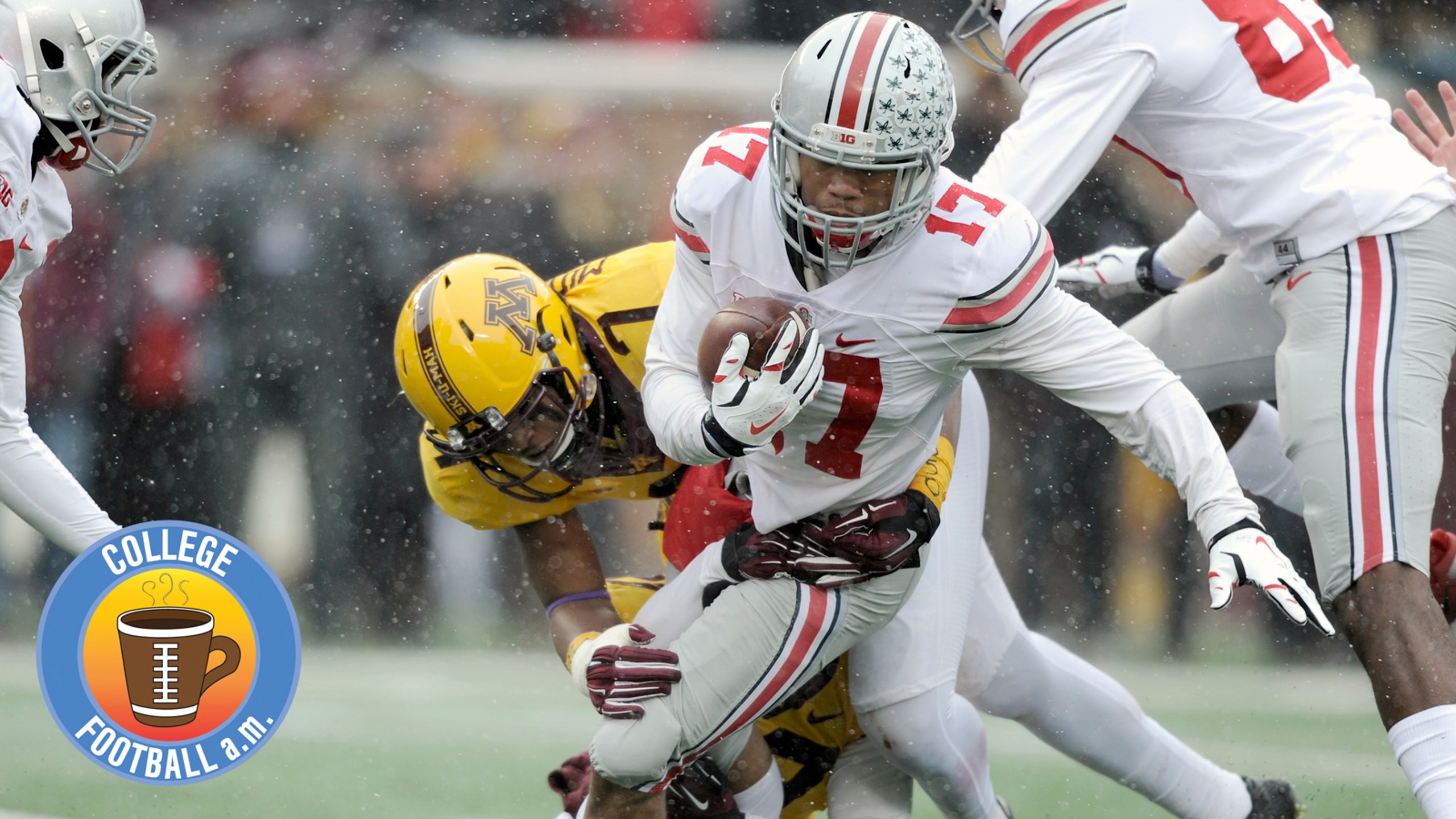 CFB AM: OSU freshman spends off day catching punts in snow
BY Teddy Mitrosilis • November 18, 2014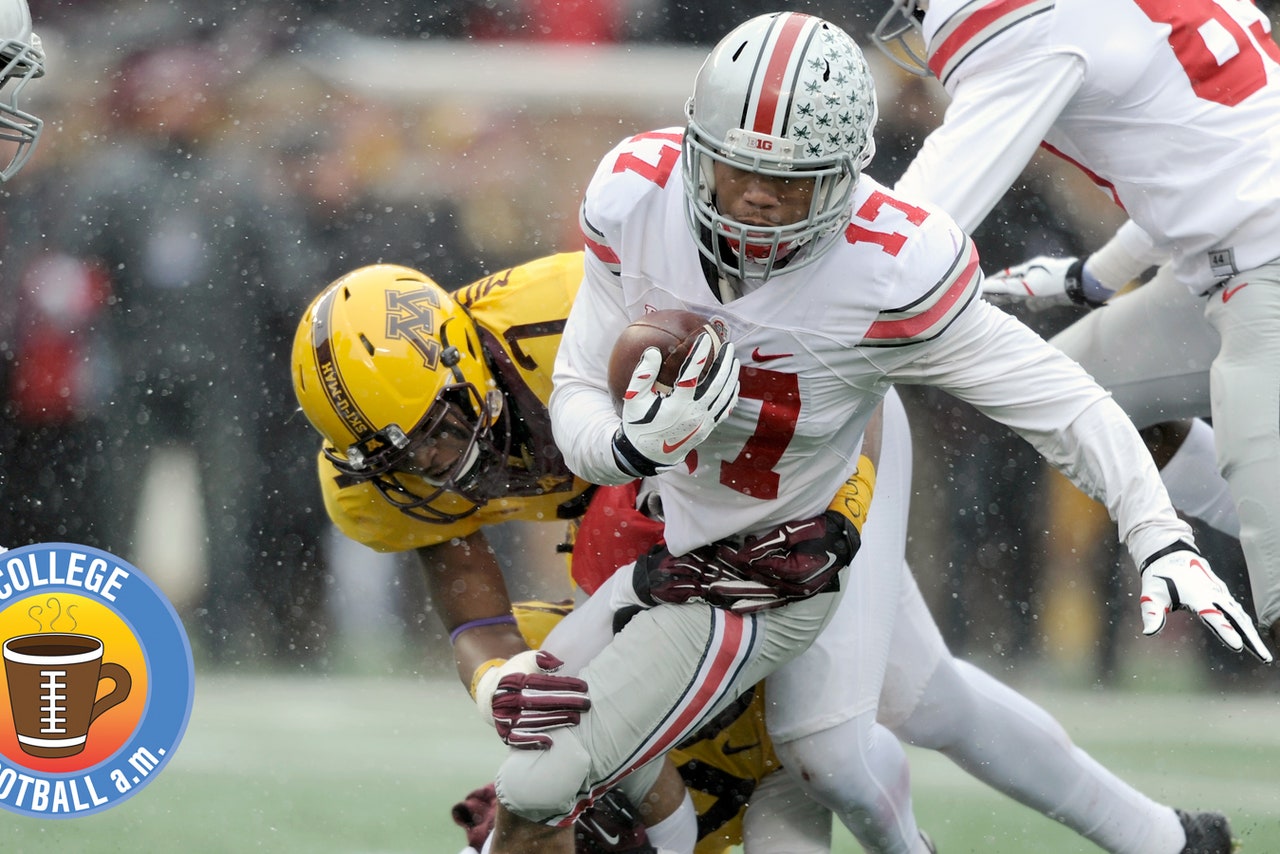 Ohio State redshirt freshman Jalin Marshall had a bit of a problem last weekend against Minnesota.
The fumble bug got him.
Marshall, a hybrid running back/receiver and punt returner, coughed the ball up twice against the Gophers, once inside the 5-yard line and another on a muffed punt.
Fortunately for the Buckeyes, the fumbles didn't come back to hurt them in their 31-24 win.
"He's a young player, but we can't do that," coach Urban Meyer said after the game about Marshall's fumbling.
So how did Marshall respond to his fumbles?
On Monday, an off-day for Ohio State, he bundled up and went out to the practice field in frigid temperatures. Someone had plowed the snow off the field, and Marshall set up a machine that launched punt after punt. Alone amid the white-out, Marshall spent part of his off-day working to correct the fumbling problem.
Here's video courtesy of Cleveland.com. Pretty cool to see a kid committed to his work like this.
THREE THINGS YOU NEED TO KNOW
1. Jameis Winston's Florida State hearing, which is to see if he violated the school's code of conduct policy in regards to his alleged sexual assault on Dec. 7, 2012, has been delayed a second time, reports Kevin Vaughan. It's now scheduled for Dec. 2, which means the hearing needs to chew up only three days before it's officially possible for a decision to wait as long as after the national title game. The judge presiding over the case has 10 school days to make a decision after the hearing concludes, and because of how FSU's winter break is scheduled, that 10-day period could extend out to Jan. 13 if the clock doesn't start until Dec. 6. Does anyone have any reason to believe a decision will be made before then? Nope.
2. Will Muschamp had his exit press conference on Monday after being fired at Florida and handled the news graciously, speaking positively of the university, its leadership and the program. Athletic director Jeremy Foley also tipped off the fan base as to what kind of coach Florida will be looking for next, saying they're looking for a coach with a "track record of success on the offensive side of the ball." Foley didn't say he'd rule out a defensive-minded coach – but you can rule out a defensive-minded coach. And it's probably not likely that UF hires an unproven coordinator. So that puts a little more focus on the field if not narrowing it substantially.
3. Programming notes: Tonight we have two MAC games – Massachusetts at Akron (7 p.m. ET, ESPN3) and Northern Illinois at Ohio (8 p.m. ET, ESPNU) – and the release of the new College Football Playoff rankings at 7:30 p.m. ET. I'm not so much interested in how the committee orders the top three – FSU, Alabama and Oregon in whatever order you want is fine – but I do want to see how the committee responds to Mississippi State's loss, Ohio State's continued impressive play and TCU's unimpressive showing at Kansas (does Baylor jump the Frogs?).
THREE THINGS YOU SHOULD KNOW
1. In other Winston news, actor and comedian Kevin Hart dropped by campus recently and made a few jokes at Winston's expense with the team huddled around him. "You need to stop doing dumb s---," Hart told the QB as everyone laughed. Hart also made a crab legs and theft joke, which Winston didn't seem so amused by -- but all of his teammates thought it was hilarious, judging by their reactions.
2. Stewart Mandel's Forward Pass column this week leads off with the biggest differences between the BCS and playoff systems, highlighting how Florida State is a litmus test of sorts. In the BCS system, the Noles would be No. 1 without question, followed probably by Alabama, and there wouldn't be much debate about it. But by the playoff's criteria, FSU shouldn't be above Oregon or Bama if body of work is the most important factor. There's also an interview with Wisconsin RB Melvin Gordon and more. Give it a read if you have a couple minutes.
3. Odd story here: Current Texas Tech interim defensive coordinator Mike Smith said former DC Matt Wallerstedt, who's now working at Louisiana-Lafayette after being fired earlier this season, has been passing Tech's defensive signals around to opponents. "I know other coaches have called and our signals have been passed around the whole time," Smith said. "All I know is karma's a bad deal … I don't want to get into what's going on with all that, but it's not right and, to me, it's not fair to the kids. So if that's how that person wants to handle business, they can handle business that way. I sure hope I don't run into him anytime soon."
Wallerstedt denied these allegations in a statement: "I have not shared with anyone the Red Raiders defensive signals. I respect the players at Texas Tech and would never do such a thing. It sounds like something that's done in the political arena -- blaming someone else for what you now control. Coach Kingsbury and Smith would do well to simply execute their own game plan instead of trying to blame others for what may be their own shortcomings." 
THREE THINGS YOU MAY WANT TO KNOW
1. Texas coach Charlie Strong said a five-loss season will "never happen in this program again." This was always seen as a rebuilding year by Texas' administration, and the fact the Longhorns will be going to a bowl game – and, who knows, maybe they beat TCU on Thanksgiving night – is a great achievement. They'll take another step forward in 2015 and then be expected to be in the Big 12 hunt in 2016.
2. Cool video from Oregon State with some behind-the-scenes footage of the Beavers' upset over Arizona State last weekend.
3. Some notes: Michigan dismissed defensive end Frank Clark after a domestic violence charge, while USC cornerback Josh Shaw won't face domestic violence charges. Two Tennessee Vols – including leading tackler and all-SEC LB A.J. Johnson – have been suspended from all team activities amid a sexual assault investigation. The Ducks will get an offensive lineman back this weekend against Colorado.
LASTLY
* Oklahoma QB Trevor Knight will miss a second game after taking a hit to the head against Baylor on Nov. 8. Been a tough year for Knight and the Sooners, considering all the hope it began with.
* The Florida vacancy is going to lift a lot of boats around the country, as coaches use it for leverage in their current jobs. Ole Miss coach Hugh Freeze fits the profile of what Florida seems to be looking for, but the Rebels are trying to get ahead of that inquiry. AD Ross Bjork said on Monday that Ole Miss expects to have another contract extension done with Freeze by the end of the season, likely pushing his annual salary to around $4 million. Freeze has gotten his deal extended in each of his first two seasons with the Rebs.
Have a great Tuesday, all.
Teddy Mitrosilis is an editor and writer for FOXSports.com. Follow him on Twitter @TMitrosilis and email him at tmitrosilis@gmail.com.
---