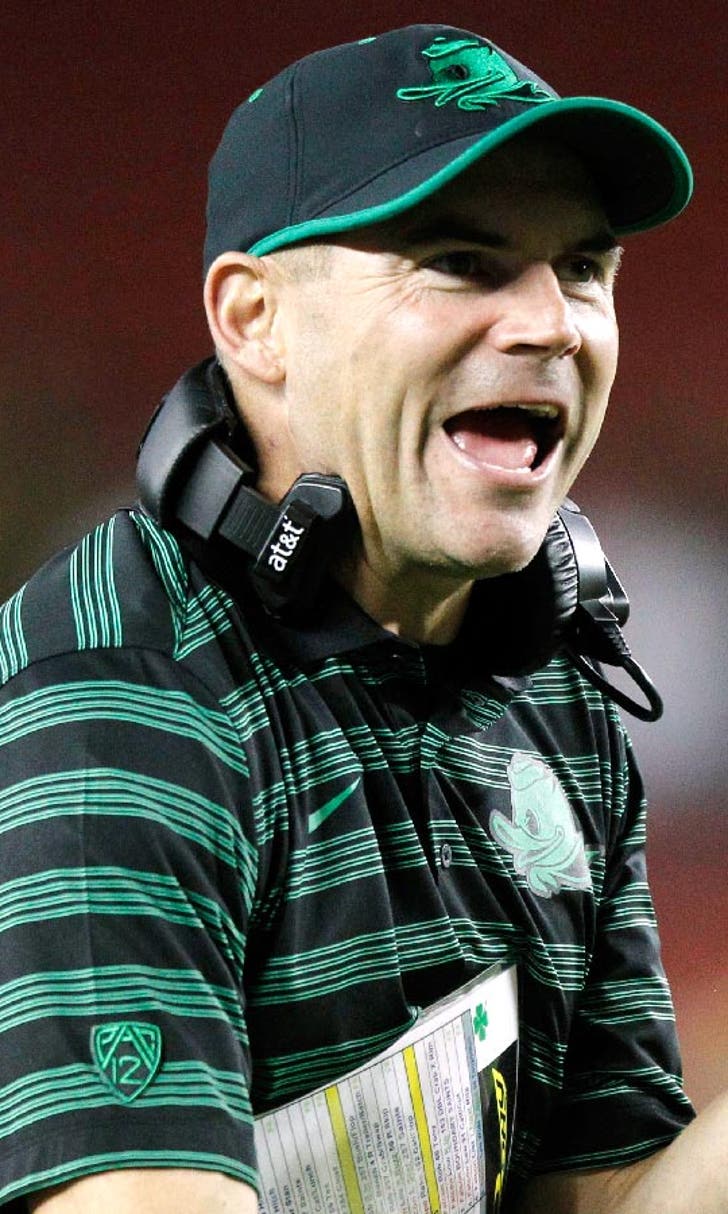 CFB AM: Oregon senator is upset with how Mark Helfrich runs Ducks
BY Teddy Mitrosilis • February 10, 2015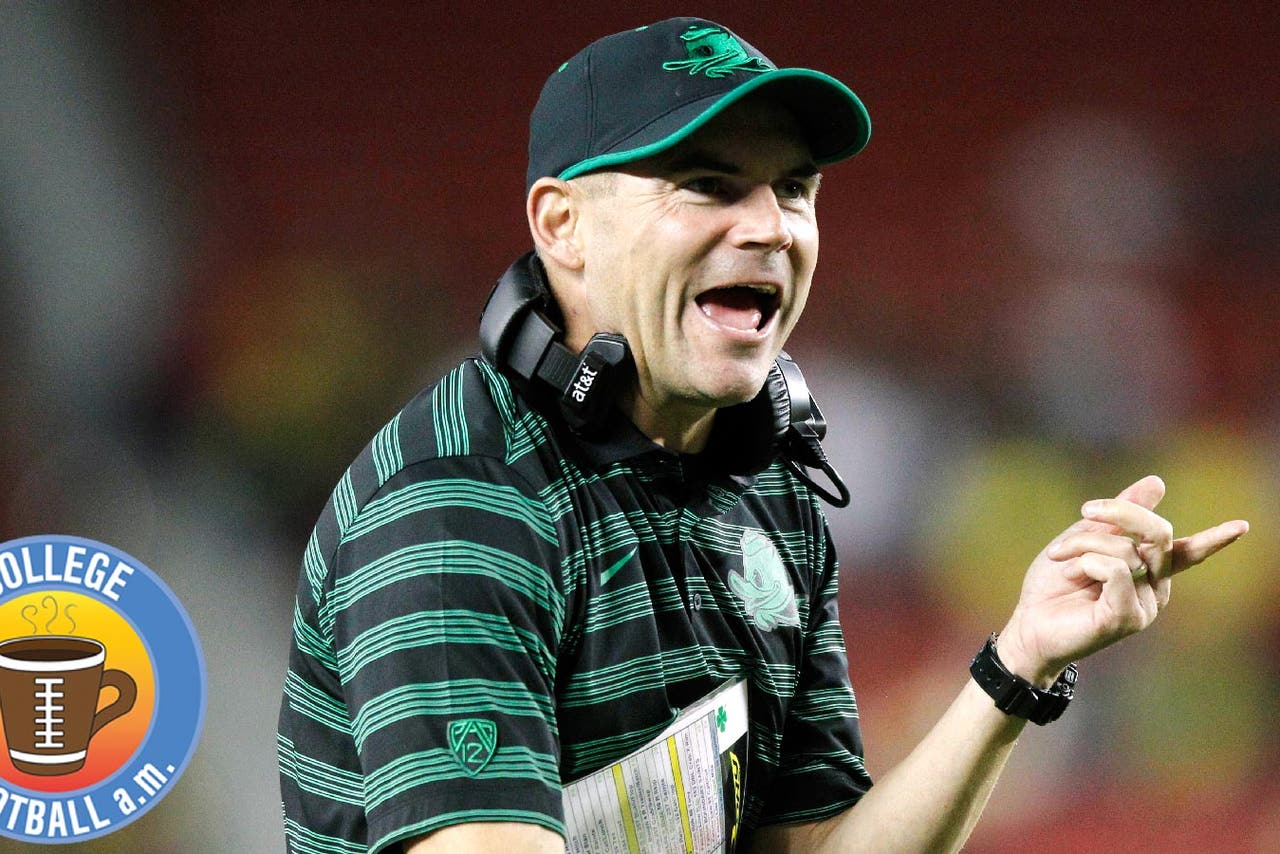 The Oregon Ducks signed 22 recruits on National Signing Day last week, giving them a top 15-20 class coming off a trip to the national championship game. Even as the program turns to life after Marcus Mariota, there is zero doubt about whether the Ducks can continue to sustain their success.
As it turns out, Mark Helfrich is pretty good at his job.
So that all makes it quite hilarious that Helfrich was the target of some recent criticism from an Oregon senator who was upset that none of the 22 players Oregon signed on NSD were in-state recruits.
"It bothers me," senator Peter Courtney told The Oregonian. "It just does for whatever reason. Are we to believe that there's not one high school senior who plays football in this state good enough for Oregon?"
Courtney added: "Helfrich grew up in Coos Bay. He went to Marshfield High. If anyone should get how important that is, it should be him."
Courtney went on about how the Ducks have a responsibility to help in-state players and how collecting tax dollars should somehow -- I guess? -- be a consideration in football operations decisions. That's where it gets lost for me, and  you can almost hear Helfrich laughing when he says it's "unfortunate" Oregon didn't sign any in-state players and "sometimes that's by choice, sometimes it's not."
Said Helfrich: "I think part of it is just the Oregon brand and as that's grown the Pac-12 recruiting footprint is the world now. We'll go anywhere."
This is pretty simple: Helfrich is the last dude in Oregon who should be taking criticism from a politician, especially when it's criticism of football personnel matters. If Oregon's administration gave us a candid definition of Helfrich's responsibility, it'd be this: "Win games, which will make us money."
THREE THINGS YOU NEED TO KNOW
1. Oh, and in case there's any wondering how happy Oregon is with the job Helfrich has done, there is this: The school gave Helfrich a new five-year deal worth $17.5 million. "Yeah, but guys, I want to go to the Rose Bowl ONLY if it's with in-state players," said no Ducks fan anywhere on Monday.
2. With former West Virginia AD Oliver Luck taking a job with the NCAA and thus relinquishing his spot on the College Football Playoff committee, Texas Tech AD Kirby Hocutt has been added to the group that will decide the playoff participants this season. If nothing else, this should make Baylor coach Art Briles happy, who, if you recall, complained about there not being enough Texas or Southern blood on the committee. Go crazy, Coach.
3. The recruiting saga of four-star linebacker Roquan Smith should come to an end soon, but it will come with a twist. Per his high school coach, Smith won't sign a letter of intent when he decides on his college. He chose UCLA over Georgia on National Signing Day but held off on sending in his LOI when he heard Bruins DC Jeff Ulbrich may be leaving to take a job with the Falcons (which happened). So now Smith is reconsidering UCLA and UGA, along with Texas A&M and Michigan. He'll be an official part of the 2015 recruiting class when he begins summer classes at one of those schools.
"He's not going to sign a letter of intent," Larry Harold, Smith's high school coach, said. "The reason why is because what he went through last week. This just gives us flexibility in case something else unexpectedly happens again."
THREE THINGS YOU SHOULD KNOW
1. Some more interesting news for Oregon: Vernon Adams announced that he will officially transfer from Eastern Washington after graduating this spring and play his final season with the Ducks. Adams won't have the luxury of spring practice in the race to replace Marcus Mariota at Oregon, but he brings a ton of experience and should be a viable candidate to win the starting job. Bruce Feldman spoke with his high school coach about the big-time opportunity Adams has long waited for.
2. The Colorado-Colorado State rivalry game is in jeopardy, as Colorado tries to find ways to make more money. To do that, the Buffs want more home games (where they can sell concessions and merchandise) and fewer neutral-site games, like the one played in Denver against CSU. Hopefully there's another solution -- the Buffaloes and Rams squaring off is a game that should happen. I know our guy Joel Klatt would say so.
3. Couple coaching moves: UConn hired former Notre Dame run-game coordinator and O-line coach Frank Verducci as its new offensive coordinator, and Ralph Friedgen is not expected to be back as Rutgers' offensive coordinator in 2015.
THREE THINGS YOU MAY WANT TO KNOW
1. Jay Harbaugh, son of Jim, had an interesting experience on a recent flight with some passengers snooping over his shoulder and wanting to offer their expert film evaluations.
2. The USC and UCLA mascots went head-to-head in a dance-off on The Tonight Show. See, even MASCOTS don't know what to do with themselves during the dead months of the college football calendar.
3. Here is some sweet music to college football fans' ears: Bill Connelly over at SB Nation has begun his 128-team 2015 preview. Yes, that's an in-depth piece on every FBS team leading into the new season and officially starts the countdown to kickoff clock. Here's his piece on New Mexico State.
LASTLY
Great moment here at Colorado State: Kivon Cartwright was granted a sixth year of eligibility by the NCAA, and CSU's media staff was in the room for the news and got Cartwright's emotional reaction on video. Good for him.
Have a great Tuesday, everybody.
Teddy Mitrosilis is an editor and writer for FOXSports.com. Follow him on Twitter @TMitrosilis and email him at tmitrosilis@gmail.com.
---