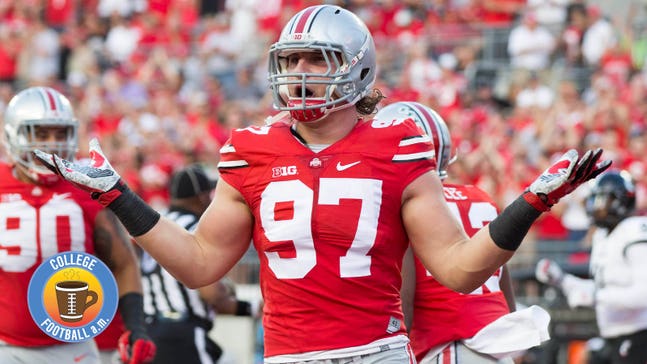 CFB AM: Ohio State didn't have first-rounders because they're all back
Published
May. 4, 2015 9:30 a.m. ET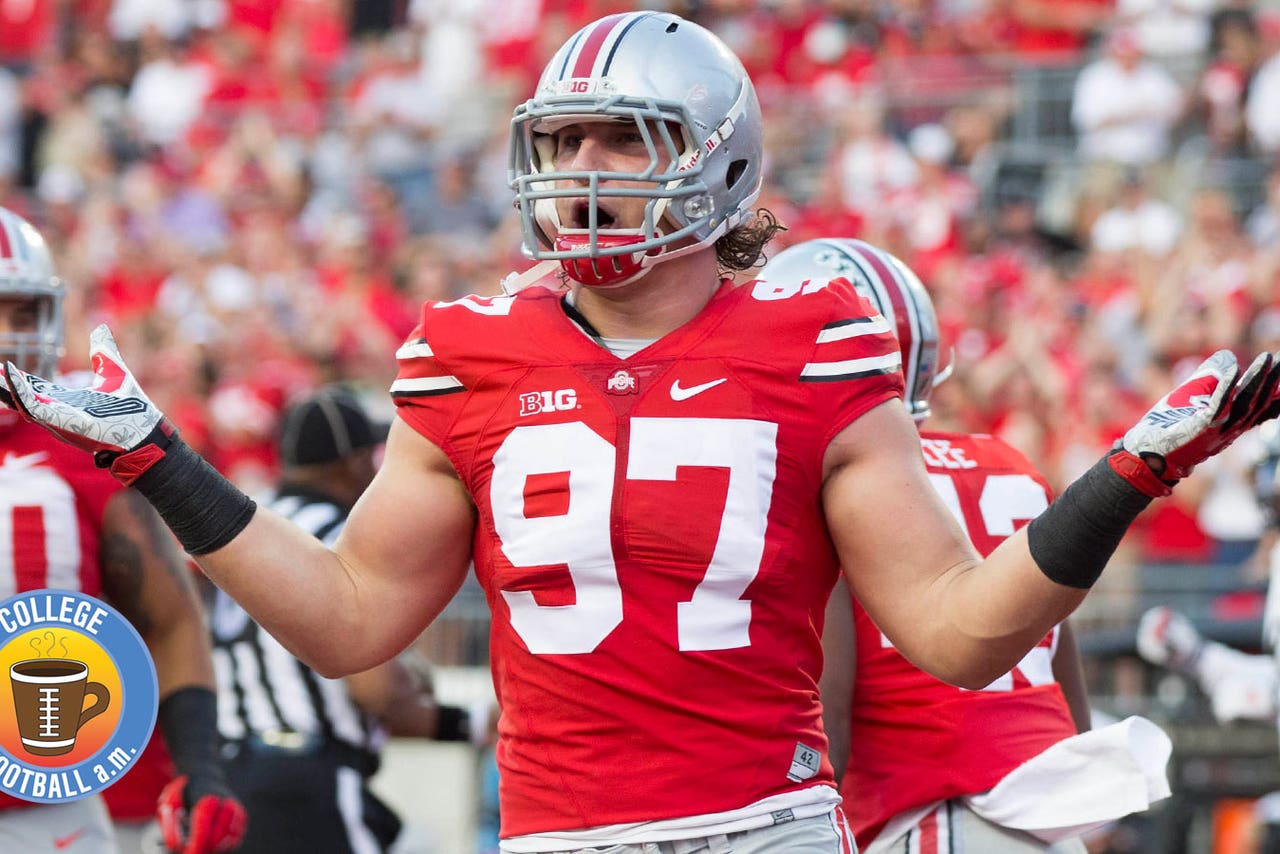 Nobody needed the NFL Draft to realize how ridiculously talented Ohio State will be this season, but football's biggest offseason event underscored that reality.
Here are the Buckeyes who were drafted over the weekend off last year's national championship team, in the order they were taken:
* WR Devin Smith: No. 37 overall, New York Jets
* TE Jeff Heuerman: No. 92 overall, Denver Broncos
* CB Doran Grant: No. 121 overall, Pittsburgh Steelers
* DT Michael Bennett: No. 180 overall, Jacksonville Jaguars
* WR Evan Spencer: No. 187 overall, Washington Redskins
That's it. Five players off the national title team and no first-round picks.
As ESPN Stats & Info pointed out, it marked the first time since 2003 that the defending national champion didn't produce a first-rounder (which also happened to be Ohio State).
Of course, that doesn't mean Ohio State didn't have any first-round talent on the roster that just won a title. It means all of them returned to Columbus for more in 2015.
If everyone has healthy and productive seasons this fall, then the 2016 NFL Draft should see DE Joey Bosa and QB Cardale Jones go in the top 5-10 picks and running back Ezekiel Elliott go somewhere in the first round. Safety Von Bell looks like a first-round talent, and you can already picture linebacker Darron Lee racking up tackles for a decade on somebody's defense. There's also talented QB J.T. Barrett, who is something of a wild card depending on how this next season plays out and offensive tackle Taylor Decker, who is a year away from fortifying an NFL O-line. There are probably others who will emerge, too.
All of this is just another way to say: Holy crap, Ohio State fans, your team is gonna be fun this year.
One of you might even need to get another customized car:
THREE THINGS YOU NEED TO KNOW
1. Speaking of the draft, Florida State showed up. The Seminoles had a great draft, with 11 players being selected in 2015. This also gave FSU the record for most players selected in a three-year period, with 29 Noles going in the last three drafts. This broke the record of 28 shared by Miami (2002-04) and USC (2008-10). On the other end of the spectrum, Tennessee didn't have a single player drafted, which was the first time that's happened for the Vols since 1964. That will soon change in a hurry with the talent Butch Jones is accumulating in Knoxville. One other mini surprise (to me, anyway): Oregon CB Ifo Ekpre-Olomu wasn't selected until the seventh round, when the Browns popped him with the 241st pick. Ekpre-Olomu tore knee ligaments in practice before the College Football Playoff last year and was therefore unable to go through the normal pre-draft evaluation process, but a year ago he was talked about as a first-round talent. Assuming he regains full health, that's a heckuva player Cleveland got so late in the draft.
Oh, and there's this consolation prize for Ekpre-Olomu: He will collect $3 million in an insurance policy he secured last year that protected him from slipping out of the top three rounds of the draft.
2. Blake Sims says farewell to Alabama, Saban. The former Alabama QB was not picked in the draft -- he has a minicamp tryout with the Packers lined up -- but that shouldn't dampen the work Sims accomplished last year for the Tide in earning the starting job as a senior and then leading Bama to the College Football Playoff. Sims wrote a thank-you letter to the Tide and coach Nick Saban, as told to Bleacher Report. From his letter:
"I went to the University of Alabama to become a man. When he was recruiting me, Coach Saban gave me his word that when I left, I would leave a grown man with a degree. He kept his word. Coach Saban was like a father figure to me. Words can't explain how much he has taught me about life and how much better prepared I am for success than when I showed up in Tuscaloosa. Whenever I was wrong, he would let me know 'Blake, that's not the way that a man acts. That's not how a professional quarterback acts.' Our relationship could not be stronger."
You can read the whole thing here. Best of luck to Blake.
3. Urban Meyer sent a recruiting letter to a 3-month-old. There's no time like the present to get a jump on the 2033 recruiting class. After winning the national title, the Ohio State coach received a letter from a newborn saying he was already preparing to be a Buckeye. Meyer eventually got around to writing the kid back, saying he'll need to "gain a little weight" but Ohio State's strength staff can help him with that. Pretty funny -- and further evidence Meyer is probably ready for football return.
Have a great Monday, everybody.
Teddy Mitrosilis works in content production at FOX Sports Digital. Follow him on Twitter @TMitrosilis and email him at tmitrosilis@gmail.com.
---