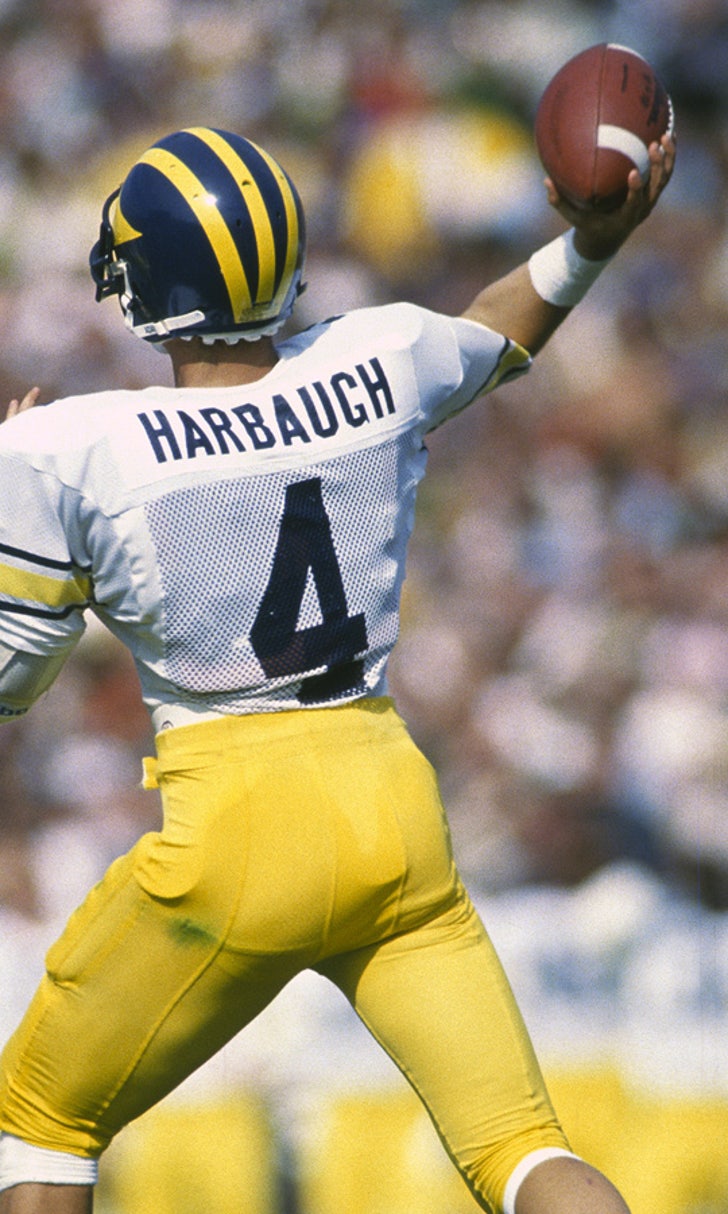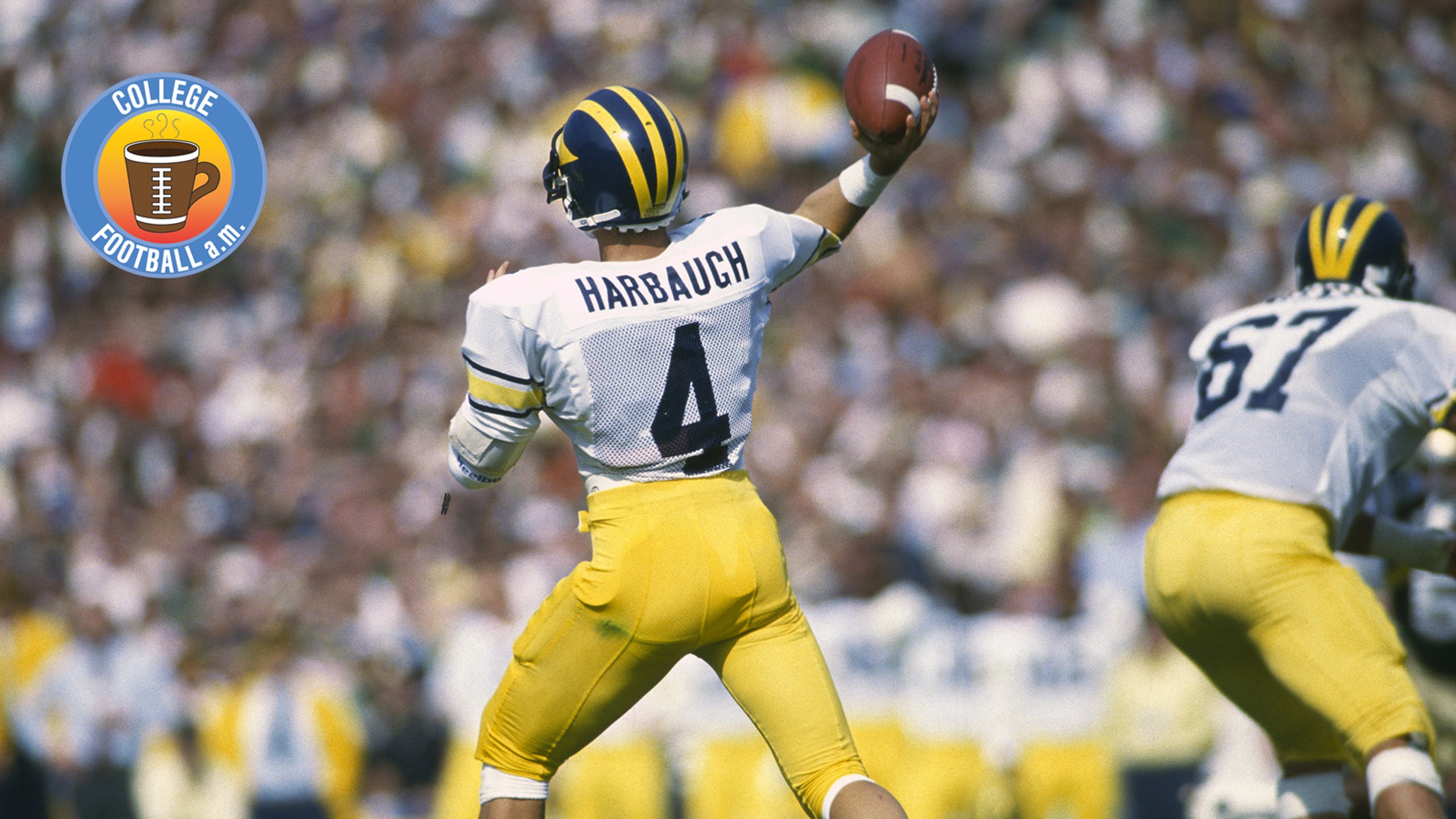 CFB AM: Michigan Nation is doing everything it can to get Harbaugh
BY Teddy Mitrosilis • December 12, 2014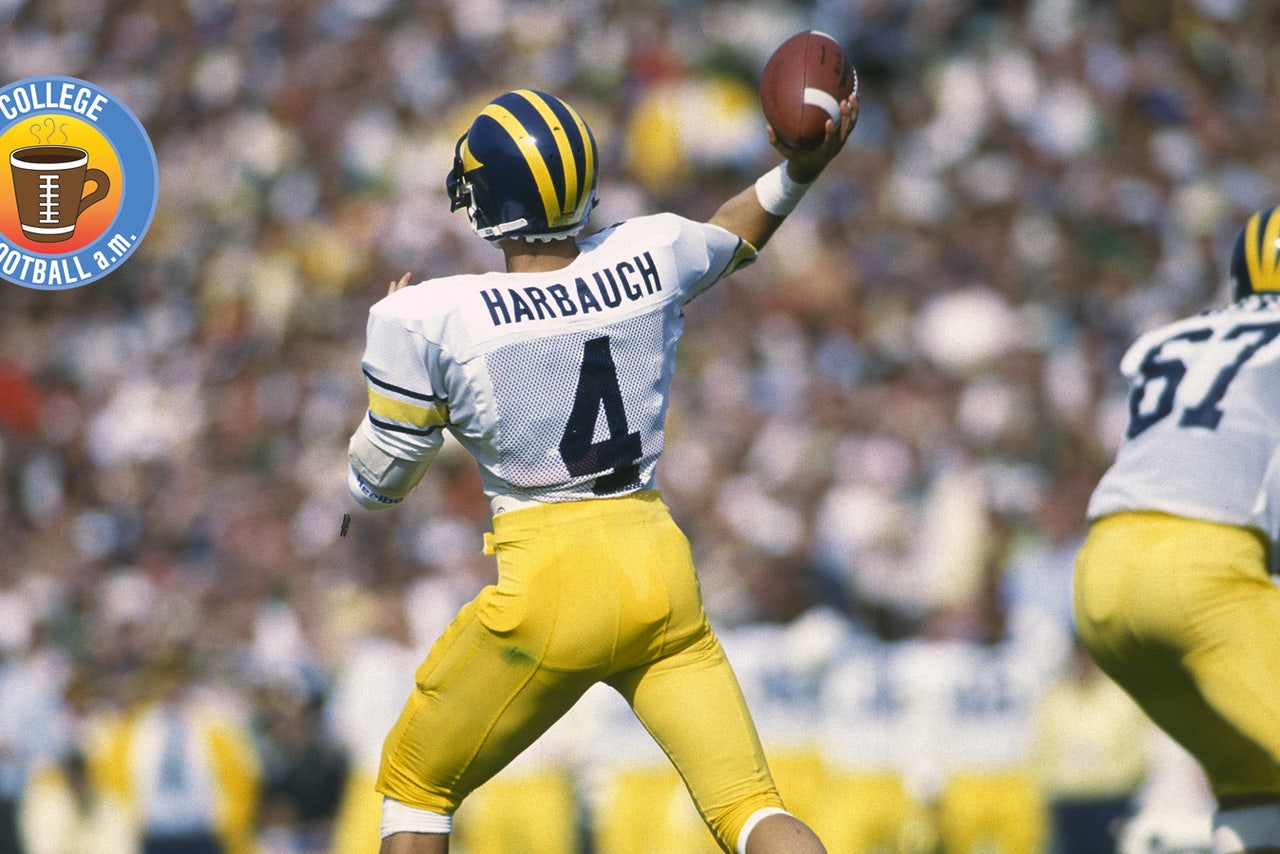 Michigan is taking its time to hire a new football coach, and some could read that as the Wolverines allowing themselves the time to make every effort to lure former QB Jim Harbaugh back to Ann Arbor.
The current San Francisco 49ers coach is likely on the way out of his current job and can almost name his next one, so the only question is where that will be.
Various folks with Michigan ties have been pushing all in to get Harbaugh to Ann Arbor, and now that includes the son of legendary Michigan coach Bo Schembechler, who Harbaugh played for in college.
"I think my dad would say, 'Jim, it's time to come home,'" Shemy Schembechler said. "That's exactly what he would say."
Shemy has been an NFL scout and has an understanding of the choices Harbaugh will have on the professional side. "In my years in the National Football League I do have an understanding of what it's about. But I can tell you that there's no head coaching position in the NFL that's going to equate to Michigan in so many different ways. Do you know what the NFL stands for? Not for long."
Before Schembechler spoke out, a number of other high-profile Wolverines have publicly pleaded for Harbaugh to take over the program. Former head coach Lloyd Carr said earlier this month, "If I had a choice, I would choose Jim Harbaugh."
Former Michigan Heisman winner Desmond Howard said, "If I was coaching like Jim, nothing would satisfy me more than to say 'the hell with all this, I'm going up to Ann Arbor and I'm getting that ship right, that's going to be my coaching legacy.'"
And best of all, with rumors of Harbaugh possibly being traded to the Oakland Raiders, is Raiders DB Charles Woodson, another Michigan Heisman winner, saying he'd rather Harbaugh go turn his school around rather than the NFL team he's currently playing for. "I think if the choice was out there it would definitely be Michigan for me," Woodson said last week. "A guy that played there. The fans would love it and I think it would be great for recruiting. Just to have a guy that's proven, he's won everywhere he's been as a coach and I don't think it would be any different if he went to Michigan so yeah, go blue."
Jim, it's on you now, man. The Wolverines are out in full force and doing everything possible to bring you back to your roots.
THREE THINGS YOU NEED TO KNOW
1. It appears Wisconsin has zeroed in on its new head coach. Late Thursday night, news broke that Pitt coach Paul Chryst was on his way to Madison to meet with the Badgers brass about the gig and is expected to get it. Wisconsin will likely make an announcement Friday if this news is true. How does Chryst fit Wisconsin? Well: He was born in Madison, played QB for the Badgers, was Wisconsin's OC under Bret Bielema and went 19-19 in three seasons at Pitt after taking over a messy situation there. He's also 49 years old. So, yeah, seems like the right hire and a guy who could build something sustainable in Madison and won't be looking around to see what's better out there.
2. Tulsa hired its new coach on Thursday and got a good one in Baylor offensive coordinator Philip Montgomery. The 42-year-old has followed Art Briles from a Texas high school to Houston to Baylor and is regarded as one of the best offensive playcallers in college football. He's been calling plays for Baylor for the last four years, a stretch in which the Bears finished in the top four in scoring offense each season.
"I was fortunate to be in a great position working with Coach Briles and the wonderful people at Baylor," Montgomery said in a statement. "I've always wanted to be a head coach, but my family and I knew that it would take the right opportunity to get me to leave Waco. Tulsa is that special opportunity. There is a lot of work to get done and trust me, I'm already on it. Get ready for some fun, fast and physical football."
3. Oregon QB Marcus Mariota had a huge Thursday on the awards circuit. He won the Maxwell (nation's top player), the Walter Camp (coaches' Player of the Year) and Davey O'Brien (nation's top QB). Of course, Mariota is expected to add the Heisman Trophy to that list tomorrow.
Some other notable award winners: Alabama's Amari Cooper won the Biletnikoff (best WR), beating out Colorado State's Rashard Higgins and West Virginia's Kevin White; Wisconsin's Melvin Gordon won the Doak Walker (best RB); Iowa's Brandon Scherff won the Outland (best interior lineman); Louisville's Gerod Holliman won the Jim Thorpe (best DB); Arizona's Scooby Wright won the Bednarik (best defensive player); TCU's Gary Patterson won Coach of the Year; plus other award winners. Congrats to all.
THREE THINGS YOU SHOULD KNOW
1. Mississippi State QB Dak Prescott is suing a company that has been using his likeness to make apparel and hasn't stopped at his request. Prescott has another year of eligibility remaining, so if he wants to use that, he has to take these steps or risk being penalized by the NCAA for not taking "steps to stop such an activity." Yes, in the NCAA's world the athlete can be punished for the decision of a third-party business that doesn't give a damn about that athlete. Good system!
2. Wisconsin AD and former coach Barry Alvarez will coach the Badgers in the Outback Bowl against Auburn. One last Wisconsin thing, which is pretty funny: A former Wisconsin tight end jokingly (I think) lobbied for Brett Favre to be the Badgers' next coach, which obviously won't happen. But check out this masterpiece:
3. This is an exceptional Ohio State playoff video that tells the Buckeyes' story from the bitter end of last season until now. Great work by the fan who put this together.
THREE THINGS YOU MAY WANT TO KNOW
1. A TCU coach got a speeding ticket after snagging a recruit. Was it worth it? You bet.
2. Urban Meyer's wife turned 50, so they took her out to celebrate. What happened? Her hair caught on fire while blowing out candles (she's fine). Happy birthday, Mrs. Meyer!
3. Cory McCartney lists the 10 best Heisman races of all time as we head into Heisman weekend.
LASTLY
* A CFB AM schedule note: Without full Saturdays of football anymore this season, we're returning to our normal Monday-Friday schedule instead of the six days per week we've been doing during the last 15 weeks or so. We'll chat again Monday morning.
* The Las Vegas Bowl used showgirls to formally invite Utah to play Colorado State. So many "Utah" jokes, and I'm going to let every single one of them pass on by without a second thought.
Have a great weekend, everybody.
Teddy Mitrosilis is an editor and writer for FOXSports.com. Follow him on Twitter @TMitrosilis and email him at tmitrosilis@gmail.com.
---